We won't coronate Sony just yet. In our tests, we found that Sony scored very respectably in the screen performance department. The KDL-46HX750 had a good contrast ratio and a great color accuracy. In other aspects, like 3D and internet functionality, Sony is not quite there yet. The 3D quality is decent, but had some hiccups. The Smart TV platform that Sony uses is complicated, to say the least.
Even though some areas of this TV were lacking, it did perform very well and offers plenty of options to customize the screen, which will please certain users.
Do not expect to be wowed or amazed by the design of the . Sony plays it very safe in the design department: there are no super thin bezels and the base is a simple rectangle. Does this mean that this TV is ugly? Not at all. The is merely an average looking TV in an increasingly crowded market.
We can't fault Sony for the look of the HX750 series: this is a tried-and-true TV design. While it will not blow you away with its build, the will not insult you, either.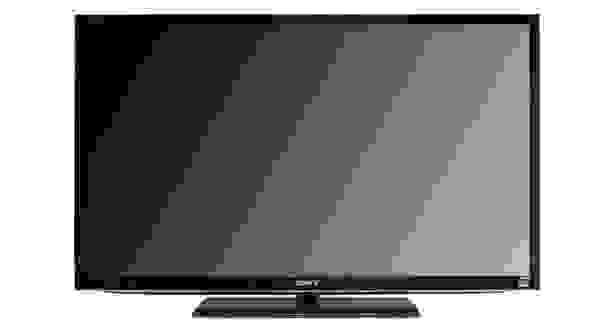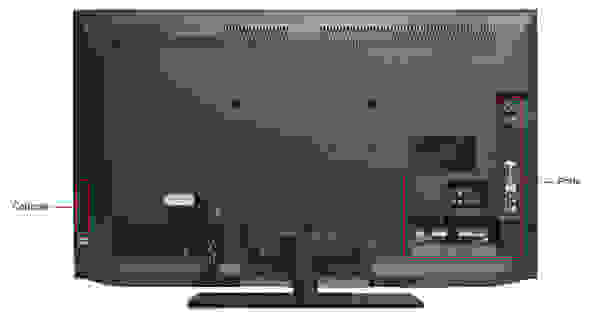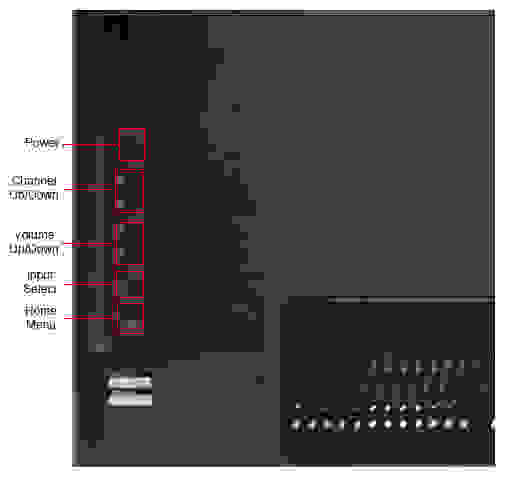 It's a remote! Similar to the TV, this remote looks like the same old fashioned remote that we all grew up with. There are some added buttons that help navigate modern features like 3D and the internet, although navigating the internet on the is something that not even a keyboard and mouse could help.
The comes with a remote, batteries, screws for the base, instructions for attaching the base to the TV, a safety guide, and a user manual.
The inputs and outputs for the are located on the left. On the side of the TV, you can find two USB ports, a VGA port, an analog audio input, a 3.5mm headphone jack, and two HDMI ports. Located next to these are composite and component inputs, which are separate and not shared – a rarity on TVs these days. Below the composite and component inputs, you will find an ethernet jack, an antenna input, an S/PDIF output, and two more HDMI ports.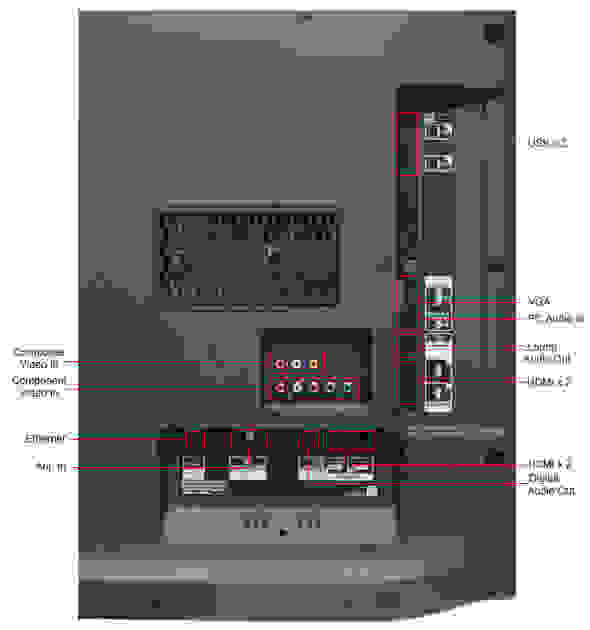 The TV swivels at a 15° angle, which makes accessing most ports easy. The ports located towards the bottom (ethernet, antenna, S/PDIF, HDMI) are slightly harder to access since they face down and you will not be able to see them. As such, this causes for fumbling around with cables while trying to figure out which way they go in.
The had some very good performance scores. The two areas that it really excelled in were its good contrast and its excellent colors. While this TV did not have the best viewing angle or audio, it more than made up for those missteps with great motion performance and picture dynamics.
The 's contrast ratio of 3386:1 was good, especially compared to some other TVs in its price range. While it did not get as bright as the other TVs, its outstanding black level more than made up for it. More on how we test contrast.

The color curves for this TV are great, especially towards the peak luminance. There is no flatlining at the top of the curves, which means that when colors are given a maximum signal input, they can successfully represent their colors. The color curves do get off to a slightly slow start, staying flat from black through the dark grays. More on how we test color performance.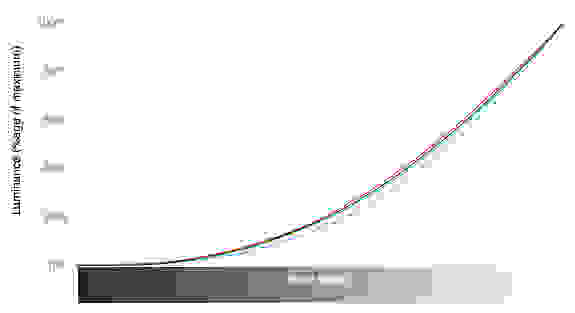 Any fluctuations in the color temperature are mostly not visible to the human eye. The chart shows that colors get slightly cooler at the blackest levels. Overall, color temperature on the is amazing. More on how we test color temperature.
The KDL-46HX750 has a very good range of colors compared to the industry standard. Greens and reds are almost perfect, but blues can sometimes take on a purplish hue. More on how we test color temperature.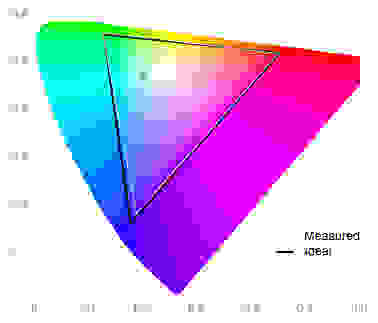 The 's screen kept a consistent white level with a mostly black screen and a consistent black level with a mostly white screen, which gave it a rather impressive score in this area. More on how we test picture dynamics.
The displays all standard NTSC formats.
The KDL-46HX750 was trounced by other similarly priced LCD TVs in this area. Its total viewing angle of 25° was not impressive in the least.
This Sony performed well on our motion performance tests. Moving images had some blurriness, but it was very little. Straight lines would get slightly jagged when moving across the screen.
Sony does have a motion processing feature on this TV called "Motionflow." There are five settings for this: smooth, standard, clear, clear plus, and impulse. Impulse and both clear settings decreased the backlight when turned on. Smooth and standard seemed to produce the most jarring examples of the dreaded Soap Opera Effect. Clear, clear plus, and impulse did not have as noticeable of an effect.
There is an additional setting called CineMotion, which Sony describes as providing "a more natural looking picture for film-based content." We assume this means it is another form of motion processing, but we could not discern any difference in the picture quality when it was turned on.
The is an edge-lit LED TV, although Sony would like you to refer to it as "Dynamic Edge LED." Regardless of the terminology, this means that the LEDs that light up the pixels on this TV are located on the edges. This was noticeable when the TV had an all-black screen: the corners of the produced a little bit of light. As such, it detracted from the screen's all black uniformity. With an all-white screen, however, the picture was nearly flawless.
This TV can get loud. When turned all the way up, the 's two 10W speakers absolutely scream, although the sound is so distorted when cranked up that we would not recommend doing this.
As mentioned in our calibration section, we set this TV to the "cinema 2" mode. This not only changed the picture settings, it also changed the sound settings. Surround mode was on by default, which did produce a noticeable difference. While on, sounds are much fuller and seem more spread out, kind of like having surround speakers. Kudos to Sony for this one.
Unfortunately, the actual quality is nothing to write home about. There is a definite lack of bass with these speakers. Turning the bass setting all the way up did not produce much of a result. To add to the disappointing low end sounds, the higher end sounds are very tinny. There is a setting called "sound enhancer" that claims it can "adjust high frequencies to improve sound clarity." When turned on, this setting did seem to help the tinny sound, but it was not nearly a complete fix.
Since the was not the brightest TV in the world, its maximum backlight setting was the same as our minimum recommended backlight setting. The TV's average cost per year of $21.94 was more expensive than other similar LED LCD TVs.
The offers a dizzying amount of options for picture modes. We always start with the movie picture mode, which is called cinema mode here, and tweak the settings from there. The backlight is cranked up and motion processing settings are turned off. When we switched to this cinema mode, the only thing we had to adjust was the motion processing; every other setting was perfectly calibrated to our standards.
[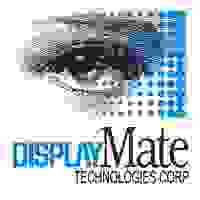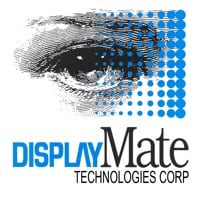 All of our calibration is done in conjunction with the DisplayMate software.
](http://www.displaymate.com/)
There are ten different picture modes, called scenes, to choose from on the . Each has multiple settings that offer a slightly tweaked version of that scene.
Sony has adopted active 3D technology for use with their TVs. This technology involves the glasses showing your eyes alternating images very quickly, which has the effect of your brain perceiving these images as one three-dimensional image. On the , the result is a fairly good 3D experience, but there are some issues.
The main problem we had while watching 3D on this TV was the glasses. Sony does not include any glasses with the TV, which is a bummer but not a deal breaker. What might be a potential deal breaker for some people is that the glasses are bulky and uncomfortable, which becomes a problem when watching a two-hour movie in 3D. With an MSRP of $100, we expected much more from these glasses.
The other issue we encountered was crosstalk, which pops up frequently enough to be a distraction. Crosstalk is when an image meant for one eye pops up in the other eye, which causes an effect called "ghosting." While the crosstalk issue did not completely ruin the 3D experience, it is worth pointing out that Sony's 3D is far from perfect.
The 3D experience with the was not bad at all. Movie scenes were given added depth and foreground images would sometimes appear to pop out of the screen. The picture looked sharp, except for the occasional image ghosting.
Sony is in serious need of a 3D glasses overhaul. The glasses we used are hideous, heavy, and uncomfortable. These glasses are much bigger than the 3D glasses other brands use, yet they fit much tighter. If you wear glasses, you will have a very hard time using these. To make matters worse, Sony does not package these spectacles with this TV series. You can purchase them (model TDGBR250) from Sony's website for about $100 each.

The black levels were even darker with 3D glasses on but the peak brightness suffered a tragedy, going from a decent luminance of 203.16 down to 36.

The chart here shows the image getting a cooler tone when it is darker. Most of the fluctuations in the color temperature for this TV are minor and not perceptible, which is why the scored very well here.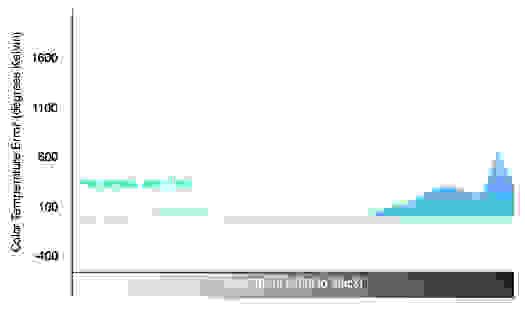 The 's colors were not as good with 3D enabled. While the red levels look decent, the blues and greens were slightly brighter than they should be. The blacks took the biggest hit in color quality, though.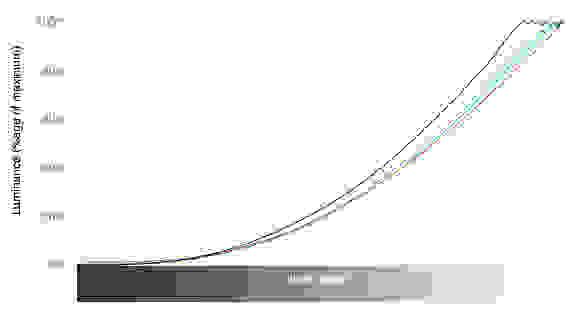 The greens and reds look very similar to their 2D levels, which were very good, but the blues suffer a little bit and tend to be brighter.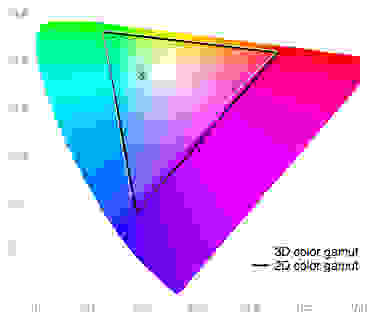 Crosstalk did rear its ugly head during testing. Movie scenes with intense motion caused some image ghosting, meaning that a character in a movie would have a blurry double image next to him/her in some scenes.
Why are there two different Smart TV interfaces on this TV? We can't answer that question, although we can give you our thoughts on each.
The first of these Smart TV platforms is tied to the Home Menu interface; you simply need to navigate to the sections that say applications, Sony Entertainment Network, or internet content. Navigating these menus is complicated enough when you are trying to adjust the picture mode, let alone use an app.
Sony has a solution to their own problem: the Sony Entertainment Network, not to be confused with the section in the Home Menu. This interface can be found by pressing the "SEN" button on the remote. The interface is eye-pleasing and easy to use, which begs the question of why Sony included the other interface at all.
If you want to know more about Sony's Smart TV platform, check out our in-depth overview of it.
The Smart TV internet browser might just be the bane of our existence. Surfing the internet without any kind of QWERTY keyboard on the remote is an exercise in futility. Sony's browser is no different. Figuring out how to actually enter a URL is a puzzle in itself: it involves pressing the "options" button on the remote and then selecting "enter URL" instead of navigating to an address bar.
Someone at Sony had the brilliant idea to make an app for Android and iOS devices that makes TV web browsing much, much easier. Check out our thoughts on this app here.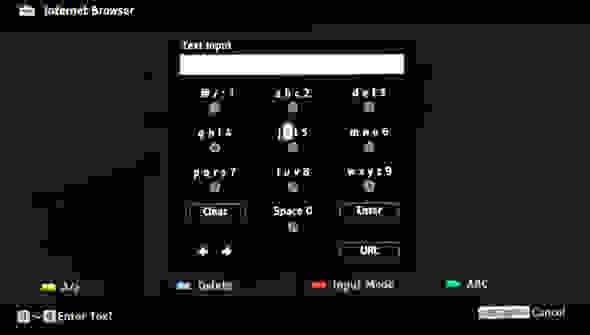 Sony includes a limited selection of apps on the . There are plenty of video streaming apps like Amazon Instant Video, Hulu Plus, and Netflix. Other apps include NHL Vault, which shows classic hockey games, and the Epicurious app, which shows how to make some interesting dinners. There is an app store called the Yahoo! Connected TV Store. It offers a paltry 137 apps to download and these will not show up on the Sony Entertainment Network hub but instead on the Home menu interface.
We had a bit more to say about the apps and app store offered in our overview of Sony's Smart TV platform.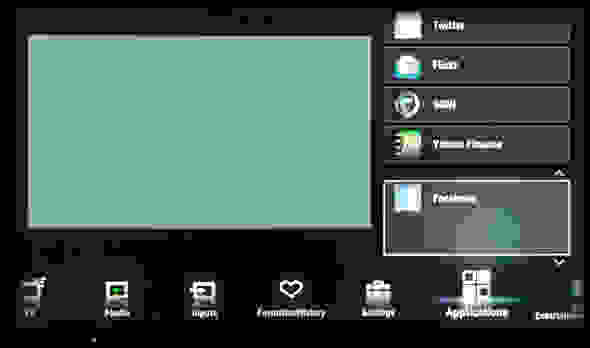 Connecting to the Internet is actually a breeze. When powering this TV on for the first time, consumers will be guided through setting the internet up. There is built in Wi-Fi, which will scan for networks in the vicinity. We found our network and were able to enter the password without a problem. Conversely, a wired connection can be setup by using the provided ethernet jack.
The offers USB and DLNA connectivity. Music, picture, and video files on a connected USB drive will appear in the media section of the Home menu.
This TV offers something called WiFi Direct, which is a feature that allows a device to connect directly to the TV via a wireless signal. Once the device is connected, the TV asks you to send content to the TV, with no explanation on how to do this. After connecting a phone and a computer to the TV, we tried for about 45 minutes to get content to appear on the TV and failed. Even the excellent digital manual offers little explanation about sending content to the TV.
Pressing the "Home" button on the remote takes you to the KDL-46HX750's main menu. The interface is based on the XrossMediaBar platform, which has been used in the Sony PSP and Playstation 3. This interface involves scrolling horizontally through icons that are menu subcategories, like preferences, picture & display, and sounds. When you stop on a subcategory, you can scroll up to see the options listed for each.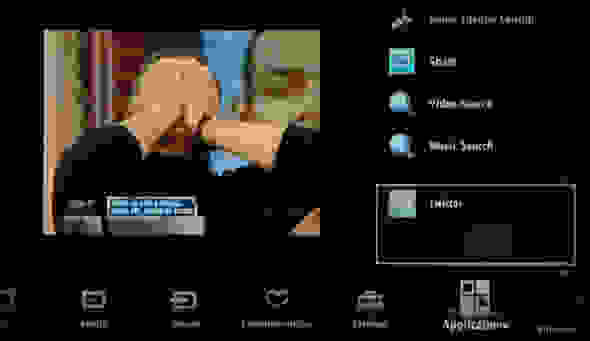 This menu interface may have been new and exciting when the PSP came out in 2005, but it is starting to wear thin in 2012. There are a lot of features to tweak on this TV and this interface makes everything seem cluttered. Part of the reason for this is that when pressing the "Home" button, the right-side and bottom part of the screen are consumed by this menu system. There is a PIP screen on the left so that you can continue watching Maury, but having the menu take up this much space is just annoying.
Sony has an "options" button on the remote that allows you to adjust certain settings. This brings up a transparent menu on the right-side of the screen that is plain, simple, and easy-to-use. Sony could have put more options into this menu and alleviated the need for the XrossMediaBar interface altogether.
The paper user manual that comes with the KDL-46HX750 offers information about attaching the base, setting up Wi-Fi, watching 3D, and various other topics. It is detailed and easy-to-read. The digital manual, called the i-Manual (not iManual), is much more robust and offers step-by-step guides for connecting your PC to your TV, adjusting the picture, saving power and many more features. This digital manual is very well done and other companies should take note.
The (MSRP $1599) seems influenced by the motto "function over form." Aesthetically, it is an average looking TV, but its screen has a good contrast ratio (3386:1) and displays colors nicely. Sony's menu system also lacks a nice form, yet there is an abundance of options to choose from, giving the user plenty of control to customize the TV to his or her specifications.
In regards to the 3D experience, Sony again chooses function over form. Their TVs, including this one, rely on active shutter technology. The 3D glasses, which must be purchased separately, are hideous in every sense of the word. The actual 3D is not bad at all, even though there was some image ghosting in certain 3D scenes.
Sony's Smart TV platform left us baffled because of their decision to include two separate interfaces. The first interface, located in their confusing menu system, easily ranks among the worst Smart TV platforms. It is ugly (again, no form) and limited in the apps that it shows. Their other interface, the Sony Entertainment Network, was visually appealing and easy to use, even though apps were limited. We covered both of these interfaces in much more depth in our overview of the platform, but needless to say, Sony needs to keep going in the direction of their Sony Entertainment Network platform: form and function.
It is easy to recommend the on its performance scores, but consumers will be buying (and paying for) this TV because of its added features, like 3D and internet connectivity. There are better options for both of these features and we would insist that consumers check out the competition first before settling on the KDL-46HX750.
The Sony Bravia KDL-xxHX750 series of HDTVs are edge-lit LED LCD TVs that offer 3D using active shutter technology and come equipped with Sony's Smart TV platform for internet connectivity.
Meet the tester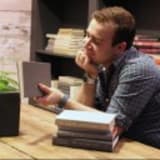 Josh Fields
Staff Writer
@reviewedtech
An enthusiast of all things tech, Josh is one of Reviewed.com's resident television experts. When he's not looking at bright TV screens in a dark room, he's probably reviewing a laptop or finding a new snack at 7-11.
Checking our work.
We use standardized and scientific testing methods to scrutinize every product and provide you with objectively accurate results. If you've found different results in your own research, email us and we'll compare notes. If it looks substantial, we'll gladly re-test a product to try and reproduce these results. After all, peer reviews are a critical part of any scientific process.
Shoot us an email