Introduction
Were our minds blown? No, they were not. This is not a game-changer, and it's definitely not the hands-down best TV on the market. But it's a very good TV and we were suitably impressed. The picture quality on this monolithic beauty is very good, with an excellent contrast ratio and great colors. Sony even stepped up its 3D game for this TV: aside from the awful 3D glasses, the 3D effect this TV produced was superb.
Sony still has a lot to learn about the world of internet TVs. Yes, the concept is rather new, but Sony does a very poor job implementing internet features into its TVs and the 55HX850 is no exception. Their use of two different interfaces to access internet content is downright confusing and not something that consumers should have to deal with.
There is a lot to like about this TV and Sony is definitely going in the right direction in regards to design, performance, and 3D.
Design
The box for the 55HX850 mentions the 55HX850 having "Monolithic Design." Is Sony making a reference to 2001: A Space Odyssey? With its glossy black finish and squared edges, the HX850 series does resemble the iconic black slab from Kubrick and Clarke's theatrical duet. Whether this TV can speed up our evolution remains to be seen.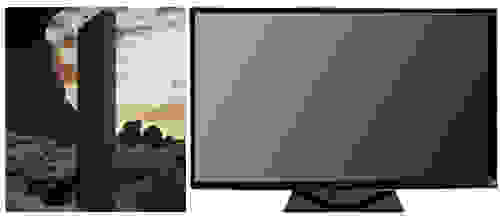 Overall Design
Sony did a good job designing the HX850 series. The glossy screen is a sight to behold, even though it is a magnet for fingerprints. The screen itself appears to float above the equally glossy base, thanks to an arc-shaped mount.
Front
Back
Sides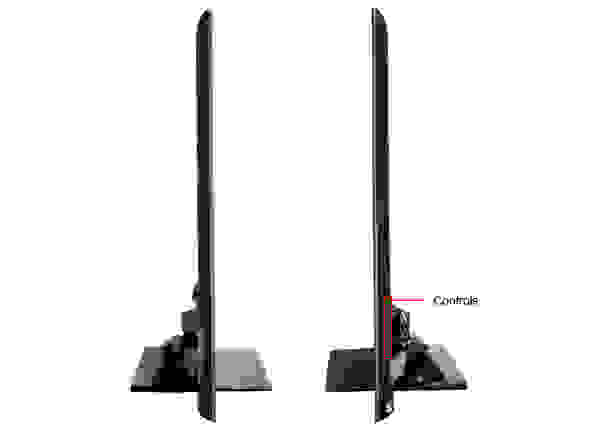 Stand/Mount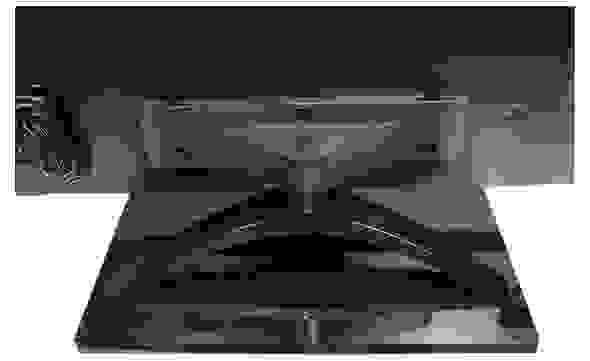 On-set Controls
The controls on the 55HX850 are located on the right-side of the TV. There are buttons for power, channel control, volume control, input, and access to the Home Menu.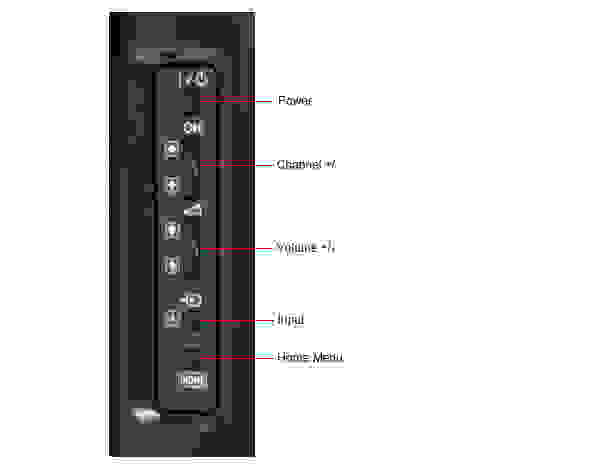 Remote Control
Sony's remote is very basic. There are buttons on it that will take you to the Sony Entertainment Network interface and to the third dimension, but that's about it for "new and exciting." There isn't anything wrong with this remote, but it's nice when companies, like LG and Samsung, give consumers different ways to interface with their TVs.

In the Box
In addition to the TV and the base, the comes with a user manual, a remote, batteries, warranty information, safety information, and an EULA.
Connectivity
The 55HX850 has a good amount of ports that should satisfy all of your A/V needs. There are four HDMI ports, two USB ports, a VGA input, an audio input, an audio output, a digital audio output, an ethernet jack, a cable antenna input, and composite and component inputs.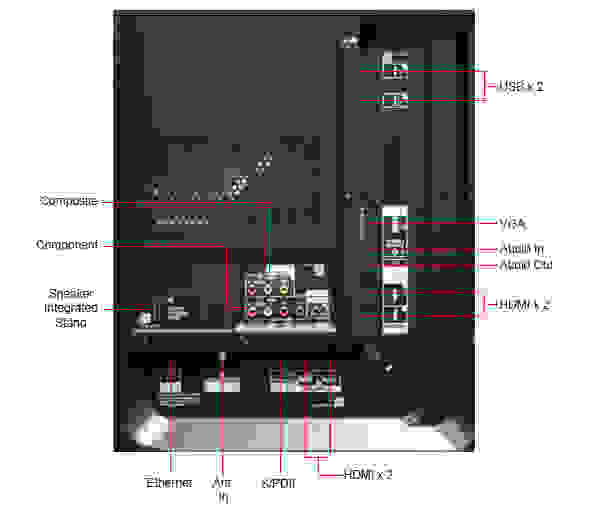 Sony included a mysterious port labelled "Speaker Integrated Stand." We searched the internet for such a product in order to link it to you, dear readers, but came up empty-handed. We did manage to find a speaker integrated stand for the older Sony NX810 series, but nothing like this seems to exist for the HX850 series. There is a QR code next to the port, but only produced the numbers "08400117110" when scanned.
Performance
We had high expectations for Sony's flagship TV and the 55HX850 did not disappoint. This Sony had a deep black level and a very bright peak white level which yielded an excellent contrast ratio of 6005:1. The contrast isn't the only thing that the 55HX850 has going for it, though. Colors were very good and the picture dynamics were nearly flawless.
Not everything was champagne and roses, though. This TV, much like the 46HX750, had a poor viewing angle. The uniformity, while good, could have been better, considering it's Sony's top shelf model. These slight missteps still can't bring down the overall great performance of the 55HX850.
Contrast
Sony's flagship doesn't disappoint when it comes to contrast. The 55HX850 has an outstanding contrast ratio of 6005:1. This is made possible because of the peak black level of 0.06 and the great peak white level of 360.3. More on how we test contrast.
Color & Greyscale Curves
These are good color curves. The colors have a smooth transition from a black input signal to a white input signal and there is no flatlining at the top of the curves. The blues do not get as bright as the other colors, though. More on how we test color performance.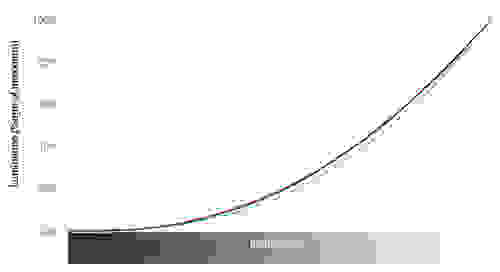 Color Temperature
The color temperature chart shows almost no visible change in the color for the 55HX850. The dark greys get a slightly warmer tone, but it will hardly be noticeable. More on how we test color temperature.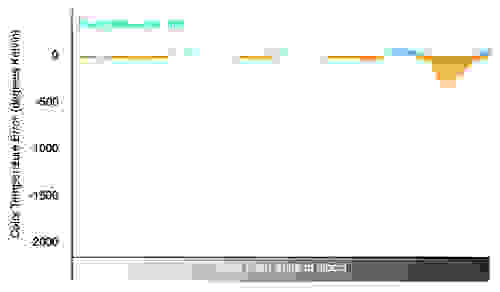 Color Gamut
This TV has a great color gamut. The reds and greens are nearly perfect, but the blues get slightly purplish. More on how we test color temperature.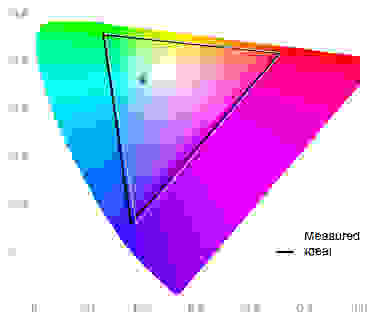 Picture Dynamics
We score picture dynamics based on how much a black or white window is affected by an increasingly white or black screen. The 55HX850 kept a consistent black level with an increasingly white screen and a consistent white level with an increasingly black screen. More on how we test picture dynamics.
Resolution & Formats
The Sony Bravia KDL-55HX850 has a native resolution of 1080p and displays all standard NTSC formats.
Viewing Angle
This TV's total viewing angle of 17.8° is nothing special. In a battle of viewing angles, the 55HX850 was easily beaten by the Sharp LC-60LE847U and the Samsung UN55ES8000. The 55HX850 did do better than its mid-range friend, the Sony 46HX750, which only produced a measly 12.32° total viewing angle.
Motion Performance
The 55HX850 did produce some blurring when images were moving across the screen. When we had vertical lines moving around, the lines did become slightly jagged. As far as color trailing, this TV produced none.
Sony's motion processing features do get rid of any blurriness and jaggedness, but that means nothing when it comes to actually watching a movie or TV show. There are five motion processing options, listed under the Motionflow setting: smooth, standard, clear, clear plus, and impulse. Smooth and standard produced the most obvious examples of the Soap Opera Effect. Clear, clear plus, and impulse all lowered the backlight when toggled on.
Screen Uniformity
The uniformity on the 55HX850 was good. With an all white screen, there was a small amount of shadowing in the corners. On an all black screen, a bit of light did bleed into the picture from the corners – a common side effect of edge-lit LED TVs. The center of the screen, whether it was black or white, was clear.
Audio Quality
The is packing two 10-watt speakers and a 10-watt subwoofer. The resulting sound is clear and can get quite loud, although it will get distorted at the highest levels.
Surround mode was on by default and to Sony's credit, their surround setting does make a difference. The audio was more spread out with this setting turned on and the volume seemed to be increased as well.
One complaint we had with the previous Sony we reviewed, the KDL-46HX750, was that it lacked bass. The 55HX850 puts its 10-watt subwoofer to work and produces a much fuller sound. The high end frequencies were still slightly tinny, but did sound better than the 46HX750.
Power Consumption
This Sony is one powerful TV. When the backlight is cranked up all the way, the screen produces great peak white levels, although this comes with a price. With the backlight maxed, this TV will have an annual cost of $26.88. If the backlight is turned down to the minimum recommended setting, the annual prices falls to $16.40.
Calibration
We didn't have to change much to calibrate the . When we put this TV into cinema mode, the only options we had to change were motion processing and color enhancing settings.
All of our calibration is done in conjunction with the DisplayMate software.
Video Modes
There are plenty of picture modes, called scenes, to choose from on the Sony 55HX850.
3D
The 3D experience on the does not feel like a tacked-on extra. Sony brought their A-game with this TV and the quality 3D speaks for itself. Images look great and there was no noticeable crosstalk to be seen.
Sony utilizes active shutter technology for their 3D TVs. This means that the 3D glasses sync up with the TV when a 3D signal is detected and show alternating images in each eye very quickly. This process tricks your brain into seeing a 3D image.
We have nothing but good things to say about the 3D effect, but it would be even better if Sony would redesign their glasses into something lighter and more comfortable than the current monstrosity they make.
3D Effect & Experience
The 3D experience that the 55HX850 produces is really good. The 3D was noticeable without having any headache-inducing effects. The best part here is that we did not notice any crosstalk.
Sony does not include 3D glasses with their TVs and the 55HX850 is no exception. The current model of Sony active 3D glasses (TDGBR250) retails for about $100 each and sets the bar pretty high for bad glasses. These are bulky and uncomfortable to wear and look awful. The glasses get the job done – the 3D is great on this TV – but Sony really needs to redesign these eye-prisons.
3D Contrast
The 55HX850 had a 3D contrast ratio of 3769:1, which is excellent as far as 3D contrast goes. Everything is darkened when wearing 3D glasses, which act a bit like sunglasses, and while the white levels suffer, the black levels benefit.

3D Color
Just like in 2D, the 3D color temperature is great. Any fluctuations in color temperature are not visible.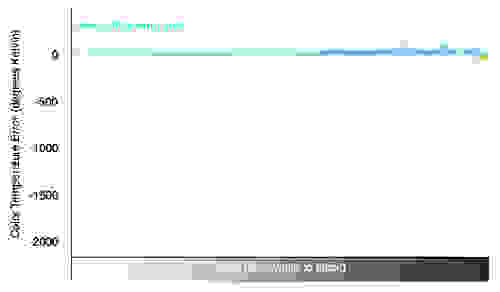 The reds are slightly problematic in 3D. They tend to get too bright and peak very early. The other color curves are respectable: they are not as good as the 2D levels, but we have seen much worse when it comes to 3D color.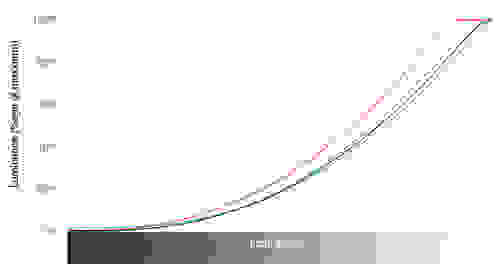 The blues are really undersaturated in 3D and the white point is slightly green. The reds and greens look almost as good as they did in 2D.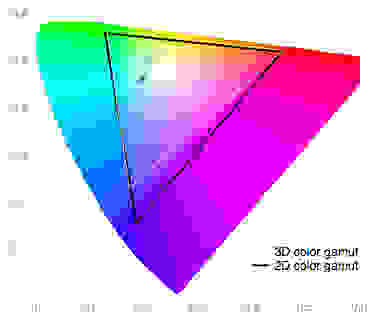 3D Crosstalk
There isn't much to report here. We did not experience any crosstalk while testing the . Images were clear and did not produce any visible ghosting effects.
Software & Internet
Our first run-in with Sony's smart TV platform was with the 46HX750. We were not impressed with Sony's decision to split the platform into two separate interfaces, with many features overlapping.
The HX850 series is no different and offers the same confusing experience. Consumers can choose between the Home Menu interface, which is like using a Playstation 3, or the Sony Entertainment Network interface. The latter interface has a lot of potential: it has a clean and elegant design but suffers from a lack of content.
For a more in-depth look at Sony's smart TV platform, read our article about it here.
Browser
Sony takes the TV internet browser, an already flawed tool, and somehow makes it worse. This browser has a clean interface, but trying to navigate to a webpage involves pressing the "options" button on the remote and selecting "enter URL" instead of having an address bar. We appreciate Sony trying to differentiate its browser by getting rid of the address bar, but it will confuse the average user.
Check out our in-depth article on Sony's internet browser here.
Apps
Sony has all of the bases covered when it comes to content streaming apps: Netflix, Amazon Instant Video, and Hulu Plus are all here. There are some other options as well, like Crackle and SnagFilms, that offer free content.
For apps other than content streaming, there is not much to choose from. Twitter and Facebook are here, although they have such abysmal interfaces that using them is a chore. There is an outdated app store called the Yahoo! Connected TV Store and it is just as bad as its overly long name.
You can read our in-depth overview of Sony's apps and the Yahoo! app store here.
Other Internet Features
Setting up the for internet use was simple. When the TV is powered on for the first time, it will guide you through setting up a wireless connection. After scanning for available networks and finding ours, we entered the password and were done. Easy.
Other Media
There is a media section in the Home Menu that allows access to USB media, whether photo, video, or music.
This TV offers something called WiFi Direct, which is a feature that allows a device to connect directly to the TV via a wireless signal. Once the device is connected, the TV asks you to send content to the TV, with no explanation on how to do this. We tried to get this feature to work on the 46HX750, but had no luck. We briefly tried tinkering with it again on the 55HX850, but we again had no luck. Sony needs to either fix this feature or offer an explanation on how to use it.
Menu Interface
For its menu system, the 55HX850 uses the XrossMediaBar interface that the Sony PSP and PS3 use and it is showing its age. The interface can be accessed by pressing the "Home" button on the remote, which shrinks the picture and brings up a menu at the bottom and subcategories on the right.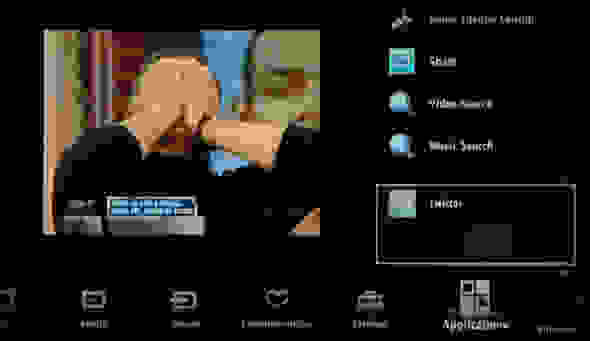 You can access TV settings, internet content, and USB media from this menu. The interface is a bit too cluttered and doing a simple task, like changing the picture mode from standard to cinema, is more complicated than it has to be.
Instruction Manual
The paper user manual that comes with the is well done. It explains how to attach the base, what each connection does, and how to troubleshoot certain problems.
Sony's digital manual, called the i-Manual, gets even more in-depth. There are various how-to guides for watching 3D, adjusting the picture, using the internet, and more. This digital guide is extremely well done and is a great complement to Sony's paper manual.
Conclusion
When all is said and done, the 55HX850 (MSRP $2,600) proves that Sony still knows a thing or two about crafting TVs.
There are plenty of good reasons to consider checking this Sony out, chief among them the TV's picture quality. The 55HX850 has a superb contrast and great colors. This Sony's 3D experience is also great, with no noticeable image ghosting found during our testing. Did we mention that the 55HX850 is a looker, too?
Internet functionality is where this flagship stumbles. Sony needs to reassess their smart TV platform because their decision to have two different interfaces does not fly in 2012 (or any other year). Smart TVs are still in their infancy and if Sony wants to capitalize on this market, they need to make a more user friendly platform.
The 's virtues outweigh its faults, although the price for these virtues is pretty steep. We recommend checking out Sony's flagship TV – if you can get past the poor internet platform, it is well worth your attention.
Photo Gallery
Meet the tester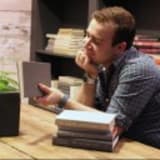 Josh Fields
Staff Writer
@reviewedtech
An enthusiast of all things tech, Josh is one of Reviewed.com's resident television experts. When he's not looking at bright TV screens in a dark room, he's probably reviewing a laptop or finding a new snack at 7-11.
Checking our work.
Our team is here for one purpose: to help you buy the best stuff and love what you own. Our writers, editors, and lab technicians obsess over the products we cover to make sure you're confident and satisfied. Have a different opinion about something we recommend? Email us and we'll compare notes.
Shoot us an email