Testing revealed that this little TV packs a pretty punchy picture, and we mean that in a good way. In the TV's Cinema picture mode—which is perfect for movie content—the R330B looks as good as many pricier televisions.
You'll find a healthy contrast ratio coupled with accurate colors, though they're a bit muted for those who like their picture really bright and flashy.
We were especially impressed with this TV's backlight uniformity, which was surprisingly reliable for an edge-lit TV of this size.
While this one should be on your radar if you're looking for the best quality-to-dollar ratio, don't drop the money on it if you're just looking for a "background" TV in a guest room or kitchen. You can find cheaper options for those roles, and this TV needs a dedicated viewing environment to be fully appreciated.
We also advise you take the 720p resolution into account: If you're going to watch from 5 or more feet away, there's no disadvantage to 720p vs. 1080p, but if you want to get up close and personal, you might be better off with a 1080p option, such as the comparably affordable Sharp LC-32LE551U.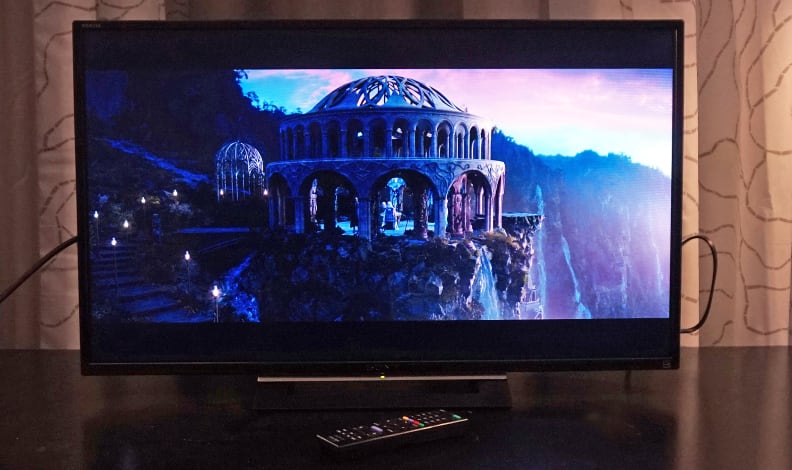 The Sony KDL-32R330B (MSRP $249.99) is a solid performer for what you're paying. It lacks the absolute color fidelity of some of Sony's top-tier options, but in terms of high-quality performance, this one's a solid deal for its price.
Testing revealed strong contrast performance, clean, color-free grayscale elements, and especially impressive backlight uniformity for an edge-lit LED.
The only real drawback, at least in our opinion, is the TV's lack of calibration controls. The R330B doesn't give users access to any white balancing options, color tuner controls, or detailed gamma adjustment.
Fortunately, it performs handsomely enough right out of the box that this isn't too egregious an omission, though the TV could look even better with a professional calibration.
Like an ambitious employee, the R330B dresses above its station.
Usually, entry-level TVs like this one don't really "dress to impress," but the R330B both looks and feels like a little craftsmanship went into producing it.
This Sony's narrow black bezels and black plastic suit don't necessarily help it stand out from a distance, but the little details do impress. The quality of the plastic and the stability of the fusion (read: lack of gaps) between the screen and the bezels around it help the R330B stand out within a deluge of cheaply designed televisions.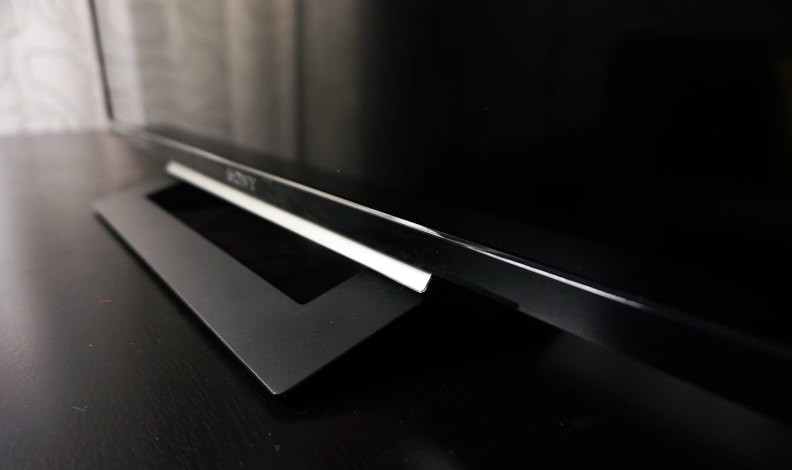 This TV perches upon a semi-hollow rectangular stand that lifts it a few inches from the tabletop. While the stand is of lighter weight than we'd prefer, it still provides an ample enough footprint that there's no risk of tipping or falling. Lastly, a slim side profile lends the TV a modern look.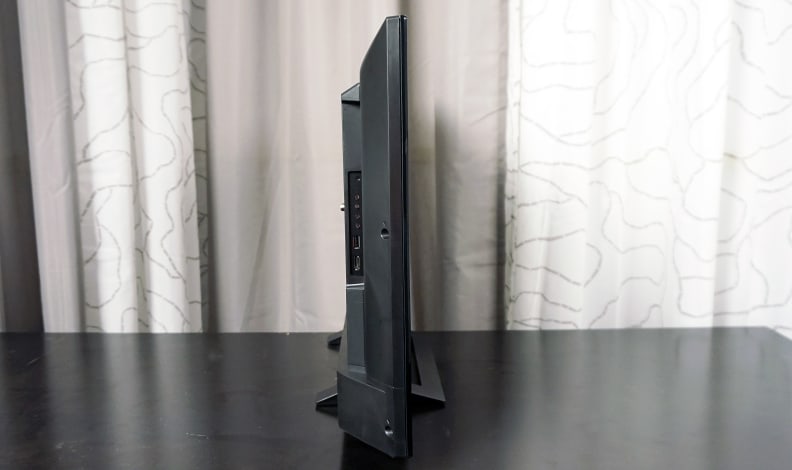 Around back/on the left side, you'll find an above-average amount of audio and video inputs: two HDMI inputs, a USB 2.0 input, shared component/composite hookups, a coaxial jack for cable/antenna connection, a hybrid sub-woofer/headphone/analog audio out jack, and an input for exterior analog audio speakers. Getting more than one HDMI is pretty rare for this price range, and the multiple audio options are a definite plus.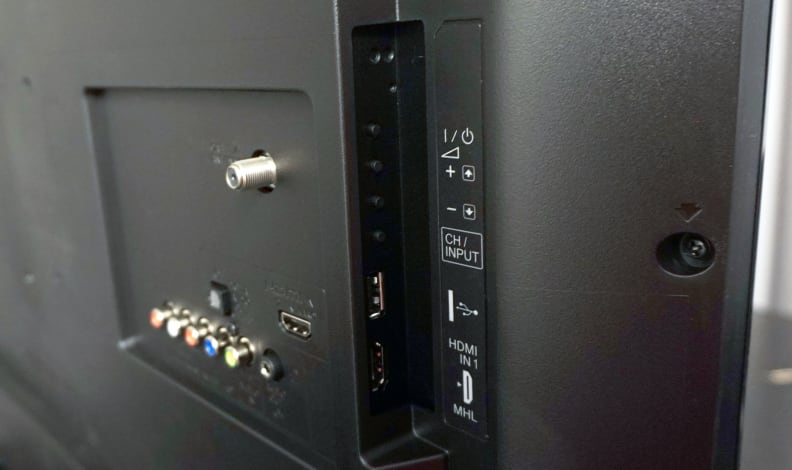 The remote control here is pretty average, but it's tricked out with lots of buttons. It's not the best remote we've ever used, but it's not low quality either. It's good enough for navigating the TV's software menu, which is rather well-designed for this price range, and offers up a good amount of picture/audio adjustments, including the same "Scene Select" option found on Sony's high-end lineup.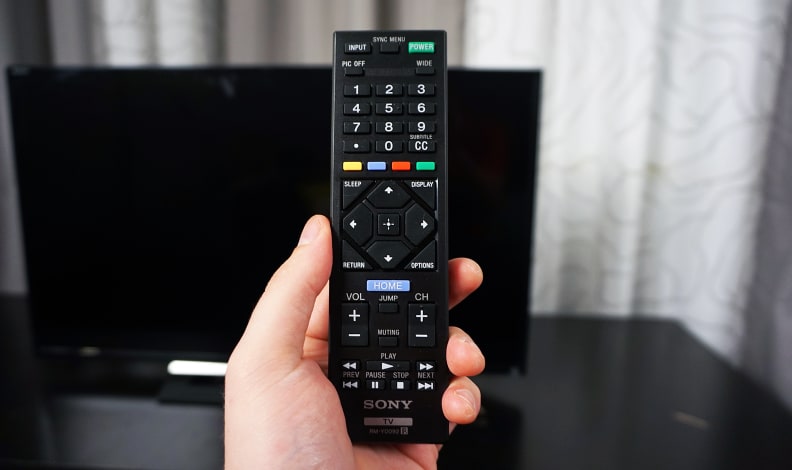 We calibrate each TV we test for two reasons: First, it allows us to gauge the full extent of that TV's ability per international standards (Rec.709); secondly, it deftly illustrates how well the TV adheres to those standards in its default, out-of-the-box state.
During calibration, we generally aim for a "dark room" calibration, which involves setting a TV's peak brightness (reference white) to 40 fL (about 120 cd/m2 ) and its gamma curve to about 2.4. The Sony R330B is quite a bit less bright than most edge-lit LED televisions, meaning we had to actually turn the Backlight control up quite a bit (in Cinema mode) to achieve the 40 fL standard.
As previously stated, the R330B doesn't have the same white balance (2-, 10-, 11-, or 20-point RGB) controls that most TVs provide these days, so correcting the Gain/Offset (or High/Low emphasis) of its red, green, and blue channels was impossible.
Likewise, Sony continues to exclude a color tuner/CMS option in its flat-panel displays, so adjusting the Hue, Saturation, or Brightness of the TV's colors was also impossible.
Below, you'll find Sony's default settings (in Cinema mode) alongside my adjusted, calibrated settings.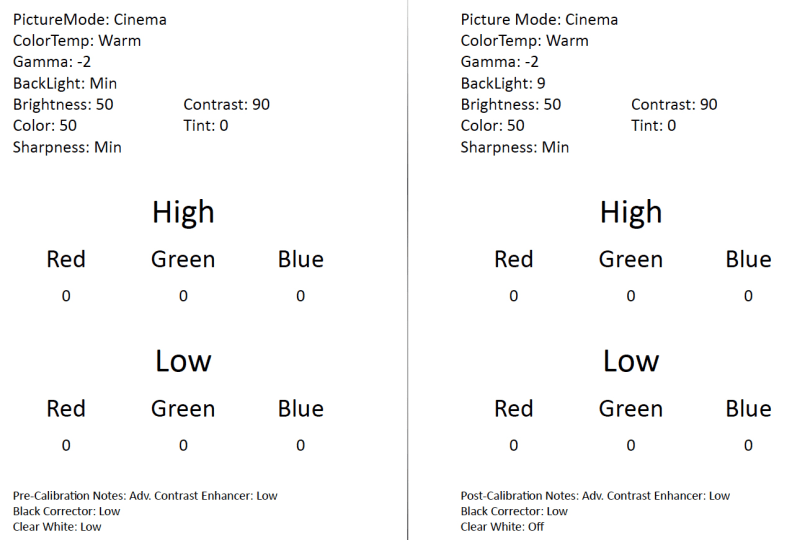 Commendable picture quality, especially for this price range.
We've got to hand it to this Sony: For one of the company's lowest end 2014 models, it's capable of a fairly solid picture. It can't go toe-to-toe with the best TVs in the business, but in terms of pure picture quality it's got a lot to offer to even very picky TV and movie lovers.
First of all, for an edge-lit LED TV, the R330B boasts solid contrast via deep, shadowy black levels. Deep, dark caves? Spooky night-time graveyards? Seedy city alleyways? All of them will look appropriately inky and foreboding, especially when you're using the Cinema picture mode.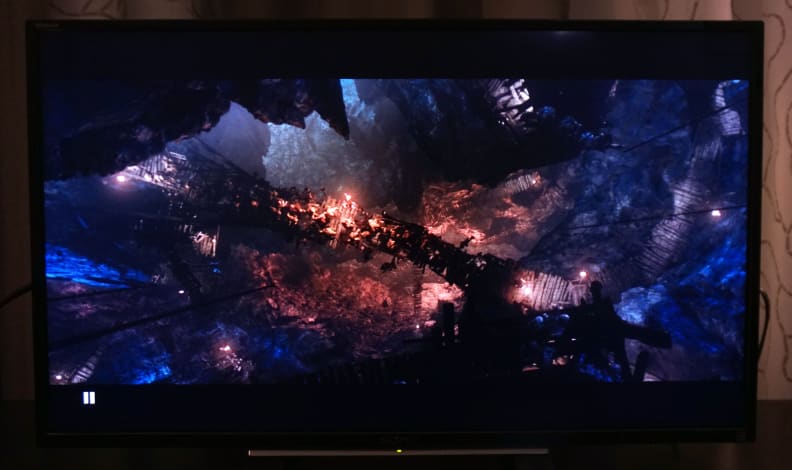 On the flipside, the R330B isn't super bright and flashy, so it's best used in a dimly lit room like a bedroom or living room. Since black levels have much more to do with on-screen contrast than peak brightness, however, the R330B still delivers good overall contrast—right up there with some upper midrange models.
The R330B isn't super bright and flashy, so it's best used in a dimly lit room like a bedroom or living room.
Testing also revealed mostly color-free grayscale elements, a feat that's harder to achieve than it sounds. Neutral shades like midtone grays or sub-peak white tones look clean, and are almost entirely free of the blue/peach tinting that often upsets TVs in this price range. In that same vein, the R330B's basic color production is pretty good, though not without an element of inaccuracy.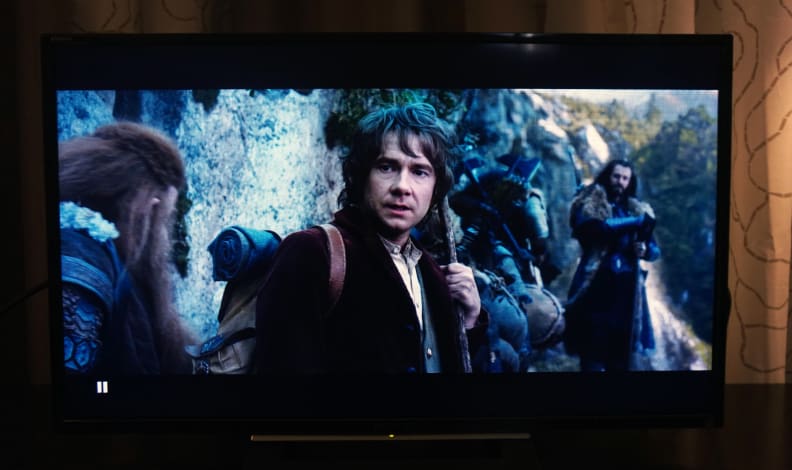 This TV's only real weakness is its viewing angle. If you try to watch it from too far to one side, the picture becomes washed out and colors bleed a bit. This is fairly common for affordable, non-IPS LCD panels, but it does mean you probably shouldn't wall-mount this TV or expect huge groups to be able to watch together.
Wanna see some cool charts and all the hard data we gathered during testing and calibration? Check out the Science Page.
A TV's contrast ratio is probably its most important performance aspect, especially where immersion and a life-like picture are concerned. We determine a TV's contrast ratio by dividing its peak/reference white (100 IRE) by its black or minimum luminance level (0 IRE), using a standard ANSI checkerboard pattern.
I measured a rather impressive black level of 0.034 cd/m2 and a reference white of 108.90 cd/m2 , giving the R330B a contrast ratio of 3,203:1. This is quite good for this price range, and compares favorably with some of the best 32-inch TVs we've tested since 2014.
Our viewing angle test measures how far from center (or head-on) you can watch a TV before the picture's contrast degrades past 50% of its 0° (head-on) value. We measure full-field contrast patterns in 10° increments to either side of the screen, calculating the contrast percentage of the original value.
The R330B isn't the strongest performer in this area compared to other TV techs like plasma or OLED, but it's right in line with what we expect from edge-lit LEDs in this size class. I measured a total viewing angle of 29°, or ±15° from center to either side of the screen.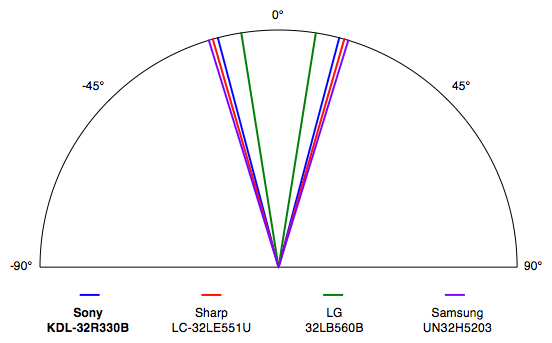 A top-notch choice for the serious viewer.
In many ways, the Sony KDL-32R330B is like a plasma TV: It's capable of solid black levels, it looks better than many competing TVs in a dimly lit room, and it's not bright enough to compete with lots of ambient lighting.
Though it's not as bright and flashy as the competition, if you're in the mood for some serious cinematic action or want to wring the most detail out of your PS3, the R330B is one of the better choices in this price bracket. Just keep the 720p resolution in mind—if you've got a current generation console, for example, you might want to spring for a 1080p option like this Sharp.
If you're craving serious cinema or want to get max details from your PS3, the R330B is one of the best choices for the price.
If you can find a bigger TV for a similar price, chances are the picture quality isn't as good—but what if you just want the biggest screen you can?
If you'd rather trade picture details for screen size, there are lots of options—like this 40-inch Sanyo—that you can get for a similar price. Just know that TVs like that one tend to look better for more casual viewing purposes, and can't hold a candle to this Sony in terms of out-of-the-box quality.
A color gamut is a visual illustration of the hue/saturation of each of a TV's primaries (red, green, and blue) and secondaries (cyan, magenta, and yellow). The results are compared to the international standard for HDTV color, called Rec.709, to see how they match up.
The R330B performed well in this regard—in Cinema mode, its colors are fairly accurate, though most tend to be a bit under-saturated, meaning they aren't quite as bright and vivacious as they should be. The white/gray point is more accurate than most TVs in this price range, however. Because the R330B lacks a color tuner/CMS (Color Management System), we were unable to attempt to improve its color production/accuracy.
Grayscale, or neutral tone production, is one area where the R330B performs quite well out of the box. Because TVs use additive color to create grayscale elements, there's a strong tendency for uncalibrated TVs (even high-end models) to exhibit blue/peach tinting within one or more steps along the grayscale signal input. Such visible error within the grayscale is measured in a collective called DeltaE, where a DeltaE of 3 or less is ideal.
The R330B tested with a DeltaE of 7.66, which is a little high, but is nowhere near the worst we've seen. Generally, most viewers won't notice visible tinting of grayscale elements with this level of DeltaE. Error is spread sporadically across the entire grayscale, meaning no single step in the chain will stand out as egregiously wrong.

If we look more closely at this Sony's RGB sub-pixel emphasis (the underlying additive elements of its grayscale), we can see where emphasis/de-emphasis create issues in grayscale elements. The TV has a tendency to under-utilize the green channel, while subtly over-emphasizing the blue channel. Because it lacks either 2-point or Multipoint white balance controls, we weren't able to make any notable corrections to the way the TV utilizes its sub-pixels.

If "contrast" deals with the top and bottom of a TV's light output, gamma deals with the middle area. Essentially, a display's gamma—usually expressed as 2.0, 2.2, or 2.4—describes how quickly or slowly it adds luminance, at each step, progressing out of the darkest to the brightest signal. Ideally, TVs will exhibit gamma curves that match the lighting around them, with a gamma curve of 2.2 being standard for, say, office lighting, and a gamma of 2.4 being closer to dark, studio/cinema environments.
By default, the R330B follows an aggressively "slow" gamma curve of 2.51, failing to grow bright very quickly as it travels from shadow details up into midtones and highlights. By adjusting the TV's gamma slider and processing settings, I was able to achieve a slightly less erratic gamma curve following a 2.39 trend, which is close to the 2.4 gamma curve ideal that we calibrate for.
Meet the testers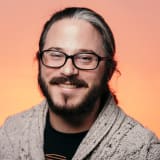 Lee Neikirk
Editor
@Koanshark
Lee has been Reviewed's point person for most television and home theater products since 2012. Lee received Level II certification in TV calibration from the Imaging Science Foundation in 2013. As Editor of the Home Theater vertical, Lee oversees reviews of TVs, monitors, soundbars, and Bluetooth speakers. He also reviews headphones, and has a background in music performance.
See all of Lee Neikirk's reviews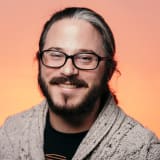 Lee Neikirk
Editor
@Koanshark
Lee has been Reviewed's point person for most television and home theater products since 2012. Lee received Level II certification in TV calibration from the Imaging Science Foundation in 2013. As Editor of the Home Theater vertical, Lee oversees reviews of TVs, monitors, soundbars, and Bluetooth speakers. He also reviews headphones, and has a background in music performance.
See all of Lee Neikirk's reviews
Checking our work.
We use standardized and scientific testing methods to scrutinize every product and provide you with objectively accurate results. If you've found different results in your own research, email us and we'll compare notes. If it looks substantial, we'll gladly re-test a product to try and reproduce these results. After all, peer reviews are a critical part of any scientific process.
Shoot us an email