The Sony XBR-65X950B (MSRP $7,999.99) is currently the only TV on the market that offers consumers the premium combination of native 4K resolution and full-array local dimming, a backlight function that creates darker shadows and brighter highlights without detail loss. The TV's well-implemented local dimming produces excellent contrast and promises solid backlight uniformity, but testing did reveal a few minor issues with the TV's color production.
If you want 4K and you want it now, the only TV that comes close to the X950B's abilities is Samsung's HU6950, and even that is a stretch. At $2,000 less, the HU9000 has a short leg up on the X950B in appearance, smart features, and color accuracy; still, the X950B's full-array local dimming earns a spot on any videophile's short list of TVs to drool over—the picture is incredible, and Sony has priced it accordingly.
Despite being a premium TV, the X950B does not have the most expansive calibration controls. Many modern televisions offer both 2- and 10-point white balance controls, for example, but this Sony only provides controls for the former. It also has a gamma pre-set, but no CMS (Color Management System), so I only able to make small corrections to the overall RGB emphasis and gamma point allocation.
I started from the pre-sets in the Cinema 1 picture mode within the Cinema scene type. The TV's local dimming control, called LED Dynamic Control, is set to Standard automatically, so I calibrated the TV with local dimming enabled for the best picture. We calibrate each TV to ideal dark/black room conditions, meaning a 100 IRE (peak) brightness of around 40 fL and a gamma sum of 2.4 (or as close as possible).
I improved the TV's appearance the most by reducing the emphasis on green within the upper half of the grayscale, helping to neutralize bright grays and highlights. Removing a few gradations of green emphasis with the 2-point white balance control makes a big difference in the overall quality.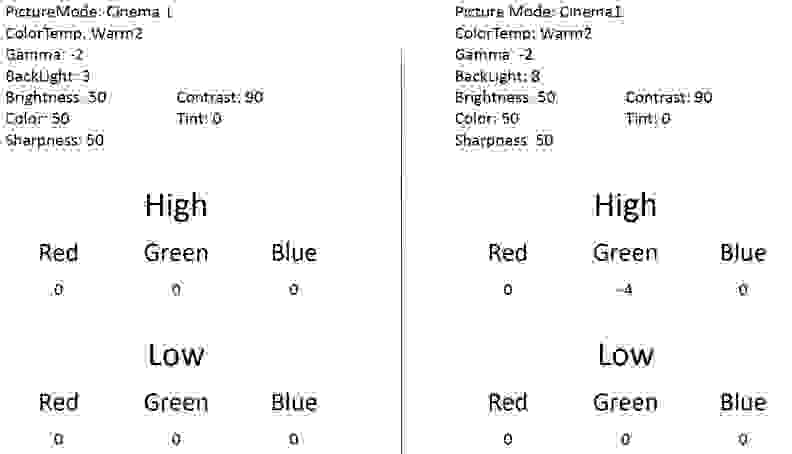 Bliss, thy name is local dimming.
Want to be blown away by the latest episode of Game of Thrones, or your favorite film on Blu-ray? You'll need a TV with great black-level performance. Truly dark, inky shadows don't just make a haunted house look more terrifying, they also enhance the contrast of that single candle you're praying doesn't snuff out.
The XBR-65X950B is the kind of TV you need if you're craving a movie-theater experience from your own homestead.
The XBR-65X950B is the kind of TV you need if you're craving a movie-theater experience from your own homestead. Time in the lab revealed incredible shadow performance on par with many of last year's plasmas. Best of all, there's practically no blooming—an ugly artifact that occurs when backlight LEDs fail to dim properly.
LCD TVs like this one have traditionally struggled to create completely black bars around letterbox (widescreen) or 4:3 (standard definition) content, but the X950B excels at it. Gotham City's seedy underbelly looks even more foreboding when it's end-capped by complete darkness—you want to watch The Dark Knight, not the array of lights behind it. All of these great attributes have full-array local dimming at their roots.
I was satisfied with this TV's performance during action scenes and sports, but not overly impressed. The X950B is equipped with Sony's CineMotion and Motionflow modes—the former smoothes artifacts during film-based content, while the latter eases frame transitions during video content. Both modes are quite effective depending upon the content, but if you overdo it, Batman may suddenly look like a Days of Our Lives soap star.
I was satisfied with this TV's performance during action scenes and sports, but not overly impressed.
Offering more than just tons of pixels, the X950B promises vivid, highly saturated reds and greens compared to non-4K TVs. Testing revealed that even with the Live Color setting turned off, this TV can't help but send those holiday colors to Vegas. With Live Color set to High, reds and greens get a huge boost in saturation and vivacity. This can look great during some content, but it also obscures key details in other kinds—specifically in finely tuned Blu-rays.
Reds and greens get a huge boost in saturation and vivacity.
Not everything is flashy and new; there are even aspects of the X950B that just average. Like most LCDs, you won't be able to comfortably watch from the farthest corner of the room—picture quality degrades at extreme angles. And if you're planning to go the home-theater route, you'll probably want to invest in a speaker bar or sub-woofer. The speakers are decent, but not mind-blowing, and certainly not up-to-par with the incredible picture this TV is capable of.
Overall, casual viewers and videophiles alike will find oodles of things to love about the X950B. From cult-classic films, to anime, to news and sports, this TV produces an awesome picture. Naturally, the X950B looks its best playing native 4K content—there are a few options on Netflix by now—but the core picture quality is good enough that it still feels like an upgrade to your basic cable package.
Sony's silver lining
For a company's flagship 4K TV, the Sony XBR-65X950B is modestly dressed. Besides brushed silver trim along the top and bottom of the screen, there's not much flash here. Narrow bezels put the screen front-and-center, while utility elements like the video connections and on-set controls are hidden on the back of the panel. Because it uses a full LED backlight rather than edge lighting, the X950B's panel is a little thicker than many modern TVs—but don't worry, you can still wall-mount it.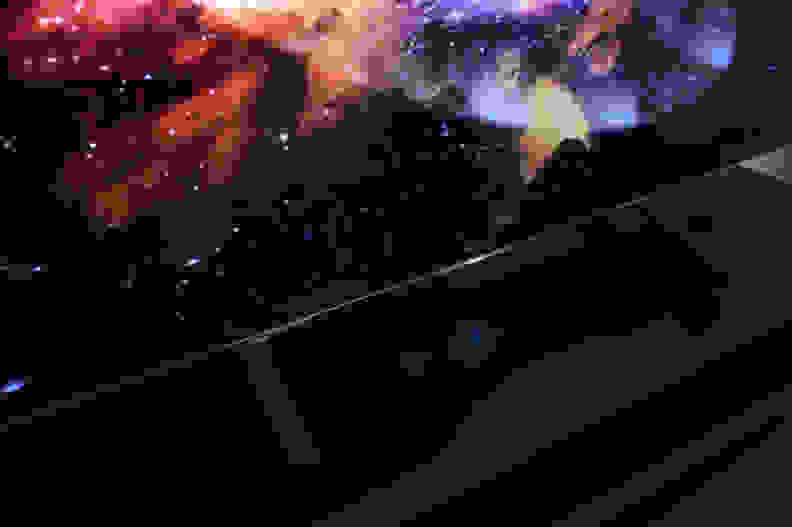 Speaking of wall-mounting, it might be the best choice for this one. The X950B wields the same tiny, two-pronged feet that we saw on Sony's W950B, only they're black instead of silver plastic. You can install the feet two ways: on either side of the screen, or towards the center. Either way, they look a little unworthy of the huge 65-inch panel.
Alongside the panel and caltrop-like feet, Sony includes a slew of extra goodies: two remote controls with batteries, two pairs of Active 3D glasses, a port replicator, and an IR blaster. The first remote is traditional; the second is a smaller, touchpad-equipped controller specially designed for use with the Sony Entertainment Network smart platform. There's also a small camera mounted at the top of the display to use with Skype calls.
In case you don't know, a port replicator is a docking station meant to ease the connection of certain devices, such as a laptop, to the TV's video ports. An IR blaster extends your TV remote's range, allowing it to control an infrared device like a set-top-box.
The 65-inch X950B is extremely heavy, so be careful during setup.
All of the X950B's video connections are hidden behind plastic panels that pop off with a little gentle nudging. Two covered areas hide these bashful little ports, one oriented backward, the other to the left side. The side ports include three USB 2.0 inputs, a hybrid headphone/sub-woofer audio out, four HDMI inputs, an RS-232c control port, and a coaxial jack for cable or antenna. Removing the rear-most panel reveals a few more connection options: two analog audio outputs, a hybrid component/composite cluster, and ethernet (LAN) in.
Last but not least, we'd like to caution the rugged independents among you: The 65-inch X950B is extremely heavy, so be careful if you plan to do it yourself rather than pay for an installation. Those pronged feet serve more to balance the TV than to hold it in place—be sure to watch for tipping, especially if you've got children.
Contrast—the difference between dark and bright elements on screen—is one of the most important performance points for any TV. Thanks to its full-array local dimming, the X950B is capable of very strong average black levels, averaging 0.02 cd/m2 on the ANSI checkerboard contrast pattern, with levels as deep as 0.0003 cd/m2 at lower APLs. Local dimming does reduce the overall brightness compared to last year's X900A, however, with average levels around 120 cd/m2 or less. The X950B achieves higher brightness with local dimming disabled, but the contrast impact from the terrific black levels is worth the trade off.
Overall, we measured a very impressive contrast ratio of 6025:1.

Color is one area where the X950B is a bit of a mixed bag. The TV naturally alters the red and green points—both primaries in digital color—so that they're more saturated. It doesn't look bad, but it's wrong compared to the to the Rec. 709 color standard.
The result is a small loss in detail during scenes with lots of bright red and green—cyan and magenta are also impacted in a slightly negative manner. Because the X950B doesn't have a CMS (Color Management System), there's really no way to correct or change the X950B's color production. Most viewers won't notice or mind the added color, but it's still a negative trait that the TV can't toggle between normal and expanded color gamuts.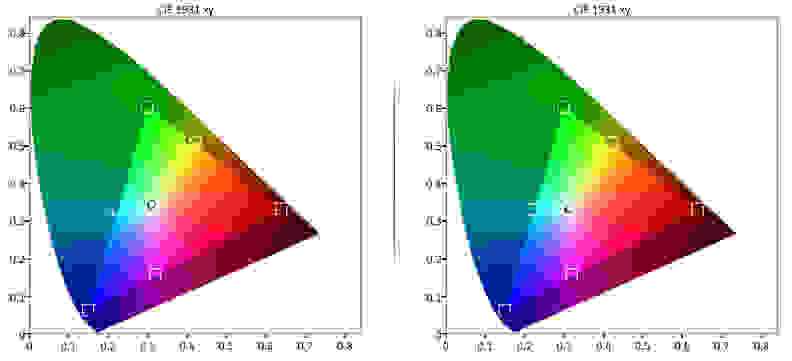 No daytime soaps allowed!
Sony TVs are legendary for their wealth of adjustment options, but this also gives them something of a learning curve—the X950B is no exception. Think of it like a secret clubhouse: It's a little tricky to gain admittance, but once you know the super-secret password, you'll have a ball.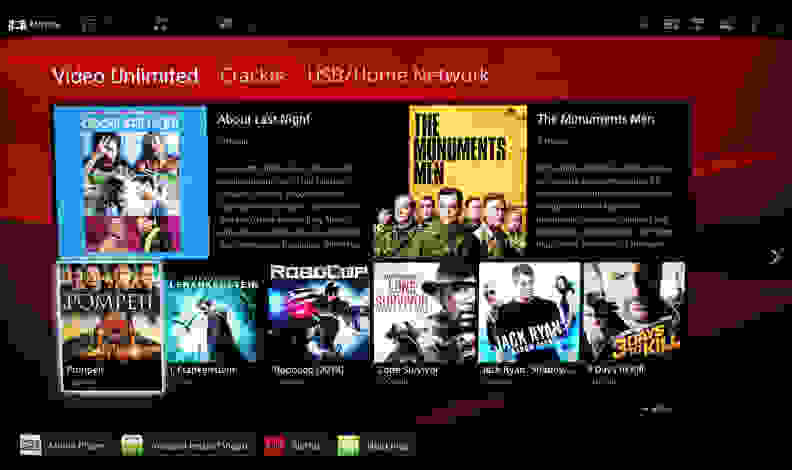 The first part of the secret handshake requires getting online. The X950B should have no trouble locating your home WiFi network, but it's up to you to remember that crazy Comcast password. Once you're online, jumping into the Sony Entertainment Network (SEN) is easy: Just press the Home button on the remote (and sit through a software update).
The SEN is broken up into four content tabs: Movies, Album, Music, and Apps. The first three tabs revolve primarily around Sony's internal content programs, such as Video Unlimited, PlayMemories Online, and Music Unlimited (these services are kind of like Sony's answer to Apple's iTunes).
The Apps page is a little less rigid: Here, you'll find blue-chip partners like Netflix, Amazon Instant Video, YouTube, and Facebook. You can customize your own apps, or pick from a list of featured apps provided automatically. There's also a cool feature called Social View that will allow you to simultaneously watch TV and browse a Twitter feed or a news ticker.
Overall, I've found the X950B's smart features to be fluid and intuitive to use—after a little practice, of course. Apps like Netflix load quickly, and the featured content on the SEN tabs is allocated sensibly to the space available, creating a comprehensive headquarters to help you get the most out of your smart features. The only thing missing is a selection good built-in games, which only Samsung seems to have a handle on right now.
On the interface side of things, the X950B is a little more complicated than many of its peers because it offers a Scene Select menu. This menu allows you to choose from pre-sets like General, Cinema, Sports, or Game, and automatically toggles the TV's numerous picture and audio settings to best suit those tasks. There are even multiple picture modes within each scene: The Cinema scene lets you choose between Cinema1 and Cinema2 picture modes, for example. It's a little complicated, but also yields solid results across various content types.
You'll have to put in the time to learn the TV's various functions and abilities.
There are lots of more complex picture adjustments, too. From the basic controls like Backlight and Contrast, to more complex toggles such as Live Color or Gamma, picture purists will have plenty of settings to play with in their quest for the best picture.
The Audio menu provides multiple sound profiles and a full equalizer, and you can adjust the intensity of the boot logo light beneath the panel, set sleep timers, save network connections, and even adjust the volume allocated to the headphone jack. Hey, I told you it was complicated. Depending on the scene or picture mode selected, as well as the source content, some picture options will be grayed out and unavailable. Unfortunately there's no simple explanation, you'll just have to put in the time to learn the TV's various functions and abilities.
I really like the clean, professional look of Sony's menu interface. There are a lot of options, but they're accompanied by short, accurate descriptions of what they do and why. While some TV menus are stuffed with ugly graphics and even riddled with typos, it's clear that this interface received careful attention during the design process.
The X950B is at the cutting edge of TV tech—and that's an expensive place to be.
The Sony XBR-65X950B (MSRP $7,999.99) offers users a winning combination of picture quality, smart features, and appealing design. Great black levels and highly-saturated colors enhance almost any content you decide to watch, and a well-organized array of features and apps mean the X950B is as much a powerhouse media center as it is a TV.
The price of entry may be high, but this is one club that every videophile would be psyched to be a part of.
Obviously, the X950B isn't a viable option for most consumers. The picture quality alone carries most of the price, but extravagant extras like the mounted USB camera and the sub-woofer audio jack boost the price tag even higher. This is definitely a product for the deep pockets crowd—after all, it's practically the same price as an OLED TV, albeit with much higher resolution.
Right now, however, the X950B is one of only a handful of flagship-quality 4K TVs on the market, and (for now) it's the only option if you want 4K resolution with full-array local dimming. The price of entry may be high, but this is one club that every videophile would be psyched to be a part of.
Grayscale error (due to poor grayscale tracking) occurs when one or more of a TV's primary colors is emphasized over the other. The result can be reddish, blueish, or greenish grays and whites, or even detail loss due to errors in luminance allocation. Error with the grayscale—the neutral tones a TV produces—is measured in a collective called DeltaE, where a DeltaE of 3 or less is ideal. Prior to calibration, the X950B's grayscale tested with a DeltaE of 8.29. We achieved a much lower DeltaE of 1.87 after removing some green emphasis from the RGB balance.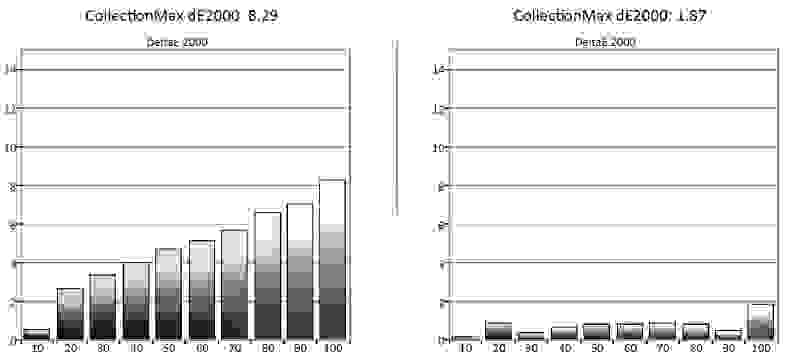 A closer look at the X950B's RGB balance revealed that it tends to overemphasize green at the expense of blue and red. Because each sub-pixel is needed to create grayscale elements, they must always be balanced in emphasis—thus, adding green across the grayscale spectrum results in a loss in blue and red, and vice versa. By removing some of the green emphasis with the TV's white balance (grayscale) control, I was able to bring the emphasis into even balance, creating more neutral grays and whites within the X950B's grayscale.

×
other tests
Meet the tester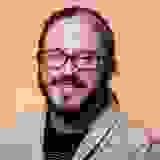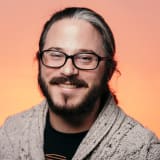 Lee Neikirk
Editor, Home Theater
@Koanshark
Lee has been Reviewed's point person for most television and home theater products since 2012. Lee received Level II certification in TV calibration from the Imaging Science Foundation in 2013. As Editor of the Home Theater vertical, Lee oversees reviews of TVs, monitors, soundbars, and Bluetooth speakers. He also reviews headphones, and has a background in music performance.
Checking our work.
We use standardized and scientific testing methods to scrutinize every product and provide you with objectively accurate results. If you've found different results in your own research, email us and we'll compare notes. If it looks substantial, we'll gladly re-test a product to try and reproduce these results. After all, peer reviews are a critical part of any scientific process.
Shoot us an email