This mammoth display is the spiritual successor to two other Sony 4Ks TV: the X950B and the X900B from last year. The X940C borrows the full-array local dimming tech from the former, and the side-mounted speaker design from the latter.
What's new here is Sony's re-tooled "Triluminos" quantum dot color. The X940C absolutely decimates those other two TVs in terms of color production, if what we saw in Sony's booth is anything to go by. There's also a new upscaling engine, called the 4K Processor X1, which according to Sony improves upon all resolutions, not just 1080p.
While Sony hasn't announced pricing for this hefty hunk of TV, we're guessing it's going to be extremely expensive thanks to its impressive specs and mammoth size. Not everyone is going to love the look of those big speakers, but there's some really awesome tech at work here—maybe awesome enough to make you look past them.
Contrast? Check. Color? Quantum check.
Checking out all the new TVs at CES is a blast, but it's not always the best way to objectively analyze a TV's potential: You have no control over the content or lighting on the show floor, after all.
But from what I know about the tech packed into the X940C, I can confirm—with almost 100% certainty—that it's going to be one of the best-looking 4K TVs available this year. After all, it wields a fierce combination of local dimming and quantum dot color.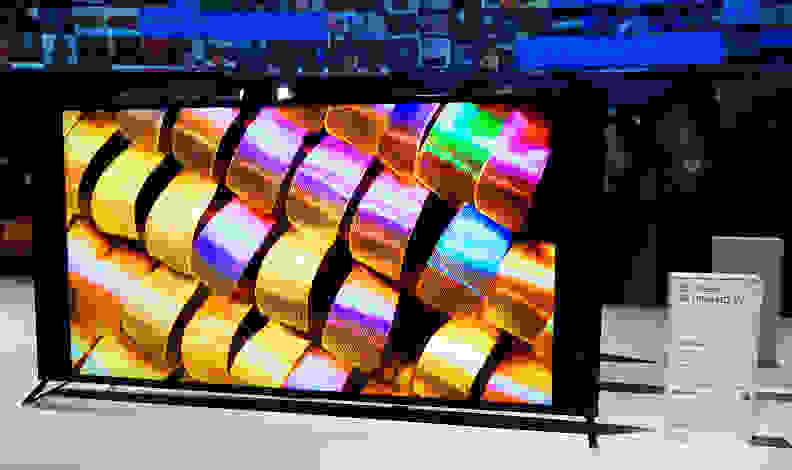 Last year, Sony's X950B—its flagship 4K with local dimming—won our Best of Year award for 4K LED LCD televisions. The local dimming was a huge part of that, allowing the TV to create brilliantly bright whites and beautifully deep blacks.
If the X940C wants to look as good as last year's option, it'll need a ton of local dimming zones.
It's not widely known by the general public, but the number of local dimming "zones" behind the screen has an awful lot to do with how effective it is. If the X940C wants to look as good as last year's model, it'll need a very high zone count, which will undoubtedly add to the price.
On the other hand, Sony's already done a lot of the R&D on backlight arrays, so maybe we'll see some savings on that front. Last year's full-array model had none of the ugly "blooming" associated with a low-zone-count TV, so we can only assume that the X940C will look just as polished.
In terms of color, the X940C should prove to be one of the most vivid, color-capable Sony TVs in years. Sure, quantum dot technology is a big buzzword at CES this year, but it's no gimmick. The quantum-level nano-crystals emit far, far more color than standard LCDs, and it's not something you need a perfectly calibrated home theater setup to see and enjoy.
The X940C should prove to be one of the most vivid, color-capable Sony TVs in years.
Naturally, any show-floor TV needs to be approached like a wounded wolf—carefully. Sony creates and produces most of the content on display, so it's not like we've seen any real movie or TV footage, or anything that made use of the TV's new "4K Processor X1" or motion capability.
It's safe to assume, however, that the TV's resolution retention during motion and upscaling efficacy will at least be as good as the X950B from last year—a TV that greatly impressed us. We're most excited to see if Sony's claim that the new upscaler redresses and enhances sub-1080p content is true, because that would be awesome.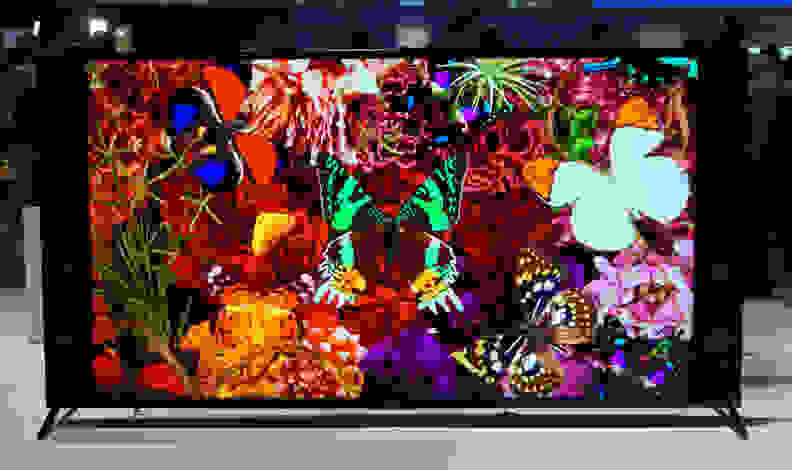 Yes, we know... the speakers are unusual. Get it out of your system.
Let me make one thing clear: I like how this TV's gigantic side-mounted speakers look.
Granted, most people who buy a huge, expensive TV like this one are going to probably have their own audio solution already, and it's understandable if you think the speakers are ugly, over-the-top, or flat-out unnecessary. But don't rain on my parade, okay?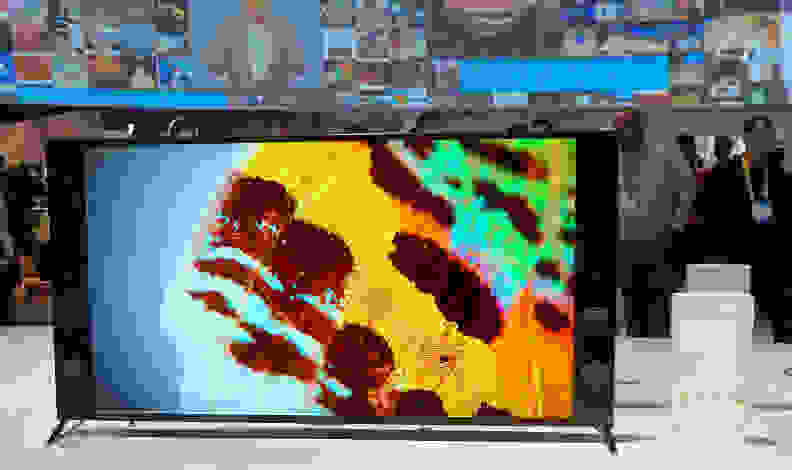 The X940C recycles Sony's aggressive "Wedge" design from last year, which means the TV tapers from fatter to slimmer, bottom to top. The added space allows the side-mounted speaker sub-woofers to vibrate enough to produce deeper bass. While we haven't listened to the X940C's speakers away from the busy show floor, we did check them out last year. We don't lab-test TV speaker sound, but on a subjective level they absolutely destroyed your typical stock 20w TV speakers.
As for features, the X940C is fully equipped to manage the oncoming 4K content revolution. (Please be oncoming, pretty please.) We haven't seen full production connectivity options yet, but we do know that the X940C should deliver HDMI inputs capable of 4K at 60Hz, and be equipped to handle the necessary HEVC/H.265 codecs.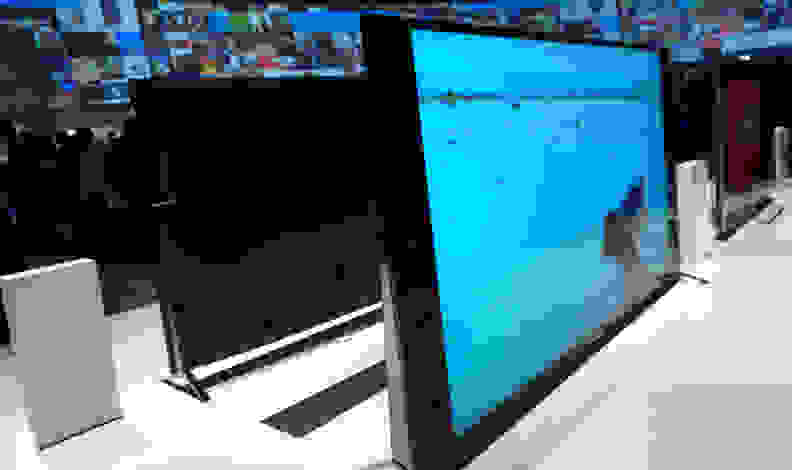 Sadly, we've yet to go hands-on with Sony's new Android TV platform, which the X940C will use. We may update this review with further information and impressions later in the week, but in the meantime, Android Authority has posted their take. Be sure to check it out if you're super curious.
We can say that the new Android TV smart platform will probably be a huge improvement over Sony's previous smart efforts, if only because it won't be so heavily geared towards proprietary Sony content.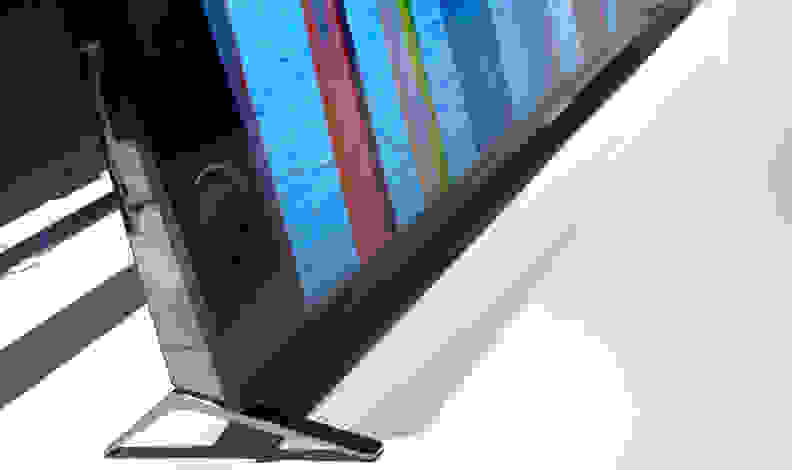 You'll probably pay a lot, but it's all quality.
Huge, tech-heavy, and beautiful-looking, the 75-inch X940C looks to be one of the most promising options in 2015, even if it breaks the bank.
When the 65-inch X950B hit the market, it was over $8,000. This one is 10 inches bigger and equipped with quantum color, so don't be surprised if the price cracks the five-digit barrier.
To Sony's credit, last year's full-array iteration was one of the best 4K TVs we've ever seen; the X940C is a larger version of that, with a better upscaler, better color, and potentially better local dimming.
Over the past year, 4K TVs have gained serious momentum. The X940C is a tried-and-true, second-gen sort of product that consumers can rely on, and that alone makes it worth keeping a close eye on.
Meet the tester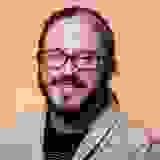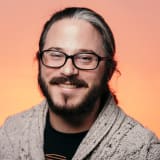 Lee Neikirk
Editor, Home Theater
@Koanshark
Lee has been Reviewed's point person for most television and home theater products since 2012. Lee received Level II certification in TV calibration from the Imaging Science Foundation in 2013. As Editor of the Home Theater vertical, Lee oversees reviews of TVs, monitors, soundbars, and Bluetooth speakers. He also reviews headphones, and has a background in music performance.
Checking our work.
Our team is here for one purpose: to help you buy the best stuff and love what you own. Our writers, editors, and lab technicians obsess over the products we cover to make sure you're confident and satisfied. Have a different opinion about something we recommend? Email us and we'll compare notes.
Shoot us an email