The XBR-85X950B is Sony's flagship TV for 2014, and it made its grand debut here at 2014 International CES in Las Vegas.
The massive 85-inch display offers 3,840 x 2,160 (4K) resolution, full-array LED backlighting, Sony's X-Reality upconversion chip set, and expanded color through the company's Triluminos technology.
While no pricing has been announced, it's sure to be a bank-breaker—but can you really put a price tag on expertly engineered picture quality?
Picture Quality
Hooray for full-array!
The most obvious draw of Sony's flagship X950B is its UHD (4K) resolution, which is four times that of 1080p. Paired with native 4K content, the picture is breathtaking. Despite the abundance of UHD TVs this year, the X950B stands out, partially because Sony is already best at providing content after last year's W900A.
Paired with native 4K content, the picture is breathtaking.
Tweet It
Yet one very important aspect of that picture quality is the XBR-X950B's full-array LED backlight with local dimming, something Sony calls "X-tended Dynamic Range Pro." This allows LEDs behind pixels that are hosting bright content to be overdriven, while LEDs behind pixels hosting dark or black content to shut off entirely, greatly increasing the contrast efficacy.
Another huge contributor to the X950B's flagship status: Sony's X-reality upconversion engine. Allegedly this software delivers UHD-quality during playback of 1080p content, effectively future-proofing the TV while we all wait for 4K providers to catch up with hardware developers.
Unfortunately, none of Sony's reps were privy to the actual number of LED zones, but our eyes liked what we saw.
The X950B's hardware components improve the picture regardless of resolution.
Tweet It
Speaking of hardware, the aforementioned local dimming and Sony's Triluminos color are both panel-level hardware components that mean a substantially improved picture, regardless of resolution.
While this is an LED LCD, which is generally cause for concern regarding motion performance, Sony's flagship TVs have historically handled content like sports and action scenes well. The XBR-X950B sports a 120Hz panel equipped with what Sony calls "Motionflow 960," a feature meant to solve the sample-and-hold problems intrinsic to LCDs. That said, the content we watched didn't push the frame rate limit enough to sell us on that technology just yet.
Design & Features
Throw away your TV stand
While exact dimensions haven't been released yet, the XBR-85X950B follows a trend in CES 2014: It's huge. At 85 inches, it definitely doesn't need a TV stand—four long, slender legs support the display, and it stands roughly five feet tall from toe to top.
Spare black bezels run the perimeter of the screen, melding into the back casing to house a thin panel.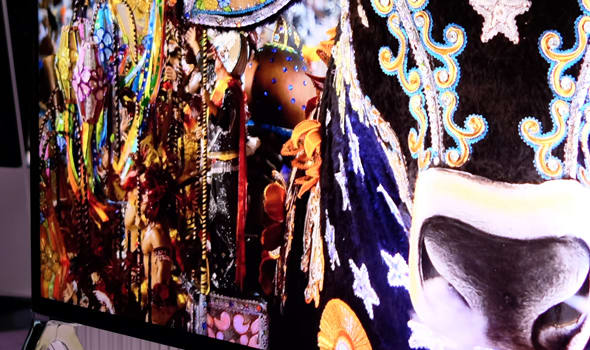 Sony includes plenty of connectivity options as well: four HDMI, two composite, LAN (ethernet), RF for cable/satellite, two analog audio inputs, and output for headphones are definite highlights.
The XBR-X950B is also equipped with a laundry list of features, including HDMI 2.0 compatibility, HEVC codec support, an optional subwoofer, MHL 3.0 capability, NFC (near-field communication), and access to the Sony Entertainment Network smart platform.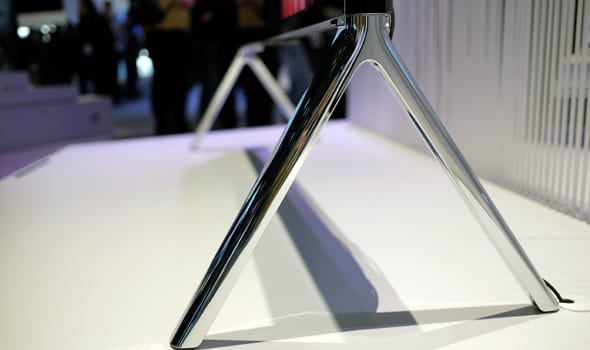 The Finish Line
The second-generation X950B is first-rate
While the price is likely to be sky high, we can at least confirm that Sony's XBR-85X950B has the size and chops to match. As a rule, demo units are never truly proof of anything, and that same credence applies here.
However, if last year's X900A is any indication, Sony already has a good head start on crafting a 4K-resolution TV, and the X950B flagship can only benefit from the company's experience.
Our editors review and recommend products to help you buy the stuff you need. If you make a purchase by clicking one of our links, we may earn a small share of the revenue. Our picks and opinions are independent from any business incentives.