Like last year's SunBrite, the SB-4670HD doesn't have the controls (gamma, color tuning, or white balance) required to tweak it during our calibration process, though it does have a Theater viewing mode that offers really good black levels compared to the previous model. Best of all, the SB-4670HD offers up much more reliable motion performance, which was our biggest complaint about the 2013 iteration in terms of basic performance.
Nature abhors a vacuum, but nobody ever said anything about a TV. To satisfy that need, the SunBrite SB-4670HD (MSRP $2,895) is a weather-proof outdoor TV from SunBrite, a company that specializes in both professional and consumer LCD TVs that can be permanently installed outside.
Last year, we reviewed the SunBrite SB-4660HD and found it to be a reliable outdoor display that, while as rugged as advertised, unfortunately suffered from sub-par motion performance. The SB-4670 improves upon that pitfall; it's still not perfect, but sports fans can at least focus their complaints on the ref, instead of blurry images.
While this is still a niche product that will serve only a very select audience, it's actually not a bad TV—indoors or out. It may not be the best TV that money can buy, but it's a solid option for green-thumbed cinephiles and jacuzzi-loving binge watchers alike.
A display's contrast ratio is determined by dividing its peak, or reference white by its black level. Basically, contrast ratio indicates the immersive distance between the brightest and darkest elements on-screen, so you want the biggest X:1 number you can find most of the time.
I measured a black level of 0.075 cd/m2 and a reference white of 287.30 cd/m2 , giving the SB-4670HD a contrast ratio of 3830:1. Though it's not quite as bright as last year's model (at least not in Theater mode), the 2014 iteration is much darker overall, making for better image quality. SunBrite does suggest that you don't watch in direct sunlight, but 280 cd/m2 is plenty of brightness for direct viewing in cloudy weather.


From heavyweight sumo to lithe kick-boxer in less than a year
While it feels a little silly to complain about the design of an outdoor television, if you're designing the ultimate outdoor entertainment venue, you don't want a TV that sticks out like a sore thumb. Last year's SB-4660HD still drew quite a few disparaging comments from around our office, because it was so big and bulky. SunBrite put the new SB-4670HD on a serious diet, giving the new model thinner bezels and a slimmer profile without impacting durability one bit.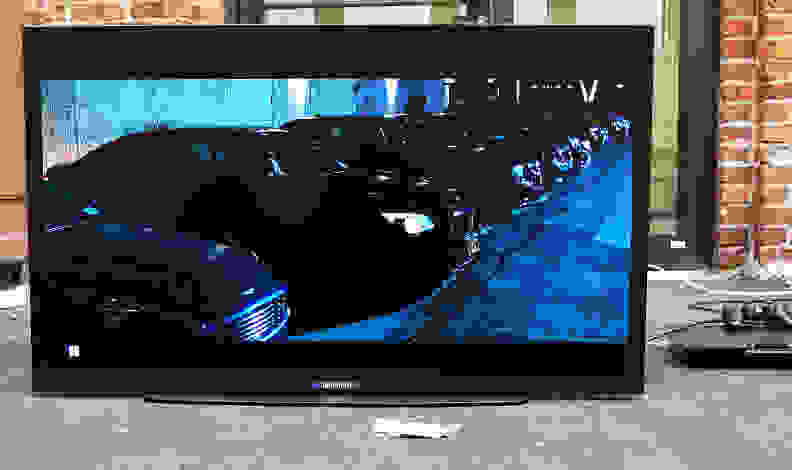 The SB-4670HD offers more flexibility than the previous model, too. Though our sample unit is bog standard black, the new 70HD series SunBrite TVs are also available in white or gray. This may better complement your outdoor setup, with the reduced size and weight meaning that you can safely mount the new displays if the tabletop stand isn't to your liking. One important detail: the TV doesn't come with any kind of wall mount or stand by default, so you'll have to factor that into the cost.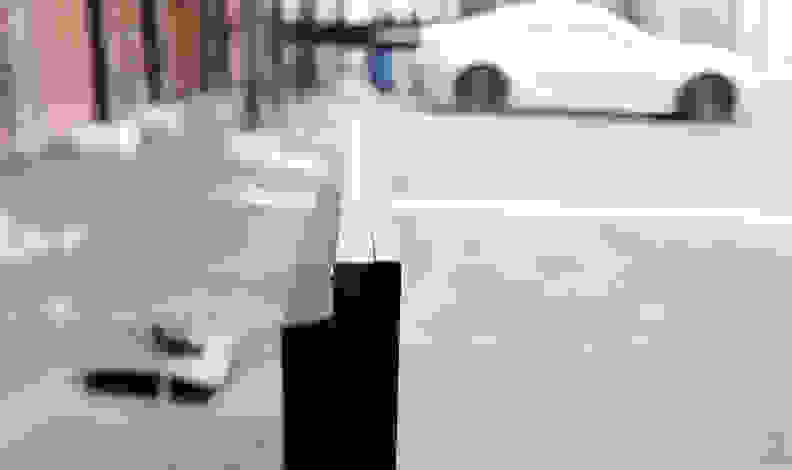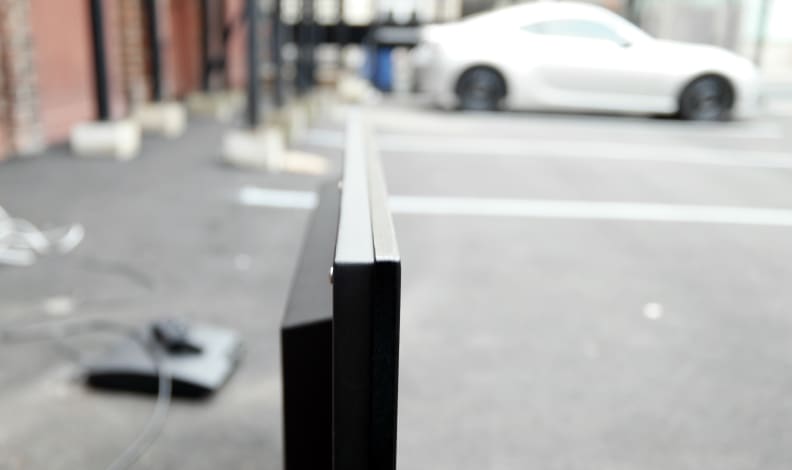 Of course, designing a TV that can survive a rainstorm isn't like designing one that will just sit in your living room all day. As a result, you'll find the AV inputs hidden away inside of a thumb-screw sealed compartment on the back of the TV. This lets you safely run cable to the TV without leaving sensitive connection points exposed to the elements.
If you don't want to deal with video cables, SunBrite sells a weather-proof wireless transceiver for just under $600 that you can use to send signal from your set-top box indoors to the TV outside. There's plenty of wired connectivity options for an outdoor television, though: two HDMI inputs, two component inputs, analog audio/component, S-Video, an RF (coaxial) jack for cable or antenna input, headphone and digital (SPDIF) audio outputs, and a VGA input for a PC connection.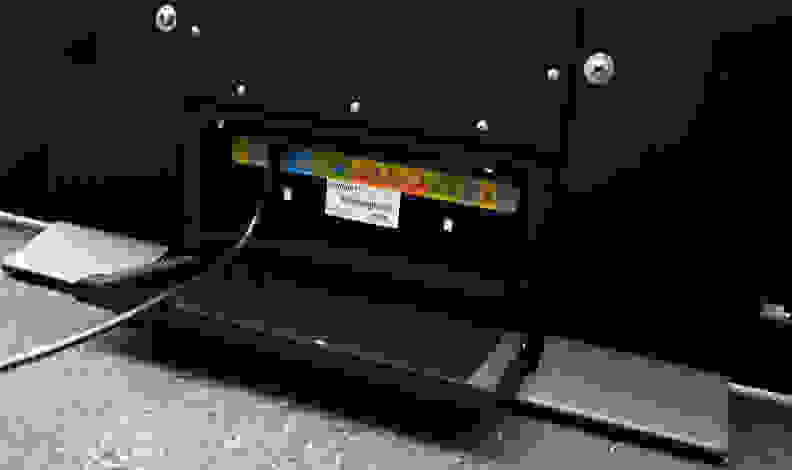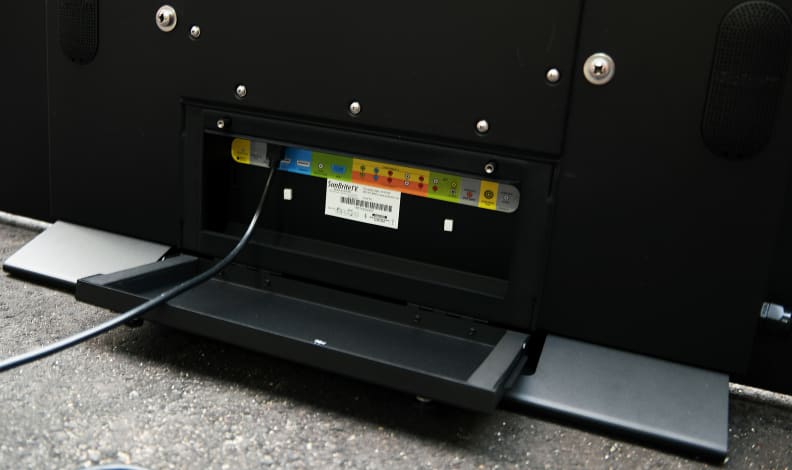 In the box you'll find a fairly standard remote control; it's just like any other except, like the TV, it's also waterproof. There's also a large dust cover so you can cover the TV when it's not in use. Even though the SB-4670HD is waterproof, temperature resistant, and built to withstand extreme conditions, it never hurts to take extra precaution.
Speaking of extreme conditions, the 4670HD is designed to operate in temperatures ranging from -24° to 122°F, according to the company. It will survive temps ranging from -24°F all the way to 140°F, but may not operate if the temperature gets that hot. That's backed up by a two-year parts and labor warranty for both commercial and residential use, which SunBrite will extend to three years for around $330 extra.
Made for the great outdoors, not for your living room
The SB-4670HD's is designed for backyards, patios, and poolsides, and to that end, it doesn't quite stand toe-to-toe with indoor TVs in terms of picture quality. While all TVs should handle motion well, display accurate colors, and offer a large contrast ratio, outdoor TVs also have to deal with the sun. After all, what good is an outdoor TV if you can't watch it during the day?
Compared to last year's SB-4660HD, this TV boasts big improvements to contrast, black levels, and—most importantly—motion handling, but it's truly only suited for outdoor use. This is because perhaps the main calling card of the SB-4670HD is that it's brighter than most home theater-bound TVs. It's not bright enough to watch in direct sunlight—something SunBrite doesn't advise, anyway—but on a cloudy day you should be fine.
In addition to our carefully controlled lab tests, I watched a number of scenes from The Amazing Spider-Man to test the SB-4670HD. In particular, I focused on scenes around the 50 minute mark when Peter Parker (Andrew Garfield) gets in a tussle with some ruffian layabouts in a dark alley. I was impressed with the TV's shadow tones and the direct, sharp appearance of its colors, but there wasn't much room for subtlety. Even in the Theater picture mode, the image is overly sharp and very punchy, with exaggerated white and black tones.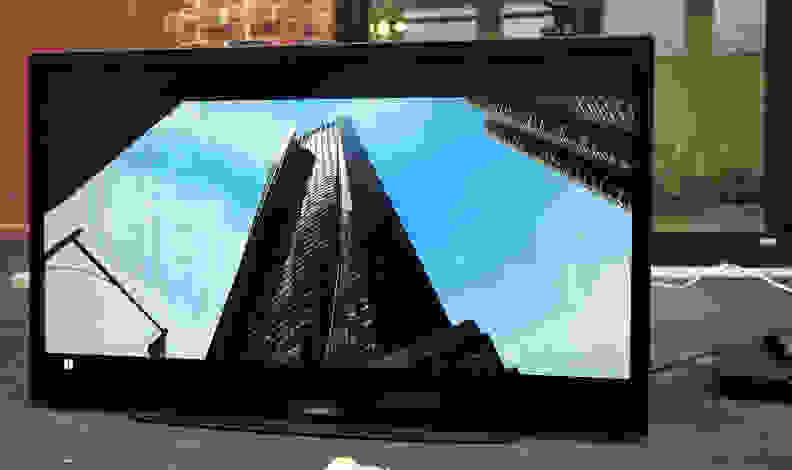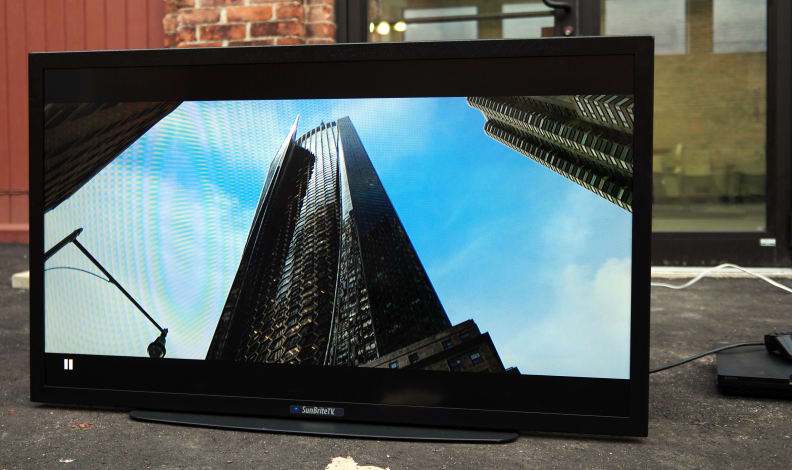 I'm not entirely convinced that this is a bad thing, as long as you're watching outdoors. Like painted actors on a stage, the TV's overly sharp details, super-bright screen, and exaggerated colors help keep the content of TV shows and movies visible when you're watching in sub-optimal conditions outdoors. It's not ideal for clinical viewing, but it'll keep you entertained.
And if you're squinting at a screen through droplets of jacuzzi water, you're probably not deftly evaluating the artistic merit of whatever you're watching. In the same vein, the TV's excessively bright, blue-tinted elements are diffused by ambient light—and there's no shortage of that outdoors. You definitely don't want to use this as an indoor TV, though, as the bright, flashy picture is unsuitable for a living room or dark bedroom, straining your eyes very quickly.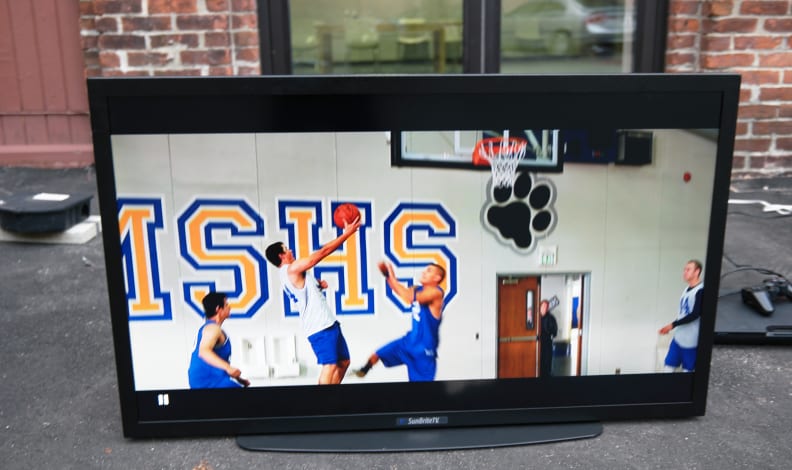 The SB-4670HD is also extremely loud, boasting about twice the speaker wattage of the average TV. This is great news if you're trying to listen from across the yard or over the sound of hissing, crackling meats on the grill. The sound quality doesn't match a soundbar or surround setup in terms of clarity, but it's got a lot of kick—like the picture, aural subtlety is sacrificed for raw power.
The most important thing about the SB-4670HD (compared to its predecessor) is that it handles motion much more deftly, which is great news for sports and action fans. This is still a 60 Hz panel (the minimum refresh rate specification), so the performance isn't anything to write home about, but unless you're a videophile there's a good chance the motion performance here is no worse than the TV in your living room. With the right setup, we could easily see this being a solid option for tailgaters looking to bring a TV to the lot to enjoy the pre-game in style.
Our viewing angle test measures how far from the center of the screen you can watch a TV before the image starts to degrade. This is one area where the new SunBrite performed worse than last year's—though usually, a deeper black level does make wider viewing angles more difficult. I measured a total viewing angle of 38°, or ±19° from the center to either side of the screen. You won't be able to watch this TV too comfortably from way off to the side, so place it carefully.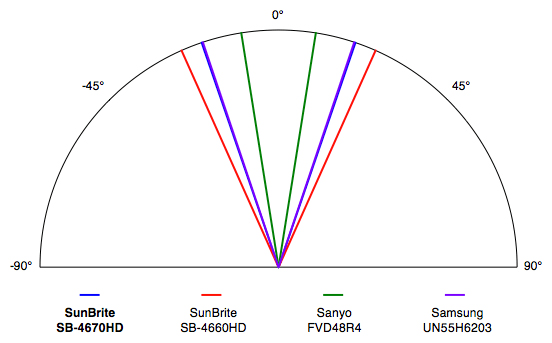 The SB-4670HD's performance starts to get pretty weird when you get to analyzing its color production. We measure a TV's primary colors (red, green, blue), secondary colors (cyan, magenta, yellow), and white point against the international standard (Rec.709) to see how accurately they display saturated and gradated colors.
By traditional standards, the SB-4670HD's white point is way too blue, as are cyan (blue+green) and magenta (blue+red). While red, green, and yellow are fairly accurate, the majority of the points we tested are just way off point. On the other hand, consider that yellow, a secondary color, reduces the visibility and efficacy of blue and "half blue" colors, as well as white (one-third of which is blue in digital displays).
Essentially, while we can't prove anything, we're assuming that the SB-4670HD is so excessively blue in order to counter-balance the effect of lots of white/yellow light from an outdoor environment. We still had to give the TV a poor score in color production, but it makes sense on paper.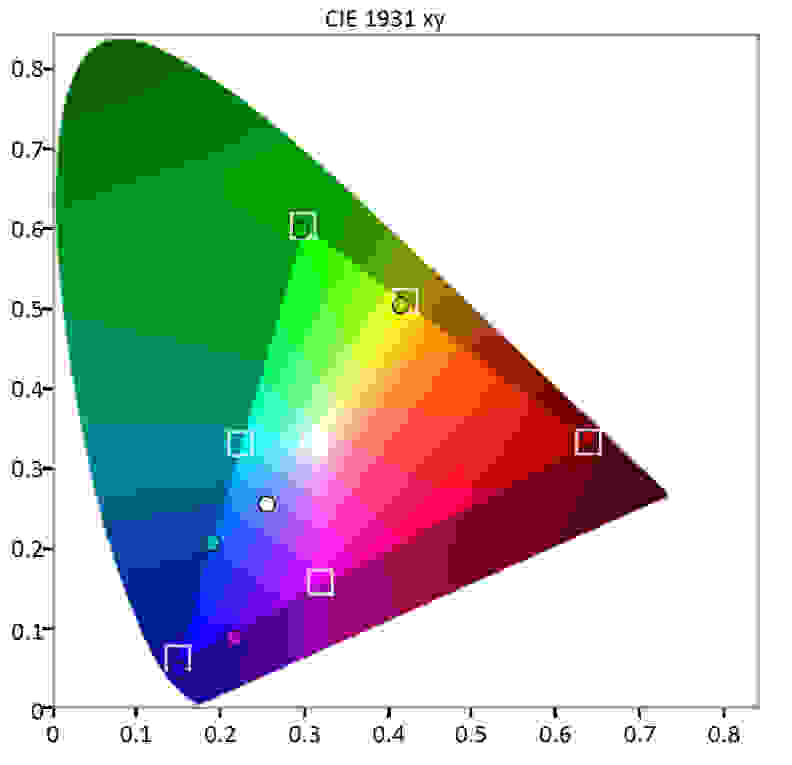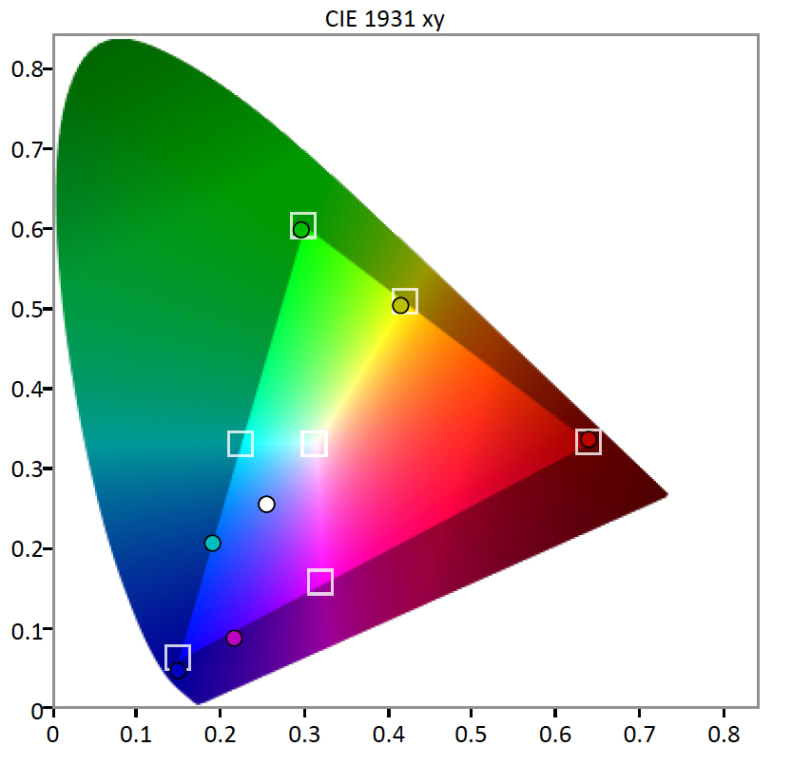 Still not up to videophile standards, but a large improvement upon the previous model
For only $100 more than its predecessor, the SunBrite SB-4670HD delivers a slimmer, more attractive design and better overall image quality. It's still bright, with a picture designed to combat the sub-ideal conditions of watching a screen outdoors, but we're especially glad to see that the blurry motion from last year's set is cleared up. There's a lot of added value here for a relatively small increase in price.
Of course, there are drawbacks to consider here. This TV's image is exaggerated, highly processed, and very bright, rendering it truly unsuitable for indoor use. And with a price tag of almost three grand you're paying an awful lot for what is essentially a sub-par 46-inch TV—even if it is one you can watch from the pool.
It's also very important to note that we simply aren't set up for testing the long-term durability of a TV like this. There's simply no way for us to know how well this will actually hold up over time. The two-year parts and labor warranty is a nice insurance policy, however, and it can be extended to three years for around $300 extra.
All in all, the SB-4670HD is considerably better than last year's version, without a considerable increase in price. If you've been on the fence about purchasing an outdoor display, this could be the option that you're looking for. It's more stylish, has better picture quality, and retains all the same durability as last year's model. It's certainly worth keeping in your radar.
As you might expect based on its white point in the color gamut section, the TV's white, gray, and dark gray/black elements are also excessively blue. Our grayscale test measures the accuracy of a TV's grayscale (neutral) elements, which should adhere to a specific coordinate called D65. The SB-4670HD does not, giving it absolutely horrible performance by indoor standards—but again, this isn't an indoor television.
We express grayscale error in a collective called DeltaE, where a DeltaE of 3 or less is optimal. The SB-4670HD tested with a grayscale DeltaE of 22.22, which is very, very high—but again, we assume the excessive blue coloration in the grayscale elements is intentional.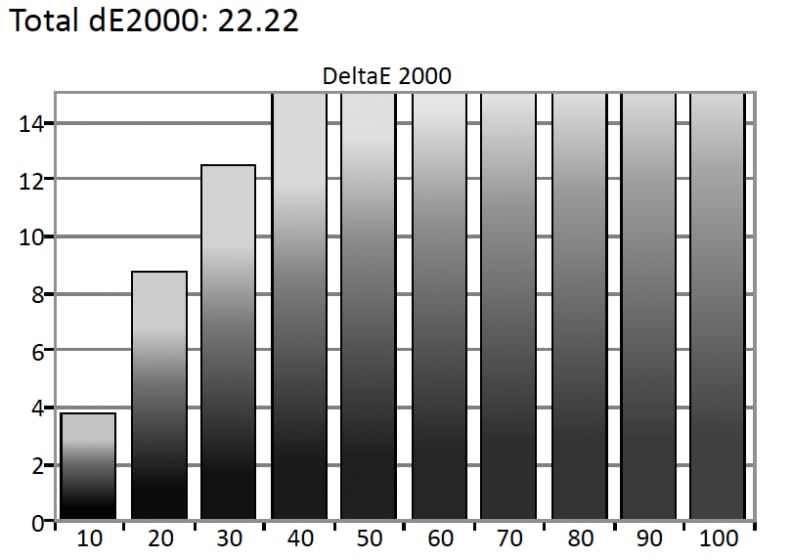 By analyzing the underlying RGB balance (where the red, green, and blue filters are used to create grayscale tones), we can see that blue is excessively emphasized by comparison to red and green.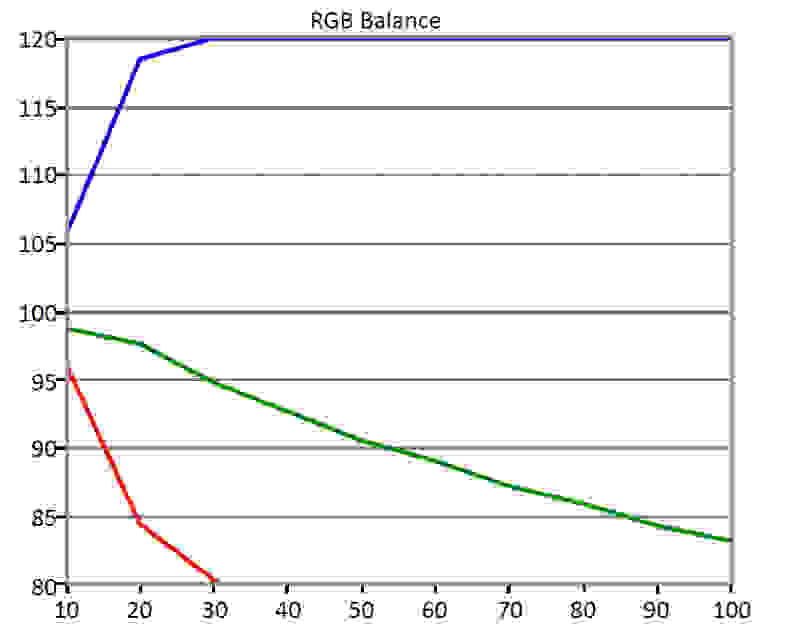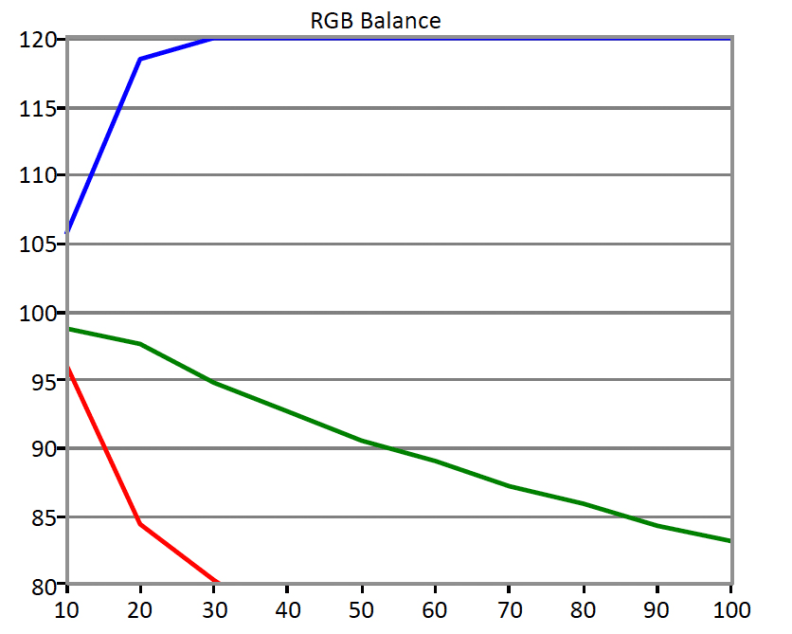 Meet the tester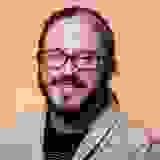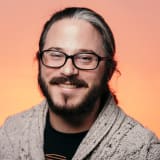 Lee Neikirk
Editor, Home Theater
@Koanshark
Lee has been Reviewed's point person for most television and home theater products since 2012. Lee received Level II certification in TV calibration from the Imaging Science Foundation in 2013. As Editor of the Home Theater vertical, Lee oversees reviews of TVs, monitors, soundbars, and Bluetooth speakers. He also reviews headphones, and has a background in music performance.
Checking our work.
We use standardized and scientific testing methods to scrutinize every product and provide you with objectively accurate results. If you've found different results in your own research, email us and we'll compare notes. If it looks substantial, we'll gladly re-test a product to try and reproduce these results. After all, peer reviews are a critical part of any scientific process.
Shoot us an email