Well, TCL took the hint. The TCL 40FS3850 (MSRP $449.99, online for $344) has full Roku functionality baked right into the TV—no wires, dongles, or extra remotes required. In fact, there's no standard TV remote at all, just an almost carbon copy of the Roku wand.
While that's an excellent bit of product integration, what's more impressive is that the TCL 40FS3850 is just a really good TV right out of the box. Sure, it lacks the extra frills you'd find on higher-end models, but it proves pretty good image quality for a good price. It's not the best on the block, but if you want a lot of bang for your buck, this Roku TV delivers plenty of good value.
The TCL 40FS3850 (MSRP $449.99, online for $344) performed admirably during our suite of lab tests. It lacks the polish of more expensive HDTVs, but overall delivered very solid contrast, accurate-enough colors, and acceptable gamma ramping and grayscale tracking. This handful of strengths bears only a couple of weaknesses: a narrow viewing angle and less-than-stellar motion performance.
From a calibration standpoint, there wasn't much we could do to reduce the FS3850's error, as the on-board software contained no color correction or white balance controls other than the very coarse "color" and "color temperature" toggles. Fortunately, the FS3850's errors are just satisfactory enough that it doesn't pose a huge issue—but don't go in expecting top-tier quality, either.
Multiple sizes in multiple colors
TCL's 2015 Roku TVs are available not just in multiple sizes, but in multiple colors, too. You can find the series in blue, green, pink, or silver finishes, though they're otherwise identical but sport slightly different model names: FS3850B, FS3850G, FS3850P, or FS3850. These Roku TVs are more or less identical to TCL's FS3800 and FS3700 models, too.
Each color, or style, is available in four screen sizes, with 32-, 40-, 50-, and 55-inch options. Prices range from around $250 to $700 depending on the size and retailer. All the TVs are 1080p, except for the 32-inch, which is just 720p. Otherwise, all of the FS3850 TVs share the same ports, design elements, and Roku features.
For this review, we tested the 40-inch, silver FS3850. It was given roughly 24 hours of warm-up and break-in time prior to review and evaluation.
Contrast—or the difference between the darkest and brightest areas on-screen—is a very strong area for the FS3850. I measured an ANSI black level of 0.045 cd/m2 and a peak brightness of 147.90 cd/m2 , giving the FS3850 a 6x6 ANSI contrast ratio of 3,286:1. This is very good for a TV in this price range, especially one that isn't using any LED dimming or boosting enhancements.

Blue, green, pink, silver—not Power Rangers, Roku TVs!
There's nothing too crazy about the TCL Roku TV's design. Ours is silver—arguably the most boring of the four choices—but you can also get it with touches of blue, green, or pink that run the outside perimeter of the screen. The more colorful models also use a slightly different stand type, while our silver model boasts two matching, angular feet that prop up the screen on the tabletop.
While that sounds like your typical, everyday TV, it looks solid. Unlike many low-end TVs, it has decent heft to it. And while the design won't blow your hair back, it doesn't immediately scream "affordable" like some other low-cost TVs.
You'll find a decent selection of ports on the back of the TV. You get three HDMI inputs (one is ARC/Audio Return Channel), a single USB 2.0 input, an audio output for headphones, a coaxial jack for cable/antenna, composite input for a sub-HD source, and digital audio output for an external speaker option. Note the missing composite (RGB + audio) and ethernet (LAN) connection options—this sucker's WiFi only.
One complaint we've seen in customer reviews of this TV has to do with the audio quality. While most TVs sport two 10w speakers, the FS3850 uses two 8w speakers, lending the TV less overall volume and clarity than even the standard TV—and standard TV audio is pretty poor, as is. If you're really picky about audio, you may want to consider investing in an external option like a soundbar.
If you're a Roku user, you'll be right at home with this TV's included remote. It's essentially a copy of the traditional Roku controller, with the same home/option/navigational layout and a few hotkeys for apps like Netflix and Vudu. As you might expect, it makes for a perfect way to navigate the TV's built-in Roku platform. Just keep in mind you won't get the high-end Roku 3 remote features, like the headphone jack on the side.
Our viewing angle test measures how far from center you can watch a TV before its contrast degrades past 50% of its head-on (0°) value. As is often the case with high-contrast, VA-paneled LCD TVs, the FS3850 unfortunately has a fairly narrow viewing angle. I measured a total of 54°, or ±27° from the center to either side of the screen.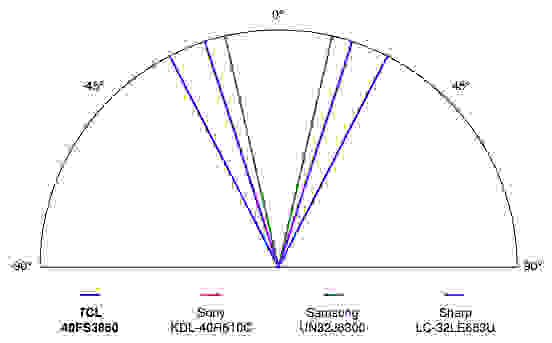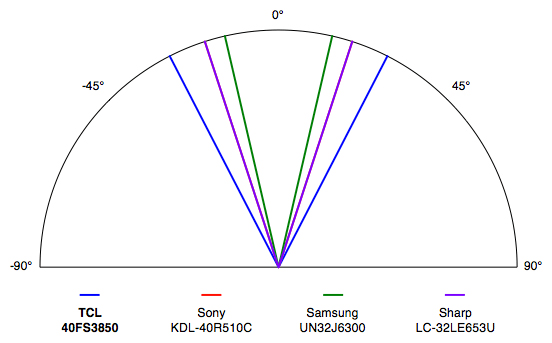 Roku users will be right at home—but will also have to do the most work.
If you haven't heard of Roku, you should probably take a step beyond the rocku you've been living under. But in all seriousness, Roku is one of the more popular streaming options around, and it's just as useful and approachable as the bundled option you'll find on any other TV.
Initial setup is more or less identical to how you'd set up an external Roku box. You create a Roku account online (as in, on your PC or smartphone) and then link the TV's Roku system to the account. You can pick and choose from thousands of what Roku calls "channels," including services like Netflix, Hulu Plus, HBO Go, Sling TV, and so on.
Where this gets a little more complicated, or at the very least a bit frustrating, is for anyone who already uses Roku regularly. Though it's easy enough to sign in to your account on the FS3850, we still had to re-activate and sign in to all of our favorite apps. It was a pain.
This isn't a huge problem, but can be a bit time intensive due to the speed of the baked-in software (it's about the same as the Roku Streaming Stick, not quite as snappy as the Roku 3 Box). And because the FS3850 lacks an ethernet (LAN) port, you'll be at the mercy of your WiFi speeds.
Returning users will have to re-activate and sign in to most apps.
Once you've got everything re-kajiggered, however, you'll find a familiar, reliable, and (most importantly) open system that gives you access to a much wider variety of content and channels/apps than the standard TV smart platform. In my opinion, it's preferable over nearly all of the proprietary smart platforms out there—as long as you've got a strong WiFi setup.
Just keep in mind there are some extras you'll get with a lot of smart TV platforms, such as a web browser, cable/satellite programming integration, or even unique use functions like "Wallpaper" mode that you don't get with the Roku platform.
Gamma is a measurement of how evenly a TV allocates luminance (brightness) as it exits its minimum luminance and moves into dark/mid grays and highlights, up to its brightest point. Most TVs follow a gamma curve of 2.2 by default, and the FS3850 is no different. Testing revealed a gamma sum of 2.25, which is quite close to the 2.2 ideal. The only issue is in shadow detail: the TV comes a little too slowly out of black, and ends up glossing over some shadow details between 10 and 20 IRE.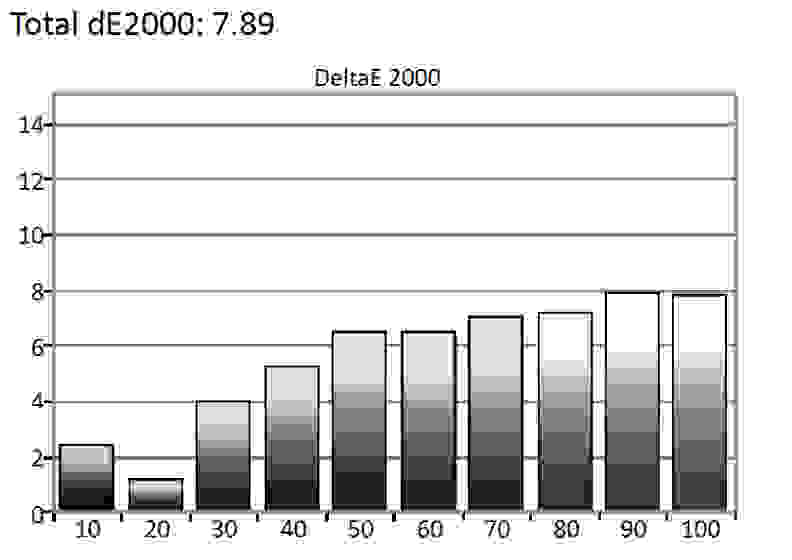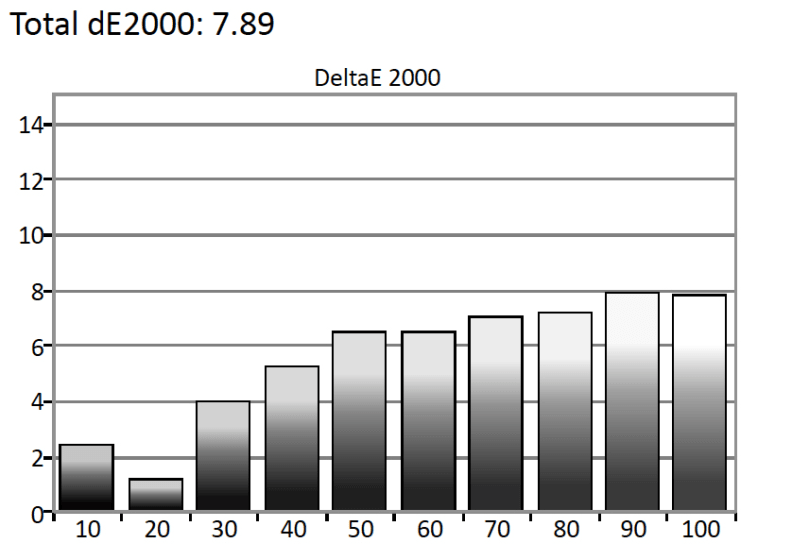 Not the best-looking TV you can buy, but great for the price.
While the 40-inch FS3850 promises convenience and affordability rather than theater-worthy picture quality, it's actually not bad for the price—especially if you can find it online for less than $400.
I was especially impressed with this TV's contrast performance. It's no OLED, but it's plenty bright, and produces great black levels and shadow tones. Unfortunately, the VA (Vertical Alignment) style LCD panel—which lends it such good shadow tone—also makes for a somewhat narrow viewing angle. You could make it work for two or three people in a pinch, but sit too far off-center and the picture quality degrades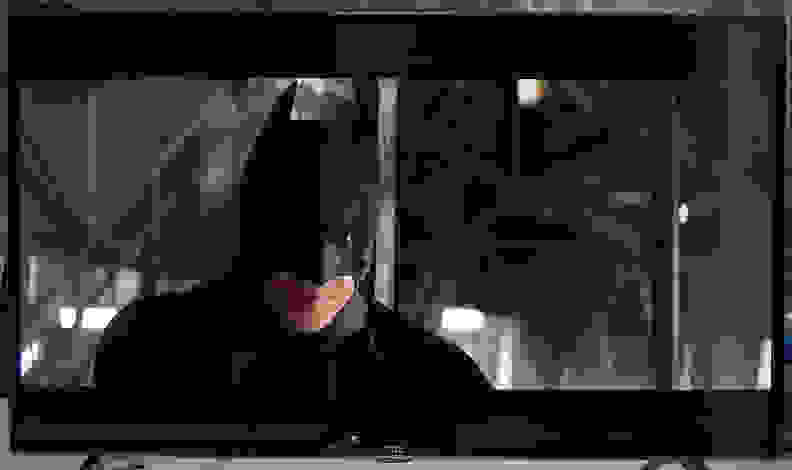 As a 1080p TV it's well-suited to most kinds of content today, producing bright (mostly accurate) colors. It's a presentation that's great for a brighter room like a kitchen or dorm, and might even work out alright in a dim, dedicated viewing room. You really don't need a higher resolution in this size for TV or movies, though we wouldn't use this one as a computer monitor, either—if you need a monitor that big you should spring for 4K.
TCL's Roku TV may pack one of the better baked-in smart platforms you'll find this year, but it's otherwise bereft of the usual software for adjusting or aiding the TV's performance. There's no way to really calibrate this TV, no motion assistance, no local dimming, or any of the bells-and-whistles you'll find on pricier TVs.
Because of this, avid sports fans should look elsewhere for their main game-night set, as the FS3850's raw 60 Hz refresh rate simply doesn't cut it. We'd recommend one of Vizio's E Series models for that if this is your price range.
On the other hand, the FS3850 is a solid choice for gamers. The "Game Mode" toggle eliminates much of the TV's post-processing effects, reducing input lag. This is where the TV's 1080p (Full HD) resolution is again advantageous: the more a TV has to upscale content (think: 4K), the more input lag you get. Because even the latest consoles cap their outputs at 1080p, you can expect everything from the Nintendo Wii to the Xbox One to play pretty flawlessly here.
Overall, for what you're paying the TCL 40FS3850 is a great performer. It may lack the processing, polish, and software enhancements of pricier sets, but its core performance is much better than we were expecting.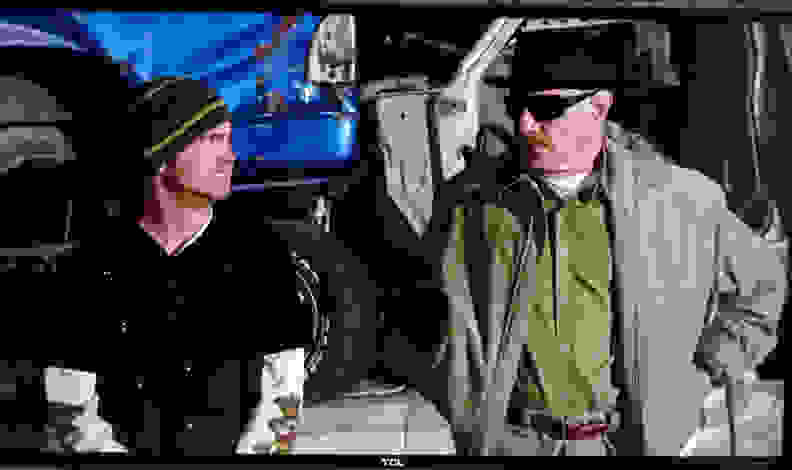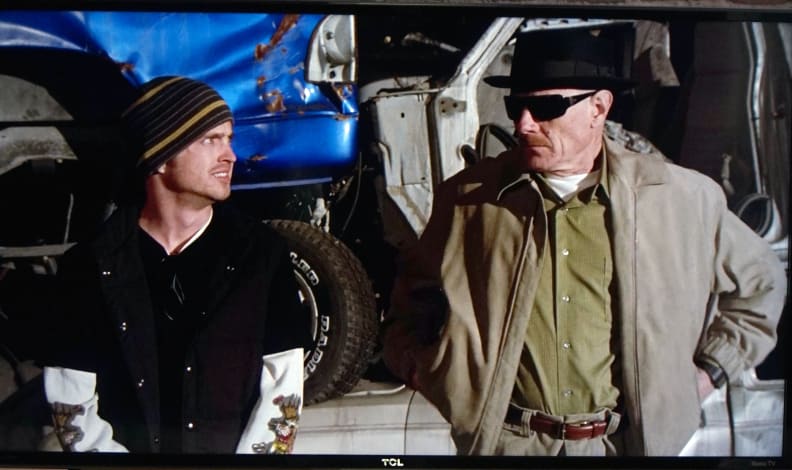 Our grayscale error test measures the accuracy and color-free quality of a TV's grayscale tones. Because TVs are additive color type displays, they create gray/white neutral tones by combining their primary red, green, and blue sub-pixels. When these sub-pixels are emphasized properly against one another, no grayscale error occurs.
The FS3850 tested with a grayscale dE (collective/max error) of 7.89, which is a little bit high, but certainly not the worst out-of-the-box result we've seen. Ideally, a calibration will reduce a TV's grayscale error to 3 or less, but lacking white balance controls, we couldn't check the FS3850's ability to produce a more stable grayscale.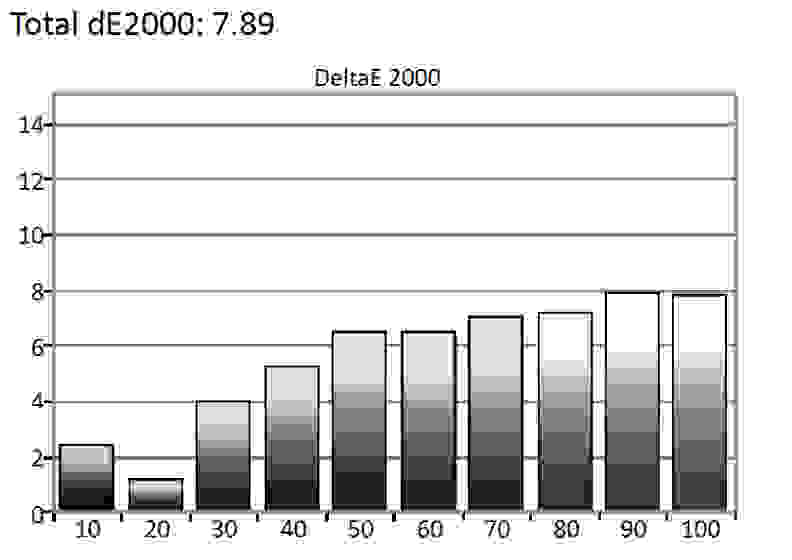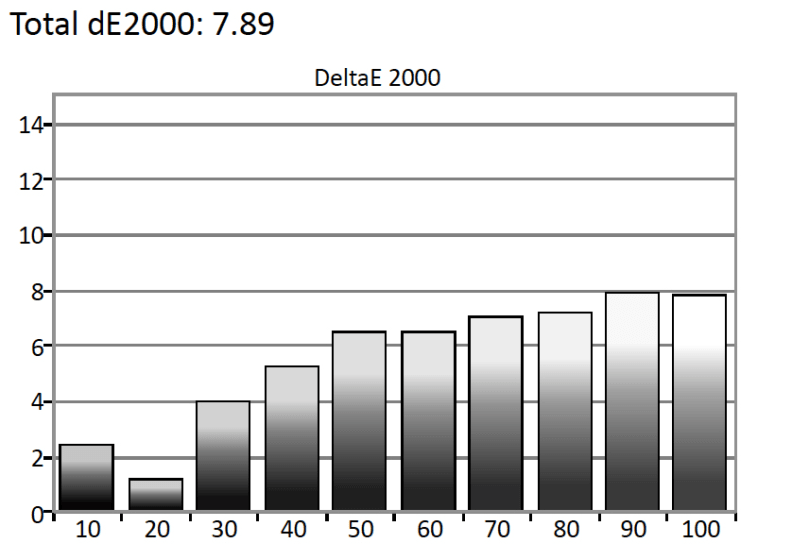 If we take a closer look at the RGB balance underlying the TV's grayscale production, we can see that a de-emphasis on green is the result of most of the TV's grayscale error. By 100 IRE, green is receiving about 8% less luminance/chroma emphasis than it should be.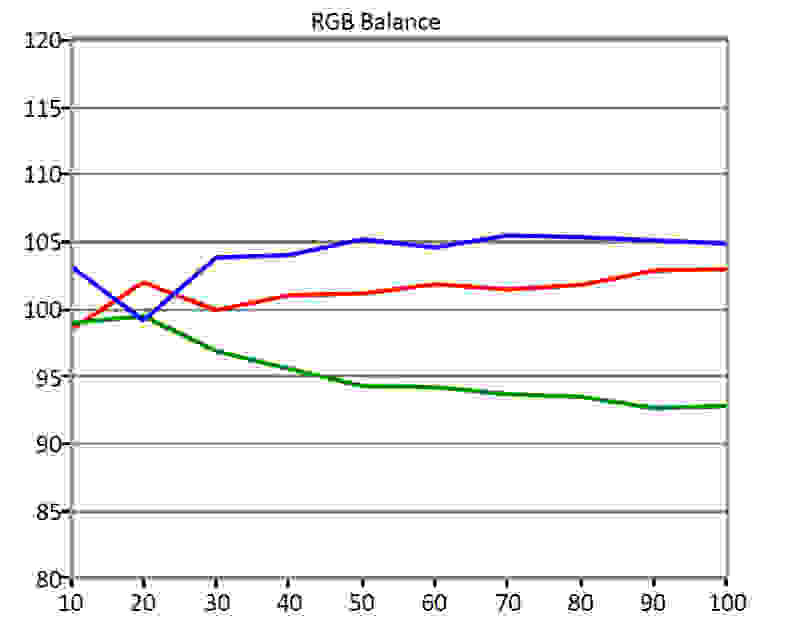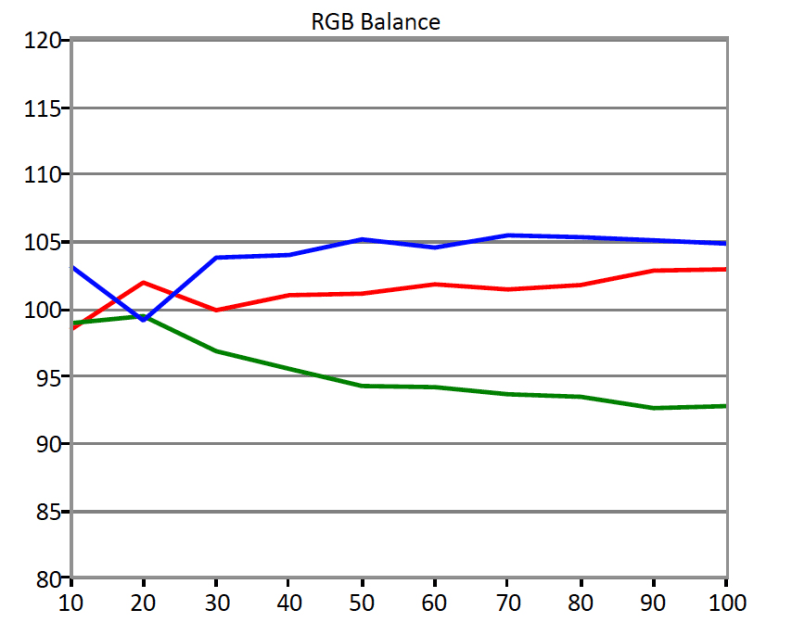 A surprisingly stellar package deal from TCL
We have to say: We're quite taken with TCL's 40-inch FS3850 Roku TV. For the price (less than $400 online), a 40-inch HDTV with a great smart platform seems like it wouldn't be much to look at, but our test unit's quality was well above average. On top of Roku's expansive streaming platform, you're also getting great contrast, decent color accuracy, and a great game mode for video games.
The convenience of having Roku built right in really can't be overstated.
That said, there are a lot of compelling options in this price range, and there might be something better for you depending on whether you prioritize smart features, raw picture quality, or simply the best all-around value.

If you're aiming for a TV that delivers the best picture quality for movie night and already have a streaming box you like, Sony's 40-inch R510C can be found for about $444 online. If that's too steep, Sharp's 40-inch LE653U is a similar TV that costs only $347. If your smart needs pretty much begin and end with Netflix, then you should consider Vizio's 40-inch E Series. It slightly outperforms the TCL, has great Netflix integration, and it's only $358 online.
However, if you're a big fan of Roku—or were planning to buy a Roku to go with your new TV, anyway—the 40-inch FS3850 is by far the best value. You simply plug it in, get online, and a world of TV and movies will be at your fingertips—as long as you've got the WiFi network to handle it.
A color gamut is a visual illustration of a TV's red, green, blue, cyan, magenta, and yellow color production points, as well as its white/gray points. The FS3850 is an HDTV, and thus should adhere to the rec.709 color standard expectations. Testing revealed that while the TV slightly over-saturates green and under-saturates red, its color is—overall—quite good for a TV in this price range.
Meet the tester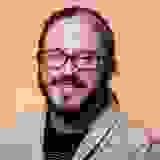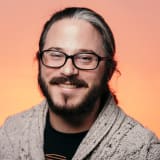 Lee Neikirk
Editor
@Koanshark
Lee has been Reviewed's point person for most television and home theater products since 2012. Lee received Level II certification in TV calibration from the Imaging Science Foundation in 2013. As Editor of the Home Theater vertical, Lee oversees reviews of TVs, monitors, soundbars, and Bluetooth speakers. He also reviews headphones, and has a background in music performance.
See all of Lee Neikirk's reviews
Checking our work.
We use standardized and scientific testing methods to scrutinize every product and provide you with objectively accurate results. If you've found different results in your own research, email us and we'll compare notes. If it looks substantial, we'll gladly re-test a product to try and reproduce these results. After all, peer reviews are a critical part of any scientific process.
Shoot us an email