If you're looking for a larger HDTV for a little less, this product is proof that Toshiba's tradition of competitive pricing lives on in 2014.
Unfortunately, testing revealed some notable performance drawbacks like sub-par color accuracy and poor uniformity. The L2400U might be worth investigating if you just want decent performance without the frills, but it definitely doesn't offer the best value on the market—that title is still firmly within the grip of Vizio's E Series.
The Toshiba 50L2400U ($679) has a few strong performance areas, but its shortcomings add up to middling performance at best. I was very surprised by this TV's impressive contrast, on one hand. Shadow tones are deep and dark, while bright areas stand out with impressive luminance. Unfortunately, there's a much longer list of cons: Poor color production, uniformity problems, grayscale error, and an overly bright gamma more or less ban this TV from any kind of home-theater consideration.
In case you don't know, we calibrate each TV we test for a couple of reasons. First of all, an expert calibration reveals what each TV is truly capable of when calibrated with the proper equipment. Secondly, calibrating a TV to ideal standards usually gives us a great idea of just how far off it was in the first place. During calibration, we aim to achieve a peak luminance of about 120 cd/m2 (or 40 fL) and a gamma curve of 2.4, the ideals for dark, home-theater viewing.
Calibrating the L2400U was a simple enough task. Like other 2014 Toshiba TVs, the L2400U only features a single-point white balance (or grayscale) control, as well as a gamma slider and a color tuner. Calibration involved removing tons of blue from the sub-pixel balance, lowering the Backlight in Movie mode from 70 to 54, and making major adjustments to the gamma pre-set. Below, you can find Toshiba's default settings alongside my final calibration settings.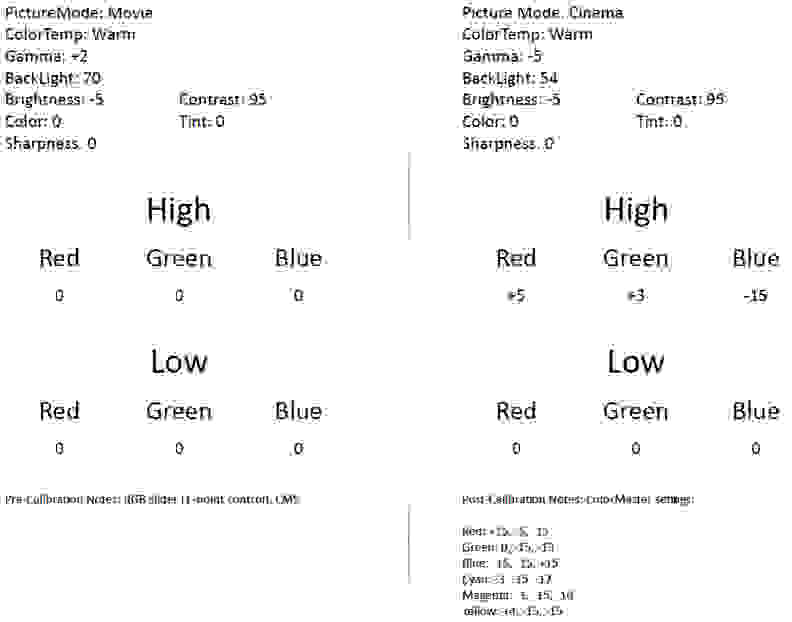 The best and worst of simplicity
From bezel to bezel, stand to ports, the L2400U is an exceedingly simple, minimal television. Narrow black bezels wrap the 49.5-inch screen, which perches upon a wan, rectangular stand. The stand may be plastic, but it's married to a brushed aluminum finish that helps hide that fact. Because it's a lightweight LED TV, it's also very thin and easy to hoist.
As far as utility elements, you'll find a fairly meager port selection clustered on the back of the panel. The L2400U delivers one shared component/composite input, two HDMI inputs, digital audio out, and a coaxial jack for antenna or cable connection. To the side are on-set controls and a USB input for personal media playback. It's simple, clean, and effective, but power users may find themselves wanting more video inputs.
Things aren't all checklist clean, though. This TV's menu interface isn't atrocious, but it certainly isn't premium in appearance or options. Users will find basic sub-menus for Picture, Audio, and System easily enough, but the presentation and navigation is a bit on the ugly and sluggish side—let's call it "slugly." The included remote is easy to use, but the infrared functionality is about what you'd expect from an entry-level TV.
Picture-quality enthusiasts will be glad to know that the L2400U retains many of the advanced settings from previous years. Toshiba's "ColorMaster" serves as a built-in color tuner, for example, and there's also a two-point white balance control within the Color Temperature menu. There are also a few additional features, such as an energy saving mode and a dynamic contrast enhancement mode.
Great contrast, poor color performance
The 50L2400U would be a great example of "you get what you pay for," except that we've come to expect slightly better from entry-level models this year. This 1080p TV has definite pros and cons; the combined result is simply mediocre.
From a contrast perspective, this Toshiba is a stellar performer. I measured awesome black levels for an edge-lit LED set, rivaling some of last year's entry-level plasma televisions. Users can expect shadowy content to look satisfyingly dark while brighter elements still pop off the screen, creating excellent contrast. Unfortunately, subtler details within shadows and low-luminance colors are poorly preserved—the 50L2400U definitely isn't a good choice for cinephiles.
The L2400U definitely isn't a good choice for cinephiles.
If you're more of a sports lover or just want to watch daytime talk shows, however, you'll probably be able to stomach the lack of good shadow detail. While the L2400U only wields a 60Hz panel, Toshiba's ClearScan processing makes for solid motion performance. Gamers will be glad to know that the TV's Game picture mode does a great job reducing perceptible input lag, too.
One issue that will bother viewers of all types is the backlight uniformity. LED TVs with lights around the perimeter of the screen sometimes suffer from an uneven appearance, causing visible light in black or dark gray areas of the screen. Our sample unit had a few visible LEDs at the upper edge and in the corners of the screen, which can be especially distracting if you're watching in the dark.
The L2400U outputs plenty of clear, crisp sound compared to the competition.
I'd be doing a disservice to this product if I didn't mention its terrific speaker performance. The L2400U outputs plenty of clear, crisp sound compared to the competition, and offers various sound modes, surround sound imitation, and bass/treble adjustment sliders.
Finally, I must insist again that this TV is not suitable for serious movie watching, as it struggles to produce accurate colors. Enthusiasts will absolutely want to steer clear, lest they be bombarded by dull reds and heavily skewed magentas. The L2400U looks best in normal or even brighter lighting, and is a good go-to for video games thanks to its low input lag, but it's a long shot from a serious display.
The real high point (and low point, "buh-dum, tsh") of this TV's performance is its contrast ratio. A display's contrast ratio is measured by dividing its peak white (100 IRE) luminance by its black level (0 IRE). The 50L2400U tested with an impressive contrast ratio of 5250:1 thanks to a great black level of 0.032 cd/m2 and a solid peak brightness of 168 cd/m2 .

Not a bad choice for casual viewers
The Toshiba 50L2400U ($679) is truly stuck between a rock and better choices. While the price is competitive when compared to similarly sized models from Samsung and Panasonic, this TV isn't nearly as fancy or flexible as those models. You won't find any smart features or 3D here, and the materials and interface exude a low-quality air.
Unfortunately, this Toshiba's biggest competition boasts the same low price and much, much better performance. While certain viewers (especially gamers) will likely be satisfied by this TV's performance as a basic display, there's really no reason to buy it as long as Vizio's 48-inch E Series is readily available.
We measure horizontal viewing angle to test how far from the center you can watch a TV before the picture starts to degrade. Like most edge-lit LED TVs, the L2400U does not offer the best off-angle viewing. Testing revealed a total viewing angle of 40°, or ±20° from either side. This is an average result, and it means you won't have a ton of flexibility when deciding where to sit for movie night.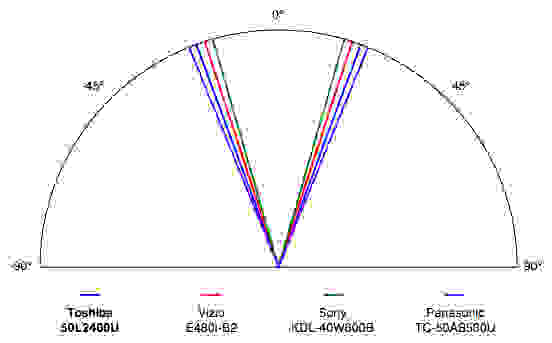 Modern HDTVs are expected to adhere to a specific set of color production standards detailed by the Rec. 709 HDTV standards document. Adhering to these standards ensures that detail is preserved throughout all color channels, which means content will look the way it was intended to.
The L2400U falls short when it comes to matching the Rec. 709 standard, unfortunately. Testing revealed undersaturated reds that couldn't be fixed during calibration, as well as heavily skewed secondary colors and a blue-tinged white point.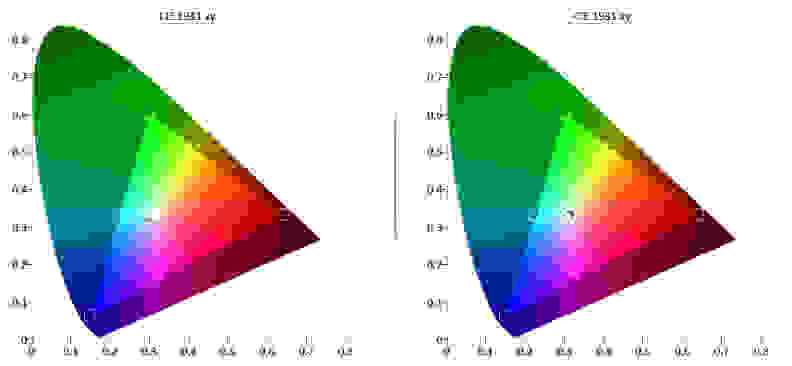 The excessively blue white point we saw in the Color Gamut section is the direct result of improperly emphasized sub-pixels. Balanced emphasis of the red, green, and blue sub-pixels within each pixel results in the correct neutral shades of gray and white, otherwise known as the grayscale. Error within the grayscale is measured in a collective called DeltaE, and the L2400U tested with plenty of it—10.61 prior to calibration.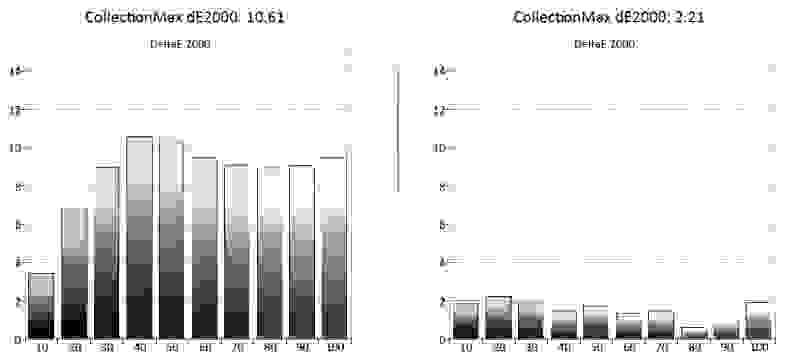 We can see the result of this error when we take a closer look at the TV's sub-pixel emphasis. Out of the box, the L2400U heavily emphasizes blue, leading to a blue tinting of highlights. Using the TV's one-point white balance control, I was able to quell most of the notable error during calibration.

Gamma refers to the manner in which a display adds luminance to the grayscale as it travels from black to white. Ideal gamma sums for TVs depend entirely on how much light is in a room. A gamma of 2.2 is ideal for normal lighting, whereas a gamma of 2.4 is better for a dark, home-theater environment. The L2400U adheres to a very bright gamma curve of 1.85, which is well below any of the ideals. After calibration, the TV was able to follow a gamma curve of 2.45—a little too dark, but still better than where it started.

Meet the tester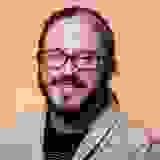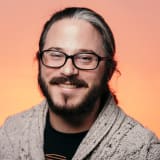 Lee Neikirk
Editor, Home Theater
@Koanshark
Lee has been Reviewed's point person for most television and home theater products since 2012. Lee received Level II certification in TV calibration from the Imaging Science Foundation in 2013. As Editor of the Home Theater vertical, Lee oversees reviews of TVs, monitors, soundbars, and Bluetooth speakers. He also reviews headphones, and has a background in music performance.
Checking our work.
We use standardized and scientific testing methods to scrutinize every product and provide you with objectively accurate results. If you've found different results in your own research, email us and we'll compare notes. If it looks substantial, we'll gladly re-test a product to try and reproduce these results. After all, peer reviews are a critical part of any scientific process.
Shoot us an email