Before your eyes turn to dollar signs you should read on, though; while the 39-inch model we tested (MSRP $499.99) actually sort of astonished us with its hefty contrast, the color performance sobered us back up in a jiffy—and that's just one of several significant problems we noted with this TV's picture.
Almost fell asleep trying to write this Design sub-header
If you asked your toddler to draw a TV, that lil' baby would come up with the same design stratagem that Toshiba did. The black rectangular stand has a matte finish and collects dust in its free time. The black rectangular panel has shiny bezels that aren't particularly thin, and a little circle that glows green when you turn the TV on. This is not an ugly TV, it's just uninventive. The remote fits right in, free of any glowing features or helpful colors (aside from the red power button).
This is not an ugly TV, it's just uninventive.
From a utilitarian standpoint, however, things aren't so bleak. For one thing, the 39-inch L1350U barely weighs a thing—with the stand, just 17 pounds. I could easily move this display from room to room unassisted, pretending to be strong. For connections, look to the left side of the panel. Facing out on the side are on-set controls, an HDMI in, and a USB port. On the back of the same side, also facing out, users will discover two more HDMI ports, a PC audio in, a digital audio out, a PC in (VGA), an antenna hookup, and shared composite/component ports.
Features? Where?
Everyone knows that when you spare your billfold a beating, you also lose out on fancy frills. Along with the TV's dull design, you must also suffer the absence of 3D, internet capabilities, and glow-in-the-dark objects, the latter of which stings the most. Nor will you find an actual equalizer or extensive picture controls.
When you spare your billfold a beating, you also lose out on fancy frills.
What does that leave you with? The L1350U does have a single USB port, but whether you're willing to withstand the withered, doddering interface is up to you. I tried opening up some photos from a thumb drive and had to wait patiently while the TV struggled to load icons for each file. Did I mistakenly ask it to load a satellite image of the Mayan ruins? Holy stars. I'll save you some time: Don't try to use this feature if you have somewhere to be.
This series also features Toshiba's "half mute" function, which cuts volume in half with one click, and mutes sound entirely with another. Then there is DynaLight, which adjusts backlight according to content, and HDMI-CEC, which communicates with Toshiba disc players so that users can control them using a single remote.
Amazingly deep blacks, but beleaguered by crummy color
In short, the L1350U does not deserve a golden TV trophy. When testing began, there were some initial surprises; this TV lights up like a beacon, and swoops into some impressive black levels as well. Deep black levels? This is rare for LCDs in general, and even more so for budget models like this one. With such a generous array of darks and lights at its disposal, the L1350U finds itself well-equipped for the task of rendering detailed, lifelike images.
Why does Kristen Bell's head look like a ball of Silly Putty?
Well then why did Kristen Bell's head look like a ball of Silly Putty? When color tests got underway, the answer became clear. This TV does not produce accurate colors; reds are underemphasized, and blues are too vibrant. On top of this, visible temperature errors cast an orange tint across the entire greyscale, and whites appear a bit blue at times.
And if you think the tomatos stop flying there, they don't; the viewing angle on this LED follows the technology's trend, meaning it's narrow. If you sit too far from the center, you will begin to lose that wonderful contrast we mentioned a moment ago. But perhaps the worst aspect of the L1350U's performance was its motion. Fast-moving, detailed objects suffered a juddering, blurry effect. Given these last two failings, this display is certainly not a great choice for sports lovers.
More of a bust than a bargain
It's frustrating that such spectacular contrast on an affordable TV should go to waste like this. The L1350U (MSRP $499.99) renders some truly beautiful blacks, but its colors just can't keep up. How sad! Like a magnificent race horse with a fear of circles... But in practical terms, regular content appeared washed out and unrealistic, and even Blu-ray discs lacked vibrancy of color. What a waste!
Don't be wooed by this TV's pretty price tag. Trading greenbacks for goodies is one thing—not everyone needs 3D—but when it comes to picture quality, don't settle for this. Even in the bargain bin, there are better TVs than the L1350U.
Since you can't trust everything you read on the internet, we feel the need to give you hard proof. Below are our test results, which we acquire with the help of Dr. Ray Soneira's DisplayMate test pattern software, and two of Konica Minolta's light-reading instruments, the CS-200 chroma meter and the LS-100 luma meter. Read on to learn more about the L1350U's time in our labs.
A black-hearted little TV
Since a display needs a big buffet of darks, greys, and lights in order to cast lifelike, detailed images onto its screen, we always test a TV's contrast ratio. To acquire this ratio, we simply compare a display's peak luminance to its darkest luminance.
To our surprise and delight, the entry-level Toshiba L1350U proved very black at heart. We realize that sounds like a bad thing, but not in the case of TVs. The LS-100 luma meter gathered a black reading of 0.05 cd/m2 and a peak brightness of 228.40 cd/m2 —both of which are excellent readings. Normally, LCDs skimp on black levels and just blast you with brightness, but this Toshiba is generous on both ends of the spectrum.
Not the brightest Crayon in the box...
Color is a very important aspect of a television's performance. In testing this dynamic, we focus on three areas: color gamut, temperature, and curves.
Beginning with color gamut, which is how well a TV matches the Rec. 709 standard for international HDTV color, we were met with disappointment. The L1350U fails to match this standard, producing instead an unrealistic gamut marked with undersaturated reds and overemphasized blues, not to mention a muddled white point. What does this mean in terms of actual performance? Reds aren't as vibrant as they should be, blues are unnaturally intense, and whites have a bit of an indigo tinge. These are not lifelike colors, and it's noticeable during viewing.
Next up is color temperature; colors ought to maintain a reading of about 6500º K throughout the greyscale, to avoid any unwanted tones in light and dark areas of a picture. The L1350 again fails to deliver happy results, with visible errors that plague every portion of its greyscale.
Finally, the color curves, which describe how smoothly a TV transitions from one hue to the next, also betray failing performance. We were happy to note fairly smooth curves, which make for a clean, polished picture, but placement is another story; the reds on this TV peak prematurely, meaning the brightest versions of this color will lack detail.
Move over
Seeing as LCD technology frequently results in poor viewing angles, we weren't particularly shocked when we discovered this Toshiba's poor score. First we took a reading of this TV's contrast from a 90º angle (that is, from head-on). Next, we move along an arc in 10º increments, taking new readings along the way. By comparing the original contrast to what we collect along the way, we can see at what angle the contrast fall below 50% of its original value—which marks its viewing angle.
For the L1350U, the total viewing angle is 42º. If you sit more than 21º from the center, your view will be greatly compromised.
Meet the tester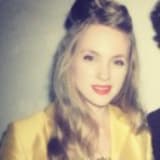 Virginia Barry
Former Managing Editor
@
Virginia is a former Managing Editor at Reviewed.com. She has a background in English and journalism. Away from the office, Virginia passes time with dusty books & house cats.
Checking our work.
We use standardized and scientific testing methods to scrutinize every product and provide you with objectively accurate results. If you've found different results in your own research, email us and we'll compare notes. If it looks substantial, we'll gladly re-test a product to try and reproduce these results. After all, peer reviews are a critical part of any scientific process.
Shoot us an email