It doesn't quite reach the heights of its 2014 counterpart, but users will be treated to a respectable contrast ratio, consistent color production, and unpolluted neutral tones.
If there's an area of performance that really hurts the E50-C1, it's the TV's ridiculously narrow viewing angle, which does not lend itself well to group viewings.
The 2014 iteration of Vizio's E Series, the E480i-B2, was one of our favorite televisions last year. Yes, its Full HD resolution was dwarfed by the heavy-hitting 4K TVs that had just started flooding the market, and no, its performance was nowhere near the best we saw. But the E480i-B2 made up the difference with its remarkably low price tag, its full-array LED backlight, and a smart platform, to boot.
Now it's a year later, and it's clear that Vizio isn't resting on its laurels. With the E50-C1 (MSRP $529.99), the strategy is similar, but the game plan has been elevated. This year's E Series comes equipped with 16 zones of LEDs (ten more than last year's) and a much-improved design.
Unfortunately, although everything seems to point towards a better E Series in 2015, that isn't necessarily the case; the E50-C1's performance isn't quite as good as its older sibling. Given the performance of last year's E Series and the improvements that could have been a reality, this is a little disappointing.
That said, the hardware of this year's model has improved dramatically. Where the wobbly design of the 2014 E Series felt like part of the concession of buying a low-cost TV, the 2015 E Series features a much more premium build.
What you're getting here for under $550 is almost unheard of in the our current marketplace. Pound-for-pound, the 50-inch Vizio E Series is a worthwhile investment for people hoping to get one last TV before the ubiquity of 4K content is fully realized.
We test our TVs before and after calibration. In doing so, we get a sense of how the TV will perform for both out-of-the-box users and users planning on doing an informed calibration.
An informed calibration is only as good as the TV's software will allow. Some TVs offer virtually no picture customization options included in our process, others offer more options than anyone will likely ever need, and most fall somewhere in the middle of that spectrum.
The E50-C1 is one of the TVs that falls in the middle. In addition to 2-point white balance controls, Vizio has also included 11-point controls. It's not as extensive as a 20-point system, but it's better than being limited to 2-point sliders.
Also included in the E50-C1's software is gamma adjustment and a color management system. While it's always nice to have color management controls in theory, we were unable to get this E50-C1's CMS to work for every color point (more on that later).
Since we calibrate our TVs for a darkened home theater, I began in Vizio's "Calibrated Dark" mode. I would recommend sticking to this preset unless you're planning on having your E50-C1 in a really, really bright room. Yes, the TV is mesmerizingly bright in its "Calibrated" mode, but the wonder wears out its welcome fairly quickly once you realize how devastating this mode is for the TV's black levels.
With the color temperature set to "Normal" and the gamma set to 2.4, I raised the backlight to 47, made finely-tuned adjustments to the TVs 2- and 11-point white balance controls, and did my best to fix some color points in the somewhat-broken color management system.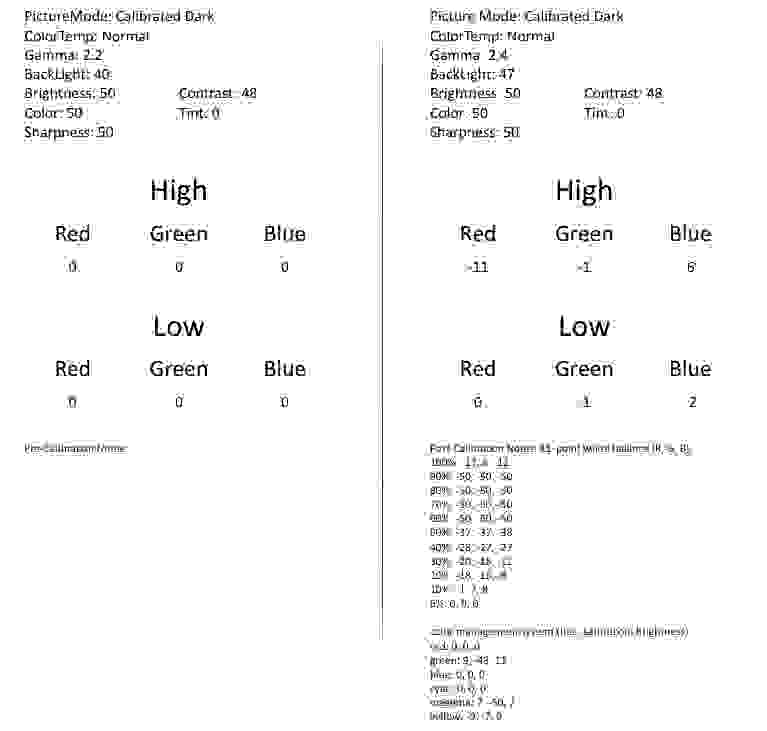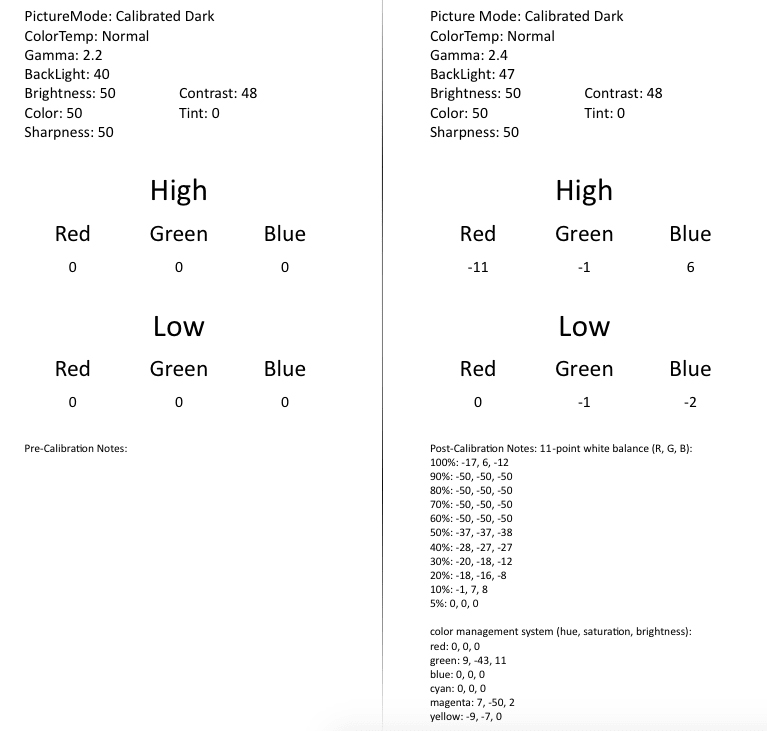 Although we received a 50-inch version of the 2015 E Series, here's a full list of the sizes in this year's series:
• 24-inch with Smart TV (model E24-C1, MSRP $179.99)
• 28-inch with Smart TV (model E28h-C1, MSRP $199.99)
• 32-inch, 720p, 60Hz effective refresh rate, with Smart TV (model E32h-C1, MSRP $239.99)
• 32-inch with Smart TV (model E32-C1, MSRP $259.99)
• 39.5-inch with Smart TV (model E40x-C2, MSRP $359.99)
• 40-inch with Smart TV (model E40-C2, MSRP $359.99)
• 43-inch with Smart TV (model E43-C2, MSRP $389.99)
• 48-inch with Smart TV (model E48-C2, MSRP $479.99)
• 50-inch with Smart TV (model E50-C1, MSRP $529.99)
• 54.6-inch with two 10W speakers & Smart TV (model E55-C1, MSRP $599.99)
• 55-inch with two 15W speakers & Smart TV (model E55-C2, MSRP $599.99)
• 60-inch with Smart TV (model E60-C3)
• 64.5-inch with 240HZ effective refresh rate & Smart TV (model E65-C3, MSRP $999.99)
• 65-inch with 120HZ refresh rate & Smart TV (model E65x-C2, MSRP $999.99)
• 70-inch with Smart TV (model E70-C3, MSRP $1,299.99)
As you can see, several models are priced similarly, differ in size by a half-inch or less, and carry similar SKUs.
Of these similar models, some differ by the wattage of their internal speakers and some differ by their effective refresh rate. I have tried to note the biggest differences between these similar models, but be sure to study and compare the spec sheets of each model accordingly when shopping at home, especially since the amount of active LED zones differs from model-to-model.
If there was one area where the 2014 E Series couldn't hide its—ahem— affordability, it was in its build. The panel's frame was comprised mostly of thin plastic, and it was positioned atop a stand that could hardly keep it in place. In fact, if you touched your hand to the screen even slightly, the panel would wobble to and fro in a stressful ballet that had us holding our breath every time.
Keeping design frills to a minimum in order to cram as much value as possible where it counts—in picture quality—has been Vizio's modus operandi for a while now. The company's M Series and the P Series follow this formula, too.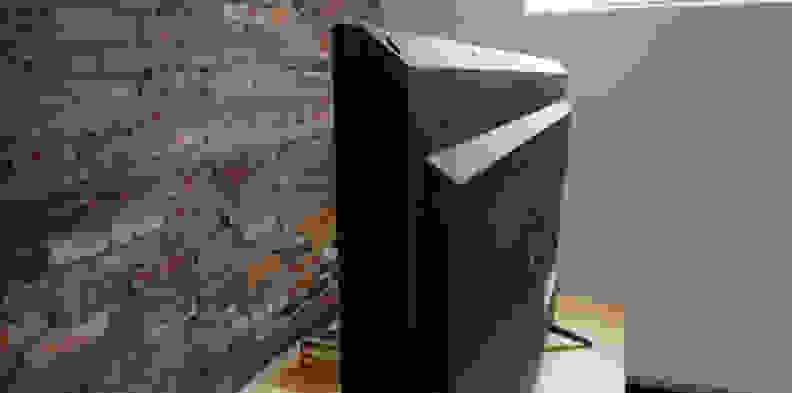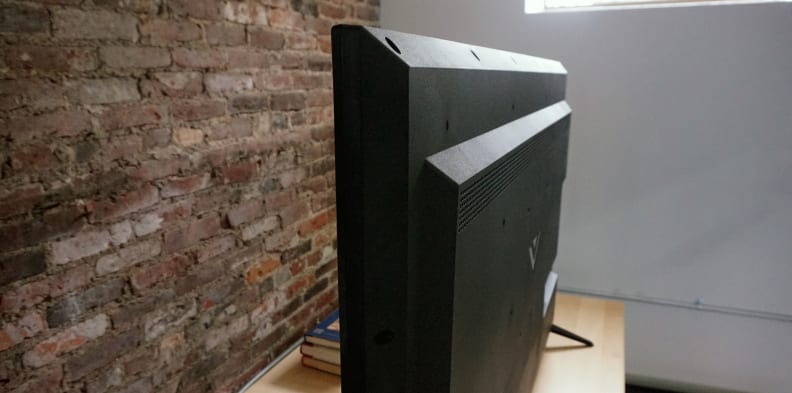 Fortunately, Vizio seems to be getting better at balancing this tradeoff: The E50-C1 isn't completely successful at hiding its modest build quality, but the design represents a significant step up from last year's E480i-B2 and compares well to other TVs in this price range. Instead of being loosely-cradled by a wobble-inducing center stand, the 50-inch panel is held up by two angular, wide-set feet that do a fine job keeping the screen in place.
The E50-C1 isn't completely hiding its modest build quality, but the design represents a significant step up from last year's E480i-B2.
The panel itself is pretty thick, but this is due to its grid of LED backlights—something you'll be grateful to have once you boot up a Blu-ray. On the back of the panel you'll find an L-shaped cutout of connectivity options: There are three HDMI ports, component/composite inputs, a USB port, analog and digital audio outputs, a coaxial jack, and an ethernet (LAN) port.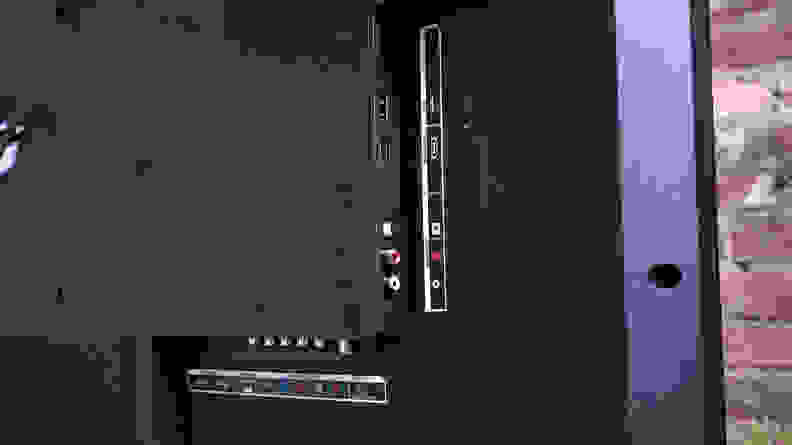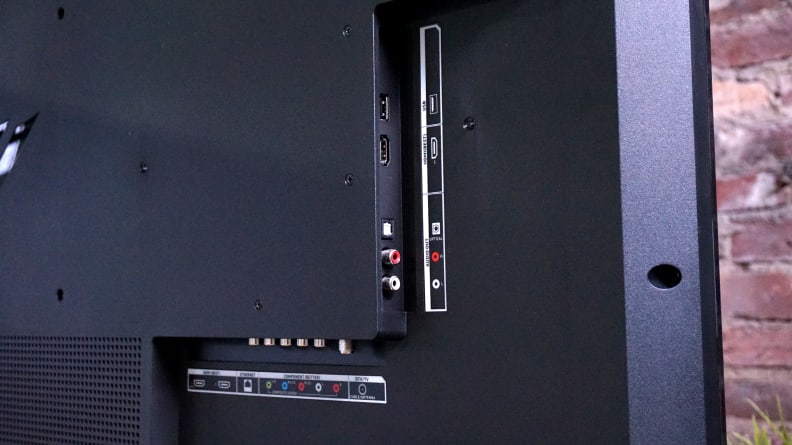 The remote control is classier than the chintzy variety that ships with most mid-range TVs (I'm looking at you, LG), but it's still nothing to write home about. It has a host of dedicated buttons for launching smart features—including Netflix and Amazon—but other than that, you're looking at your basic, run-of-the-mill clicker. (I use the term "clicker" literally in this case, because the buttons actually "click" when pressed, unlike the soft, rubbery inputs found on the remotes of yesteryear.)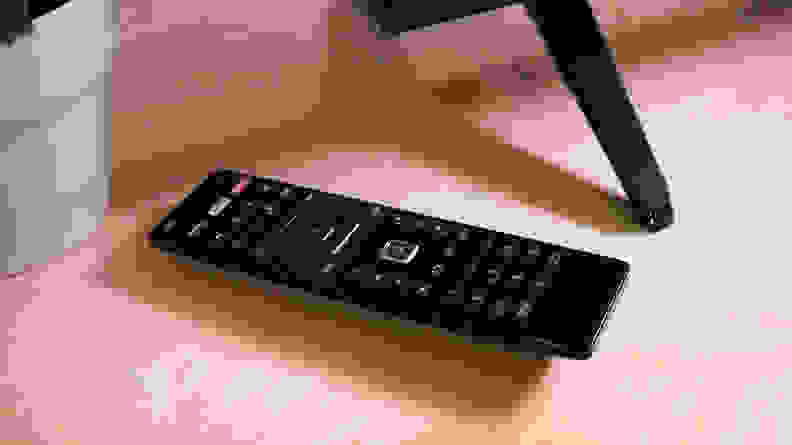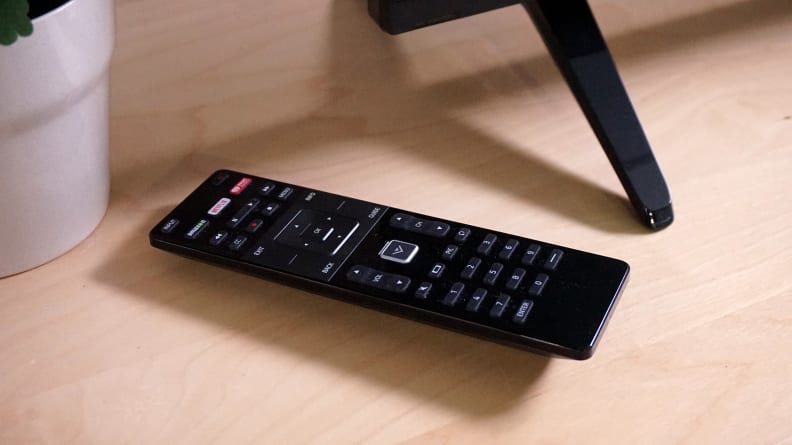 If there's a nit to pick with the remote, it lies with the placement and size of both the "OK" button and the Vizio button (which launches the Smart TV menu). The two are arranged on the same axis and the Vizio button is smack dab in the center of the remote. If your thumb instincts are similar to mine, this will undoubtedly lead to some misfires; you'll probably find yourself launching the smart platform when all you were trying to do was hit "OK."
Aesthetically speaking, it's a total improvement over last year's E Series.
Aesthetically speaking, the E50-C1 gets the job done with a very basic, modern feel. I wouldn't put this TV anywhere near a Sexiest TVs of the Year list, but it's a total improvement over last year's E Series. The important thing to remember is that what you lose in sexiness you gain in more important areas—namely, affordability. With the E Series, Vizio is quite literally passing the savings along to you.
A TV's picture is comprised of red, green, and blue sub-pixels. Since neutral tones (black, white, and gray) are representative of all three sub-pixels, we measure a TV's grayscale to determine how "clean" these tones are at various steps of the grayscale. It's possible, for instance, for a TV's reference white (100 IRE) to be polluted with a red or blue tone.
The amount of color error across the grayscale is represented by DeltaE, with the ideal being a DeltaE of 3 or less.
The E50-C1 performs very well in this regard, even before calibration. We measured its out-of-the-box DeltaE on "Calibrated Dark" mode at around 3.62. After an informed calibration and tweaks to its 2- and 11-point white balance controls, I was able to get this down to 2.35.


A closer look at the TV's RGB balance reveals an overly-red grayscale prior to calibration.


A contrast ratio describes a display's peak brightness (100 IRE) divided by its deepest black level (0 IRE). Although we consider black level to be the most critical aspect of a TV's overall picture quality, a healthy gap between the brightest brights and the darkest black levels is one of the most important elements of a quality picture.
In the E50-C1's "Calibrated Dark" mode, we measured a black level of 0.051 cd/m2 and a reference white of 188.3 cd/m2 , leading to a total contrast ratio of around 3692:1.

The E50-C1 features Vizio's stripped-down smart platform that doesn't perform nearly as poorly as one would expect from looking at it. Sure, it's not bursting with a bubbly persona like LG's webOS, but its user-friendliness more than makes up for its lack of personality.
The smart platform's user-friendliness more than makes up for its lack of personality.
The platform is comprised of big, bulky menus with easy-to-read labels that are usually arranged in a grid. Most of your time spent with the smart platform will come in the form of a menu bar at the bottom of the screen that can be customized to your liking.
Most of the heavy-hitting, popular apps are accounted for, including Netflix, Amazon, and Hulu. There are also a number of social apps to keep you busy when you're not streaming House of Cards, like Facebook and Twitter, for instance.
Notably absent however is a web browser—which is either not a big deal or a crippling oversight, depending on where you stand when it comes to surfing the web via a TV screen. Personally, I didn't find its absence to be a big deal at all. Then again, I seriously detest any TV-web-browsing experience, so make of it what you will.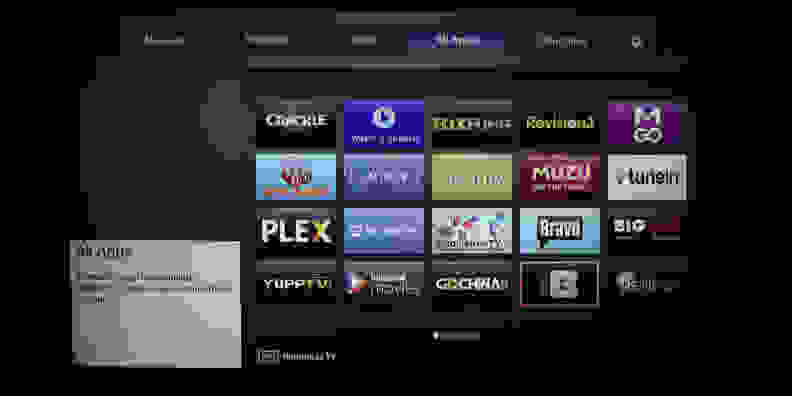 The E50-C1's picture can be couched in a number of presets. For the best out-of-the-box picture, choose either "Calibrated" (for a brightly-lit room) or "Calibrated Dark" (for a dark, home theater-type setting). Those with a penchant for picture-tinkering will be happy to hear that Vizio has included both 2- and 11-point white balance controls, a gamma slider, and a somewhat-functional color management system. For more on these picture customization options—including our own calibration findings—head over to the Science page.
Overall, the TV's menu skin and smart platform are a breeze to use. There aren't any bells and whistles to speak of, but the software is easy to pick up and learn. More importantly, the experience is reliable.
A total viewing angle describes, in degrees, the amount of flexibility a user has when it comes to sitting in front of the TV and enjoying a picture whose quality hasn't dropped significantly.
Our viewing angle test starts with a contrast reading at head-on angle. We continue to measure the contrast at increasingly off angles until the contrast dips below 50% of its initial reading.
Unfortunately, the E50-C1's total viewing cone did not exceed 34° (or ±17°). For a 50-inch panel, this is especially disappointing, seeing as how one of the major selling points for a big screen is the ability to hold group viewings.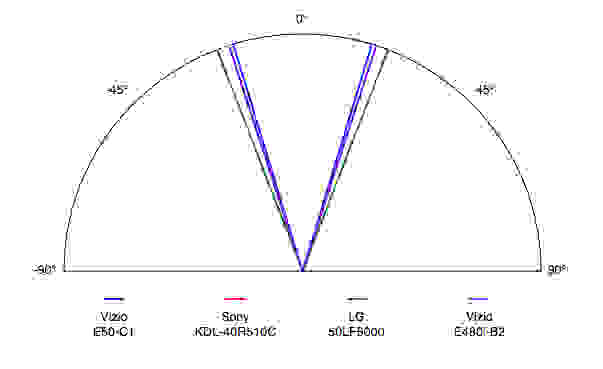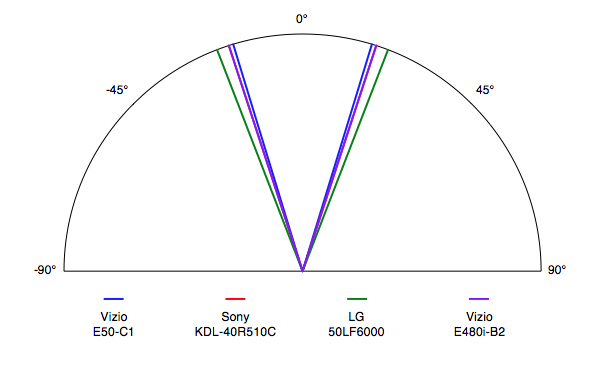 Edge-lit TVs are a relatively inexpensive way for a manufacturer to design a panel, but they also tend to be the least effective when it comes to contrast and screen uniformity. This is due in part to the distance that the light in an edge-lit panel has to travel in order to illuminate the TV's pixels. The light in a backlit panels, on the other hand, has a much shorter distance to cover.
When a TV features a full-array backlit panel with "local dimming," it means the TV uses separate LED zones that brighten and dim independently. This gives the TV improved dynamic range when it comes to screen contrast; there are simply more spots on the screen capable of dimming or brightening on their own.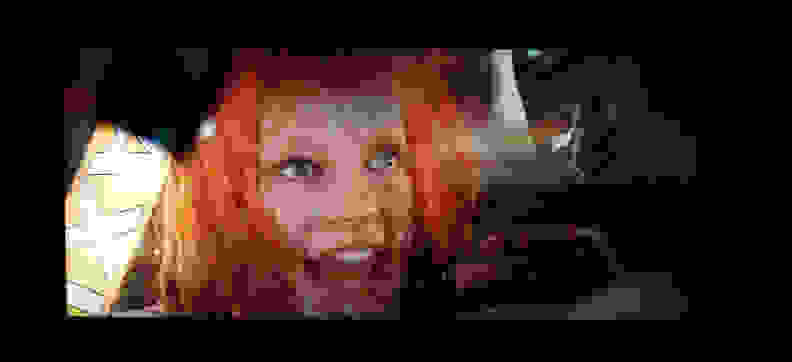 The E50-C1 is a backlit TV that packs a respectable 16 zones of LEDs into its 50-inch panel, ostensibly providing a greater contrast ratio, sharper detail, and better color consistency throughout the screen.
But how does it stack up in practice? Fairly well, as it turns out.
Compared to similarly-sized edge-lit TVs, the E50-C1 produces respectably deep black levels and bright highlights, too.
There are situations, however, where the TV's local dimming software can be a little bit too aggressive. If the content you're watching features darker sequences with white or yellow subtitles, you may notice a swath of light across the screen, not unlike a racing stripe.
To illustrate this effect, we snapped a picture of a black screen with a white test pattern taking up 10% of the screen at its center.
The effect might also manifest itself in sequences featuring light and dark elements, like a brightly-lit window in an otherwise dark room.
That being said, there's no doubt that the E50-C1's full-array local dimming is a net-positive, despite its occasional over-aggressive behavior. Simply put, this TV produces a rich, detailed picture, and that's mostly due to its backlit panel and 16 individual LED zones.
Unfortunately, the E50-C1 basically face-planted our viewing angle test. We determined that its screen only provides a mere three feet of viewing flexibility from 10 feet away, which is no where near adequate for a panel of this size.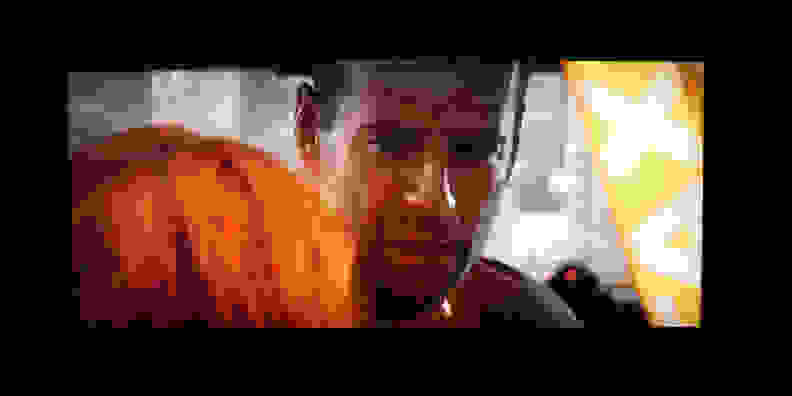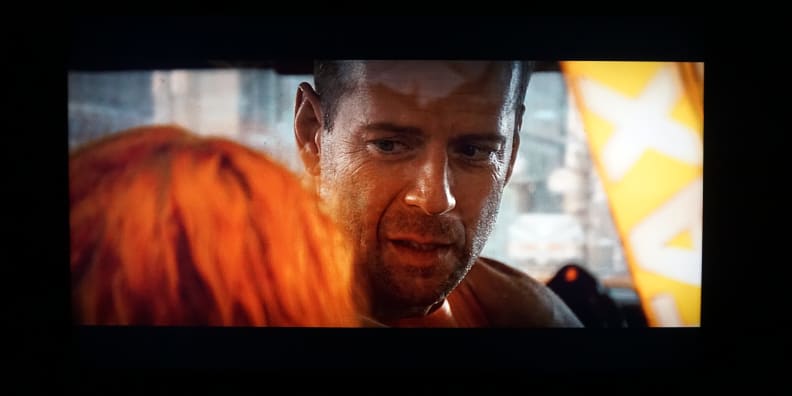 Still, if you're willing to take a chance on a 50-inch screen that might not provide as wide of a viewing angle as you'd like, there's a ton to like about the EC50-C1. Frankly, this type of contrast and color accuracy is hard to come by in a TV of this class. It's a great TV for Blu-rays, video games, and basic cable. It might not be the best choice for group viewings, but rest assured: The E50-C1 will treat you and a few other people very well on movie night.
The E50-C1 isn't a world-class TV by any measure, and it shouldn't be held up to that kind of standard. It does, however, occupy an important place in the market: It's an affordable, Full HD TV with a bigger-than-average screen and a better-than-average picture.
For people hoping to bridge the gap between their current TV and the 4K TV they're planning on purchasing in a couple of years, the Vizio E50-C1 is a fantastic compromise. For about $530, you're looking at a 50-inch TV with a stable smart platform and a P.D.G. (Pretty Darned Good) picture.
In its most advantageous picture modes ("Calibrated" and "Calibrated Dark"), it's not capable of achieving the same stellar black levels of its 2014 counterpart. That said, coupled with its exceptionally bright highlights, there's enough contrast to produce a fairly detailed picture for a TV of this caliber.
The addition of 16 zones of backlit LEDs is a benefit that cannot be overstated, either. Yes, the local-dimming software can be a tad aggressive at times, but there aren't too many circumstances where you'll find that issue to be truly distracting. Nine times out of ten you'll be happy to have a full-array television.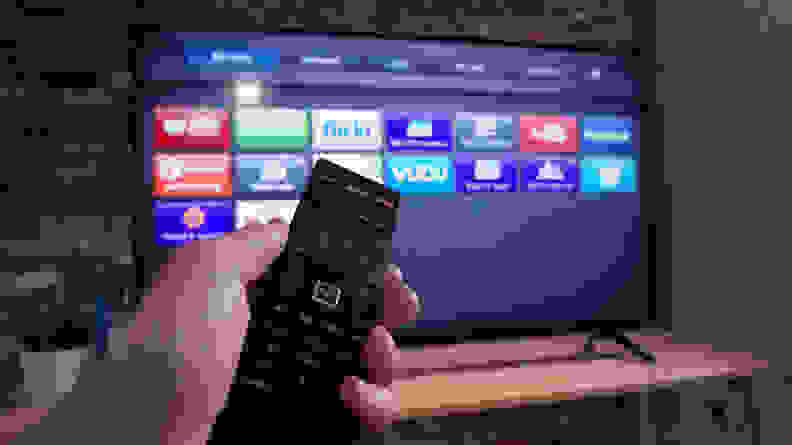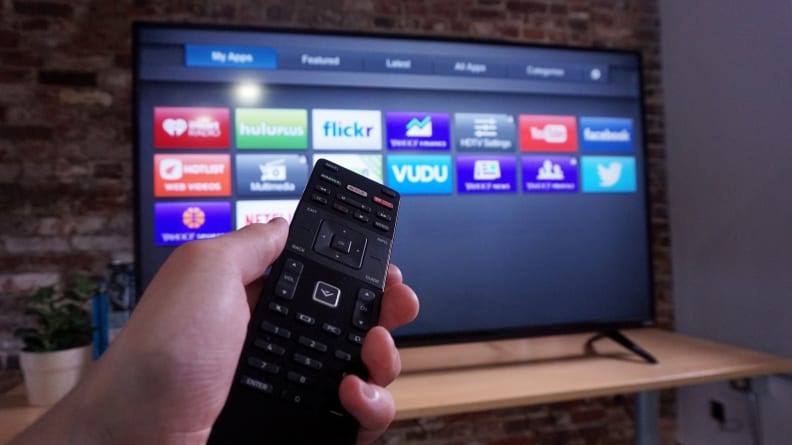 As far as alternatives go, there's a few things to consider. If you're desperate for an Ultra HD TV, the Vizio M50-C1 is a 50-inch 4K that's currently $270 more than the E50-C1. We recently reviewed a 65-inch model in the M series and found it to be quite commendable, especially given the price.
If you're hunting for more Full HD options in the E50-C1's price range, consider the LG 50LF6000. It's currently available online for $549, and although it doesn't have a full-array panel or a smart platform, you'll still be looking at a handsome, well-built TV with a great picture.
The E50-C1, for all intents and purposes, is simply what a good, affordable TV should strive to be.
The E50-C1, for all intents and purposes, is simply what a good, affordable TV should strive to be. It's not going to sweep you off your feet, but for the price, you walk away feeling like you've been given more than you should have.
In a world chock-full of electronics that occupy the overlap between "expensive" and "disappointing," the E50-C1 is a breath of fresh air.
A color gamut is a visual representation of a TV's color accuracy based on the international standards for HDTV color production. Within the visualization, there are three primary color points (red, green, blue), three secondary color points (magenta, cyan, yellow), and a white point.
For the most part, the E50-C1 produces terrific out-of-the-box colors, save for an oversaturated blue and an undersaturated red.
Although Vizio has included a full color management system in the TV's software, only a handful of the color points can be adjusted to a worthwhile degree. Unfortunately, blue and red are the two color points that are just too stubborn to rein in.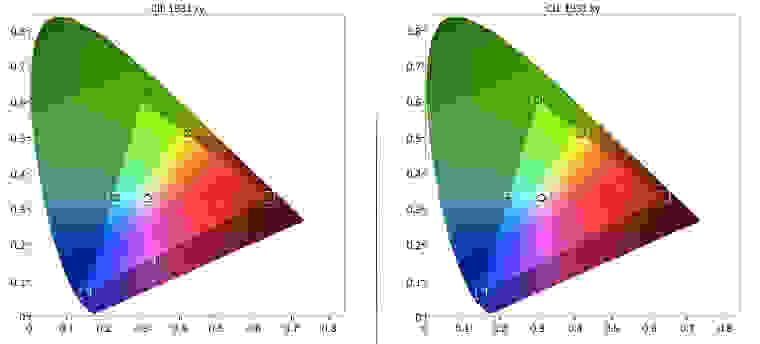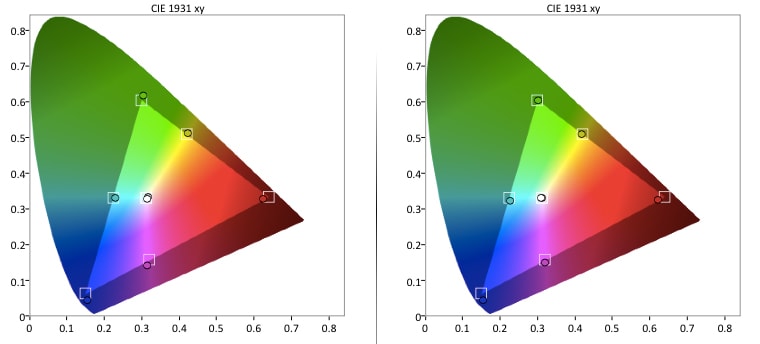 A TV's gamma describes how evenly luminance is allocated across a grayscale. In other words, a gamma curve is a visualization of how quickly a TV jumps from one level of brightness to the next. If the curve doesn't fall in line with international standards, you'll likely notice an extreme lack of detail in dark, shadowy regions of the picture.
We calibrate all of our TV's for a target gamma of 2.4, which is ideal for a dark room. For dimly-lit rooms, 2.2 is more appropriate. For bright rooms, 1.8, et cetera.
The E50-C1's out-of-the-box gamma reading clocked in at 2.33. Although the post-calibration reading of 2.47 is about the same distance from the 2.4 target, the post-calibration result represents a much gentler curve.


Meet the tester
Michael Desjardin
Senior Staff Writer
@Reviewed
Michael Desjardin graduated from Emerson College after having studied media production and screenwriting. He specializes in tech for Reviewed, but also loves film criticism, weird ambient music, cooking, and food in general.
Checking our work.
Our team is here for one purpose: to help you buy the best stuff and love what you own. Our writers, editors, and lab technicians obsess over the products we cover to make sure you're confident and satisfied. Have a different opinion about something we recommend? Email us and we'll compare notes.
Shoot us an email