Frankly, we are impressed by this machine. It fosters a great picture—save for a few unfortunate flaws—and all of its included smart features are useful at best, and stay out of the way of operation at worst. Engineering a usefully smart, 1080p, 55-inch LCD with a solid picture and selling it for $800 is quite a feat. Expect the E551i-A2 to fly off of retail shelves.
The Looks
Move along, folks. Nothing to see here.
I don't mean to disparage this television, but by 2013 design standards it's quite boring. Like most "budget" TVs, the E551i-A2 takes no risks with its appearance: A couple of black rectangles, held together by a plastic neck piece, is all she wrote. Part of this TV's low price owes to its low-end design, however—if you refuse to pay for fancy looks, this here'll do ya'.
Were you to trace the contours of this TV like a blind sculptor, you'd discover its on-set controls and connectivity ports without trouble. All of the E551i-A2's buttons and input options live on the panel's rear-left side. A simple array of controls stack vertically just within reach of your fingers, offering buttons for power, volume, channel, and the TV menu. Along the side of the TV, you'll find three HDMI inputs, a USB input, a shared component/composite, and optical audio out. On the back, in a recessed panel, Vizio has included a coaxial jack, LAN (ethernet) in, analog (stereo) audio out, and a fourth HDMI input.
The remote is of medium size, contoured to the hand, and covered in big, squishy buttons.
The only accessory that accompanies this TV is Vizio's standard 2013 controller. The remote is of medium size, contoured to the hand, and covered in big, squishy buttons. It features dedicated buttons for Netflix, Amazon Instant Video, and M-GO. The remote itself works well with the TV, as far as sending a signal goes—typing in information or search terms, on the other hand, is tedious. This is likely an issue with the TV's software, but it means users need to exercise patience to get everything set up and working properly.
Overall, the E551i-A2 is certainly not going to win any awards for stylishness or inventiveness. Like a ham-and-cheese sandwich for lunch, it gets the job done, and is pretty cheap.
The Experience
"Vizio Internet Apps," aka "Netflix 'n stuff."
Let's be honest. If you're looking to buy the most tech-tussled, app-heavy, flash-game-having TV on the market, you probably already stopped reading this review. The Vizio E551i-A2 is not for the shopper with stars in her eyes—it's a practical TV, and as far as smart content goes, it is more rational than John Locke in a Smart Car.
Like the M-Series unit I recently reviewed, the E551i-A2 is equipped with Vizio's "non-platform" internet platform, occasionally called Vizio Internet Apps. Most smart TVs from LG, Samsung, and Panasonic come with a built-in internet headquarters—or "smart platform"—a place where all of a user's apps, games, and streaming content lives. The 55-inch E-Series simply strings apps along the bottom of the screen in a horizontal row. You just pick one, and it launches; as you might guess, there aren't that many.
Just pick an app, and it launches; as you might guess, there aren't that many.
Most notable are streaming providers Netflix, Hulu Plus, and Amazon Instant Video. Social networkers will be glad to know that Facebook and Twitter are in tow, too. Vizio puts those two apps—among less popular options from Yahoo!—in a box to the left side of the screen, so you can keep watching The Social Network while you get your social network on. I signed into Facebook, scrolled my status feed, and even brought up a photo album. After a bit of buffering, I was able to view my Facebook photos on the TV—kind of cool.
Outside of its app selection, the E551i-A2 offers pretty basic features. Inserting a USB drive into the TV will let you browse through photos, videos, and music, though only common file types are supported. There's also, of course, a slew of picture and audio options to tweak and toggle, including a full EQ, various playback pre-sets, color temperature adjustments, and picture modes. If you've used any HDTV in the last three or four years, most of these "extras" won't surprise you.
The Vizio E551i-A2's really quite austere; both its appearance and feature set only offer the most basic, meat-and-potatoes kind of experience. That's definitely not a bad thing, however—not everybody wants facial recognition software or integrated cable content. At least, not everybody wants to pay for it.
The Picture
The E-Series is back, and this time, it's for reals.
Last year saw both the E551i-A2 (E-Series) and M-Series from Vizio quietly parading into market. Well, they've been "resurrected" (or just never discontinued) for 2013, and both of them are much better products. Time-lapse improvement is a wonderful thing, and it's definitely the case here.
The E551i-A2 produces respectable black levels and brilliant whites, offering the immersive picture quality that's reserved for high-contrast TVs.
The E551i-A2's picture quality is, in a word, impressive. Test results tug back the marketing-spec curtain and shine a flashlight on this TV's true abilities, and they are honed to very solid levels. I was most taken with this TV's great contrast ratio—it produces respectable black levels and brilliant whites, offering the immersive picture quality that's reserved for high-contrast TVs. The only drawback to this TV's light-production ability is its edge-lit design: Watching in a black or dim theater room will reveal blotches and unevenly lit black bars during Blu-ray or standard definition playback. It looks fine in stronger ambient lighting, though.
This E-Series superstar is also a color champion, much to our delight. After dynamics, color production is the second most important aspect of TV performance. Modern HDTVs are meant to produce colors specified by the Rec. 709 color gamut, and the E551i-A2 accurately renders color the way it is meant to. We tested this TV's color performance in Movie mode, where its color temperature and handling of neighboring hues proved it capable of rendering a picture both rich in color and balanced in palette.
We only have one complaint about the E551i-A2: Smooth Motion Effect. During playback of Peter Jackson's The Hobbit, both subtle and intense bouts of motion looked juddery and over-sharpened, despite the TV's otherwise impressive contrast and color. While still shots looked great, the motion problem was downright distracting.
Vizio's motion processing, Smooth Motion Effect, goes way overboard.
Tenaciously attempting to capture the sleekest-looking picture, we flipped the TV's Smooth Motion processor on, and immediately barfed. Vizio's motion processing goes way overboard, making proud, bearded Dwarf lords into operatic smoothies of the soap variety. This kind of interpolation has been vastly improved in the last few years, but this is the worst I've seen in 2013. Do not want.
Fortunately, juddery motion and cloudy uniformity are this TV's only problems—even if they're not negligible, they're not bad enough to detract from its otherwise impressive performance. As a creator of contrast and a copier of color, the Vizio E551i-A2 kicks some serious behind.
The Verdict
Not the King, but maybe Duke of Budgetingtonshire
The Vizio E551i-A2 ($829) is never going to claim the title of Home Theater King with its poor uniformity and judder-prone motion, but it deserves some serious accolades. For what you're paying, you could probably get a 50-inch dumb TV from other manufacturers. Vizio is tossing in an extra five inches of screen and easy access to Netflix, Hulu, and Facebook—more or less for free.
We think that's awesome. We also think this TV's picture is pretty awesome: Achieving the black level that it does is outstanding, considering it's an edge-lit LED. It adheres vigilantly to the color space it should as well, meaning most anything is going to look decent... if a bit juddery at times. If you can stomach less-than-perfct, you could save a ton of money by buying this Vizio instead of comparably sized/spec'd competition.
Behind the Screens
Vizio's E551i-A2 is a surprisingly solid performer where it counts. We tested a terrific overall contrast ratio, owing to deep black levels and equally bright white levels. This E-Series champ is also a fine adherent to its proper color space, reproducing red, green, blue, and white with a high degree of accuracy. It was not without drawbacks, however, as its unassisted motion looks notably juddery during high-bandwidth content, and its edge-lit design leads to a rather ugly screen uniformity—blotchy and uneven.
Contrast Ratio
Veni, Vidi, Vizio
Contrast ratio, or picture dynamics, is our highest-weighted test area. A television's contrast ratio is determined by dividing the TV's peak brightness by its minimum luminance level. Obviously, the larger the ratio between the two, the better. To our surprise, the edge-lit E551i-A2 fosters a very good contrast ratio for an LCD, 5522:1, owing primarily to its black level.
This E-Series entrant was able to produce such a respectable contrast ratio by testing with equally respectable black and white levels. Our LS-100 light meter read its 20% APL, 100 Backlight at 314.70 cd/m2 , which is quite bright. The inverse black level, taken at 80% tunnel, was a very impressive 0.061 cd/m2 .
Color Production
Performance that tickles pink—and everything else
While imperfect, the E551i-A2's produced color gamut is still extremely accurate, lining up evenly with the Rec. 709 standards. The small deviations in the hue of peak red, green, and blue are not enough to alter the accuracy of the secondary colors, and each is saturated perfectly, meaning they'll balance well on-screen.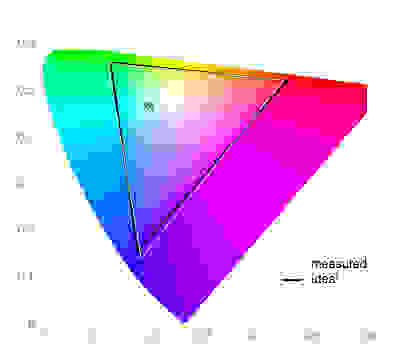 Color temperature describes the temperature, in Kelvins, of a theoretical black body radiator. Across its grayscale, a television's white coordinates can fall upon various correlated color temperatures, lending the produced gray or white an orange or blue shading—which is wrong. Our test revealed that the E551i-A2 produces little color temperature deviation across its intensity input, and what it does produce is mostly invisible to the human eye. There is a large drop in temperature within the blackest areas of the picture, but this is not visible, and is a function performed by most LCDs when producing black.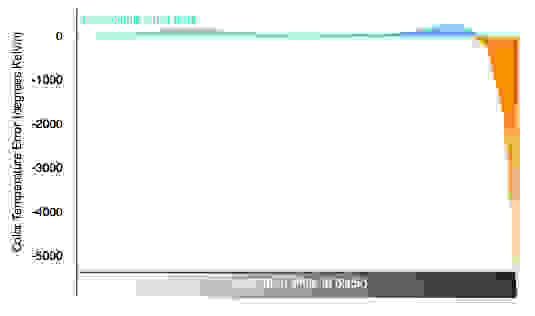 Finally, testing revealed that this Vizio's color curves are smooth, even, and balanced in luminance, meaning they'll provide a full, rich palette of hues on screen—with neither red, green, blue, or white threatening to imbalance one another when mixed. This is a terrific result.
Viewing Angle
Standard fare
Like most LCDs, the E551i-A2 does not have a very wide horizontal viewing angle. This is an important factor to consider when deciding where to place a TV in a room, whether or not to wall mount it, etc.
Unfortunately, this Vizio is a poor candidate for wall mounting, as its total viewing angle is a meager 39°, or ±19.5° from center to either side. This means at close viewing distances, only one person is going to be able to watch it with total contrast preservation. If you're buying for more than yourself, make sure you can sit a good few feet from the 55-inch screen, at least.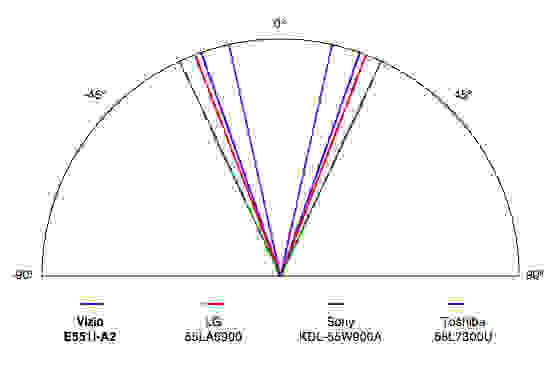 Meet the tester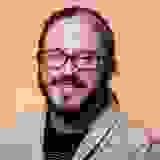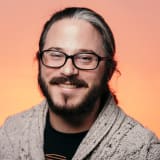 Lee Neikirk
Editor, Home Theater
@Koanshark
Lee has been Reviewed's point person for most television and home theater products since 2012. Lee received Level II certification in TV calibration from the Imaging Science Foundation in 2013. As Editor of the Home Theater vertical, Lee oversees reviews of TVs, monitors, soundbars, and Bluetooth speakers. He also reviews headphones, and has a background in music performance.
Checking our work.
Our team is here for one purpose: to help you buy the best stuff and love what you own. Our writers, editors, and lab technicians obsess over the products we cover to make sure you're confident and satisfied. Have a different opinion about something we recommend? Email us and we'll compare notes.
Shoot us an email