The M322i-B1 is held back by overly aggressive software that ultimately equates to poor contrast, distracting backlight elements, and generally bizarre behavior during most kinds of content. With all of the software shut off, the TV performs in a sub-par manner, as the local dimming functionality that would normally set it apart is missing in action.
Lastly, we found it almost impossible to calibrate the M322i-B1, as most of the controls simply weren't responsive, or were too course to correct some of the exaggerated errors in accuracy that result when the software is turned on. Instead of calibration, the charts below reveal the M322i-B1's performance points both with and without its extra software enabled (software on is the left chart, software off is the right chart).
The Vizio M322i-B1 (MSRP $329, online for $299) is a 32-inch, 1080p smart TV. It's the smallest option in the company's midrange 2014 "M Series" lineup, which includes six sizes up to a whopping 70 inches.
When we reviewed the 60-inch M Series, we found it to be a decent performer with a few color production flaws that kept it from achieving full value. While we were expecting similar performance pros/cons from the M322i-B1, what we found is that this TV is plagued with a myriad of problems due to aggressive software and processing.
Really, if you're just looking for a 32-inch TV, there are better options at similar prices, like this Sony or this Sharp. And if you're specifically interested in a Vizio TV for its local dimming, we recommend taking a look at the equally affordable E Series.
Silver surfer!
Like the 60-inch version, the M322i-B1's stand and bezels are dressed in a bright, silvery-gray aluminum. These trimmings are lightweight, sturdy, cool-to-the-touch, and look much nicer than many TVs in this price range.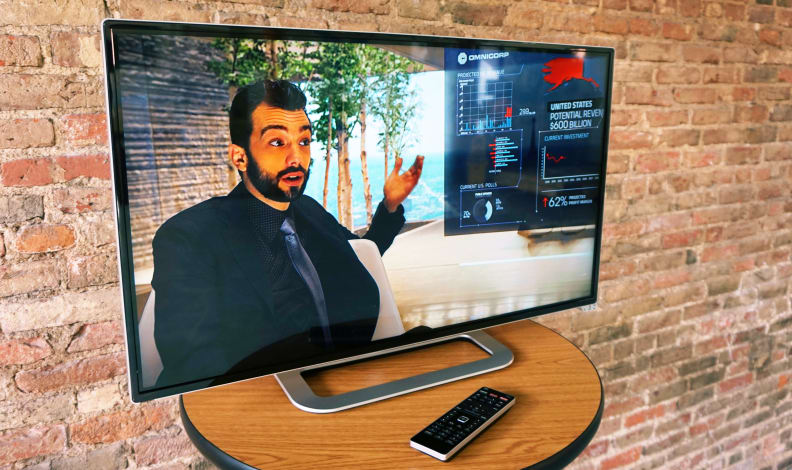 You'll find plenty of connectivity options on the back/side of the display. Side ports include analog and digital audio out, one HDMI input, and a single USB input, while shared component/composite inputs, a coaxial jack, an ethernet (LAN) input, and two more HDMI inputs can be found on the back of the TV. The TV's on-set controls are hidden on the back of the display, just below the side-oriented ports.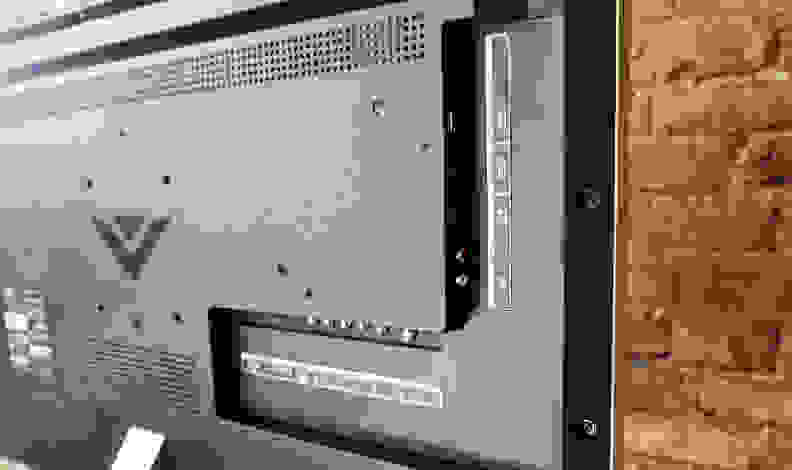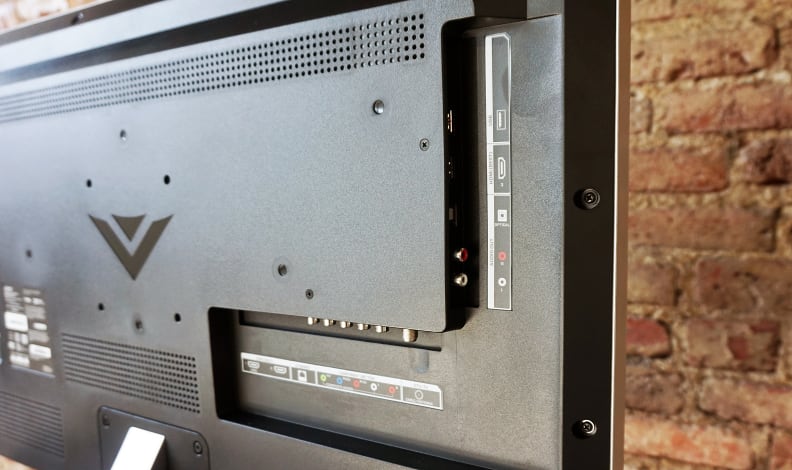 In the box, Vizio includes the panel, stand components, and Vizio's signature double-sided QWERTY remote. The top of the remote features wide, flat, easy-to-press buttons and hotkeys for services like Netflix and Amazon Instant Video.
On the other side is a full QWERTY keyboard complete with a responsive backlight that triggers only when you press a button. The keyboard side makes typing in text—like your WiFi password, or the name of a movie—much easier compared to standard navigational keys.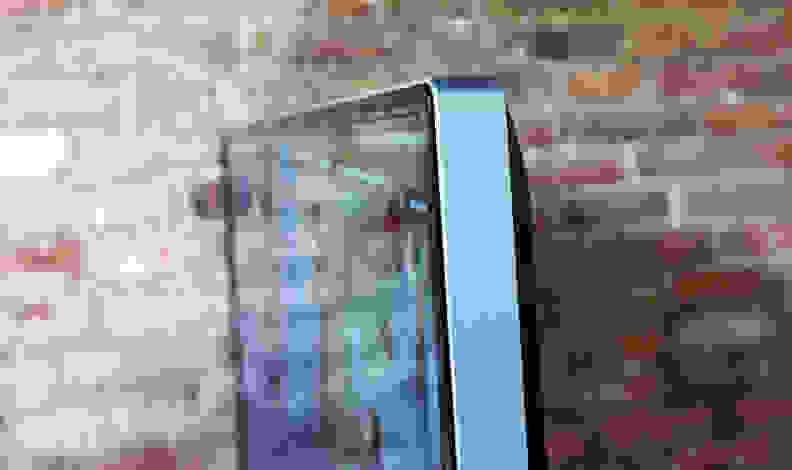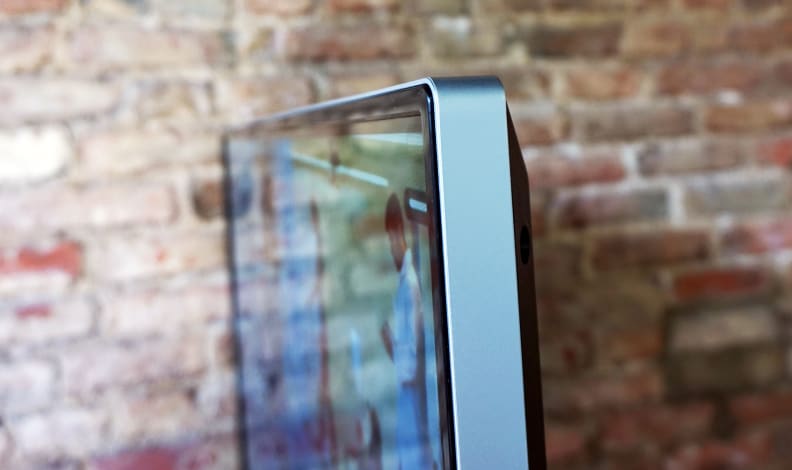 The M322i-B1's smart platform (Vizio Internet Apps) is quite simple compared to the more tricked-out software available from companies like Samsung and LG. That said, there's plenty to like about it. You won't find a web browser or some of the more advanced smart networking options here, but the simple, dressed-down app selection (i.e. Netflix, Hulu Plus) is all many people need from a smart TV.
Vizio's menu software is equally minimalist, but it's very easy to navigate, featuring big, clickable button icons for things like picture or audio settings. If you're a do-it-yourself calibrator, you'll be glad to know that the 32-inch M Series also includes 2- and 11-point white balance controls, a color tuner, and a handful of built-in test patterns.
We determine contrast ratio by dividing a display's peak (reference) white by its minimum luminance level, or black level, which are gathered from a standard ANSI checkerboard pattern. The resulting X:1 number is often a telling indicator of a TV's overall picture quality; high differentiation between the TV's darkest/brightest output is generally considered the key to an immersive picture.
Because the 322i-B1 only has five local dimming zones, it doesn't dim as effectively as the larger TVs in the M Series with more zones. In the Calibrated Dark picture mode, I measured a black level of 0.115 cd/m2 , which isn't terribly, but isn't nearly as dark as, say, last year's Vizio E480i-B2, which reached a black level of 0.034 cd/m2 in the same mode.
What's more, the M322i-B1 tends to aggressively dim its backlight in order to achieve those black levels, resulting in a reference white of only 113 cd/m2 , with 5% APL white patterns dipping as low as 36.12 cd/m2 . The overall contrast ratio of 983:1 is not only below average by modern standards, but it's much worse than each Vizio TV we tested last year.

Gray goo...
One cool thing about Vizio's entire 2014 lineup is that every TV, regardless of its size or price, is equipped with a special hardware-feature combo called full-array local dimming. This means that instead of only using edge (perimeter) LEDs to light the panel, the TVs have several individual LEDs arranged behind the entire screen.
Traditionally, full-array local dimming eliminates many of the problems commonly associated with edge-lit LED TVs, like backlight bleed, overly luminous black levels, and narrow viewing angles. But does this always make for great picture quality? Unfortunately, no.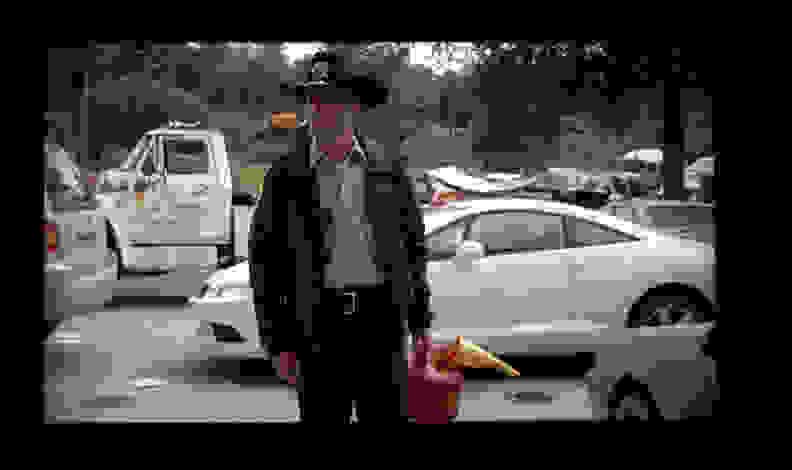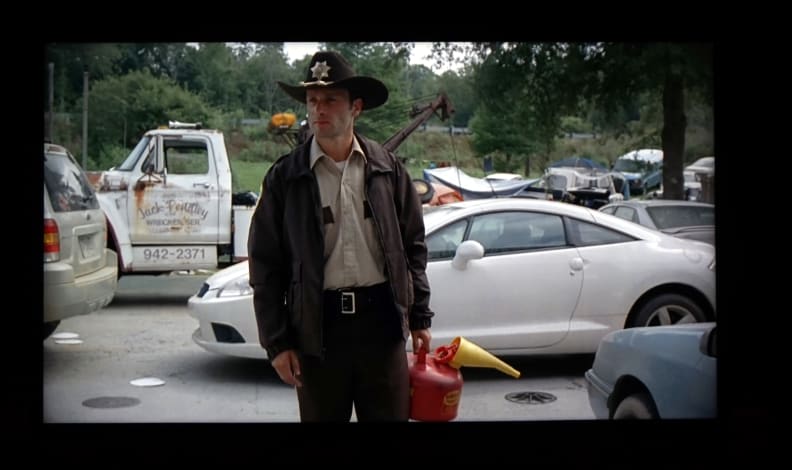 Unlike the larger sizes in the M Series, the 32-inch only has five local dimming "zones," and uses a number of software modes to make up for the relatively low zone count. The result is a messy picture quality that's confused about how to render content more often than not and is plagued by inconsistent and poor contrast.
The dimming process only works on very large patches of the screen, resulting in disappointing black levels.
The overall result is a "course" presentation, leading to haloing issues where bright (specular) highlight areas bleed into the dimmer areas around them. With the 322i-B1, Vizio attempted to make up for the low zone count via software fixes like a backlight dimmer...
... and heavens, it is just a mess. For one, the dimming process only works on very large patches of the screen, resulting in disappointing black levels and a light (luminous) output that's essentially had its wings clipped via the aggressive software. A full-field (100%) black screen resulted in gentle—but very noticeable and very distracting—"pulses" of the backlight. Essentially the software is infinitely "thinking" about what's on screen.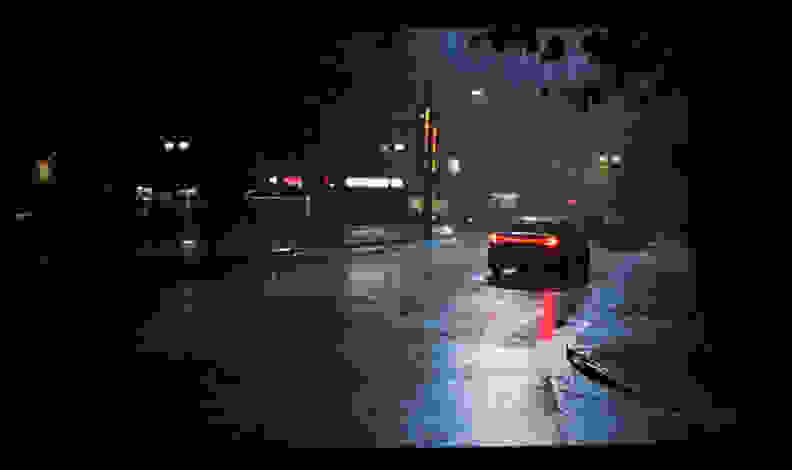 What's almost worse is that, despite the TV's fairly extensive calibration controls, it really doesn't function properly without the local dimming/backlight dimming/shadow tone gradation software on. Turning these features off actually results in worse performance overall in terms of grayscale neutrality and color accuracy. It's clear that this TV's performance was tailored to function exclusively with certain settings, so you're stuck between a rock and a hard place.
In a nutshell, the disconnect between the TV's software and hardware makes for poor contrast and dodgy motion performance, as well as excessive input lag for many video games.
For all of its dimming-related flaws, the M322i-B1 does foster fairly solid horizontal viewing fidelity. We measure a TV's viewing angle by measuring its contrast in 10° increments from the center to either side of the screen, stopping the test once that contrast falls below 50% of its original value.
The M322i-B1 tested with a total viewing angle of 78°, or ±39° from the center to either side of the screen, which is a pretty solid result. Compared to three other (edge-lit) LED TVs from this year, the 32-inch M Series takes the gold.
A color gamut is visual illustration of a TV's primary and secondary color production, with a focus on the accuracy of those colors' hue and saturation values. A TV's colors are then compared to the international standards dictated by the International Telecommunications Union (ITU), and a score is produced based on where those colors fall within a range of Just Noticeable Color Difference.
Regardless of whether the M322i-B1's local dimming, black correction, and backlight shuttering software settings are on or off, its color production is okay—not great, but it's passable. None of the primary or secondary colors are 100% accurate, but neither are they so egregiously inaccurate that they'll look notably "wrong" during most kinds of content. Below, you can see the M322i-B1's default color production during the Calibrated Dark mode on the right, and its default color production during that same mode with backlight shuttering and local dimming disabled.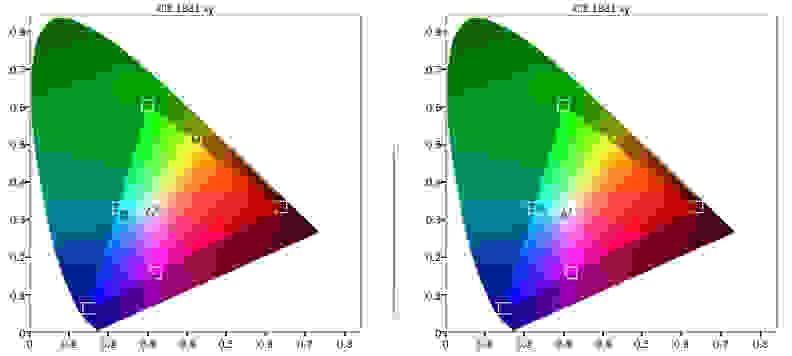 This TV tries to play with the big dogs, but ends up chasing its own tail.
Vizio's high-end TVs featuring full-array backlighting with local dimming were a big hit last year. The 65-inch P Series, the 60-inch M Series, and the 48-inch E Series TVs that we reviewed were all fairly solid performers available for much less than the competition. The 322i-B1 attempts to imitate the features that made those TVs successful, but ultimately fails.
With all of the software settings on (which is the default), you may find that content looks pretty good—in fact, with a normal amount of ambient light in the room, the M322i-B1 looks perfectly fine. Colors aren't terribly vivid, but the overall performance is decent for most uses.
Without competing ambient light, however, you may notice the screen dimming/brightening during credits or hockey games, or blocky sections of rectangular gray in the middle of a black screen. Turn all the offending settings off and you're stuck with a display calibrated for software that isn't present, making for other picture problems. It's lose-lose.
All said, you have two choices: Aim for a larger screen size in this series, or simply go for a different 32-inch TV at similar prices. In larger screen sizes, a full-array backlight is almost a necessity for a high-quality LCD picture, but in smaller sizes like this one it's a risky maneuver that—at least for the 322i-B1—does more harm than good.
A TV produces grayscale elements like gray and white by combining red, green, and blue light. This "additive color" model is unique to light-based displays, and requires them to evenly emphasize those three colors in order to produce truly neutral, color-free grayscale elements across the input spectrum. Visible error or tinting within a TV's grayscale is measured in a collective called DeltaE, where a DeltaE of 3 or less is ideal.
The M322i-B1 tested with a grayscale DeltaE of 9.63, which is quite a bit higher than is ideal. After turning off the backlight shuttering/local dimming software, the DeltaE rose even further to 11.65, further proof that the TV's out-of-the-box settings rely (partially) on software modes to function optimally.


If we take a closer look at how the M322i-B1 is emphasizing its primary colors, we can see that the TV is over-emphasizing blue at the expense of green. Essentially, as power is added (electrically) to create brightness, the blue channel, or sub-pixel, is carrying a large part of the luminance weight.
This creates "cool" tinting, where whites and grays take on a blue-ish appearance. This is especially notable in a dim or dark viewing environment. Without software settings, the RGB emphasis gets even more erratic, with red/blue trading off the brunt of the charge, still at the expense of green.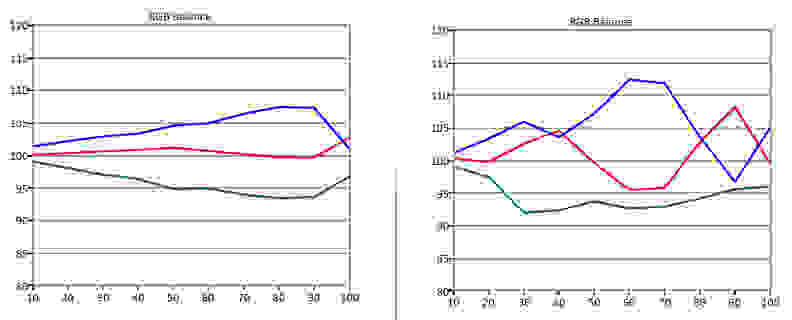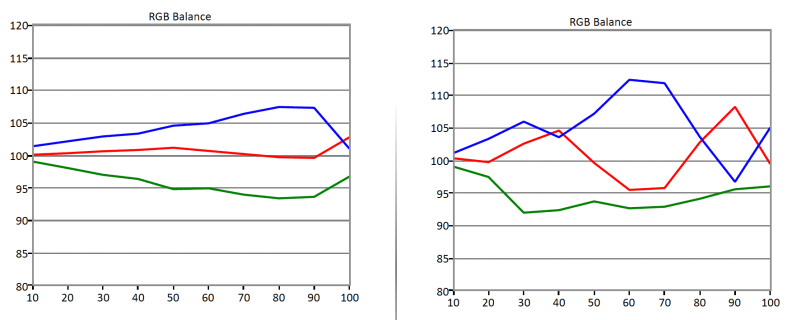 Gamma is a measurement of a TV's midtone luminance—basically, how quickly or slowly it adds light output as it moves out of black (no light) to reference white (peak light). A gentler, more subtle gamma curve is usually better for dimmer or dark rooms, while a more aggressive, brighter gamma curve is better for rooms with more natural/ambient lighting.
Ideally, gamma curves will lay "flat" along a log-log line and follow a specific curve of either 1.8, 2.0, 2.2, or 2.4. Ideal TV/video content gamma curves are generally between 2.2 and 2.4. The M322i-B1's gamma sum of 2.28 is close to the 2.3 ideal, except that it's completely uneven, starting out much too bright and getting brighter too quickly until about 60 IRE, where it then grows bright much too slowly.

Meet the testers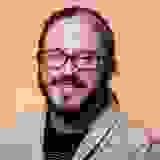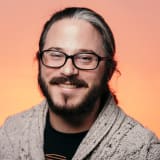 Lee Neikirk
Editor
@Koanshark
Lee has been Reviewed's point person for most television and home theater products since 2012. Lee received Level II certification in TV calibration from the Imaging Science Foundation in 2013. As Editor of the Home Theater vertical, Lee oversees reviews of TVs, monitors, soundbars, and Bluetooth speakers. He also reviews headphones, and has a background in music performance.
See all of Lee Neikirk's reviews
Checking our work.
We use standardized and scientific testing methods to scrutinize every product and provide you with objectively accurate results. If you've found different results in your own research, email us and we'll compare notes. If it looks substantial, we'll gladly re-test a product to try and reproduce these results. After all, peer reviews are a critical part of any scientific process.
Shoot us an email