televisions
Vizio M65-C1 (M Series) 4K LED TV Review
This 4K TV lineup starts at just $599, but competes in quality with much pricier sets.
Last year, Vizio doubled-down on its efforts to create competitive, budget-friendly TVs, ultimately finding great success by focusing on the picture quality first and smartly skimping elsewhere.
The result? Some seriously affordable TVs capable of great picture quality. Last year's E Series and 4K P Series Vizio TVs delivered awesome quality for their respective price tags. But they didn't leave much room for last year's M Series: With the E Series covering Full HD and the P Series offering 4K, "M" apparently stood for "middle child."
But this year, the M Series TVs have a few more tricks up their sleeves. Most notable is the upgrade to 4K resolution for all nine sizes, making them an even more affordable way to get into 4K. Even a gigantic set like the M65-C1 (MSRP $1,699) is super-cheap compared to the competition. So what's the catch?
In a nutshell, the M Series continues to exclude extraneous features and design frills. The end result is a no-nonsense 4K TV with a great picture that's crazy affordable. Just don't expect a wall-to-wall premium experience. The design won't wow you, the remote feels cheap, and the smart platform is basically an inglorious Roku stick.
But while the picture isn't flawless, it's much better than the price would suggest—making this one of the best values of 2015.
Series Information
There are nine sizes in the Vizio M Series
Vizio's 2015 M Series features 9 4K televisions:
a 43-inch (model: M43-C1, MSRP $599)
a 49-inch (model: M49-C1, MSRP $769)
a 50-inch (model: M50-C1, MSRP $799)
a 55-inch (model: M55-C2, MSRP $949)
a 60-inch (model: M60-C3, MSRP $1,299)
a 65-inch (model: M65-C1, MSRP $1,699)
a 70-inch (model: M70-C3, MSRP $1,999)
a 75-inch (model: M75-C3, coming soon)
an 80-inch (model: M80-C3, MSRP $3,999)
Smart features, upscaling engines, processors, and HDMI ports are identical between models.
All of the M Series TVs have 32 local dimming zones except for the 43-inch, which has 28 zones. All of the M Series TVs use VA (Vertical Alignment) type LCD panels, except for the 49-inch, which uses IPS (In-Plane Switching). Sizes 55 inches and smaller use 60 Hz native refresh rates, while sizes 60 inches and larger use 120 Hz native refresh rates.
Our M65-C1 was received brand-new on loan from Vizio, and given roughly 16 hours of warm-up and break-in time prior to evaluation and review.
Design & Hardware
Not premium, but perfect if you're not picky.
You're probably scratching your head wondering how a 65-inch 4K TV only costs $1,700. Well, while they're not bargain-bin cheap, the M Series TVs wear their affordability on their sleeve with a primarily plastic/aluminum finish. It's almost identical to last years' M Series, except that the pedestal base has been supplanted by two wide-set feet. Keep in mind you'll need a pretty wide TV stand if you don't plan to wall-mount the M65—anything less than 3.5 feet won't cut it.
The M65-C1 isn't the slimmest, sleekest TV you can buy, but neither is it made with heavy, sturdy materials like one of Panasonic's old plasmas. It falls somewhere in the middle, sporting robust-looking bezels and a thick panel depth that belies how light it actually is (I can heft it alone, and I'm a 5'4" tech reviewer). To this end, the M65 looks nice enough from a distance—we like the smooth, gray highlights around the screen—but it doesn't match up with the best TVs in 2015.
But while the M65 is rocking last season's discounted look, it packs a premium selection of ports. Users will find no less than five HDMI inputs, three of which support HDCP 2.2. We're not sure why all five aren't compatible, except that it may be another way to save costs: Who even has five devices that require HDCP 2.2, anyway?
Like last year's P Series, the fifth HDMI input is a "fast" variant, supporting 4K@60Hz/1080p@120Hz timing modes (a UHD Phase 2 requirement). We tested the input lag on a similar port on the P Seires, and found it to be blazing fast—even while upscaling. You'll also find connectivity options for component/composite connections, a coaxial jack for cable/antenna connection, an ethernet (LAN) input, and a single USB 2.0 port.
Finally, Vizio includes its double-sided, QWERTY keyboard remote control with this year's M Series. This wide, flat controller features an all-black aesthetic and wide, easy-to-press buttons. The top side is a traditional remote—app hotkeys, volume/channel rockers, and so on—while the back side stands in as a keyboard. Toss in some backlighting, and this is easily one of the more approachable, usable remotes out there. The downside? Like the TV itself, it feels a bit lightweight and cheap (because it is). But unless you're a real snob about your clickers, you're not going to mind.
Apps & Software
Apps, apps, and more apps.
If there's one thing that stands out about Vizio's smart features, it's that they don't really stand out at all. Compared to the usual combo of browser/apps/file sharing/advertisements bundled into the heart of most smart TVs, the M65-C1 is positively bare-bones. So if you're the kind of person who prefers browsing on a TV to a PC, and likes to listen to music from a flash drive via your TV's USB port, "Vizio Internet Apps Plus" may not satisfy you—also, I've never met you, and I'm not sure you exist.
Considering that the M65 is a 4K/UHD TV, it's at least equipped with the apps you'll actually want to use: Netflix, Amazon Instant Video, and UltraFlix, the three big streaming providers for 4K content right now. You'll also find plenty of other useful (or at least popular) options like YouTube, VUDU, Spotify, Pandora, Twitter, Facebook, and PLEX.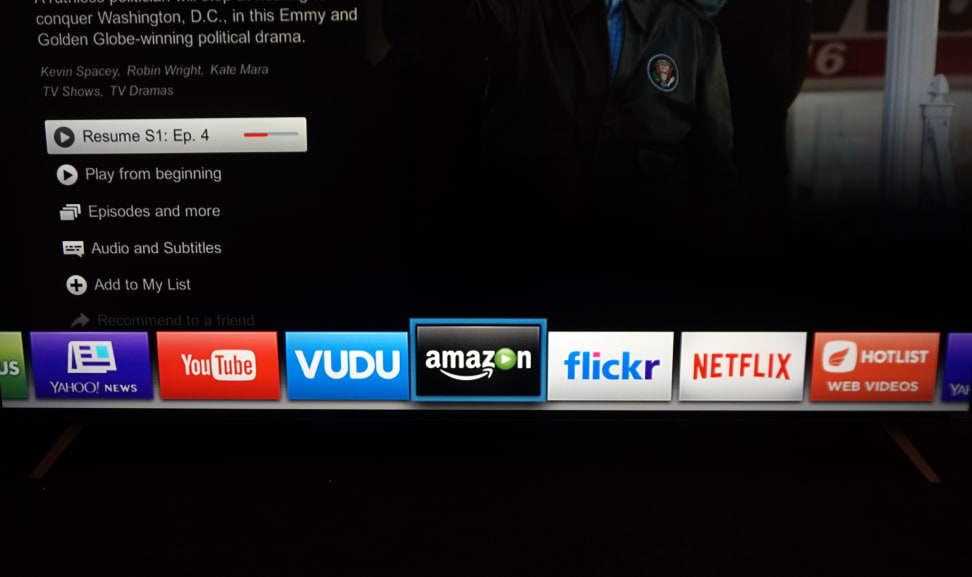 Like almost everything about this TV, the smart features are simple, but they work as they should. Most modern WiFi/ethernet connections will have no trouble streaming in 4K, though you'll want to make sure you have at least 15Mbps speeds via a tool like Speedtest before attempting to stream 4K content. For apps like Netflix, Amazon Instant, and UltraFlix, you'll need to create an account and pay the subscription fees, but otherwise this is basically a plug-and-play solution for simple 4K streaming—and nothing else.
You'll still need to pay subscription fees, but this is a plug-and-play solution for simple 4K streaming.
Vizio's on-board menu software is similar. It's a plain enough layout comprised of big, clickable menu tiles, but the simple presentation belies a high level of customizability—especially when it comes to picture customization. The main menu sidles up to the left of the screen, and gives the user numerous sub-menus for categories like picture, audio, network, and system settings.
The picture menu includes a number of pre-set modes, including Calibrated and Calibrated Dark, for bright and dark rooms, respectively. We used the latter during our testing and calibration process. Under "More Picture," users will find additional adjustments, including the ability to toggle the TV's hardware local dimming on or off—we recommend leaving it on to get the best performance. And real purists will likely relish the ability to tweak the TV's white balance via 2- and 11-point grayscale controls; there's also a full hue/saturation/brightness CMS and a gamma slider that ranges from 1.8 to 2.4. The cherry on top? Vizio even includes a few built-in test patterns.
Picture Quality & Viewing
Other than a few drawbacks, this TV provides an excellent 4K viewing experience.
The M65-C1 has some pretty big shoes to fill, considering it follows in the footsteps of Vizio's 2014 P Series, which took our Best of Year award for affordable 4K. Fortunately, the 65-inch M Series looks to be one of the best performing 4K TVs in this price range. Here's why.
Contrast & Dimming Performance
Contrast performance—specifically, deep, inky black levels—has traditionally been a weak point for LED TVs, finding more more in the realm of plasma and OLED TVs. To compete with those sets, many LED manufacturers have begun to adopt a (traditionally expensive) backlight type that uses a "full array" of LEDs behind the screen, rather than only along the edges. This creates better light control, especially when combined with the ability to dim/brighten various clusters of LEDs.
We measured excellent black levels and ample luminance, making for great contrast overall.
Vizio, in particular, has invested heavily in so-called full-array local dimming (FALD, in certain circles). And like all of Vizio's 2015 TVs, the M65-C1 uses a full-array backlight with local dimming, giving it excellent contrast performance.
To that end, we measured excellent black levels and ample luminance, making for great contrast overall. The only issue here is with the zone count: With only 32 zones to work with, performance is a little coarse during very complex scenes.
You can tell that Vizio workshopped the local dimming performance since last year, however. Each zone does more than simply turn off and on, utilizing a multitude of in-between states. This allows for better gradation and "smarter" dimming overall, and goes a long way in avoiding the blooming and floating black effect that plagued local dimming models years ago. That said, the relatively low zone-per-inch count still has drawbacks: For example, while Netflix is loading, the spinning logo on the lower part of the screen causes repetitive zone activating, lighting and dimming over and over.
This can be quite ugly, and crops up in a number of places. However, it doesn't really happen during normal content, but only during particularly unusual scenarios, such as during a "loading" graphic or whenever there are active objects against a black backdrop. We didn't see this kind of thing on the slightly pricier P Series, but it's also something most viewers will probably learn to live with.
Viewing Angle
Unfortunately, while the M65's VA (Vertical Alignment) panel boasts great contrast during head-on viewing, it falls off quickly during horizontal and vertical off-angle viewing. This is fairly standard for LED TVs of all types, and it performs better than edge-lit LED models, it just doesn't come close to competing with plasma or OLED sets.
I also noticed some fairly ugly color shifting (especially in middle grays), with a slight pinkish tint becoming visible at just a few feet off center. It's not hugely problematic outside of test patterns, but is something to keep in mind if you intend to wall-mount this TV, or have a wide-set living room arrangement.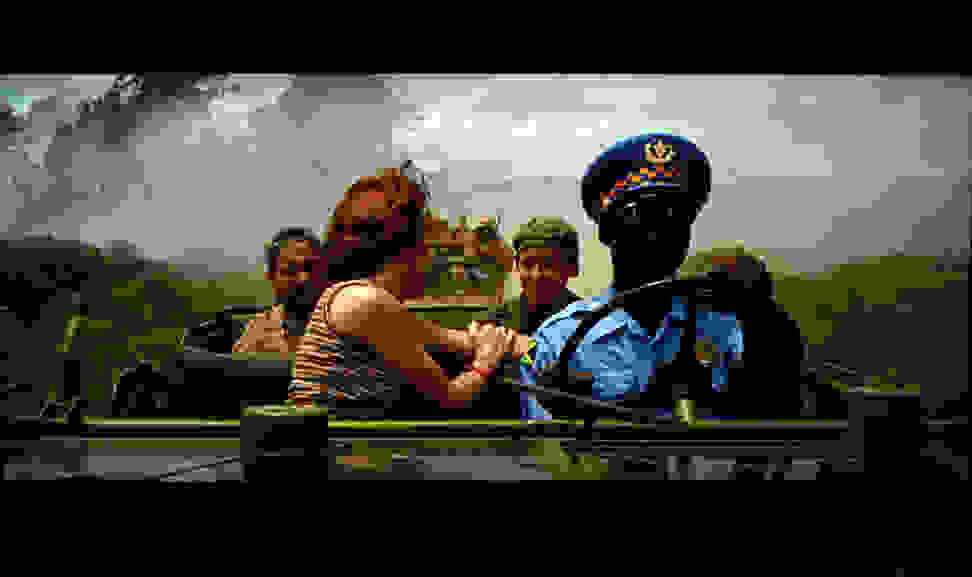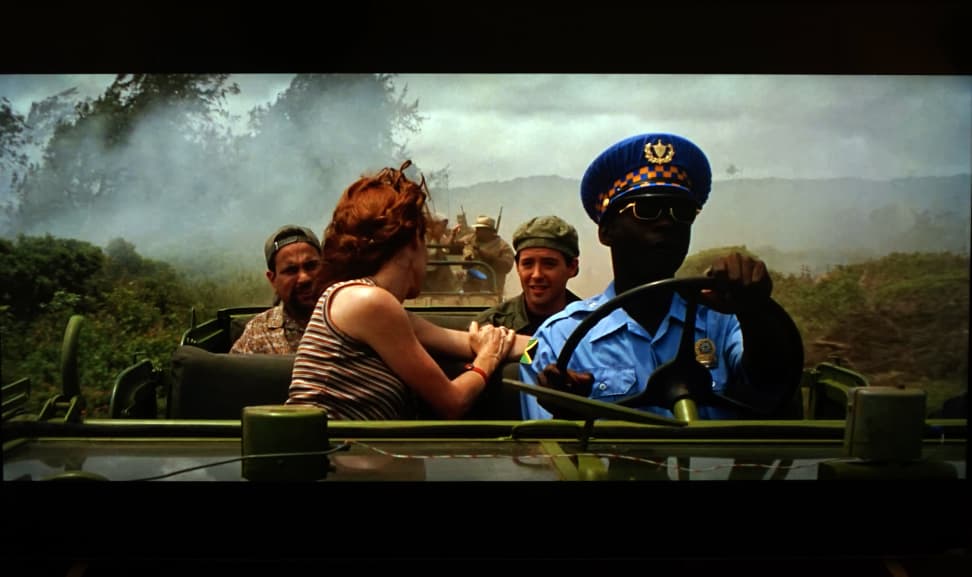 Uniformity
Uniformity refers to two things: how well a TV utilizes its backlight during dark scenes (and especially letterbox content); and how evenly it presents full-screen colors and neutral tones. Because it uses a full-array backlight, the M65 has much better backlight uniformity than comparable, edge-lit TVs—though again the lower zone count creates a few disparities. When very bright content is at the center of the screen, the lower edge is a bit brighter than ideal—but this is only visible in a pitch black room.
Because it uses a full-array backlight, the M65 has much better backlight uniformity than comparable edge-lit TVs.
In terms of grayscale uniformity, the M65 isn't perfect, but it's satisfactory. The overall white balance is a bit wonky right out of the box, even in the Calibrated Dark picture mode. A trained calibrator can fix this, so it isn't a huge problem, but attentive viewers may notice some unsightly color if the entire screen is gray or white.
Color Integrity
Color performance was always a sore spot for Vizio's 2014 TVs—4K or otherwise. We already figured the M65 would boast great contrast, but were concerned that its overall color accuracy and grayscale performance might have some notable errors. While we can't claim the color here is perfect—it still has a handful of problems—it's very reliable for the price, with the kind of minute color discrepancies that are more apparent to laboratory meters than human eyes.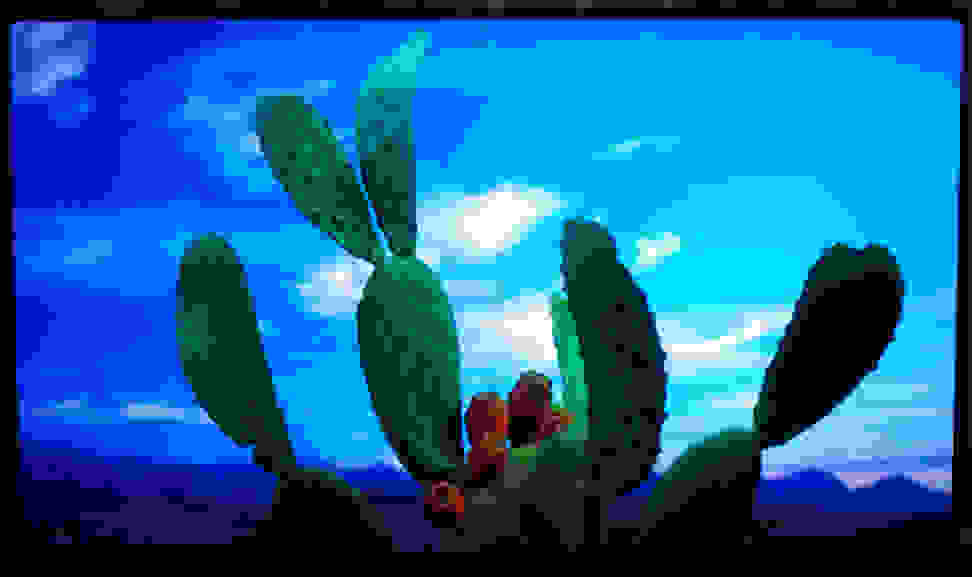 For example, the TV naturally overshoots green, pushing its saturation outside of nominal values. This isn't a huge problem, however: Most viewers will enjoy the extra color, and would be hard-pressed to notice it outside of extremely familiar content. We noticed it particularly during older, less-saturated content. The TV also skews blue a bit, but to such a small degree that it's hardly worth mentioning. You can fix these small errors using the TV's on-board color controls, too.
Color production isn't perfect, but it's very reliable for the price.
What does this mean to you? Probably not much: picky videophiles may take some issue with this TV out of the box, and feel compelled to hire a calibrator—but everyone else is going to be more than satisfied.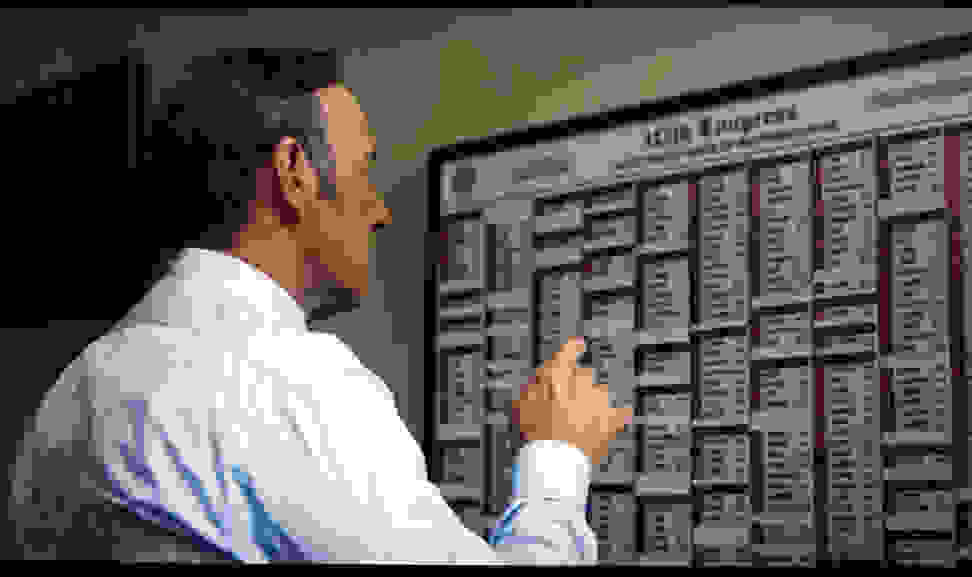 Motion Performance
Our 65-inch M Series uses a 120 Hz refresh rate, and also includes motion smoothing and backlight scanning abilities. The performance here meets expectations when you take both unassisted and assisted performance into account. Standard video content (like cable, DVDs, Blu-rays) running at 24 or 30 Hz look just fine, but on such a big screen it's hard not to notice some common issues, such as judder during panning.
You may find yourself constantly fidgeting with motion settings.
If you're watching in a dark room, the TV's backlight scanning option will eliminate most issues without overly dimming the screen, but bright-room sports nuts may be out of luck. The milder motion compensation settings work fine for a football game, for example, but will introduce the soap-opera effect during film content, and you may find yourself constantly toggling it on and off as you switch between modes.
This is standard performance for an LED LCD television, really, but there are TVs out there with less aggressive motion smoothing modes. Basically, you may find yourself pining for something that require less tinkering and hair-pulling to get a "one size fits all" motion setup.
Upscaling & Native 4K
Even though 4K is here, almost all TV and movie content is still 1080p or lower, meaning the TV will need to upscale it to fit the 4K screen. This year, the M Series utilizes the same six-core processor as last year's P Series, giving it enough computing power for effective upscaling. Like most TV reviewers, we're still in the process of nailing down a truly objective way to "measure" upscaling, but the eyeball test gives the M Series a pass. Like most other 4K TVs, it really depends on the quality and age of the content you're watching.
For example, an older Blu-ray (1080p) movie like The Fifth Element shows its age a bit when upscaled, but something a little newer like The Dark Knight looks excellent. In both cases, the filmic quality becomes a little overwhelming, where naturally hard-to-perceive film grain is now more notable, but it's something your eyes get used to after about 10 minutes of viewing.
It's a different case with compressed and lower-resolution content. If you're expecting the local news to look "better than ever" on a 4K TV, you're barking up the wrong tree. Likewise, most DVDs look a little stretched out. This is an area where the TV's overall picture quality (contrast, color, motion) really comes into play—and the M65 is no slacker in those areas. So while things don't necessarily look better, they're very watchable.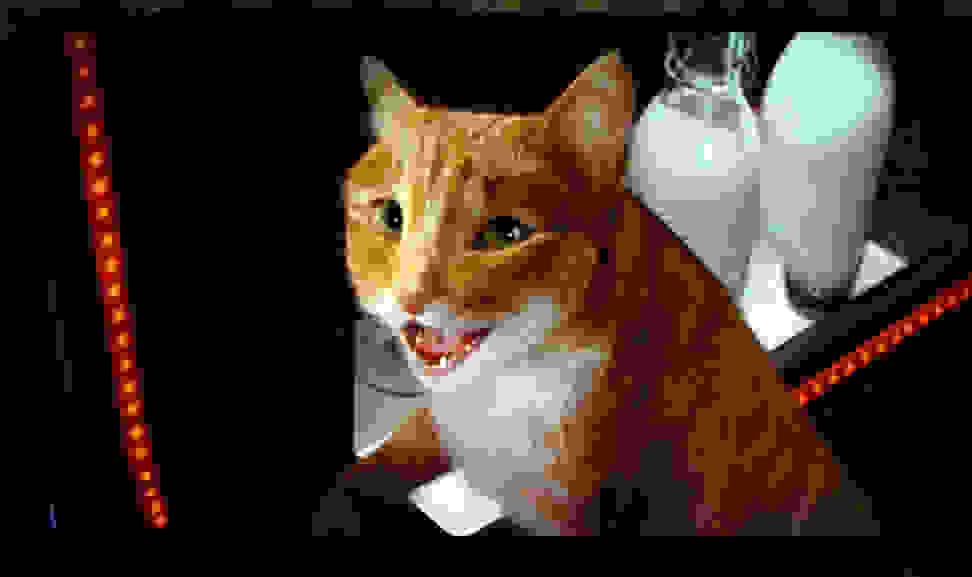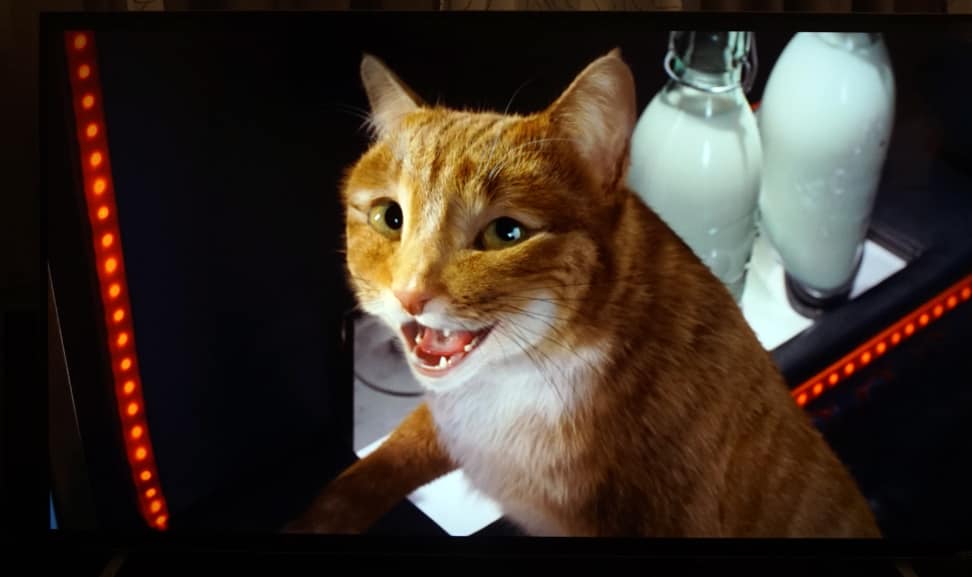 Last year, the P Series got some flack for continuing to "upscale" (add sharpness, guess at content intentions) content that was already in 4K, where no processing affectation should be necessary. Vizio addressed this issue with a slightly delayed firmware update, and the solution carries over to this year's M Series.
The long-and-short? 4K content looks good—it's still a little sharp at default settings, but rolling the TV's "Sharpness" setting down to 0 removes the excess.
The Verdict
Not without its flaws, but still an awesome deal for the price.
Vizio has done it again: The M Series is a smash success in terms of sheer value. But the most important thing consumers need to understand is why this TV is so much more affordable than much of the competition.
For one thing, the panel is lower quality than comparable name brand options. Color and neutral hues could be more accurate, but they're just accurate enough not to earn demerits. Likewise, the contrast performance is great, but the dimming zone count (32) is pretty limited compared to Vizio's higher-end P Series.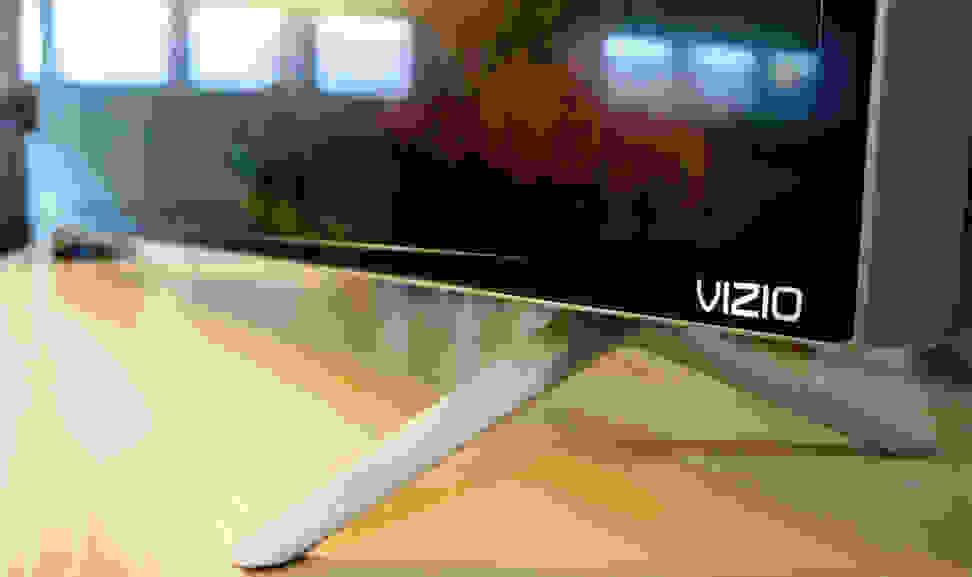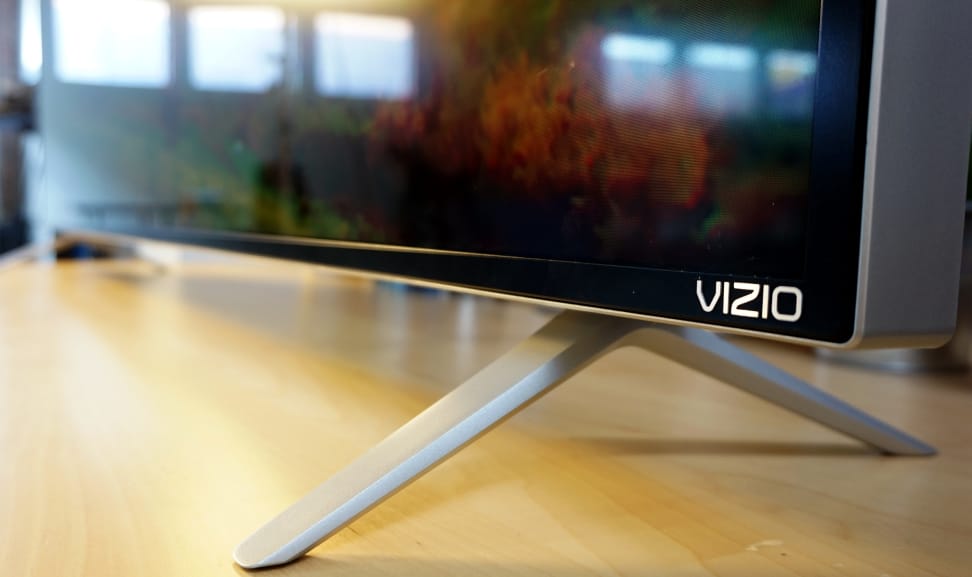 There's no magic here. The slightly cheap panel and low zone count produce negative picture aspects that cheapen the TV compared to the premium full-array options like the Sony X950B and Panasonic AX900U. However, those TVs both cost around $7,000 or $8,000 upon release, and were two of last year's most premium 4K LED televisions. This one is less than $2,000, and the fact that it's even getting a comparison should say plenty about its overall quality.
There's no magic here, but the M Series is a win-win option for consumers who want 4K.
Throw in the M Series' value-tailored features—the super-useful QWERTY remote; sleek, app-focused smart platform; and clever, low-cost design—and it's clearly a win-win option for consumers on a budget who want 4K and aren't afraid to sacrifice low-priority features, frills, and extras. And with Vizio offering it in a grand total of 9 sizes with prices from $599 and up, it appears that 4K is finally ready for prime time.
Our editors review and recommend products to help you buy the stuff you need. If you make a purchase by clicking one of our links, we may earn a small share of the revenue. Our picks and opinions are independent from any business incentives.
Our editors review and recommend products to help you buy the stuff you need. If you make a purchase by clicking one of our links, we may earn a small share of the revenue. Our picks and opinions are independent from any business incentives.
Advertisement - Continue Reading Below
Compare Prices
Our editors review and recommend products to help you buy the stuff you need. If you make a purchase by clicking one of our links, we may earn a small share of the revenue. Our picks and opinions are independent from any business incentives.
Advertisement - Continue Reading Below
Advertisement - Continue Reading Below
Advertisement - Continue Reading Below
Advertisement - Continue Reading Below
Advertisement - Continue Reading Below
Get Our Newsletter
Real advice from real experts. Sign up for our newsletter
Thanks for signing up!