Since then, however, Vizio has released a number of stellar TVs, two of which earned a Best of Year 2014 award. Basically, if you don't think Vizio can make an excellent TV, you're behind the times.
What's more, infrastructural and technological advances in the display industry—most notably High Dynamic Range, Dolby Vision, and the UHD Alliance—have set the stage for truly impressive flagship TVs, like Samsung's JS9500 and Sony's X940C.
We checked out the 65-inch Reference Series, or RS65, during Vizio's Spring Showcase Event in New York City. While Vizio's original claims haven't changed much—and the 120-inch version is still an over-the-top purchase for most people—the 65-inch option looks not only possible, but very promising.
There's no pricing information yet, but Vizio had production models on hand and assured me that the series would be available this year. If the price is right, the RS65 could do for premium UHD what last year's P Series did for affordable 4K.
An unusual design, but a cool place for a sound bar
The RS65's most notable physical feature is that it comes packaged with a 5.1-channel sound bar. The sound bar clips into place between the hollow pedestal stand and the panel itself, which makes for a non-traditional appearance, but is still an elegant solution for providing better overall audio quality. The RS65 features matte, silvery highlights and narrow bezels, and the stand and sound bar match. It's a good-looking TV, all told.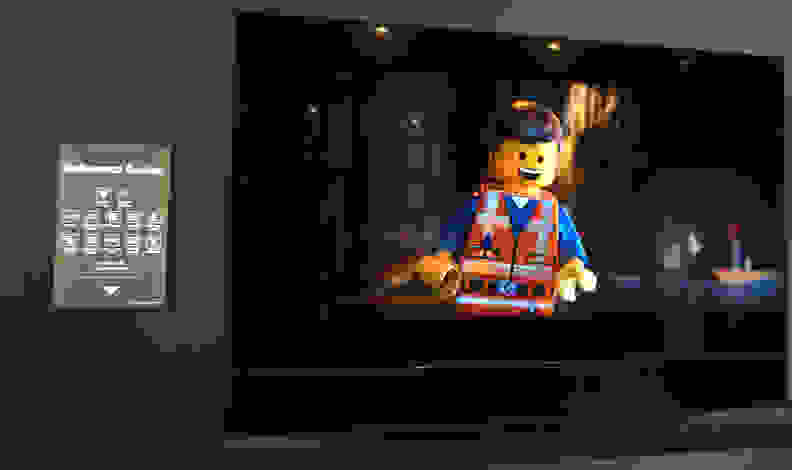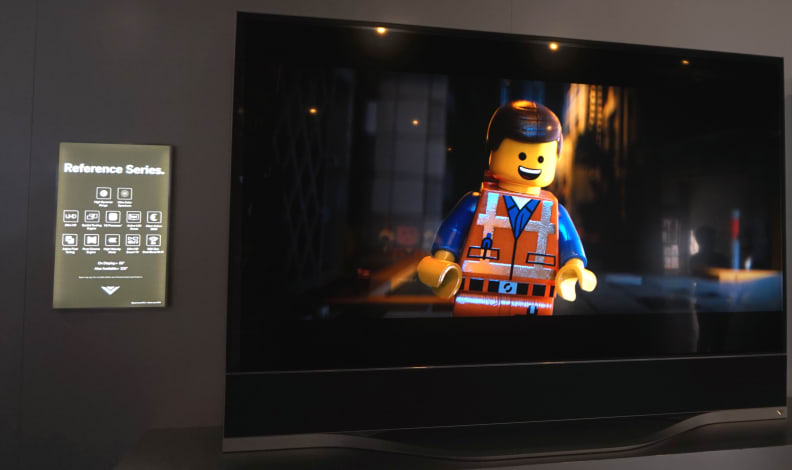 Vizio told me that the sound bar was optional—as in, you can simply attach the panel to the stand if you want—but you have to buy it either way. At least it comes with its own stand, so you can set it up separately on a mantle or tuck it beneath your entertainment center.
Otherwise, the RS65 doesn't have many standout features. The port layout should be identical to last year's P Series, including five 4K-ready HDMI inputs, and one that's capable of "High Velocity Mode." This is great news for gamers.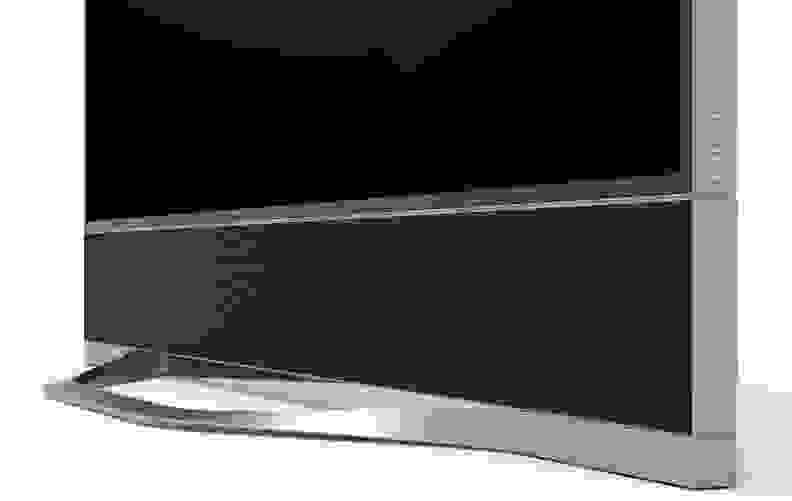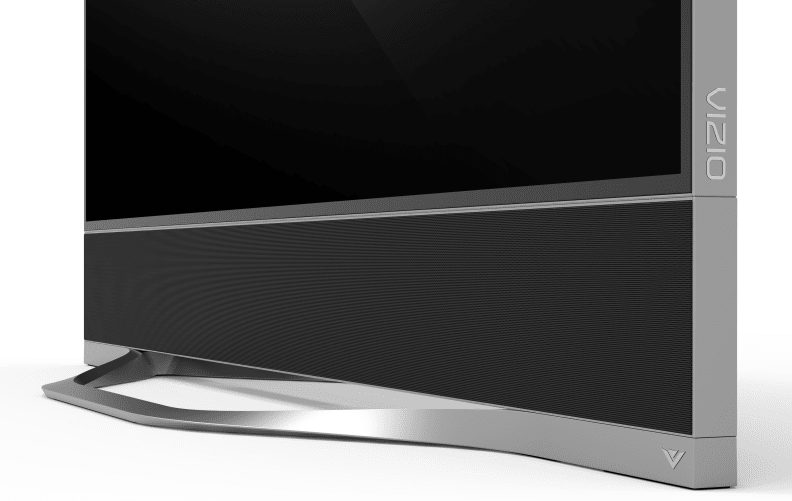 Like the rest of Vizio's 2015 lineup, the RS65 will allow access to Vizio's "Internet Apps Plus" smart platform, including services with 4K content like Netflix, Amazon Instant, VUDU, and UltraFlix. Common UHD compatibility like HDCP 2.2, HDMI 2.0, HEVC (H.265) codec support, and 802.11 wireless for 4K streaming are also in tow.
The Reference Series will continue to function with Vizio's double-sided QWERTY keyboard remote, but it remains to be seen whether the mostly plastic casing will be "spruced up" to match the company's flagship.
One of the RS65's most impressive assets is the Full Array LED backlight with 384 local dimming zones. Compare that to the 48-inch E Series, with only 6 zones; or the 65-inch P Series, with 64 zones; and you can start to see how the RS65 stands out from the pack.
Vizio had a pretty cool demo set up; the RS65 was placed side-by-side next to a traditional edge-lit TV. Both had their screens, light guides, and transistors removed, so you could only see the backlights at work while screening images. We wouldn't say it was damning for the edge-lit display, but the RS65 certainly boasted more flexibility.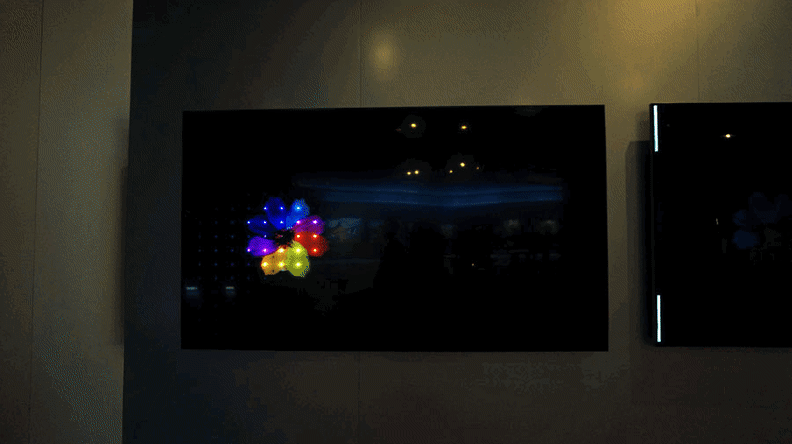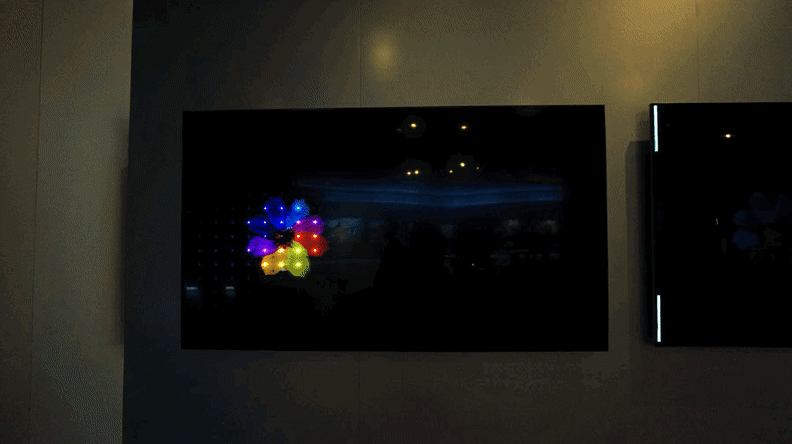 We're not certain it's the "reference" standard, but this TV still looks great.
The RS65 looks to be a very promising TV—and not only for cinephiles and A/V junkies. There's simply a laundry list of goodies here: 4K (3,840 x 2,160) resolution, a VA-type panel, wide color capabilities, 10-bit components, 384 local dimming zones, a native 120 Hz refresh rate, dual V6/VM50 processor and 800 nits "typical brightness," meaning the RS65's specular highlights should broach the 1000 nit specification for High Dynamic Range (HDR).
There's no technical reason why the Vizio RS65 shouldn't look stellar. In person, it looks great.
Basically, there's no technical reason why the RS65 shouldn't look stellar, and in person it looks very solid. Vizio demo'd a number of scenes graded to take advantage of the RS65's Dolby Vision (high dynamic range) capabilities, including The Lego Movie and Edge of Tomorrow. If you haven't seen HDR in person, it's a little hard to iterate how much better it looks compared to a traditional or "SDR" set, but the difference is striking.
During one demo, I watched a shootout comparison of the RS65 between a competing edge-lit display without Dolby Vision, and the legendary Pioneer Kuro. The RS65 boasted not only more specular (zone) brightness, but better black levels than the edge-lit LED. Vizio told us that the two comparison TVs were playing the content graded for the traditional Rec.709 (HDTV) standards, while the RS65 was playing content graded for HDR with color/luminance enhancement.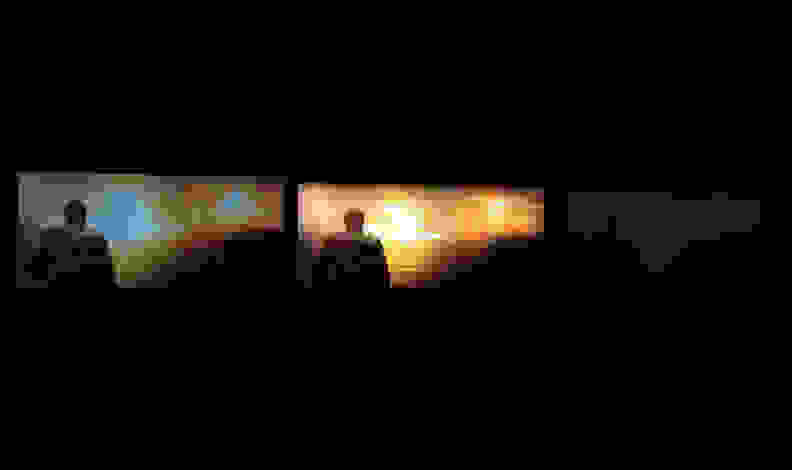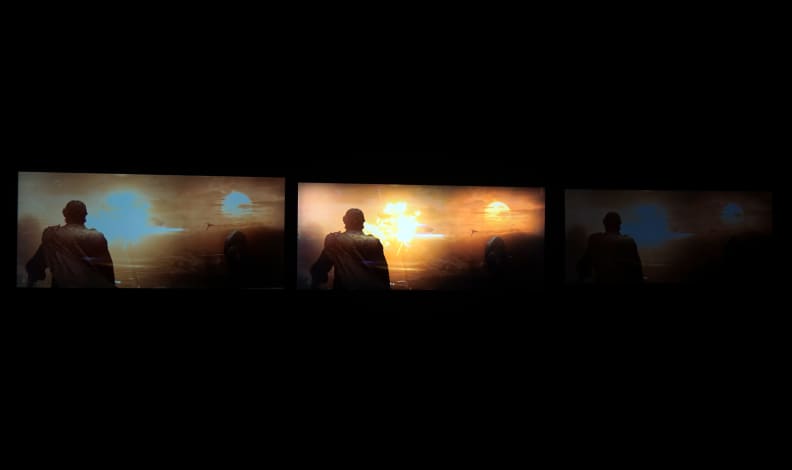 We already know that Vizio can do a good job with hardware local dimming, a process that greatly enhances black level, highlight brightness, and overall contrast. Vizio's 2014 local dimming models weren't perfect, but they were some of the better TVs you could get in terms of contrast.
The RS65's 384 zones give it a much higher level of control and flexibility in terms of properly managed dimming. The backlight demo occasionally showed touches of blooming—where neighboring black areas are lit up a bit by partially lit LEDs—but Vizio explained that they were still fine-tuning the RS65's local dimming abilities prior to release.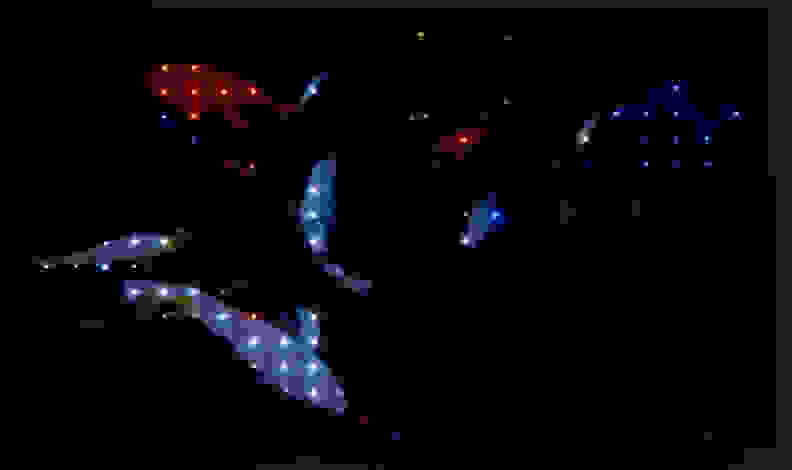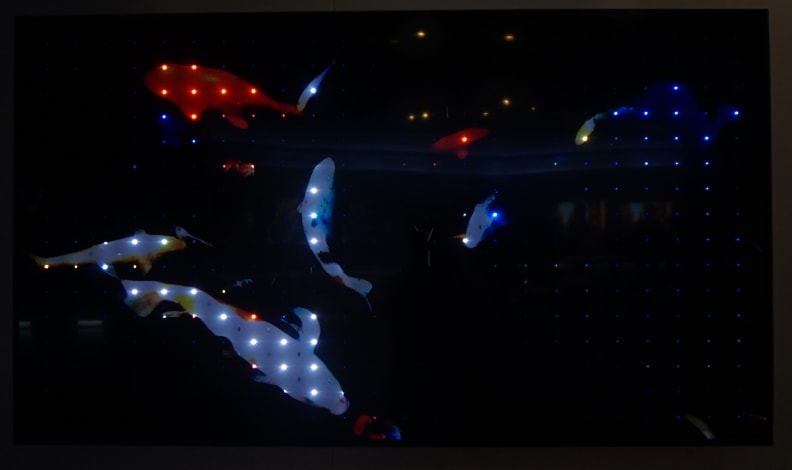 Where color is concerned, the RS65 is still using phosphor-based, LED color production rather than the quantum dot/nano-crystal tech you'll see in Samsung, LG, and Sony TVs this year. We can't confirm the RS65's color abilities until we get it into the lab to test, but Vizio claimed full Rec.709 (HD color) coverage, roughly 90 percent DCI (cinema color) coverage, and around 70 percent Rec.2020 (UHD color) coverage. Where accuracy is concerned, the RS65's VA-type panel likely won't boast the better color accuracy afforded by an IPS panel, but it enjoys better contrast as a result.
These hardware features are worth getting excited about.
The RS65 uses a native 120 Hz refresh rate panel with an "effective" refresh rate of 240 Hz via backlight scanning. Such backlight scanning, or black-frame insertion, rapidly turns backlight elements off and on to reduce leftover images. This also limits blurring/trailing effects that result from an LCD TV's "sample-and-hold" style refresh process.
While backlight scanning traditionally dims the backlight a good bit—sometimes more than is ideal—it likely won't be any kind of issue with an HDR/Dolby Vision-compatible TV like this one. It's extremely bright, though Vizio's claim of 800 nits typical brightness remains untested.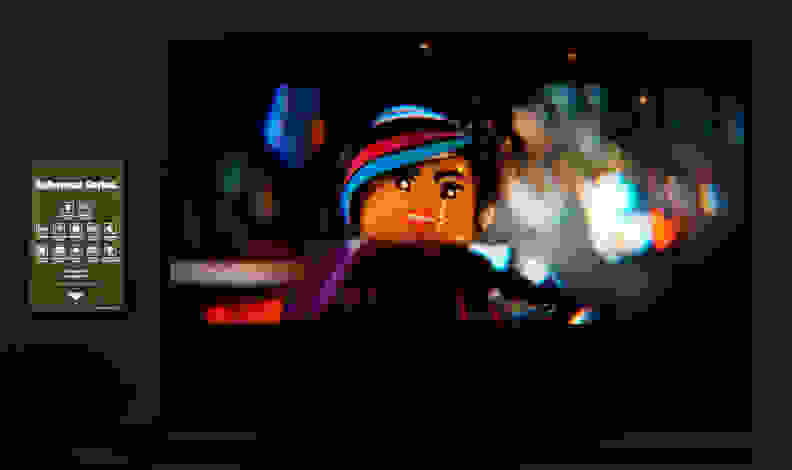 In short, from a picture quality standpoint, these hardware features are worth getting excited about. Vizio demonstrated that it could handle zone-based local dimming in 2014, so we expect performance from the Reference Series to be even better. While Dolby Vision functionality is less of an immediate draw, Dolby's recently announced partnership with Warner Bros. is a good start. What's more, the TV promises to produce a good picture whether or not you're taking advantage of graded HDR/Wide Color content. It should be good now, and in the future.
It all comes down to price.
We expect some fierce competition between the year's flagship TVs. Heavy hitters like Samsung's S-UHD flagship and LG's 4K OLED are sure to demand respect, but they'll also draw between five and ten-thousand dollars from your bank account. While the RS65 lacks the perfect blacks of OLED TVs, as well as the next-generation color performance of a Quantum Dot model, it checks off a lot of the right boxes for cinephiles, Netflix junkies, hardcore gamers, and sports fans alike—and that's just based on set-in-stone specifications.
For Vizio to succeed, it definitely comes down to how affordable this TV will be compared to other HDR/UHD capable options; after all, it's not competing with the Full HD crowd. While pricing hasn't been confirmed, rumors of a $3,999 starting price not only sound feasible, they'd make sense based on Vizio's 2014 prices. Considering the RS65 also delivers a 5.1-channel soundbar, that price would be very competitive, indeed.
Expect to see the Reference Series available later this year, possibly just before or after the refreshed P Series in the fall. We'll get a full, lab-tested review up as soon as we can.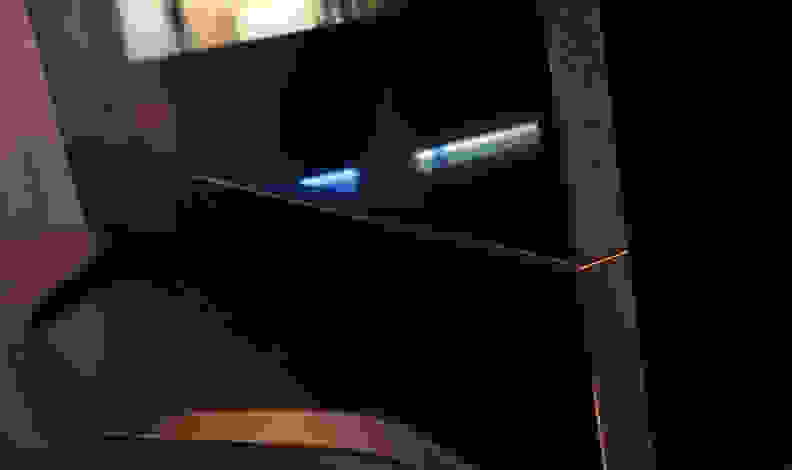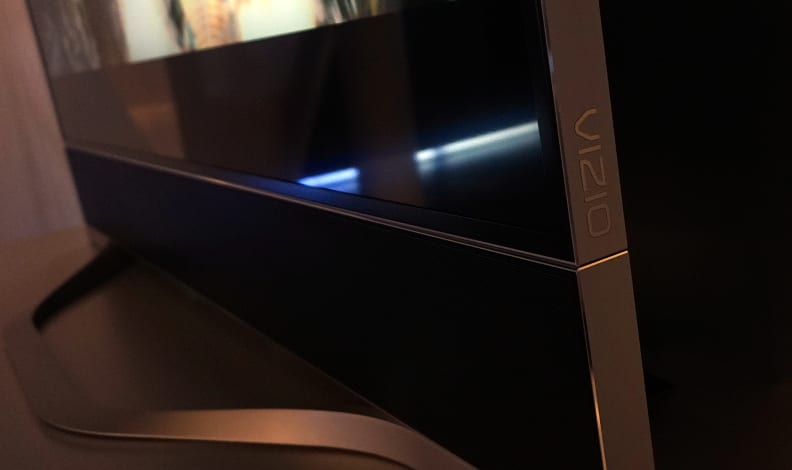 Meet the tester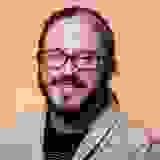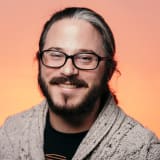 Lee Neikirk
Editor, Home Theater
@Koanshark
Lee has been Reviewed's point person for most television and home theater products since 2012. Lee received Level II certification in TV calibration from the Imaging Science Foundation in 2013. As Editor of the Home Theater vertical, Lee oversees reviews of TVs, monitors, soundbars, and Bluetooth speakers. He also reviews headphones, and has a background in music performance.
Checking our work.
Our team is here for one purpose: to help you buy the best stuff and love what you own. Our writers, editors, and lab technicians obsess over the products we cover to make sure you're confident and satisfied. Have a different opinion about something we recommend? Email us and we'll compare notes.
Shoot us an email