This isn't a good fit for folks who are looking for a show-stopping TV with bells and whistles. That said, if you're looking for an all-around good option for movies, sports, and gaming, the V Series is a reliable, affordable TV with tremendous value.
About the Vizio V Series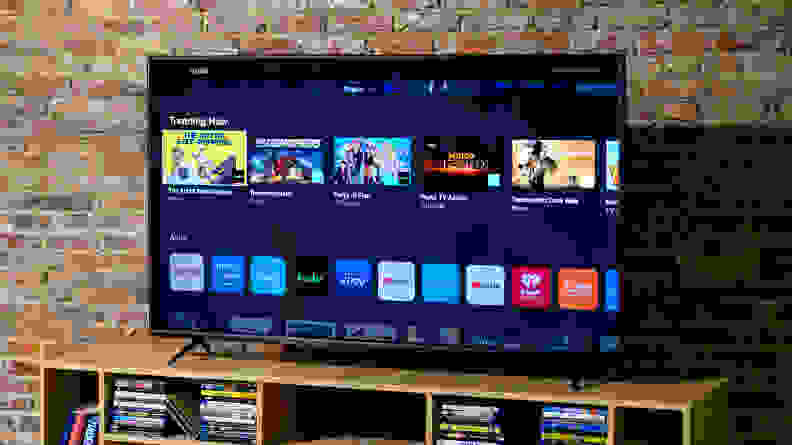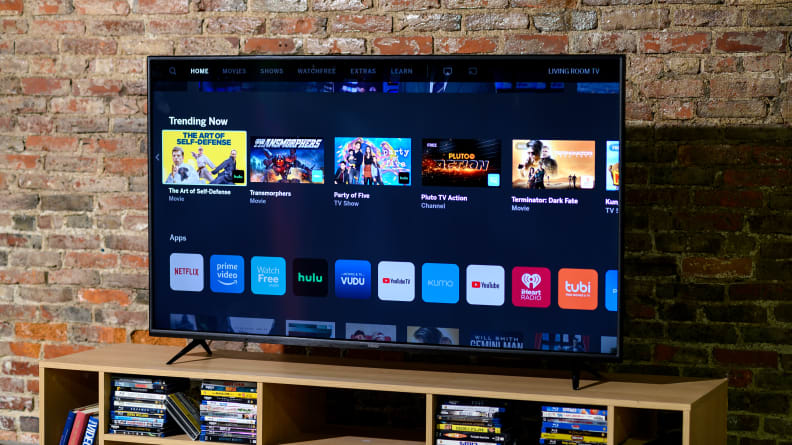 The Vizio V Series comes in a variety of sizes. All of these models feature a full array backlight, but only three size variants feature local dimming: the 43-inch V436-G1, the 55-inch V556-G1, and the 65-inch V656-G4. Below you'll find a list of all eleven models currently listed on Vizio's website, along with their listed price at the time of publishing.
---
• 40-inch Vizio V Series (V405-G9): $239.99
• 43-inch Vizio V Series (V435-G0): $279.99
• 43-inch Vizio V Series (V436-G1): $279.99 (includes local dimming, 10 zones)
• 50-inch Vizio V Series (V505-G9): $289.99
• 55-inch Vizio V Series (V556-G1): $349.99 (includes local dimming, 10 zones)
• 55-inch Vizio V Series (V555-G1): $379.99
• 60-inch Vizio V Series (V605-G3): $479.99
• 65-inch Vizio V Series (V655-G9): $499.99
• 65-inch Vizio V Series (V656-G4): $529.99 (includes local dimming, 12 zones)
• 70-inch Vizio V Series (V705-G3): $649.99
• 75-inch Vizio V Series (V755-G4): $849.99
---
This review is for the 60-inch model (V605-G3), which does not feature local dimming, but we've also tested and reviewed a version of the V Series that does feature local dimming: the 55-inch Vizio V Series (V556-G1). These are the only two versions of the Vizio V Series that we've tested.
So, this raises an important question: What are the differences—if any—between these models? The short answer is that there aren't major differences between them, but if you opt for a V Series model that does feature local dimming with 10 or 12 LED zones, you'll probably enjoy higher peak brightness levels and tighter contrast, as we noted when comparing the test results of each model.
There are additional, subtle differences in performance between the two versions of the V Series that we tested, but none significant enough to call out. With the exception of brightness, we don't expect there to be much variation between the various versions of Vizio's V Series.
Here are some key features you can expect from the V Series, regardless of which size you opt for:
• 4K (3,840 x 2,160) resolution
• Full array backlight
• Supports High Dynamic Range (HDR10, HLG, and Dolby Vision)
• Native 60 Hz refresh rate
• Built-in smart platform (Vizio SmartCast 3.0)
• DCI-P3/10-bit color space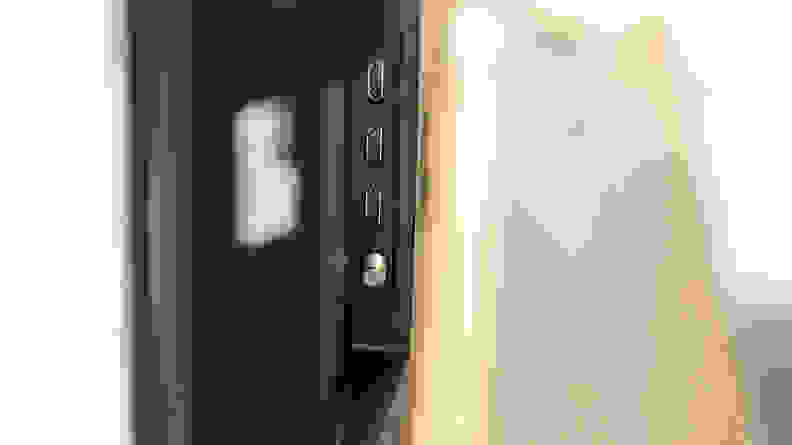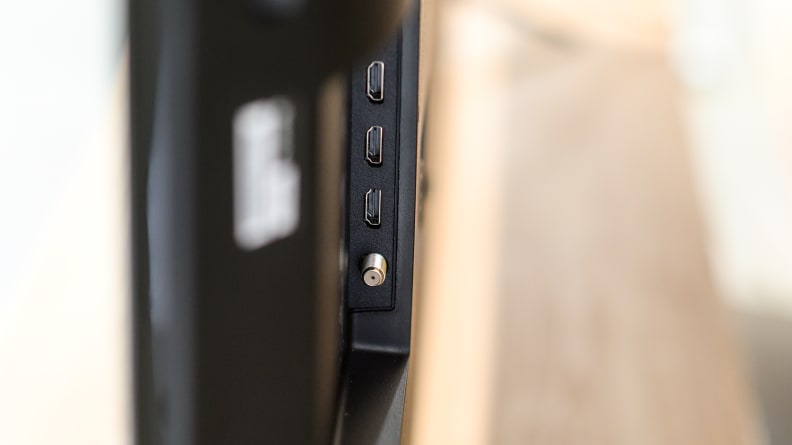 From a connectivity standpoint, the 60-inch Vizio V Series (V605-G3) isn't an AV enthusiast's dream, but it'll nevertheless suit most folks just fine. Take a trip around the back of the panel and here's what you'll find:
• 3x HDMI 2.0 (1x ARC)
• 1x USB 2.0
• Composite, LAN ethernet port, optical audio output
Performance Data
Before testing each TV, we make sure the panel is on and receiving a continuous signal for at least 24 hours, allowing the pixels plenty of time to warm up.
For SDR tests, we used the Vizio V Series' "Calibrated" picture setting. For HDR tests, we also used Vizio's "Calibrated" picture setting.
We use a standard ANSI checkerboard pattern for most of our basic contrast tests (including the ones reported below), but we also use white and black windows ranging from 2% to 90% to test how well the contrast holds up while displaying varying degrees of brightness.
I'll expand on our test results throughout the review, but for now, here are some key takeaways:
• HDR contrast (brightness/black level): 211.5 nits/ 0.052 nits (ANSI checkerboard)
• SDR contrast (brightness/black level): 230.8 nits/ 0.047 nits (ANSI checkerboard)
• HDR peak brightness: 213.5 nits (50% white window)
• HDR color gamut coverage: 84% (DCI-P3/10-bit)
• SDR color gamut coverage: 96% (Rec.709)
• Viewing angle: ±45°
What We Like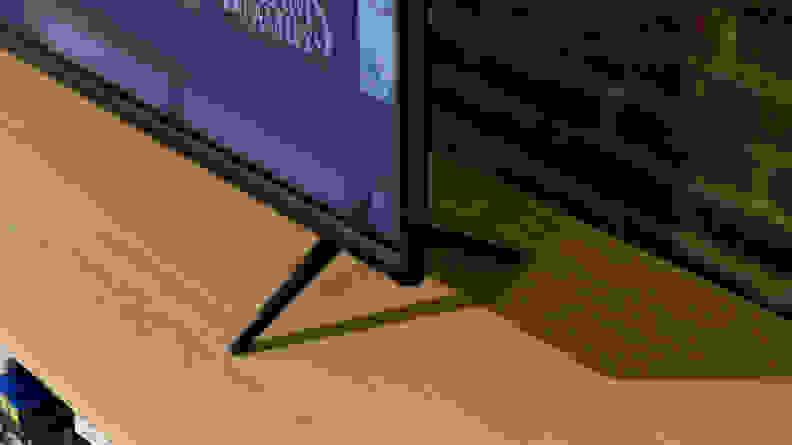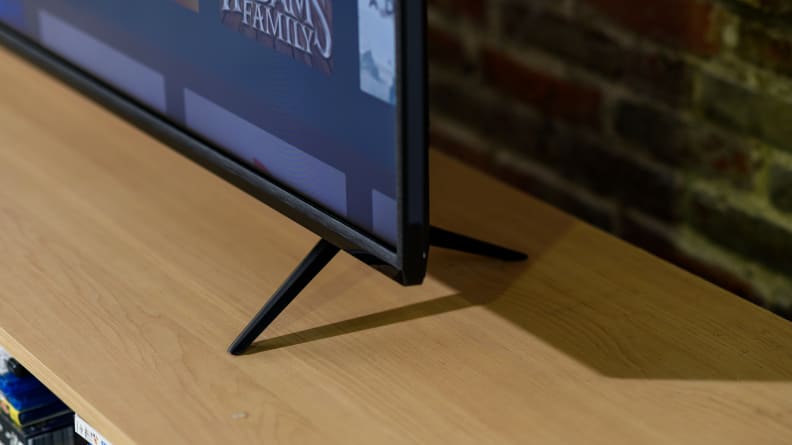 The V Series' design isn't posh, but its simple, nondescript look will feel right at home in just about every room. The bezels are narrow enough not to draw attention, and the TV's wide-set feet put the picture front and center. The panel itself is relatively glossy, but not so much that any given glare will result in excess distraction.
Whether in SDR or HDR, the 60-inch V Series (V605-G3) averages about 200-250 nits of brightness, coupled with a respectable black level of around 0.040 nits. The picture certainly looks better during HDR content, but I should be clear: This isn't an HDR TV that clearly illustrates the advantages of HDR content, despite its Dolby Vision support.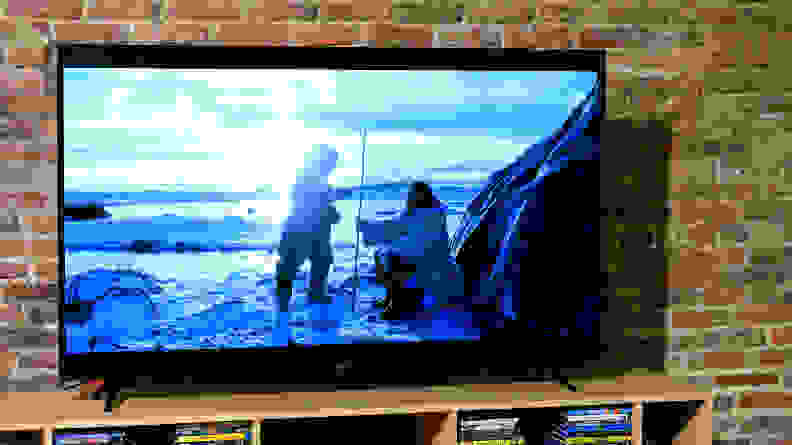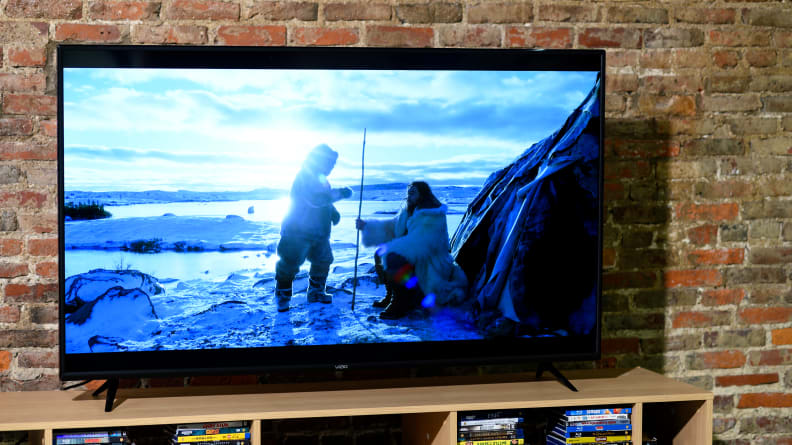 The same holds true for the V Series color production. On the 60-inch V605-G3, I measured merely 84% coverage of the P3 color gamut and 96% coverage of the Rec.709 standard. It's by no means as rich of an experience as a quantum dot TV, but for a budget-friendly TV, it punches above its weight class.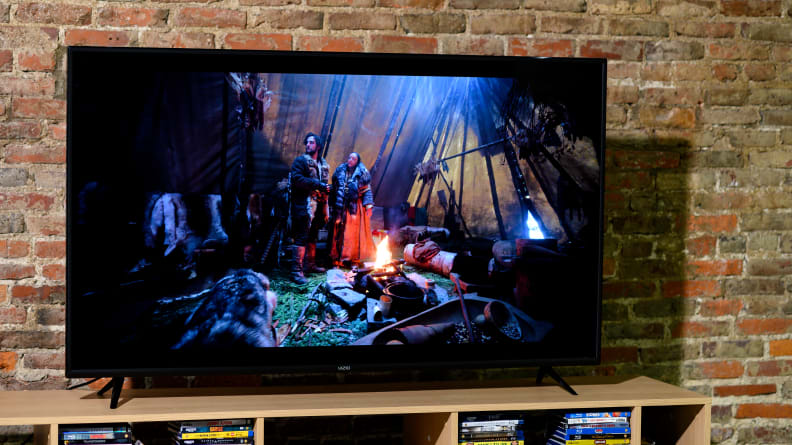 And that's really the best thing the V Series has going for it: sensational value. Across the board—from color to contrast to motion handling—the V Series delivers better-than-average performance. Although it doesn't quite excel at any of these categories individually, when taken as a whole, the Vizio V Series is one of the more rounded TVs you'll find in this price tier.
What We Don't Like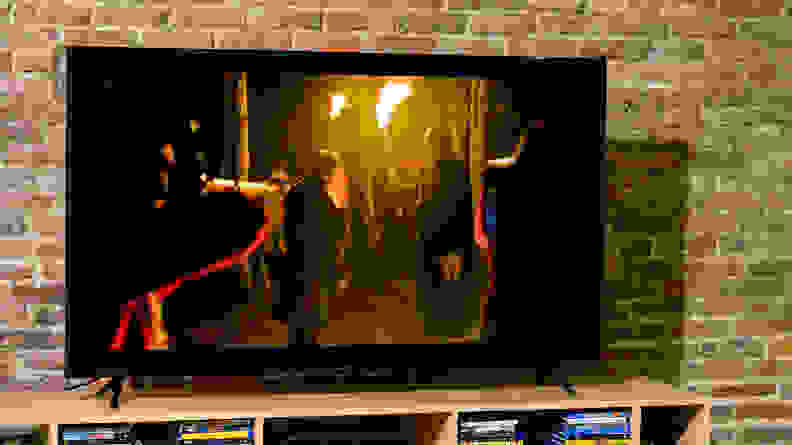 This is a great TV for a reasonable price, but make no mistake: Its HDR performance isn't anything to write home about. Generally speaking, the 60-inch V605-G3 peaks at around 250 nits, and these measurements reflect tests taken when bright content was on the screen.
If you're upgrading to the V Series from a non-4K TV that doesn't support HDR, you will notice a difference, but if you're replacing another entry-level HDR TV, there's not much the V Series can do to surprise you. The TV's contrast is commendable given the cost, but this is not the TV to buy if you're hoping to have your socks knocked off.
You don't even have to leave the V Series' price bracket—or the Vizio catalogue, for that matter—to find a TV with a little more upside. A 55-inch Vizio M Series Quantum is the same price as the 65-inch Vizio V Series (V656-G4), and although it's 10 inches smaller than the latter, it features a quantum dot display for better brightness and richer color production.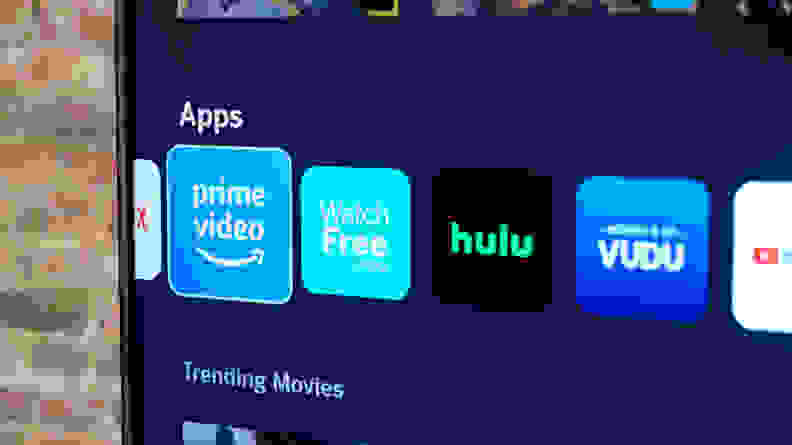 There's no denying that Vizio's smart platform, SmartCast, is improving with every update. Unfortunately, it remains one of the weaker smart platforms out there. I can safely say that the software is speedier now than perhaps ever before, but the platform does not allow users to add new apps beyond those that are already included. Sure, the user interface is simple and the navigational experience is zippy, but the only amount of customization offered is the ability to rearrange the order in which app icons are presented.
The TV's built-in Chromecast support goes a long way in smoothing out this wrinkle, as users can download a Vizio app and stream content from their personal device, but this definitely doesn't make up for SmartCast's lack of flexibilty.
Should You Buy It?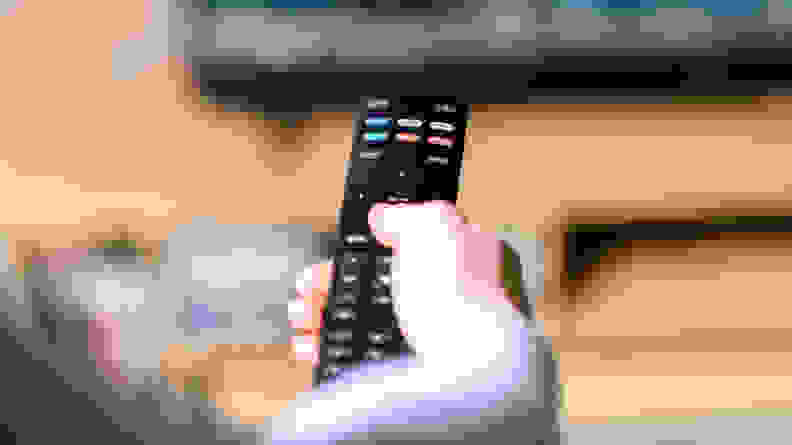 Yes—the 60-inch Vizio V Series (V605-G3) is a fantastic entry-level 4K/HDR TV, particularly for folks who are upgrading from a full-HD, non-HDR TV.
This V Series isn't going to turn any heads, but for most people, its budget-friendly price and commendable performance are good enough reasons to seal the deal. That said, if you're looking for an exciting feature to hang your hat on but you're not interested in leaving the V Series' price bracket, consider the Vizio M Series Quantum. The M Series Quantum is an overall better performer, thanks in part to its quantum dot display—a luxury typically reserved for higher-end TVs.
All told, whether you opt for a V Series model without local dimming (like the V605-G3) or spring for a V Series model that does include local dimming (like the Vizio V556-G1), you're securing yourself a great TV with a ton of value.
Meet the tester
Michael Desjardin
Senior Staff Writer
@Reviewed
Michael Desjardin graduated from Emerson College after having studied media production and screenwriting. He specializes in tech for Reviewed, but also loves film criticism, weird ambient music, cooking, and food in general.
Checking our work.
We use standardized and scientific testing methods to scrutinize every product and provide you with objectively accurate results. If you've found different results in your own research, email us and we'll compare notes. If it looks substantial, we'll gladly re-test a product to try and reproduce these results. After all, peer reviews are a critical part of any scientific process.
Shoot us an email