This Westinghouse's resume is pockmarked with issues such as a narrow viewing angle, atrocious audio, colors that skew far too blue, and a below-average contrast ratio. They're all serious concerns that should give you pause before you hand over your money. That said, the DWM55F1Y2 is certainly not unwatchable, and that $450 sale price is jaw-droppingly cheap.
Just keep in mind that the performance here falls well short of competition like Vizio's 55-inch E Series (smart, full-array backlit, $679 online), Samsung's 50-inch H5500 (smart, $699 online), LG's 50-inch LB5900 ($679 online), or Toshiba's 50-inch L1400U ($499 online).
One man's simple is another man's cheap.
This Westinghouse was clearly designed with simplicity in mind. If you're looking to impress the neighbors with a fancy stand or a curved screen, keep moving, fancy pants.
Yes, the DWM55F1Y2 is all business, in the way that an accountant who eats the same sandwich every day is business. A glossy overlay on this TV's rectangular stand is the only aesthetic flourish here, but at least it's sturdy (though one of the screw heads broke off during assembly, so make of that what you will).
You'll want to take advantage of some kind of external speaker setup if you spring for this TV, as the audio quality is simply atrocious.
The panel's rear casing is a landscape of black plastic that offers up a simple crop of audio and video connections. Users will find three HDMI inputs, a single USB input, shared component/composite hookups, a coaxial jack for cable/antenna connections, and analog/digital audio out. You'll want to take advantage of some kind of external speaker setup if you spring for this TV, as the audio quality is simply atrocious.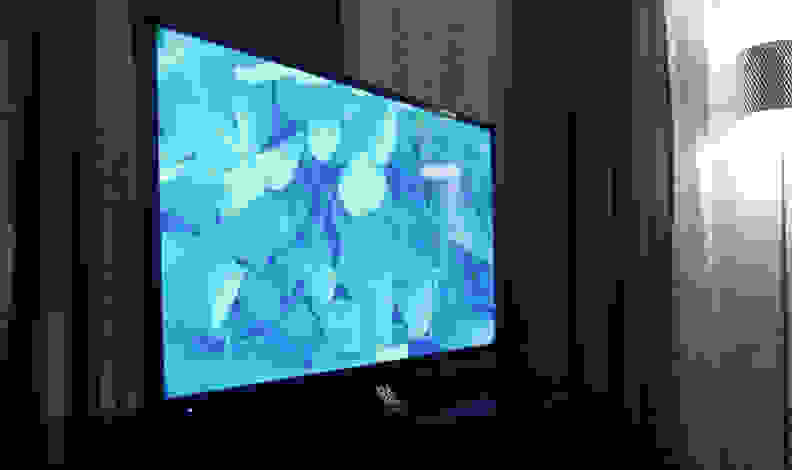 As for the user experience, it could stand to be improved. Picture quality enthusiasts will happily note that Westinghouse gives consumers access to white balance and color calibration controls in the TV's picture menu, but picture quality enthusiasts should probably avoid this TV. The menu itself is a bit on the ugly side, with stair-stepped texts and clip-art images running amok, but casual users will find it easy enough to pick their favorite picture mode and settle back on the couch.
Alongside the panel and stand assembly components, you'll find a simple remote control with included batteries. Like the TV, the controller isn't fancy, but it covers the basics of changing channels, adjusting volume, and skimming through the menu software.
We calibrate each TV after taking "as found" readings to get a better understanding of the factory performance while simultaneously showing readers what the TV is capable of after an informed calibration session. This Westinghouse offered a decent amount of calibration controls within its picture menu, including 2-point white balance and a HSB (hue, saturation, brightness) color tuner.
The DWM55F1Y2 lacks a backlight control, but out of the box its default luminance in Movie mode is around 37 fL, which is close to the 40 fL we try to achieve for dim/dark room viewing. We also aim to correct each TV's gamma curve to a slope of 2.4. Below, you'll find my final calibration settings for the DWM55F1Y2, alongside the default settings in the Movie pre-set.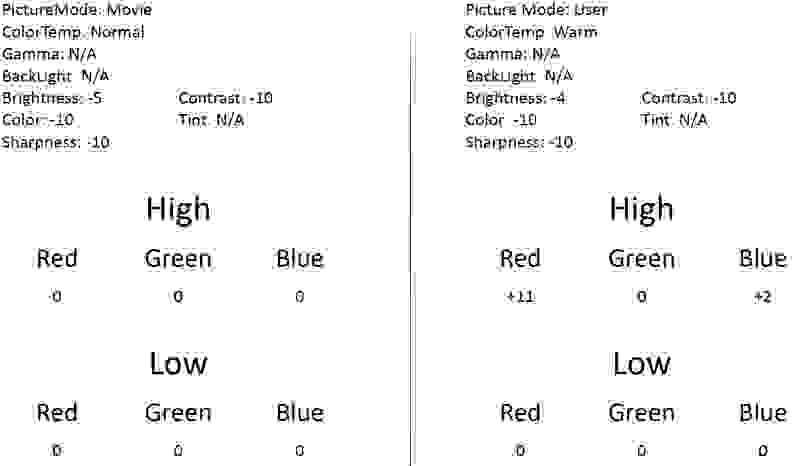 In the display industry, contrast ratio is a heavily abused spec, but when evaluated properly can be a very telling indicator of a TV's overall picture quality. TV contrast ratios (expressed as X:1) are determined by dividing a TV's reference white (100 IRE) by its black level (0 IRE). Naturally, having a lot of differentiation between dynamic elements on screen makes for a more realistic, immersive picture.
Using the standard ANSI checkerboard pattern in Movie mode, I measured a black level of 0.08 cd/m2 and a reference white of 126 cd/m2 , giving the DWM55F1Y2 a contrast ratio of 1,575:1. Compared to peers around its price range and size, this is not a very impressive result, but it isn't severely below the average, either.

The etchings of a decent picture mired in a blue funk.
The DWM55F1Y2 stumbled through our laboratory obstacle course with all of the grace of a newborn fawn. If you're in the industry, you're probably aware that TV white balances (essentially the color of neutral shades) have been growing more and more blue over the years, and this Westinghouse is a prime example of that phenomenon. Even in Movie mode, the 55-inch F1Y2 is dominated by blue overtones that negatively affect neutral shades, colors, and even the integrity of black levels.
The 55-inch F1Y2 is dominated by blue overtones, negatively affecting neutral shades, colors, and even the integrity of black levels.
The problem with this kind of setup is that it looks fine in a retail environment, but unless your living room is lit by rows of halogen lamps, it doesn't look very good at home. The excessive blue coloration mars the appearance of everything from the nightly news to DVDs, and can also result in uncomfortable eye strain over long periods of time. A lot of this excess blue can be removed using the TV's menu controls, but you'll need a trained calibrator with the proper hardware and software.
Consumers will enjoy convincing shadow tones, but may find themselves pining for a brighter TV if they watch during the day or with ample ambient lighting.
In terms of contrast performance—the deepest black levels and the brightest highlights—the DWM55F1Y2 performs to an average degree. Unfortunately, it lacks a backlight control, and the default brightness in Movie mode is on the dim side. Consumers will enjoy convincing shadow tones, but may find themselves pining for a brighter TV if they watch during the day or with ample ambient lighting. Yet watching in very dim or dark lighting yields another problem—backlight uniformity. On very dark gray or black screens, distracting blotchy spots from the backlight bleed through.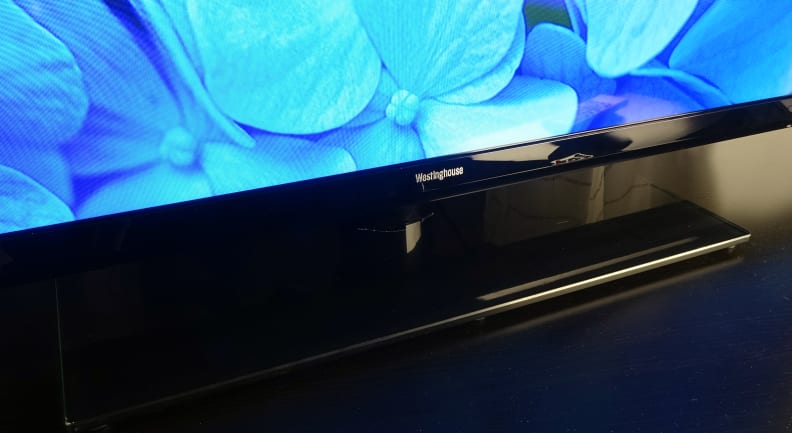 Last but not least, despite its large size, this Westinghouse is hard to recommend to families or groups of friends because of its viewing angle. Unless you're watching head-on or from an acute off-angle, the image loses what small contrast efficacy it has, making it very hard to enjoy content.
The price is this TV's only redeeming feature.
The Best Buy-exclusive DWM55F1Y2 may boast a very attractive sale price of $450, but in our expert opinion, discerning consumers are better off with other options. Testing revealed average contrast and motion performance alongside heavily skewed colors, poor uniformity, and a narrow viewing angle. That's not to mention this TV's absolutely atrocious speaker quality.
If your budget is $500 or less, you should consider lopping off five inches of screen and going in for Toshiba's 50-inch L1400U. While it's only a little more expensive, it delivers a much more reliable picture. If you're willing to spend a little more, there are some great options from Samsung, Vizio, and LG.
Our viewing angle test measures a TV screen's flexibility—or the extent to which to can watch from an off angle before the screen's contrast integrity drops below 50% of its head-on value. This test is important if you're thinking of wall-mounting a TV, or if you'd like to watch comfortably from multiple locations in a large room.
The DWM55F1Y2 tested with a total viewing angle of 33°, or ±17° from the center to either side of the screen. This is a fairly poor result, though it's in-line with expectations based on other edge-lit LED TVs we've tested this year.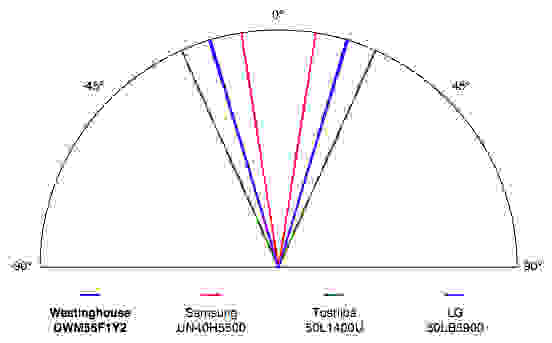 A color gamut is a visual illustration of the millions of colors a TV can produce. We map the CIE 1931 color space with the Rec. 709 HDTV standard color gamut, and then plot a TV's primary and secondary colors against that gamut. This is a great way to determine just how accurate a TV's color is out of the box.
Because it emphasizes blue so heavily, the DWM55F1Y2 struggles to produce a completely accurate color gamut. While its primary points (red, green, and blue) are fine in terms of x and y (hue and saturation), blue is over-emphasized in terms of luminance (Y), which we'll see in the next section. The result is that those secondary colors containing blue (such as cyan and magenta) are heavily skewed towards blue by default, as is the TV's grayscale.
In the world of digital displays, grayscale elements are created via additive color: Red, green, and blue combine to create black, gray, and white shades. When those colors are improperly emphasized, it can result in poor grayscale tracking, with reddish, blueish, greenish, or even yellowish tinges to grayscale elements. Obviously, this is wrong. That kind of visible error within the grayscale is measured as a collective called DeltaE, where a sum of 3 or less is ideal.
Prior to calibration, the DWM55F1Y2 tested with a grayscale DeltaE of 16.94, which is way too high. Using the TV's 2-point white balance control, I reduced the error to 3.84—better, but still not ideal.

Looking more closely at the way this Westinghouse emphasizes its primary colors, we can see the problem: Way too much blue. The TV's white balance (grayscale elements) and secondary colors are heavily tinged with blue. I made major corrections to this over-emphasis using the TV's white balance control (in conjunction with hardware and software tasked for this job), but this out-of-the-box result is absolutely horrendous by any color temperature standard.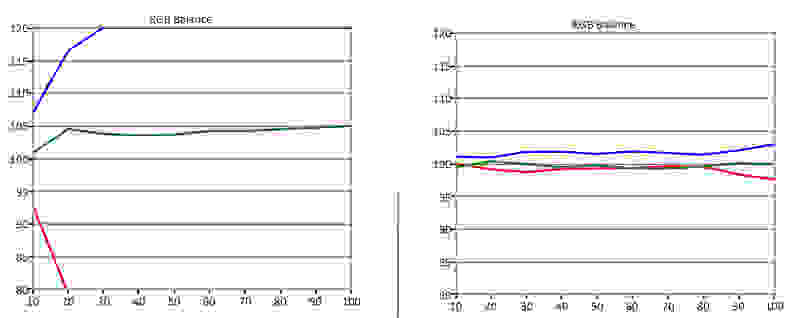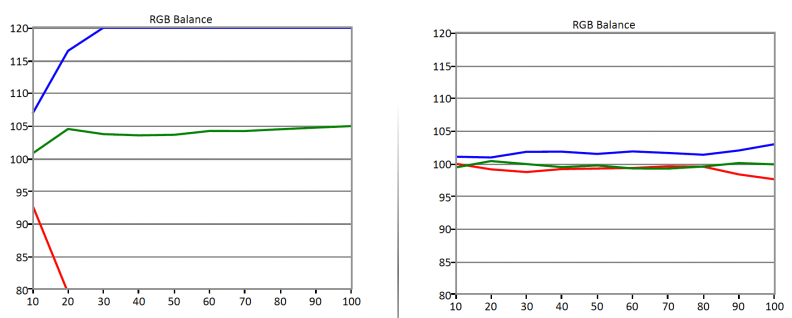 Meet the tester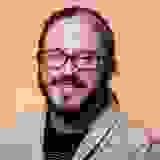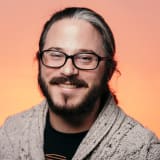 Lee Neikirk
Editor, Home Theater
@Koanshark
Lee has been Reviewed's point person for most television and home theater products since 2012. Lee received Level II certification in TV calibration from the Imaging Science Foundation in 2013. As Editor of the Home Theater vertical, Lee oversees reviews of TVs, monitors, soundbars, and Bluetooth speakers. He also reviews headphones, and has a background in music performance.
Checking our work.
We use standardized and scientific testing methods to scrutinize every product and provide you with objectively accurate results. If you've found different results in your own research, email us and we'll compare notes. If it looks substantial, we'll gladly re-test a product to try and reproduce these results. After all, peer reviews are a critical part of any scientific process.
Shoot us an email