Televisions
20 gifts every 'Game of Thrones' fan will love
Winter is coming... and the time to give gifts draws near.
Credit: ThinkGeek
We've scoured the web to find you the best deals on good products. While Reviewed.com may receive a small share of the revenue from your purchase, editorial opinions are independent from any business sales.
---
HBO's Game of Thrones is one of the most popular TV series ever, and for good reason. As a result it's got legions of fans, both of the TV show and the books that it is based on, A Song of Ice and Fire by George R. R. Martin.
Whether you're looking to pick up a gift for someone in your life or just need to drop a Drogon-sized hint for someone, we've got some GoT-inspired gift ideas to help get you on the right track this holiday season. (Note: there are some mild spoilers if you haven't seen the last season of Game of Thrones).
---
Chances are you know someone who is a fan of Game of Thrones, but hasn't read all five books in the A Song of Ice and Fire series. They're large books, after all, and buying them individually can be quite pricey. I bought this handsome leather-bound set for my Dad and he absolutely loves them. The books are beautifully designed and laid out, and they're small enough that you can easily stash them in a bag to read while on your commute.
The only downside? The small size of the book necessitates some small print, so those with bad eyes may want to opt for something like the Kindle version, which you can also find at that link. Either way, this is a classy way to get all five books in one set. Worried about how you'll fit the sixth book in when it comes out? Oh, you sweet summer child.
---
If you're buying a gift for someone with a new baby, a onesie is always a decent bet. As someone with a newborn, you can never have too many onesies, especially stretchable ones that have snaps for closure. (Anyone that designs a onesie for babies that uses regular buttons should be sent to the wall.)
There are a bunch of different sizes and sayings available on Amazon, but this one is our favorite, direct from Tyrion in Season 6 of Game of Thrones. Our only regret? That there isn't an alternate version of twins that just says "You know nothing."
---
The Season 6 Blu-ray set for Game of Thrones includes all the episodes from the most recent season as well as a ton of highly regarded special features and extras that you only get through the home video release. This includes numerous extra language and subtitle tracks, four deleted scenes from the season, several short features about Bran, the Dothraki, as well as the season's biggest set pieces like The Battle of the Bastards.
The Blu-ray also includes a series called Histories and Lore, which goes deeper into some of the background behind the plot of the show. For fans who are only familiar with the show, it should provide a brief glimpse into the depth and richness that George R. R. Martin brings to the A Song of Ice and Fire books.
---
If you enjoy the opening credits of the show as much as I do, you'll love this collectible pop-up book that shows some of the locations from Westeros. Each location has a 3D pop-up effect that is similar to the effects used during the beginning of Game of Thrones.
It's more of a novelty item than anything useful (at least compared to some of the other books we'll feature here) but it's a fun coffee table book and any Game of Thrones fan will certainly find something to appreciate about it.
---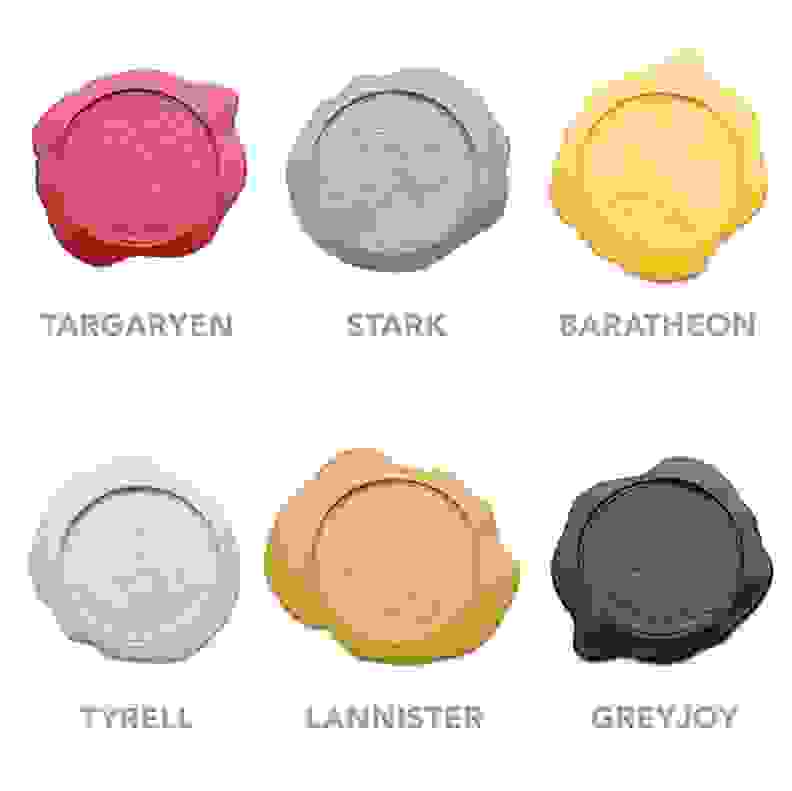 These coasters are designed to look like the wax seals from each of the great houses in Game of Thrones, including House Targaryen, House Stark, House Baratheon, House Tyrell, House Greyjoy, and House Lannister (Boo!). The coasters are all made of silicone and are supposed to be relatively easy to clean, though they're not dishwasher safe. Also because these are made to seem like pressed wax, they have a round indent to house the glass. It's only about three inches across, so it may not accommodate your glass of choice.
---
Jon Snow had to swear a lifelong oath to the Night's Watch and serve dutifully before he was given Longclaw, but you can get a Longclaw umbrella for $30. Seems like an equivalent sacrifice, right?
Beyond the handle, this seems like a fairly standard umbrella. User reviews indicate that it's a standard size umbrella, so it's not as large as a golf umbrella or anything like that. It's a fun novelty gift that you'll mostly use to impress your friends than for its true purpose, just like real Valyrian swords.
---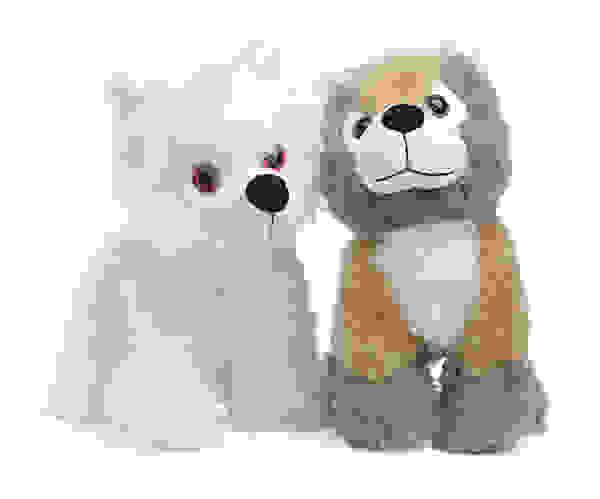 Who's a good little direwolf? Who's a good boy!? This adorable set of plush, stuffed direwolf pups is "ready to soak up your tears" according to the description, which fans of House Stark will certainly find useful.
While "actual" direwolves can grow to be the size of small horses, these are more manageable standing about 9 inches tall from ear to paw. There are six options in total, including Grey Wind (RIP), Summer (RIP), Shaggy Dog (RIP), Lady (RIP), Nymeria (MIA), and Ghost (MIA when you need him).
---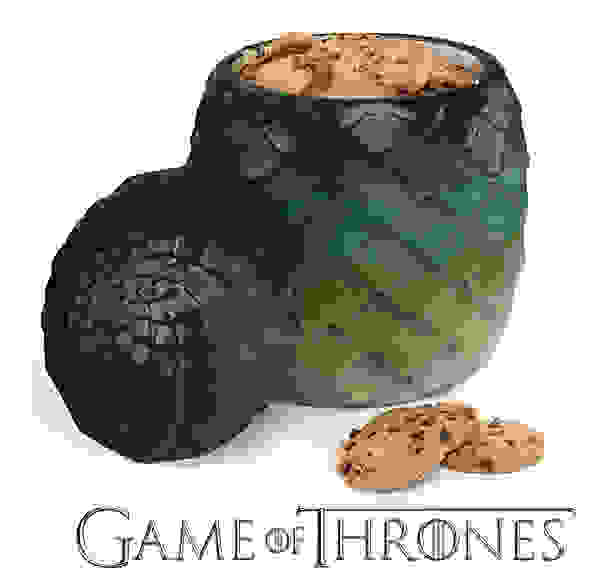 Do you like cookies? We've already established that everybody does. But once you've made cookies, you need a place to put them. This dragon egg-shaped cookie canister from ThinkGeek is an ideal choice, holding literally dozens of cookies at one time.
Why is this a cookie canister and not a cookie jar? So the fun folks at ThinkGeek could remind you that a canister always pays its debts.
---
I have two of these mugs and I love them. They're like other similar heat-sensitive mugs in that they are one color when room temperature and they turn another when you fill them with a hot liquid like tea or coffee. For these particular ones, they are black with the sigil of House Stark when room temp and reveal the Stark motto "Winter is Coming" when heated up.
One thing to note: sometimes the printing of the heat-sensitive image may not be done correctly. For instance, on one of our mugs the "Winter is Coming" bit is cut off. The other one is perfect, though, and it's still a nice mug so we keep it around.
---
You can never have enough bottle openers, and this is a fun one to add to your collection. Designed to look like the "Hand of the King" brooches worn in the show, this is a pretty standard bottle opener with a gold finish.
It's larger than your typical handheld bottle opener, and user reviews mention that it feels heavy and durable. The one big downside? There's no magnet, so you can't stick this to your fridge for easy access.
---
Brutal, epic, entirely unfair, and either you win or you die. Yep, Risk can get pretty cutthroat. This Game of Thrones version includes two custom maps (one of Westeros and one of Essos) and three different ways to play, ncluding traditional Risk and a method based off the lore of the show.
It's good for between two and seven players and should be an enjoyable gift for fans of the show, even if they already own a copy of the traditional Risk. One note is that it's rated for 18+, though there's no indication as to why other than the source material.
---
If you dig the background lore of A Song of Ice and Fire and Game of Thrones then you'll absolutely love this book, which details the history of the world with extensive input from George R. R. Martin himself. The book is beautifully illustrated and includes tons of information about many of the kings, noble houses, and wars that the show and books reference but never dig into.
I own this book and I can't recommend it highly enough. It makes for a wonderful nerd-friendly coffee table book and its encyclopedic structure makes it easy to thumb through for a few minutes at a time. You'll always learn something new.
---
While book readers will already know the great detail that author George R. R. Martin puts into describing every meal, food is an often overlooked character on Game of Thrones. This cookbook remedies that, including recipes for some of the most popular dishes in the world of Westeros. If you've ever wanted to know what Hot Pie's hot pies actually taste like, this is the book to get. It's a good book for anyone, but it would make an especially good gift for anyone who is an avid home chef and a fan of Game of Thrones.
---
While action figures are still firmly in "too nerdy for most people" territory, this cute Funko POP collectible is adorable and should be a hit with fans of the show. Funko POP figures are heavily stylized vinyl figurines that have become immensely popular in nerd circles in the last few years.
This particular one stands about 4.5 inches tall according to the description. It shows Daenerys on the back of a fully grown Drogon, so uhh... spoiler alert?
---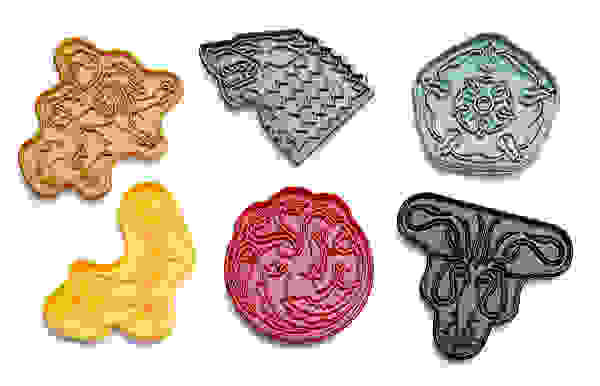 Everyone loves cookies. It's one of the few things that everyone can agree on these days. The only thing better than cookies? Cookies cut into fun shapes. This set of cookie cutters from ThinkGeek includes shapes for all of the six great houses of Westeros, including the stag of House Baratheon, the direwolf of House Stark, the rose of House Tyrell, the lion of House Lannister, the Kraken of House Greyjoy, and the dragon of House Targaryen
---
If you like the idea of having a replica sword from Game of Thrones but you don't, you know, want a full-size sword just hanging around, this letter opener is a great gift. It's designed to look like the Valyrian greatsword of House Stark, which was named Ice. User reviews for this one have been complimentary toward the quality of the opener itself, but this doesn't work well if you want a collectible to display on a desk; the packaging is simple cardboard, and not really worthy of being displayed.
---
I didn't recognize this as being a replica prop at first, but it is designed to look similar to the poison-filled goblet that Melisandre drinks from near the beginning of Game of Thrones.
Whether you remember it or not, it looks pretty darn cool and would make an excellent gift for any fan of the show who is also a fan of consuming liquids. This is probably more useful as a novelty than as a glass you'll drink from all the time, but it's a cool piece nonetheless.
---
One collectible that is worth displaying? These resin eggs are gorgeous to look at and are housed in a wooden box with the emblem of House Targaryen on the lid. These are a bit pricier, but the eggs are beautifully detailed and great to look at.
I've seen these in person and they're a bit smaller than you might expect given how the eggs are on the show. The one that I saw didn't have any issues with the box, but there are a lot of complaints online about the box falling apart or breaking during shipping, so buyer beware.
---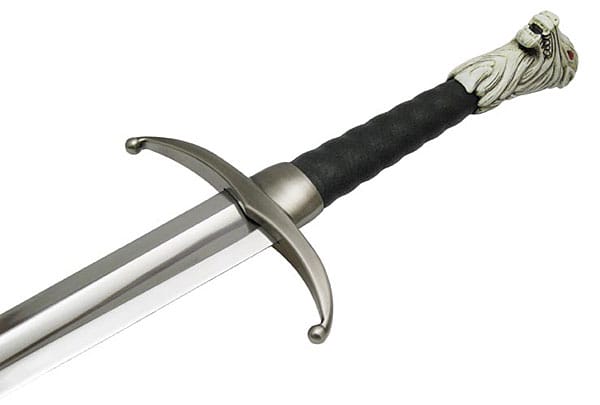 Did you see the dinky letter opener or umbrella above and think, "Pfft, not nearly enough"? Then we've got the gift for you. This officially licensed, full-size replica of Longclaw has a stainless steel blade, leather hilt, and comes with a decorative plaque featuring the Night's Watch oath.
It's a 35-inch long blade, which is pretty nuts, but it still only weighs about eight pounds. This is a proper collectible sword, featuring a certificate of authenticity and a $250 MSRP.
---
Too soon.
With this 3D-printed doorstop you can memorialize one of the show's most shocking moments so far. Reviews seem to indicate that this doorstop isn't particularly good at holding doors open, but it may give you just enough time to escape.