Televisions
21 movies with amazing picture quality that are super cheap on Amazon
Blu-rays are startlingly cheap nowadays, but they'll still drop your jaw.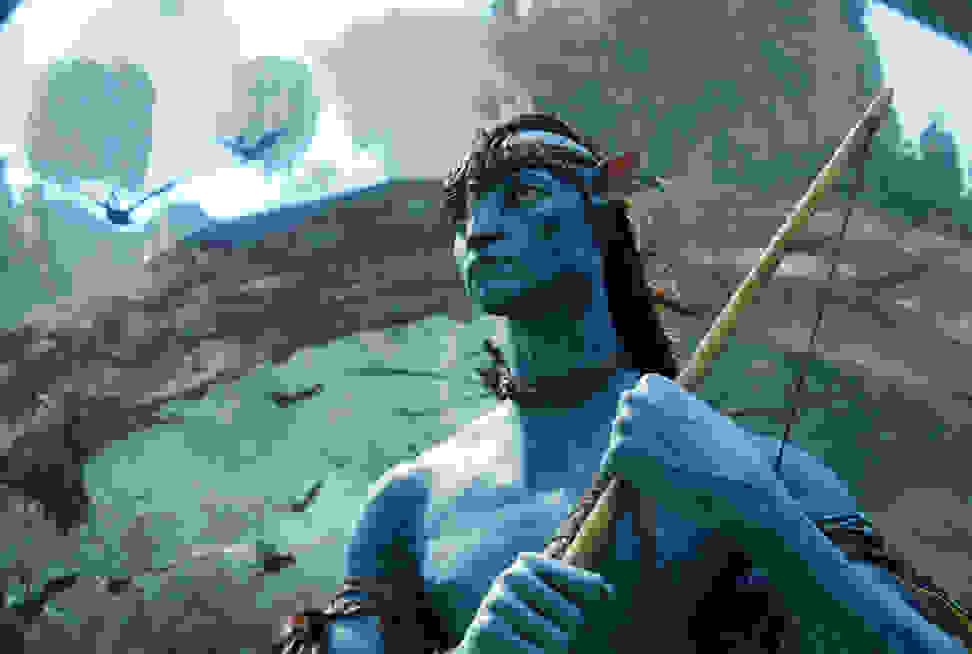 Credit: Avatar
Some of my gamer friends have this ingenious method of saving money: wait until a console has reached the end of its lifecycle, then buy into years of great, affordable content. If you're patient enough, it's positively genius!
And now that 4K HDR Blu-rays are hitting shelves, movie lovers can get the same experience with Blu-ray discs. Far from dated, 1080p Blu-rays still look awesome on newer 4K/HDR TVs due to their built-in upscaling engines. You might do lots of streaming, but take it from me: if you haven't seen your favorite movie in 1080p on Blu-ray, you simply haven't seen your favorite movie.
And thankfully, the video gurus over at AVS forum have already done the legwork of compiling a massive, tiered list of Blu-ray discs ranked by picture quality. So without further ado, here are 21 of the best-looking and most affordable Blu-rays on Amazon.
But first...
If you don't have a way to play Blu-ray discs, you might want to remedy that first! If you aren't a gamer, I recommend picking up the Sony BDP-S6700.
Since the PS3, Sony has invested heavily in both Blu-ray production (in part due to Sony Pictures Entertainment's role in movie production) and in reading/rendering Blu-ray movies cleanly. The S6700 is an affordable but videophile-approved option that doesn't break the bank.
You can grab the S6700 on Amazon, or you can buy it from Dell for $118 and get free shipping. If you are a gamer, the Xbox One S is the way to go.
1. A Christmas Carol (2009)
I know it's almost March, but the 2009 Blu-ray transfer of A Christmas Carol looks so good you should probably pick it up in advance of next Christmas.
This Blu-ray uses Advanced Video Coding and DTS-HD audio to present a film transfer that's crisp, colorful, and pleasing to both the eyes and ears. It's available in a cinema-faithful 2.40:1 aspect ratio, and at $9.99 is severely affordable.
2. The Tree of Life
While it's definitely on the "artsy film" side of the fence, there's no denying that Terrence Malick's Tree of Life is a gorgeous film, and its Blu-ray transfer retains an awful lot of work and talent.
This one also uses an AVC transfer, supports up to 7.1-channel surround sound audio, and it wields an 1.85:1 aspect ratio. It's a riveting visual experience that you can have for just $9.92.
3. The Thin Red Line (Special Edition)
While it's a bit pricier than other options on this list, for what you're getting—a special edition, AVC/DTS, and original 2.35:1 aspect ratio special edition Blu-ray remastered for the Criterion Collection—less than $20 is still a great price.
While it was overshadowed by Saving Private Ryan back in its day, this is still a moving, humanistic war film at its core, and the Criterion transfer is second to none.
4. Avatar (Extended Collector's Edition)
Who hasn't been hype on Avatar at some point in the last decade and a half? Okay, so you've very likely seen James Cameron's CGI/3D poster child more times than you care to admit—if you haven't seen it on Blu-ray, you're missing out!
For less than $20, you not only get the best-looking AVC/DTS version of Avatar around, you get extended and different storyline hooks, including an alternate death scene for a central character.
5. I, Robot
Based on the almost vintage dystopian novel of the same name, Will Smith's I, Robot was praised for its visual accolades when it released on DVD back in the day; this Blu-ray transfer from Fox studios one-ups the DVD copy, and includes AVC/DTS audio-video and 2.35:1 aspect ratios.
But best of all? It's crazy cheap. You can get it for about $5, and that includes both the regular and 3D versions for those so inclined to don three-dimensional glasses.
6. Pirates of the Carribbean: Dead Man's Chest
The second Pirates film should be your first choice when it comes to visual splendor in Blu-ray form. The BR transfer of Dead Man's Chest sports AVC video and PCM audio formats that preserve the color and crispness of the original cinema showing.
Not only do you get the high-def game "Liar's Dice" (okay, this isn't worth paying for), but you'll get a special sneak peek at sword-fighting with Johnny Depp. Okay, you know what? Forget the special features. At least it's only $6, and all you need is the movie anyway.
7. A Serious Man
The Coen Brothers' dark comedy A Serious Man is ranked highly for its BR transfer success. The Universal Studios release again uses an AVC video transfer and DTS-HD audio with a 1.85:1 aspect ratio.
While it's not nearly as well known as some of the other movies on this list, A Serious Man still has an 89% on Rotten Tomatoes, and it's the price of a couple vending machine cokes.
8. The Art of Flight
While not a traditional "movie," the Art of Flight (produced by Red Bull Media) has been a staple of brick-and-mortar AV demos for years due to its amazingly crisp and high-quality snowboarding footage.
This is one of the only Blu-rays on Amazon I've seen to have a perfect 5-star rating and be described as "literally awe inspiring" by reviewers. It's also one of the discs they used in my TV calibration classes—and that's saying something, too.
9. Man on Fire
The intense action/thriller Man on Fire presents Denzel Washington in ultra-crisp 1080p. This Fox Studios release features AVC/DTS video/audio conversion formats and a cinema-like 2.40:1 aspect ratio.
You can get Man on Fire for just $4.57 on Amazon, so even if you aren't a fan of badass heroes shutting down dastardly bad guys (seriously, who isn't?), you're not even out five bucks.
10. Bee Movie
Like most animated Disney and/or Pixar and/or DreamWorks films, Bee Movie is an excellent Blu-ray transfer that utilizes AVC video formatting and TrueHD audio to present a crisp, impressive audio-video experience for the whole family.
That's not to mention that it's Bee Movie. Do ya like jazz?
11. Arabia (IMAX)
Arabia (technically Arabia 3D) is a Blu-ray/3D Blu-ray transfer that transports the viewer to Arabia. It's narrated by Helen Mirren and also utilizes AVC and DTS video/audio transferring.
According to Amazon, viewers will "go deep into the heart of this exotic land to experience the great mystique of Arabia. Like riding a magic carpet, you will discover the lost city of Madain Saleh and explore its ancient tombs, travel along the early frankincense trade route, confront a wild desert sandstorm, and dive among the gorgeous coral reefs and ancient shipwrecks of the dazzling Red Sea. Plus, in a series of stunning time-lapse images, join the largest single human gathering on Earth for an incredible pilgrimage."
12. Live Free or Die Hard
I love Bruce Willis. Surely you also love Bruce Willis. Hopefully you love the Die Hard movies; or at least understand that the third one is a masterpiece. Whether or not it can live up to the originals, Live Free or Die Hard is still an audio/video masterpiece on Blu-ray.
Not only does this transfer preserve the original cinema aspect ratio of 2.35:1, but it was one of the first Die Hard movies to receive a PG-13 rating, meaning you can watch it with the kids and introduce them to the vastly superior original when they're old enough.
13. Sin City
If you like a little more R rating with your Bruce Willis movies, look no further than Frank Miller's Sin City on Blu-ray.
While the movie is black and white, the lack of color only adds to the gritty contrast, and this hyper-crisp Blu-ray transfer really pops. Whether or not you like this kind of stylization, there's no arguing that Sin City looks really good here.
14. Baraka
If you haven't seen Baraka, you're in for a treat. And even if you have, if you haven't seen it on Blu-ray, you owe it to yourself to see it again.
Baraka is a beautiful documentary-style film from Ron Fricke. According to Amazon, "Shot in 70mm and scanned in 8K UltraResolution (8,192 pixels across the frame, the highest resolution available), [Baraka] looks incredibly gorgeous and detailed, and the DTS-HD Master Audio 5.1 @96k/24bits is equally impressive."
15. Hot Fuzz (Ultimate Edition)
In my opinion, Hot Fuzz is the best of Pegg and Frost's "Cornetto" trilogy, which in and of itself are just excellent action-oriented comedies, masterfully edited and scripted.
The Blu-ray transfer uses the effective but less common VC-1 codec and maintains DTS-HD audio for a crisp, beautifully rendered audio-video experience. And the feature-stuffed Ultimate Edition is only $14.98 on Amazon.
16. Becoming Jane
With a 58% on Rotten Tomatoes and starring Anne Hathaway, who every girl I've dated has seemed to despise, Becoming Jane is nevertheless a beautifully rendered film about an aspiring author.
Using the VC-1 codec, wielding PCM audio, and maintaining a 2.35:1 aspect ratio throughout, it's boasting quite a bit of AV-related value for $4 online.
17. Chronicles of Narnia: Prince Caspian
You've definitely heard of the Chronicles of Narnia! The second movie in the film series, Prince Caspian, makes for a gorgeous treat on Blu-ray.
Sporting a combination of AVC and DTS-HD audio, you can score the masterfully transferred Chronicles of Narnia: Prince Caspian for just $12.62 on Amazon.
18. The Ultimate Wave - Tahiti (IMAX)
Movies are great, but Blu-ray visual fidelity is also the place where documentaries about snowboarding, surfing, or just nature in general really shine.
This IMAX edition of The Ultimate Wave - Tahiti "plunges you into the stunning beauty of an island paradise on a quest to find the perfect wave-riding experience. Ten-time world surfing champion Kelly Slater and Tahitian surfer Raimana Van Bastolaer and a group of friends seek out the best waves breaking on the reef at Tahiti's famed surf site Teahupo'o."
19. Born to be Wild
"Narrated by Academy-Award winner Morgan Freeman, Born to be Wild 3D is an inspiring story of love, dedication and the remarkable bond between humans and animals."
Sounds pretty rad, right? Also, it's a visual powerhouse that's been perfectly BR transferred, which is what we're here for. Get Born to be Wild for a super paltry $3.95.
20. Real Steel
Hugh Jackman is a terrific actor. Make into into some kind of robot coach person and it's even better, ya heard?
Okay okay, maybe you think this premise is predictable or ridiculous, but there's no denying that Real Steel looks and sounds absolutely spectacular on Blu-ray. And you can have it forever for just $8.99 on Amazon.
21. The Island
Last but not least, the Scarlet and Ewan dystopian sci-fi vehicle The Island looks absolutely incredible on Blu-ray disc.
This AVC/DTS transferred film delivers all the Michael Bay sci-fi visual goodness you want before the man became inundated with excessive explosions and giant robots. You can have it for just $5.95 on Amazon.
Up next
Get Reviewed email alerts.
Sign up for our newsletter to get real advice from real experts.