It seems like every TV these days is smart—it connects to the internet, and gives you access to premium apps like Netflix and HBO Now. It's almost impossible to find one that isn't, frankly.
But while smart TVs have come a long way in the last five years, they're still not generally as fleshed out and user-friendly as a streaming box like the Roku, Fire TV Stick, or Apple TV. No matter how pricy your flashy new smart TV was, here are reasons to consider grabbing a streaming box.
---
1. Content, content, content!
The number one reason to pick up a streaming device? Content! While TV manufacturers like Samsung and LG have to wade through partnership processes when adding content like Amazon Video, Spotify, or PlayStation Now, streaming devices like Roku, Apple TV, or Amazon Fire typically don't.
Just as a hypothetical example: because Samsung wants to be the only smart TV with Spotify, it might prevent LG or Sony from adding the service for a certain amount of time, contractually. But streaming devices typically don't run into this problem.
2. Simpler interfaces, better remotes
Let's face it: when a TV manufacturer is making a TV, they're not always putting the smart TV process first and foremost. While the big name brands have started to tailor their UIs towards easier smart features in recent years, they're still way behind a lot of streaming boxes.
For example, Roku has mastered the remote control. There's just the right amount of buttons, dedicated ones for the apps you use most, and—get this—the nicer Roku remotes even feature a headphone jack so you can listen to audio semi-wirelessly.
3. Checking app 1 of 75....
We've all been there. (Okay, if you haven't been there, I envy you). You've just unboxed and set up your new TV and it asks to connect to the internet. "What's the harm?" But an hour later, it's still updating all the apps and populating the app store. Good grief.
Devices like the Roku and Amazon Fire get updates quickly and generally in the background. And smart TVs are not usually quick to update all their apps with new features, leaving them stuck months behind streaming boxes.
4. Way less junkware
Vizio's new "Vizio Cast" system not withstanding, most smart TVs are still pretty heavily loaded with junkware. As much as we love Bean Bird, LG smart TVs still have rows of features and extra settings in the smart TV menus you don't need. Seriously: are you really going to set up the calendar on your new TV?
Seriously: are you really going to set up the calendar on your new TV?
Tweet It
With streaming devices, you can choose to add extraneous features if you want, but otherwise the focus is on apps: Netflix, Hulu Plus, Amazon Video, Spotify, Pandora. Things you're actually going to use.
5. Hardware updates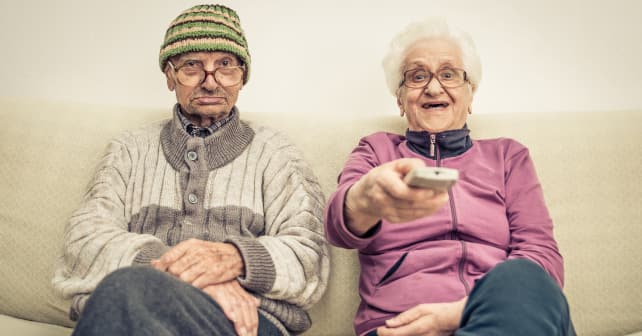 Ideally, you should nee to replace your TV every six or seven years. And most smart TV manufacturers only extend the latest features and streaming abilities one generation back. This year, for example, updates will roll out for 2016 smart TVs in some regard, but I doubt any 2015 or earlier models will get much love.
See where I'm going? If your TV is four or five years old, the right streaming box can feel like a brand-new TV. Keep the picture you love, ditch the wonky content system.
---
If you're thinking it might be time to "upgrade" your binge-watching system via a new streaming device, here are some of our favorites right now:
Roku Streaming Stick
It's pretty hard to argue with the Roku streaming stick. For $50, you're getting an extremely agile and portable little device that gives you access to a huge surplus of content options—Netflix, Hulu, Amazon, HBO, Pandora, even hours of Yule log fireplaces—for only $50.
We particularly like the Roku Streaming Stick for its simplicity and its ability to work with hotel WiFi. You still get Roku's great, simple remote and all the same content as the pricier Roku models. You just won't get a headphone jack, voice search, or the ability to stream 4K content.
---
Roku Premiere+
Roku refreshed its entire streaming device lineup for 2016 and the Premiere and Premiere+ are smack in the middle. While not as fully-featured as the Roku Ultra or as cheap as the Roku Express, for most people this is the streaming device to get.
Both the Premiere+ and the Premiere offer the simple Roku interface, easy access to the most popular apps like Netflix, and 4K video capabilities, though both are great for 1080p if you're not planning on buying a 4K TV just yet.
---
Amazon Fire TV Stick with Alexa
The new Amazon Fire TV Stick features a voice search that now has integration with Amazon's Alexa smart assistant.
This means that for $40 you can turn your TV into a smart hub for your whole home, the same way you can with Amazon's Echo speaker.
It's a killer feature that makes an already compelling streaming device even better, meaning you can do things like turn down your smart lighting right from your couch, or use your voice and Alexa to search for your favorite shows.
---
Amazon Fire TV (2nd Gen)
Are you a heavy user of Amazon's Prime services? Are you ready to jump into 4K streaming? Then the slightly older $99 Amazon Fire TV is probably your best bet.
It streams UHD video just as well as the Roku 4, and more or less matches it in terms of content—from the big players, at least.
The user interface is slick, and Amazon's Alexa voice assistant can go head to head with Siri.
Our editors review and recommend products to help you buy the stuff you need. If you make a purchase by clicking one of our links, we may earn a small share of the revenue. Our picks and opinions are independent from any business incentives.