Televisions
9 kid-friendly PS4 & Xbox games they'll actually want to play
Games both you and your kids will love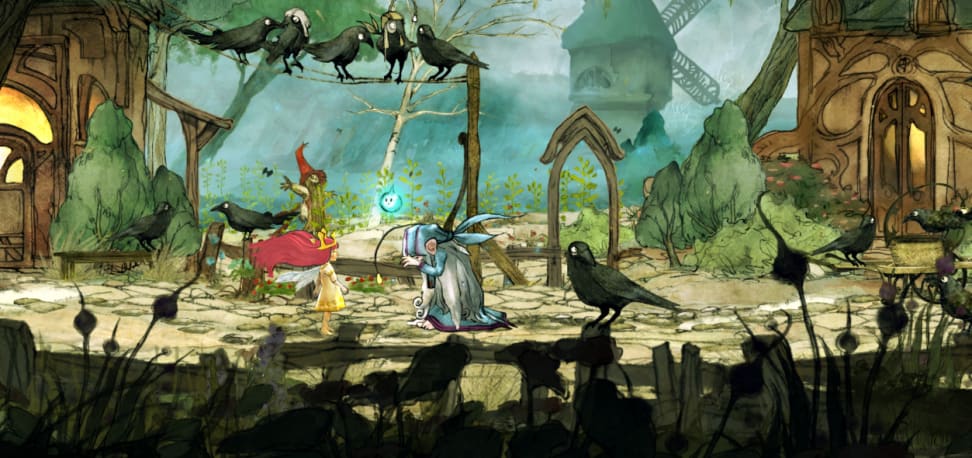 Credit: Ubisoft
Every gamer parent knows that Nintendo reigns supreme when it comes to kid-friendly games that are actually, you know, good games. But did you know there are a bunch of great, kid-friendly games for the Xbox One and PlayStation 4?
Ditch the Barbie's Pony Magic and whatever Burger King is giving out digital codes for in kids' meals these days. These games are not only totally safe for younger minds—they will probably nurture them, too.
---
1. Child of Light
Child of Light is a perfect choice, specifically if you're looking for a game to play with your child. This visually stunning title from Ubisoft's "UbiArt" studio initiative features a simple, storybook fantasy tale about a princess, Aurora, and her journey to save her father. She's joined by a small wisp of fire, Igniculus, who can be controlled by a second player.
While you might start as Aurora and let your little one control the super-simple Igniculus, your kid may pretty quickly pick up on the robust but intuitive skill and combat systems, and you may find yourself switching off. Regardless, you'll work together through scenes of digital artistry and a rich, emotive soundtrack. The difficulty ramps up a bit towards the end of the game, but it's a journey you'll both enjoy conquering together.
---
2. Shovel Knight
Shovel Knight is simply a fantastic game, and it's totally kid-friendly. While it's admittedly difficult in the way of retro, 8-bit games, Shovel Knight puts your child in the role of the titular hero, who is tasked to stop the evil Enchantress and her Order of No Quarter from taking over the land. Just note that the game's platforming can be severely frustrating, requiring super tight eye-hand coordination.
Filled with humorous dialogue, an incredible soundtrack by Jake Kaufman, and persistent themes of bravery, justice, and "shovelry," this one is a meaty, rewarding game to dig into. Just be sure to keep the difficulty in mind if you're shopping for very young children.
---
3. Ori and the Blind Forest
While Ori and the Blind Forest is only available for the Xbox One right now, it's too good not to mention. In this game, your child will take on the role of Ori, a young forest spirit coming of age during a time of turmoil in the shadowy forest. The artwork, gameplay, and Gareth Coker's award-winning soundtrack are all AAA quality, and the story is both moving and narratively strong.
This game is primarily a platformer with roguelike tropes and light RPG elements. It's by no means an easy game, but with persistence and patience—great skills to develop—it can be mastered. The definitive edition includes additional content beyond the base game and a CD of the original soundtrack.
---
4. Abzu
Admittedly, I haven't played Abzu personally, but just like the award-winning Journey, this game has received numerous accolades for its excellent art design, peaceful atmosphere, and emphasis on non-violent approaches to the world. It's a polished, thought-provoking, and relaxing title.
In Abzu, your child will discover a "lush, hidden world" of colorful fish, fearsome sharks, and beautiful underwater vistas, all propelled by a terrific soundtrack from Austin Wintory.
---
5. Song of the Deep
I guess oceanic games are in right now! Song of the Deep is an excellent new game based off of the book of the same name. In this story, your child takes the role of Merryn, who must explore the colorful ocean depths and find her missing father. It's a simple tale with somewhat predictable but enjoyable gameplay.
While some of the puzzles and item collection may occasionally frustrate, it's ultimately well-polished for an indie title. Pair it with the book it's based on for some very "deep" immersion.
---
6. Minecraft
As much as I don't want to kick any horses, I couldn't get through this list without tipping my hat to Minecraft. While in no way exclusive to new consoles (it's available on everything from mobile devices to handheld consoles), the Xbox One and PS4 versions of Minecraft are the best yet outside of the PC version.
If you haven't heard, Minecraft is a block-building and survival game that's open to encourage all of your child's creativity. You can jump in with them to help them build a huge castle or just go hunting for elusive crops of pumpkins. Just don't be surprised when you glance at the clock and it's way past both your bedtimes.
---
7. Rocket League
A lot of these games are fairly dense, narrative-driven adventures that require problem solving and patience. Rocket League is not that. The hyper-frenetic car soccer game is full of wacky vehicles and fast-paced gameplay, extending to both local co-op gaming or online multiplayer.
The only thing to keep in mind with Rocket League is that if your kids play online, there's no way to easily regulate who they might end up communicating with. But it's still great fun playing offline with a sibling or parent, and offers hours of entertainment.
---
8. Overcooked
Overcooked is a fun, colorful, and simple game featuring culinary co-op play. You can join your child (or children) in The Onion Kingdom, where you'll work together to create the most delicious possible meals, taking control of cutesy little chefs full of personality and gusto.
With its strong emphasis on local multiplayer and cooperation, Overcooked is a great choice if you've got a couple younglings you'd like to encourage to work together. It also might keep them from trying to do too much crazy cooking in your actual kitchen.
---
9. Unravel
Unravel is a visually stunning but nevertheless complex puzzle platformer. Your child will take on the role of "Yarny," a yarn creature who uses his unique, uh, physical makeup to traverse and navigate the a beautiful world based on Northern Scandinavia.
Unravel wordlessly tells a story of love and loss, and the meaning of family. It's also one of the best-looking games on the Xbox One and PlayStation 4 right now—and you can even make your own Yarny!