Televisions
Sharp's 2013 Smart Platform: Explained.
SmartCentral gets a mini-makeover.
Credit:
Overview
People want smart TVs, and with good reason: Renting movies, streaming news, buying shows, and (in really happy cases) circumventing cable boxes make for some red-hot commodities.
Sharp makes an effort to satisfy some of these market longings with its 2013 SmartCentral Platform, available for 6, 7, and 8 series Aquos TVs. The platform got a mini-makeover from last year's version, so I spent a couple of days testing its smart TV mettle. What did I find? Improved social media offerings, several more apps, some very welcome aesthetic enhancements, and a full-on eye-twitch from all the awful typing.
Layout & Functionality
SmartCentral is sleek, attractive, and logical in layout, but the remote is no fun.
To get started, users simply press a very diminutive "Smart Central" button on the remote and watch for a bar to appear along the bottom of the screen—same as last year. From there, you can either peruse apps along a single horizontal bar, or else select the SmartCentral icon for tabbed browsing.
Overall, the platform is simple, clean, and attractive.
If users click the SmartCentral icon on the screen, the television presents 9 tabbed sections of apps to choose from: Video, Music, Games, Social, Photo, Web & Search, Other Apps, Support, and Settings. Overall, the platform is simple, clean, and attractive. Users can even continue to watch a show while browsing tabs, thanks to a picture-in-picture (PiP) screen.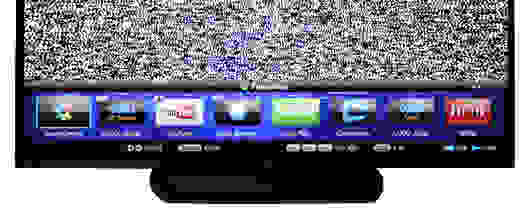 That said, the existence of said tabs may be more of a hindrance than anything else. This is primarily because the navigation is aggravatingly slow, and you frequently need to press a button twice to make a selection register, since the mushy keys on the remote don't firmly click. All those tabs just mean more clicking and more waiting. Moreover, there are so few apps to begin with that tabs really serve no great purpose to begin with.
The Bread & Butter: Video Streaming
This is why we want smart TV.
Once inside SmartCentral, the first tab users see is also the most useful: Video. The selections are the same as last year's, with ample content to enjoy through Netflix, VUDU, Hulu Plus, CinemaNow, Film Fresh, and YouTube. Hulu Plus, VUDU, and Netflix are the most efficient and familiar options, and Netflix even has a large, dedicated button on the TV's remote for quick access. Sharp also partnered with the media big-boy to allow users to pilot Netflix remotely via a portable device, while enjoying a Netflix program on the TV uninterrupted.
Netflix even has a large, dedicated button on the TV's remote for quick access.
Film Fresh and CinemaNow, on the other hand, are inconvenient; users must scroll slowly to the right for more titles to load—five at a time. Some users will also resent the embedded "Mature" section in the Film Fresh app, which sits prominently on the baseline menu, weirdly ahead of options like "adventure" and "comedy." It's pin protected, but the centerfold placement is certainly questionable. In any event, based on interface and content alone, neither of these apps in any way measure up the to Hulu Plus and Netflix.
The remaining options for video enjoyment are VUDU and YouTube. YouTube is the same abbreviated, unattractive version as on last year's platform, and VUDU offers pay-to-stream services on a fairly sleek interface.
Social Networking
Twitter, Facebook, and Skype—accessories not included
Social networking is now a more prominent part of SmartCentral, with dedicated apps under the "Social" tab, namely Skype, Facebook, and Twitter. To log in, users must first visit a webpage to authorize pin numbers for each site. And this is a most welcome fact, because entering a four-digit pin is far less maddening than a complex password.
You can't use Skype unless you buy a camera.
And before you get all worked up about Skyping your long-lost friend Tammy in Idaho, know this: You can't use that app unless you buy a camera first. If you log in without one, you can behold your friend list, and you can even call people, but you can't see them, hear them, or even get their instant messages. I don't know about you, but I'm not thrilled when I click a designated app on a TV that doesn't work because it's missing a "sold-separately" item. That's like giving your kid a battery-operated robot with no batteries. Give the kid the batteries.
As for Twitter, it looks great—it really does—but have fun toiling over those squishy buttons 140 times. I'll pass. If you're sensing a trend here, it's because we just don't enjoy TV iterations of social tools that essentially make everything harder. Twitter looks pretty on this television, but who cares? We want seamless functionality.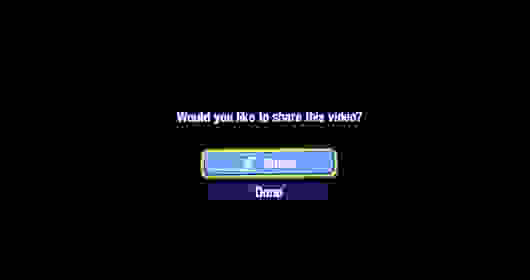 This is perhaps why Facebook is the most enjoyable of the three, of its own accord; admit it, you just get on there to spy and ogle photos of that crush from middle school—no real need to suffer the keyboard here. Other than some difficulties loading a photo or two, Facebook functions well enough on this TV. The layout is logical and very attractive, and users can view pictures fullscreen with a customizable slideshow.
Lastly, we must glumly report that none of these apps grant the ability to socialize and enjoy TV simultaneously.
Other Apps
Sharp offers a welcome decorative perk, some useful news apps, & technical assistance.
Outside of Social and Video apps, users can also enjoy music streaming, courtesy of Pandora or Rhapsody, a paltry slew of wearisome, bubbly games, photo apps like Picasa Web and Flickr, a slew of largely superfluous VUDU apps, and an Associated Press app.
Sharp made an effort this year to offer a more attractive object for the home, with a feature they call Wallpaper.
From the top, if you happen to have a decent home stereo setup, Pandora and Rhapsody both offer an enjoyable listening experience with a streamlined look. Aside from typing things, we have nothing but praise for the music streaming. Next, if you're thinking of getting a smart TV instead of a game console for you kid... we feel sorry for your kid. These games are as dull as they are elementary—temporary amusement for the bored and the listless. Coffin puzzles? We want Mario. Give us ill-tempered birds. This will not do.
Picasa and Flickr are certainly very enjoyable, though, given the TV's obvious aptitude for impressive display. And along those lines, Sharp made an effort this year to offer a truly more attractive object for the home. With an energy-efficient feature called Wallpaper, users may display a stock image or personal photo to display while the TV is "off," in lieu of an ugly black rectangle. The images benefit from a matte-finish screen and very low light, so that they are painterly in appearance, adding a surprising flourish to a room.
The VUDU Apps browser basically offers a bunch of irritating apps that serve little purpose.
Users will find more apps in the VUDU browser—which is not a store. It basically offers a bunch of irritating apps that serve little purpose. The Discovery app continually said "unavailable at this time," the Californication app is just three clips of actor interviews, and Flickr, Facebook, and Picasa are redundant. The news apps are a bit more useful, such as The Today Show, CNN, and CNBC, and Nova offered full episodes, but it's no fun wading through piles of paltry apps to find something of substance. Believe me.
Lastly, continued from last year, the Aquos Advantage Live app is back, which offers software updates, account info, and a reference number to use when you call Sharp for help, which lets an employee access your TV remotely to assist with technical difficulties. Sharp also invites app developers to connect through Facebook, all through a Developer Tools App. If you have an idea for an app, Sharp invites you to join the team and build away. And last on the docket, the Associated Press App is a simple, easy-to-read news hub.
Your Personal Media
In manner of same old tune
The USB Media functionality is the same as last year's. The interface is as easy to use as it is visually outdated. Still, it's always better to have something simple that works than something flashy that doesn't, and since the functionality on this count is so basic, we can accept that sentiment. To play photos, videos, or music through your TV, either connect a device wirelessly via DLNA, or simply pop a USB into the back of the television.
Internet Browsing
SmartCentral has fairly quick processing and a flash-enabled browser, but typing is as frustrating as ever.
Smart TVs across the board have plenty of growing up to do, and internet browsing is where that fact manifests most discernably.
Typing words, or heaven forbid, phrases, with squishy buttons on a television remote is anything but fun or efficient.
On SmartCentral, users are free to multitask with a split screen format; one side of the display exhibits your web browser, the other continues to play your show. On top of that, Sharp uses a dual core processor and a flash-enabled browser, which is terrific, but those traits don't tackle the real problem. SmartCentral has done nothing to allay the feeling of dread that materializes alongside the picture of a digital keyboard; typing words, or heaven forbid, phrases, with squishy buttons on a television remote is anything but fun or efficient. A day with this setup made me very grumpy. For this reason, SmartCentral's internet browser remains as repellent as ever—just like the rest of the competition. As of now, no force on earth could compel me to Google something using this TV instead of a laptop, PC, or smartphone. This condemnation is not for Sharp alone; this goes for smart TVs in general.
Until TV makers find a way to make typing enjoyable, fast, and second nature—or to eliminate it altogether, as companies like Samsung and LG are attempting to do via voice and motion control—I, for one, will continue to absolutely dread this aspect of smart TVs. And in case you're wondering about Sharp's free downloadable remote, don't. As numerous other users reported online, the Sharp SmartRemote app refused to recognize the TV.
Playing Dress-up
SmartCentral just isn't a big kid yet.
Each year we see improvements to smart TVs, like Sharp's inclusion of dedicated social media apps for 2013, but the sense that our TVs are playing dress-up in kiddie computer costumes just won't dissipate. Sharp brushed SmartCentral up a bit here and there, but nothing disguises the fact that typing and web browsing on this platform fall terribly, terribly short of delivering the user experience that our other devices have to offer. We love access to content through apps like Netflix and Hulu Plus, but that about does it.
We continue to look forward to a day when smart televisions outgrow their mockingbird roles and come fully into their own, just as cellphones, laptops, and tablets have managed to do.