Televisions
Hands-on With Samsung's 2014 Smart Hub
A tweak here, a new feature there—that's the new Smart Hub. And we're totally fine with it.

Credit:
2014 International CES had plenty of smart TV platforms, from LG's new take on webOS to Hisense's Android-flavored VIDAA, and even updated versions of existing platforms from Sharp and Vizio. Not to be outdone, Samsung—which made our favorite smart TV platform in 2013—showed off the latest version of its Smart Hub.
While this new iteration isn't a radical redesign like webOS is for LG, it provides plentiful improvements to Samsung's already-strong smart platform, like better voice search, multi-screen functionality, and a promising new remote. Excited yet?
What's Changed?
For those who aren't familiar with Samsung's Smart Hub, it's the company's smart TV platform—the brain behind all of those specs that Samsung likes to tout. Vast app store? Smart Hub. Social media integration? Smart Hub. Motion and gesture controls? You get the idea.
The reason we liked Samsung's 2013 version of Smart Hub so much was because of its excellent cable TV integration. No longer were we stuck using Comcast's or Verizon's clunky interface; with Smart Hub, we could search for TV shows arranged as elegant icons. We could also see how much time was left in a certain show, the actors appearing, or recommendations based on what we've watched.
So what's changed? Samsung has shaken up the main interface, which features five different screens: On TV, Multimedia, Movies & TV Shows, Apps, and Games. Previously, there was a screen dedicated to social media, but that's been folded into the Multimedia screen.
The Games screen is brand new, and before you shake your head in disgust, hear me out: You won't have to play third-rate Flash games anymore. At Samsung's CES booth, two reps were demoing an arcade-style racer that looked... fun. Don't expect Skyrim on your 2014 smart TV just yet, but don't expect the same garbage TV games we've been subjected to over the years.
The main screen on Smart Hub, On TV, remains mostly unchanged. Typically, you'll find current and upcoming TV shows on this screen, along with recommendations. One new addition is the ability to see what shows are popular on Twitter. By pressing a "Trending" button, you can check out what content people are talking about—as long as you get those channels on your cable package, that is. Users will also find recommendations based on genre, and even relevant Hulu Plus content.
Features
Easily the most impressive feature was Samsung's enhanced voice search functionality. In a crowded area where you could barely hear yourself talk, a Samsung rep showed off how good the company's speech recognition is. She asked to search using a specific search engine by saying something along the lines of "search Bing for Breaking Bad." It worked surprisingly well given the environment, and we're excited to test this feature more when we get a new Samsung smart TV in our labs.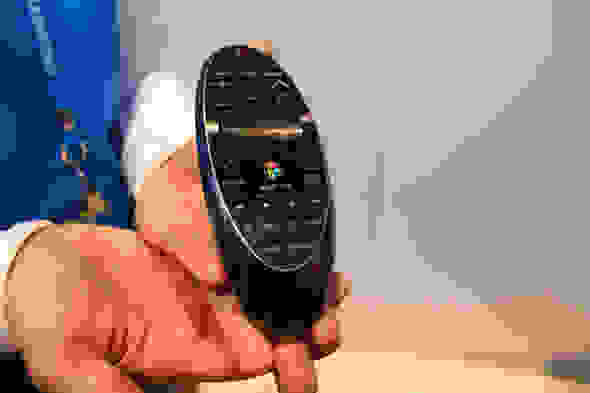 Samsung's new remote, which resembles LG's motion-based Magic Remote, also made an appearance at CES 2014. While appearances may be similar, Samsung's latest controller—dubbed Smart Control—felt more responsive than LG's. Whereas the Magic Remote always has its motion-tracking turned on, Smart Control only activates when you press your thumb on the center pad. Pointing and selecting apps and TV shows was incredibly fluid—easily better than LG's 2013 Magic Remote. There are still directional buttons for those who don't care about motion controls.
One of the more unusual buttons on Smart Control says "M.Screen," which stands for "Multi-Link Screen." This feature lets users watching TV shows load up related web content or YouTube videos. If you're watching an Oklahoma City Thunder basketball game, for example, you can press the Multi-Link Screen button to see YouTube video highlights of Kevin Durant.
Then there's the new Multi-Screen Experience, which allows Samsung smart TV owners to mirror TV content on their smartphones and tablets. I demoed this by using one of Samsung's tablets—conveniently placed next to a TV! By using the Multi-Screen app, users can pair their tablet or smartphone with their TV, which then mirrors content. You can browse channels from this mode, too. Unfortunately, your TV must remain on to use the Multi-Screen Experience feature, which limits flexibility. Then again, when do I really need to bring my tablet to the kitchen to finish my TV show, anyway?
This is still an interesting concept, and it will only be available on Samsung Galaxy products at first. Expect to see it on all Android and iOS devices later this year.
Wrap-up
Samsung's Smart Hub has always been a rock-solid smart TV platform, and it looks to stay that way in 2014. In addition to the features listed, Smart Hub will get other useful options like a two-second startup time, 4K streaming courtesy of Netflix and M-GO, and enhanced file sharing.
A Samsung rep told us to expect its newest smart TVs to ship some time in the second quarter. We'll be sure to thoroughly pick apart the latest Smart Hub once we get our hands on a new model.