Televisions
Hue & Me: Living With Philips' Colorful Wireless Light Bulbs
For now, the light bulb of the future is just a neat party trick.
Credit:
When any product manages to clinch some coveted shelf space at the Apple Store, it's probably worth looking into. And when that product is, by outward appearances, nothing more than a light bulb, it's definitely worth looking into. While the Philips Hue lighting system is certainly more than a simple light bulb, it teeters precariously between an exciting new interior design breakthrough and an expensive novelty with limited applications.
In short, Hue is a color-changing LED light system that can be controlled from your computer or phone. There are competing systems with similar capabilities—Lifx and Lumen are two notable alternatives—but Philips has the biggest name brand recognition and, arguably, the most well-rounded system.
What's Included
The high price places this firmly in early adopter territory.
The 3-Bulb Starter Pack will be the entry-point for most people. Retailing for $199, sticker shock is inevitable; the high price places this firmly in early adopter territory. The starter pack includes three 600-lumen color-changing bulbs that fit into standard sockets (a.k.a. an "Edison screw"), as well as the Hue bridge: a wireless base station that connects to your router and talks to the bulbs. As many as 50 bulbs can be controlled by a single bridge, albeit at the steep price of $59 for each additional 600-lumen bulb.
Philips goes a step beyond its competitors by offering a few additional lighting elements that can also network with the bridge. LightStrips ($89) are thin, flexible, six-foot strips dotted with tiny, color-changing LEDs. Their slender design and adhesive backing make them great for accent lighting under cabinets, stairs, or furniture. The LivingColors Bloom ($79) is arguably less useful: It's an accent light that can throw splashes of color at a wall or into a corner. Keep in mind that none of these products work without the WiFi bridge, so you're already $200 deep before you can even think about expansion.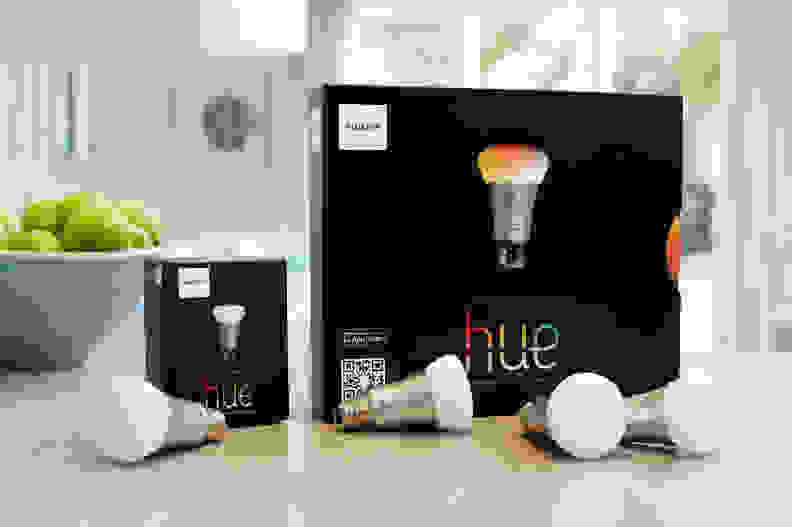 Our Experience
Philips was kind enough to loan us a Starter Kit, a LightStrip, and a Bloom, which I set up in my shared office three weeks ago. With the early winter sunsets up here in Cambridge, MA, it gets dark quite early, and co-worker Kaitlyn Chantry and I chose to rely solely on the Hue lights as an experiment.
Philips Hue is, perhaps, not the best choice for office lighting. It's far too dim, giving a distinctly after-work vibe when we were just trying to plow through edits and get home to relax. All of Philips' marketing materials show the product in a home environment, so I can't fault it for being office-inappropriate. However, don't expect Hue to be your all-purpose lighting system. Six hundred lumens is approximately equivalent to a 50-watt bulb, so you're not going to perform surgery under these lights. They're really meant to serve as relaxing-on-the-couch lighting.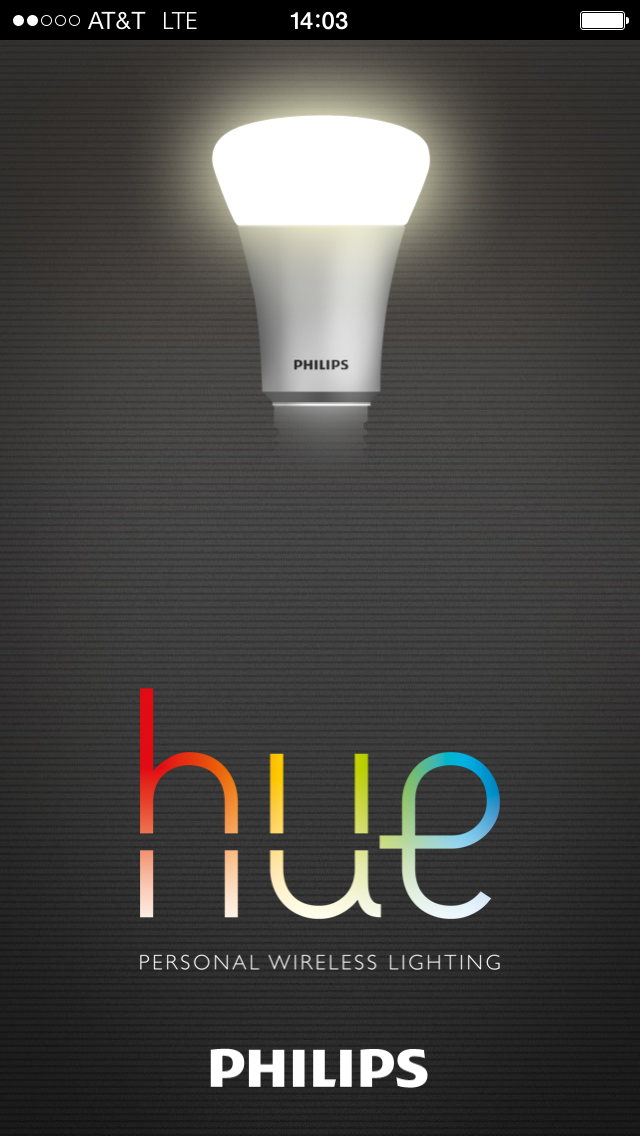 Once the lights are in position, it all comes down to the Hue app, available for iOS and Android (a desktop version is also available).
Set-up is a snap. The app guides you through the process with minimal technical mumbo-jumbo. It's the difference between a confounding Linksys router and an Apple AirPort. Philips clearly did its homework regarding the user experience.
Once the connections are established, the app offers a number of opaquely named color presets. "Greece?"... "Pencils?"... "Kathy?!" You can draw your own conclusions about the sultry red and blue tones of this mysterious Kathy.
Another irksome problem was that the presets were all created exclusively for the three 600-lumen bulbs, so any time I wanted to incorporate the Bloom and LightStrip, I had to create customizations. Ideally, the app should allow you to automatically shift all lights connected to the bridge.
Fortunately, the process for creating customized lighting patterns is dead simple. You can map out each light on a color palette, or select a photo from your phone and use that as a color map. Just drag the little icon for Light #1 across the photo, stop on your orange cat, and boom, Light #1 in your living room turns orange.
The lights can be timed to fade on in the morning or off as you go to sleep. There are also hundreds of downloadable themes from Philips' website, as well as recipes that use the IFTTT service, which lets you string together interactions between apps. For example, Hue can blink the lights in your house when you get notifications from Facebook, Gmail, and other apps.
Practicality
When describing the Philips Hue system to friends, family, and others that don't work in the tech industry, I've been met with some blank stares. After all, we've had yellowish electric lights in our houses for 100 years, and yellowish candlelight and firelight for the preceding millennia. The practicality of color-changing light bulbs is not readily apparent, especially at a $200 buy-in.
There are only so many shades of color that suit normal evening activity. You can't read in red light. You wouldn't cook in blue light.
Even after using the system for weeks, I'm skeptical. The simple fact is, there are only so many shades of color that suit normal evening activity. You can't read in red light. You wouldn't cook in blue light. For any undertaking more active than watching TV, you tend to rely on the same whitish-yellowish light you've always had.
That said, the Philips Hue system also feels like the start of some truly promising innovations in interior design. Because colored lights have previously required some degree of permanence—colored bulbs or difficult-to-remove filters—they've been relegated to a novelty. This new technology only requires some adventurous or visionary designers to integrate colored lighting into the home in order to remove any stigmas. Couple that with truly useful applications like a blinking light for new email notifications or healthier morning wake-ups and this could be the start of something great.