Televisions
Here's why now is the best time to start looking for a new TV
Want to buy a new TV? Prices will finally start dropping now.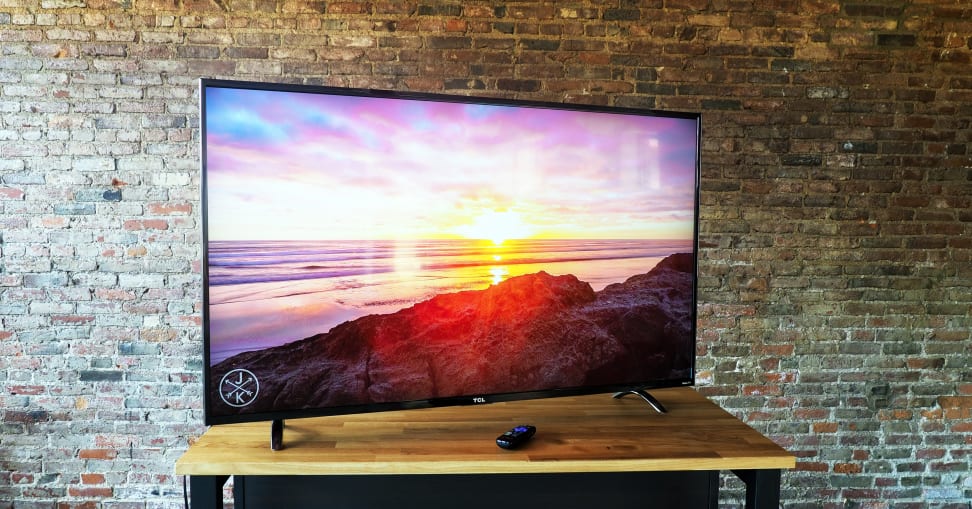 Credit: Reviewed.com / Lee Neikirk
Shopping for a new TV is tricky. There are tons of models to choose from and new features like 4K and HDR only complicate your decision.
But one rule that is nearly universal in the TV world? Unless you're scooping up deals on TVs from the previous year, you're better off waiting until August or later to buy that new bigscreen TV. Why? Because TV prices nearly always begin dropping over the summer, steadily falling until Black Friday.
For some budget-friendly TVs, the difference is minor; waiting until November may only save you $100-150 unless you get a doorbuster. But for some brands, particularly higher-end TVs from big-name brands like LG, Samsung, and Sony, these price cuts can save you hundreds or thousands of dollars—as long as you know when to start shopping so you get a real deal.
For example, below is the Amazon.com price history of one of the most popular 4K TVs from last year, the 55-inch Samsung KS8000. The data is from price-tracking site CamelCamelCamel.com, and in our experience the TV prices at big box retail stores generally follow the same trends.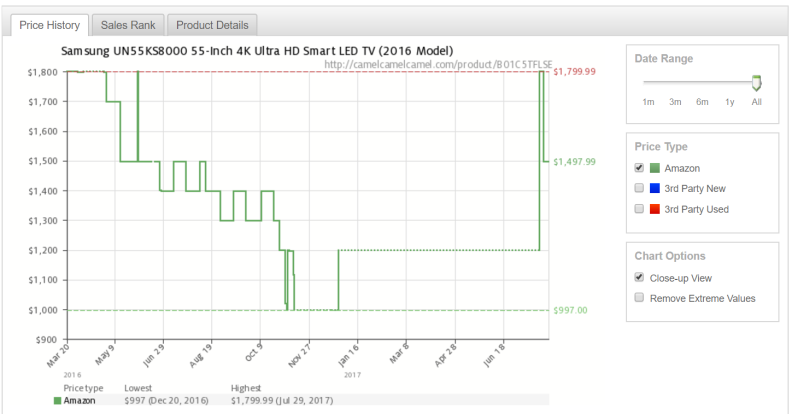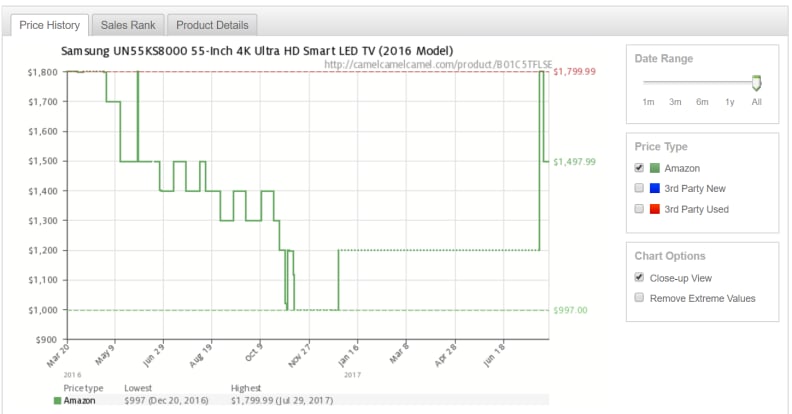 The KS8000 started at $1,800 last spring and was almost immediately knocked down to $1,500. That seems like a big discount, but in reality $1,500 is probably closer to full price. It actually fell to $1,300 by the end of the summer and $1,000 for parts of October and November. If you paid $1,500 you got a great TV, you just didn't get a great deal.
Most TVs follow a similar trajectory. Samsung's MU8000 (the KS8000's successor) is already down to $1,200 from $1,500 on Amazon and will probably fall more. Sony's X800E (a similar TV) started at an absurd $1,899 in March before being dropped to $1,200 in April and it's already available for just under $1,000.
These pricing games are hard to follow in the spring, especially since price tracking is only available for sites like Amazon, and not all TVs are available there. Amazon, for its part, has changed the Sony X800E's "list price" to $1,200 to reflect reality—that $1,899 original MSRP was truly ridiculous—but it was impossible to know that when it first hit the market.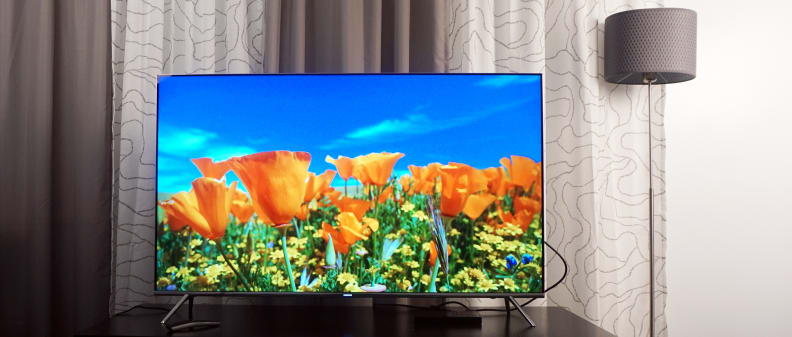 Luckily, by this time of year things start to shake out and the real discounts begin. You still may save more by waiting, but if you see a sale now you're likely saving some money.
So should you only buy TVs around Black Friday? Not necessarily. One of our favorite budget TVs right now is the TCL P Series. The 55-inch model has dropped to $599 in the past, but is available from Amazon for $650 now. For that price it's fantastic; it has 4K, HDR, a built-in Roku, and it aced our picture quality tests.
For most TVs, you can assume that you're getting some kind of discount now.
But it's also so popular that it's not always in stock. The price may drop a bit as we get closer to Black Friday, but it's so difficult to find now that you may miss out entirely. If you want one, now's the time to pull the trigger.
For just about every other TV, you can at least assume that you're getting an okay discount now. Just make sure to do your research by reading reviews of the best TVs, and strike when the price is right. Do that, and you're sure to get a bargain.