Netflix just rolled out the ability to download some TV shows and movies to your phone, letting you watch these shows without an internet connection. But while this is fantastic news for commuters, people preparing for cross-country flights, or anyone with spotty internet connections, there are some catches.
But first, just how do you actually download movies from Netflix? It couldn't be simpler. When you update the app you'll be taken on a quick tour that shows you what to do, but in case you skipped it, here's what you need to do. Note that, for now, this option is only available on the Android and iOS apps; there's no word on when offline viewing will be rolled out to other devices.
How to download movies from Netflix for offline viewing
When you open the Netflix app and sign in, you'll usually be greeted with the standard splash screen that has one featured show at the top and some carousel categories like "Recently Added" and "Trending Now" below that. If you tap the little "burger" menu in the top left of the screen, the options shade should pop out from the left side of the screen.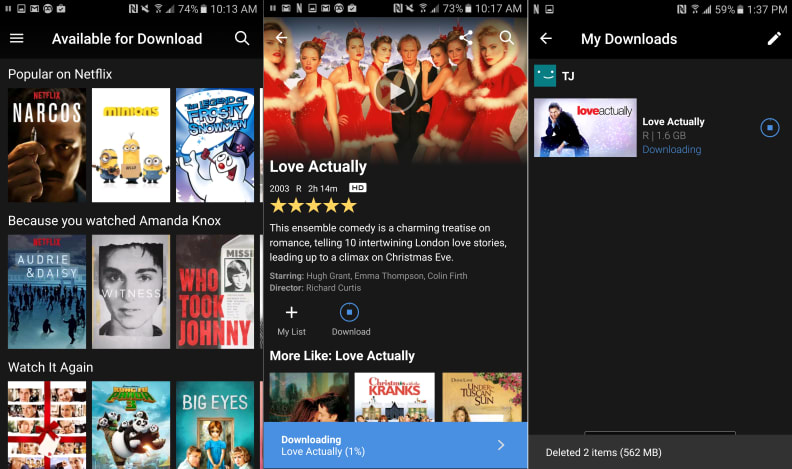 From here, you can tap the "Available for Download" option and you'll be brought to a new page that just shows the movies and shows available for offline viewing. These are organized just like everything else on Netflix, but it only shows what you can take with you.
Once you find a program you want to download, just tap it the way you would if you were going to stream it normally. For movies this will bring you to the title screen, with a big play button at the top, some details about the movie in the middle, and two options: "My List" and a "Download" button with a down arrow. For TV shows you'll see a similar setup, but the down arrow download button is located next to the titles of each individual episode.
How big are the movies and TV shows on Netflix?
By default, all content you download from Netflix is in "standard quality." At that setting most hour-long TV shows rang in at around 250MB or so. Movies were a bit bigger, ranging from around 500MB to 1GB depending on the length and content. By default you can only download these movies over Wi-Fi so that they don't eat up all your data if you're on a limited plan.
If you want to bump the quality up you'll need to hit the burger menu button at the top left again. This time you'll want to scroll all the way down to "App Settings" which is usually below all the other content categories. Just tap the option for "Download Video Quality" and bump it up to High. At this setting the TV shows doubled in size to about 500MB per episode while the movies jumped to between 1.6GB and 2GB.
How do I enable downloading over 3G, 4G, or LTE services?
In this same App Settings menu there's a check box for "Wi-Fi Only" which is checked by default. Just uncheck the option and you can download off of Wi-Fi. Just be aware that this will completely tear up your data plan if you're not careful.
Whoa, that's a lot of data. Can I store this on an SD card or USB drive?
For iOS, unfortunately you can't. The Netflix videos are stored in a proprietary format and are only visible to the app. Since iOS apps have to run off of the device, there's no way to get them off easily or back them up anywhere.
For Android, the answer is yes, but with a lot of trade-offs. Because expandable storage via MicroSD cards is quite common on Android phones, Google has enabled the ability to run apps right off of these cards. Unfortunately, Netflix can't be operated this way just yet. You can move other files to an SD card or USB on-the-go drive to make space, but the Netflix app has to stay on the device.
If you really are pressed for space but there are some Netflix shows you can't live without, then there's a workaround, but it's a bit hacky.
How to back Netflix movies up to a USB drive, SD card, or elsewhere
Warning: this is about to get technical
On many Android phones you can use file manager apps that let you poke through all the files on your phone, just like the File Explorer on a Windows PC. Some phones include this by default, such as the "My Files" app on Samsung Galaxy phones, but if not you can get one from the Google Play store.
If you use these apps, you can find the downloaded Netflix videos by going to the following path: Device Storage > Android > data > com.netflix.mediaclient > files > Download > .of. If you get to the "Download" folder and don't see anything, you need to enable the ability to see hidden files. The Samsung My Files app makes this easy, as the option is right in the "More" menu at the top right.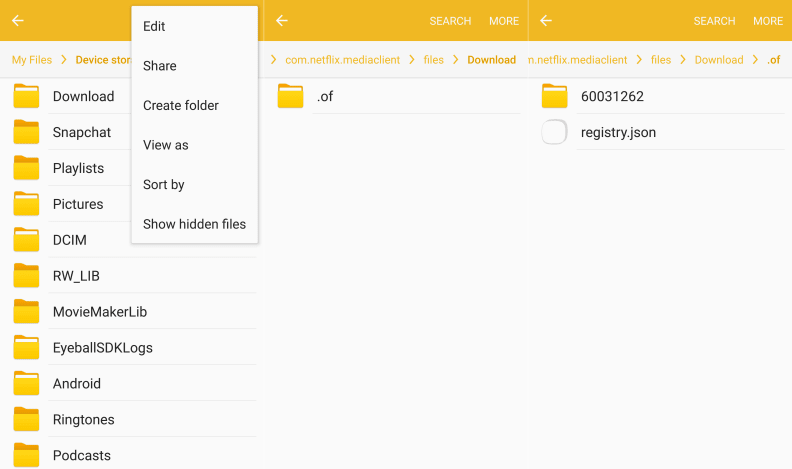 Once you're in the .of folder, if you've downloaded any Netflix content you'll see several folders with numbers for titles. For example, in the image above Love Actually shows up as "60031262." Each one of these folders represents a single TV episode or movie and includes all the necessary video data in a bunch of proprietary formats.
You can move these offline videos around all you want, including to your SD card or an on-the-go USB drive.
You can move these folders and files around all you want, including to your SD card or an on-the-go USB drive like this one. The problem is if you change anything about these folders, including the names of files, that particular piece of content won't play in the Netflix app and you'll get an error message. So I can stash 60031262 (aka Love Actually) on an SD card, but until I put it back in that .of folder, it won't play.
It would be easy to rename these folders for your own sanity, but if any of the names are changed it also won't play. Basically, you can take these folders away, but you have to put them back exactly the way you found them when you want to play the videos.
For most people this is both too technical and too much of a hassle to be useful, but there are instances where it could help. Say you've got 2GB of space on your phone and you want to bring a 1.7GB movie with you on a trip.
With this trick you can leave that space open until you need it, which will help keep your phone running smoothly. It also is a good alternative to outright deleting these videos and re-downloading them later, which can be a real hassle on a slow connection.
Ultimately, this is probably something Netflix will nip in the bud. But in the meantime if you want to stash a bunch of downloaded Netflix movies without eating up all your storage, this is a good trick to have in your back pocket.