Televisions
LG's 2013 Google TV: Explained
LG crashes grandly into the 2013 smart TV fray, armed with a fearsome remote.
Credit:
Overview
The G3 series won't be the target of this year's smart-TV jokes; LG's 2013 Google TVs really are intelligent. After several days with a 47-inch model, it became clear that while picture quality is generally quite pleasing, the smart features are really what make this TV so attractive.
We love the voice and gesture controls, the full QWERTY keypad, and the streaming options, but our favorite feature is the IR Blaster that interacts with the cable box—so that users can enjoy live TV using only LG's remote. Beat it, ugly cable TV menus! Hello, pretty movie posters! There is still a host of silly apps every which way, and the sting of an empty promise or two, but overall, this is one spiffy platform.
Hands-On Video
## Layout & Functionality #### A platform with real razzmatazz Once you get your TV up and running on either a hardwire or with its built-in WiFi, just press the "Home" button on the remote to get onto the home screen. A picture-in-picture window displays on the left side—so that you can still watch TV while you cruise the home page—and several additional "pages" sit alongside: *Premium apps, 3D World, YouTube, SmartShare*, and *My Interest*. On a more narrow bar that sits on the very bottom of the screen, users will find a good-looking gaggle of Google goodies: *Notification, All Apps, Live TV, 3D World, LG Smart Mall, PrimeTime, YouTube, Play Store, Google Chrome*, and *Voice Search*.
This platform is pleasing to the eye and well organized.
Don't worry—we will discuss these items in more depth momentarily. In general, though, LG's Google-powered smart platform is pleasing to the eye and well organized. Users will most likely stick to the smaller icons along the bottom of the screen, and All Apps in particular, since it contains each of the user's applications—any that come installed already, and any that users purchase later on.
Accessing Content
Find content on Netflix, live TV, HBO Go, and more—all with just one search.
This year, LG and Google made it easier than ever to find something to watch. Using a prominent voice command key on the remote, users can say a particular title, or else just "movies," to locate content. When you see what you want, one click will not only tell you whether the selection is on TV, or will be soon, but will also list the item's availability on Netflix, HBO Go, Amazon Video, Google Play, Crackle.com, and YouTube—and it lists the prices, too. The only absent big shot here is Hulu Plus, even though it's available on LG's other smart TVs. And no—you can't access its videos through the Chrome browser. Hulu Plus is not compatible at all.
The only absent big shot here is Hulu Plus. And no, you can't access its videos through the Chrome browser.
If for some reason voice control doesn't suit you—maybe you don't know what you're in the mood to watch, for instance—then just click on the colorful PrimeTime icon on the bottom of the home screen. Once inside PrimeTime, users have three areas to browse: Live, Shows, or Movies. Live is absolutely brilliant; instead of scrolling through Comcast's dreaded blue menu screen, for instance, viewers can instead flip through LG's, which lists live shows with attractive posters. This portion is sub-categorized as well, into movies, comedy, drama, sports, news & talk, family, reality & game shows, special interest, and music. Best of all, users can handpick and add their favorite channels to a bar at the top of this screen. Browsing cable is a couch potato cakewalk.
Browsing cable is a couch potato cakewalk.
Still don't know what to watch? Or maybe the show you want isn't on live TV? PrimeTime's second category is called Shows. This section is divided into categories like Trending this Week and Family. If you see a show you want, click it and the TV will tell you when the program is available and for how much—so instead of searching for the show on Netflix, and then on HBO Go, and then on live TV, etc, this TV will look through them all at the same time. As we mentioned before, Hulu Plus is noticeably missing from the bunch, but for the most part, this television covers all the bases.
The last section in the PrimeTime app is called Movies, and it works just like Shows. The only additional thing we should mention is that users can build a queue at the top—so if you see several movies that you'd like to watch, but you just need to pick one for the moment, just add your second and third choices to your queue for later—regardless of the content provider.
Social Media
Rather anti-social
If you're eyeing a G3 series TV and your master plan is to chat your Uncle Doogan in Delaware on Skype while watching Step by Step, you should change your plan; Step by Step was TGIF's worst offering and these TVs don't support Skype. In fact, social media is not at all the focus here. Social media apps do not come pre-installed, and some prominent ones aren't available at all—such as Facebook.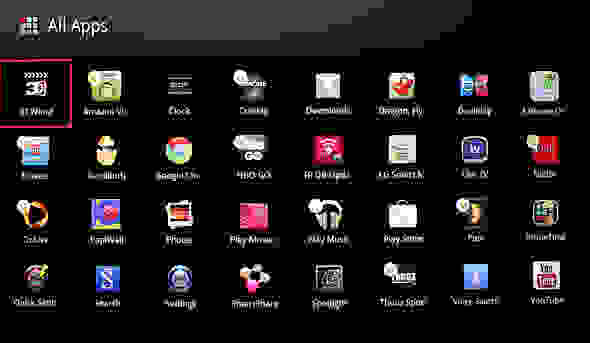 To access Facebook with this TV, users must stoop to third party iterations, which are terrible, or else just log in via Chrome. As we discuss in more detail below, using Chrome to get into your Facebook account is actually not such a bad thing on this TV, thanks to certain key features—but more on that in a bit. At the end of the day, however, we feel certain that users who love social media will long for a decent Facebook app, since the third-party versions are so poorly implemented.
To access Facebook with this TV, users must stoop to third party iterations, which are terrible, or else just log in via Chrome.
Twitter-lovers will be happy, though, because this app is readily available through the Google Play store. Not only is it easy to use, since LG graciously included a full QWERTY keyboard on the back of the Magic Remote, but the layout is also extremely clean and legible. Best of all, with the press of the PIP (picture-in-picture) button on the remote, users can troll around on Twitter and watch live TV at the same time. You can even choose where the PIP window displays, and how big it is. All things considered, we aren't lamenting the underemphasized social media capabilities here; no one has come up with a way to make social apps as convenient on a TV as on other devices, and until they do, we won't be sorry without them on our displays.
Features & Internet Browsing
The full QWERTY keypad is a smart-TV dreamboat, and voice commands make searches easy as pie.
Click a button and say "Pandora"—you're there. Ask how to make a peach pie—boom: how-to YouTube videos in your face. We'll say it: We love this voice control. It gets it right most every time. But best of all, these TVs don't just dump you off at Facebook.com, leaving you stranded with nothing but an outdated remote. Nor do LG and Google lean lazily on the "just download our free app" crutch. No—simply flip that Magic Remote upside down and enjoy the full QWERTY keyboard on the back. Any letter, number, or symbol you need is right there, and two function buttons grant easy access to secondary keys. Users type using thumbs only, and the TV uses auto-fill to guess what you're looking for, so typing out an entire word or phrase is seldom necessary. Then, completing the trifecta of features is gesture control. A click of a button will enable a magic-wand functionality, so that users can easily cursor around any given screen.
We have a crush on this keypad.
Our eyes aren't completely filled with hearts for this feature set, though. The secondary symbols on the keypad are written in a difficult-to-read red. Even under fluorescent bulbs, it is hard to read some of these markings. Despite this, we admit it—we have a crush on this keypad, but we'll hold off on love letters until it's backlit.
The "zoom" actions are just silly—you look ridiculous, scowling and brandishing your remote control in wild circles.
Voice and gesture controls aren't perfect, either. Voice gets things right most every time, but when I told it to go to Reviewed.com the other afternoon… it most certainly did not. Instead, the TV sent me to a startling place—one with scantily clad ladies. Furthermore, when voice doesn't work at all, the TV won't tell you the simple reason as to why. For example, I would say "ABC," and though the TV appeared busy, it wasn't completing its task. The trouble is that the television won't explain an error; it turned out that our IR Blaster cable was too far from the cable box, but we had to fumble around to figure that out. The gesture functionality likewise suffers some mild difficulties. At times, the cursor won't move as desired, straying too far to the left or right, necessitating an odd positioning of the wrist to compensate. Clicking isn't especially fun, either, since placing the cursor over a specific spot on the screen is a shaky task. Lastly, the scroll wheel can only be used for websites—not menu interfaces—and the advertised "zoom" actions are just silly. Not only do you look ridiculous, scowling and brandishing your remote control in wild circles, you're also doing it in vain half the time, since the function is not very responsive.
Personal Media
Android users—get excited. Everyone else… get a manual.
Accessing personal media on this TV involves downloading a SmartShare app—easy! Except that it was nowhere to be found. It may be that this app is only available to LG smartphone users, but this is not clearly stated. Suffice it to say, Android users will find the overall sharing experience more familiar than everyone else, since the platform is aimed directly at them.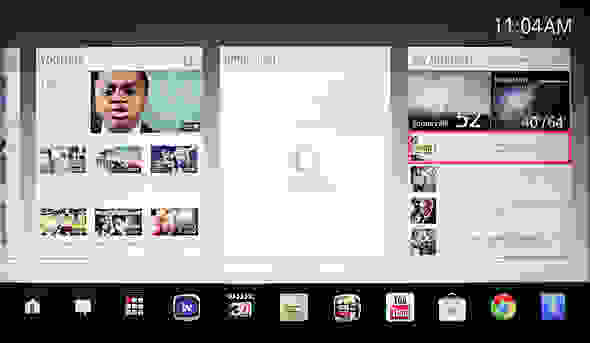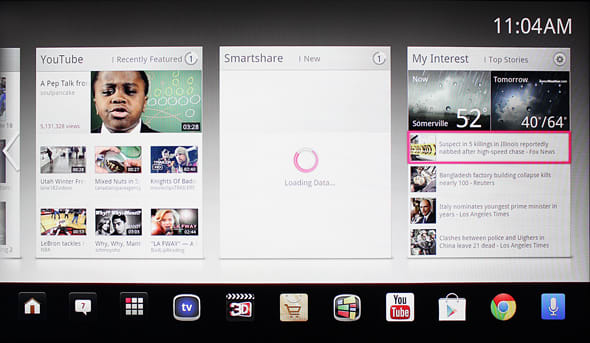 However, if you happen to be an iPhone user, never fear. LG actually provides you with a very helpful preinstalled tool called Plex. Just download the software onto your computer (free) or phone (not free), and create an account. From there, Plex will organize all of your music, movies, and photos into usable, compatible files that then appear in the SmartShare portion of your Google TV, if your devices are all on the same shared network. This was by far the easiest way we found to set up sharing, so if LG's SmartShare app proves as elusive for you as it was for us, give Plex a shot. Of course, users can also simply plug in a USB—there are three such ports along the back of the television, ready for use.
Other Apps
Games are a bust, as usual, but the Google Play store is a welcome addition.
As for the rest, LG's G3 TVs offer a hatful of other tricks: 2D-to-3D conversion and pre-installed apps like OnLive, for instance. Users can also download apps in the Google Play store–just don't expect to find mind-blowing made-for-TV games. We're glad Dracula's Coffin isn't creeping around here, since it's arguably the worst game ever, but many of these aren't much better. Solitaire? PoppiTrampoline? Games like these are suited only for the most desperate of scenarios—public buses, jury duty, power outages. These games will not do. Developers just aren't up to speed with made-for-TV apps, so selections are slim. The Google Play store is clearly most useful for its video and music content, which are expansive.
OnLive may sound like gaming bliss, but in reality, it's a beta release that won't even load.
As for OnLive—a service that streams Xbox and PC-quality games, effectively turning your TV into a console—it may sound like gaming bliss, but in reality it's a beta release that won't even load. The TV's WiFi was not powerful enough to support the program, so we hardwired the television and tried again, but to no avail. My laptop easily ran OnLive with the same hardwire, and a support person from LG even admitted that OnLive was due for updates, and apologized for the inconvenience.
On a similar note, the TV's 2D-to-3D function is like a scary side show. Yes, you can push a button and watch As the World Turns in 3D, but it looks ridiculous. The effects are less than convincing, but maybe they'll amuse the little ones.
The Smart Kid
LG's Google TV is definitely a front-row-of-class kinda kid.
Where so many smart TVs go wrong, the G3 series goes very, very right. A primary reason that reviewers bash smart TVs is because these machines dump you on a webpage without further ado. Great. Have fun stifling that rage while you type s00perSecRetPassWERD82 with an outdated remote. LG's Google TVs confront that hurdle directly, so that be-bopping around the internet can be fun for a change.
Moreover, these TVs are fast, and they use comprehensive searches that juggle cable, HBO Go, Netflix, and other providers—so finding content is easy and enjoyable. Yes, it's missing Hulu Plus and a few of its apps are obviously beta efforts, but for truly tech-hungry shoppers, the G3 series is still a seriously competitive contender.