Televisions
March Madness: How to stream the NCAA Tournament 2017 live
For cordcutters, travelers, or sneaking a game during work.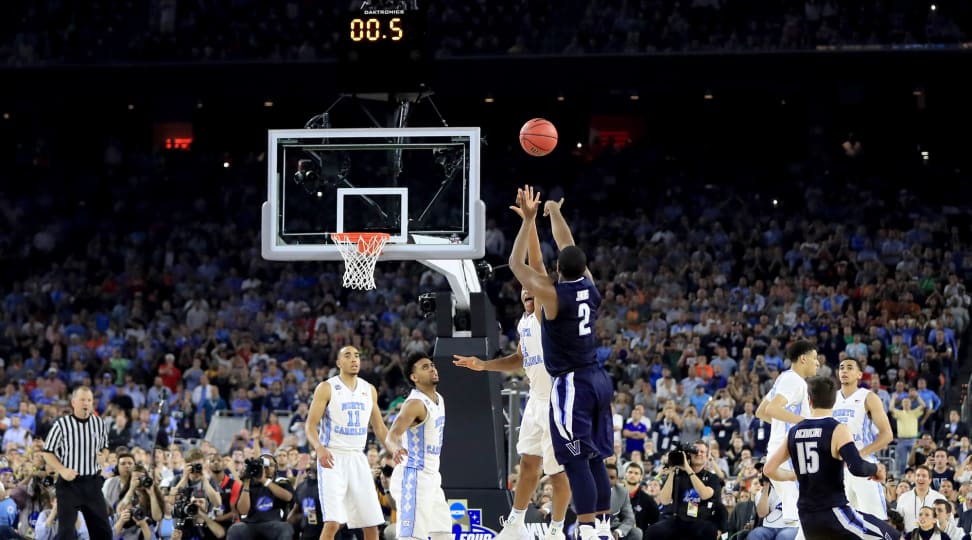 Credit:
March Madness starts this week, and you no doubt want to know where to watch all the games. And though it's easy enough to find the games on cable, if you want to stream a game while at work, on the go, or just on your phone while another game is on your TV, it's easier than ever to do. To make it even easier, we've got answers to your most commonly asked questions. Here is how to stream all 67 NCAA tournament games this year.
What networks will the games be on?
All 67 NCAA tournament games will be on one of four networks: CBS, TBS, TNT, and TruTV. While it varies from device to device, you can watch all four on any mobile device live through the March Madness Live app (iOS, Android) or through the March Madness Live website.
You can also live stream the audio broadcasts from the Amazon Echo (as well as plain old radios).
How do I stream the games to my phone, laptop, or tablet?
The March Madness Live app or website is the easiest way to go if you want to watch the games on pretty much any device that isn't hooked up directly to a TV. All of the games broadcast by CBS (including the Final Four and the Championship Game) will be available to stream on these devices without a cable subscription. You'll also have a three-hour pass to watch non-CBS games before you'll have to sign in with your cable credentials.
How do I stream the games to my TV, Apple TV, Roku, Fire TV, or Chromecast?
The simplest answer is to cast the games to your TV via either Apple Airplay or Google Chromecast using the March Madness Live app after signing in with your cable credentials. You can still stream games directly with a Roku, Amazon Fire TV, or Apple TV, but it gets complicated.
It's still straightforward if you have a cable subscription: just download the March Madness Live app on any of those devices, sign in, and you can watch any of the non-CBS games for free. This doesn't work for CBS games, though—including the Final Four and National Championship Game. For that you'll need CBS All Access, which comes with a 1-week free trial but costs $6/month after that, though you can cancel whenever.
Just beware that CBS All Access doesn't stream live in every single market. It covers 90% of people, but to be sure you're covered head to the CBS All Access website, scroll down to "Stream Live 24/7" and click the "Check Availability" link. Even if it's not available, you can still watch on your phone and stream to your TV via Airplay/Chromecast.
Cordcutters: How do I stream the NCAA Tournament to my TV without a cable subscription?
If you don't have a cable subscription and want to watch directly through one of these streaming devices, then you'll need to turn to services like Sling TV, Playstation Vue, or DirecTV Now. All three offer packages that include TNT, TBS, and TruTV, and for the most part you'll need to pick up CBS All Access to get the rest.
CBS is included with Playstation Vue in some markets, but for most people it will be easier to just get the "Blue" package from Sling TV and add CBS All Access on top of that. For people who can't get CBS All Access live and don't have cable your only option is to get an HD antenna to pick up the CBS signal in your area over the air.
What time does March Madness start? When is the Final Four?
March Madness officially kicks off with the "First Four" play-in games on March 14th and 15th. The first full round will be played March 16th and 17th, the second round on March 18th and 19th, followed by the Sweet 16 on March 23rd and 24th. The Elite Eight will be played on the 25th and 26th. The Final Four NCAA tournament games are played on April 1st, and the NCAA championship game will be played on April 3rd.
Here's the full NCAA Tournament 2017 schedule:
First Four
New Orleans vs. Mt. St. Mary's (March 14, 6:40 p.m., truTV)
Wake Forest vs. Kansas State (March 14, 9:10 p.m., truTV)
N.C. Central vs. UC Davis (March 15, 6:40 p.m., truTV)
Providence vs. USC (March 15, 9:10 p.m., truTV)
First Round (Round of 64), Thursday, March 16
Notre Dame vs. Princeton (March 16, 12:15 p.m., CBS)
Virginia vs. UNC-Wilmington (March 16, 12:40 p.m., truTV)
Butler vs. Winthrop (March 16, 1:30 p.m., TNT)
Gonzaga vs. South Dakota St. (March 16, 2:00 p.m., TBS)
West Virginia vs. Bucknell (March 16, 2:45 p.m., CBS)
Florida vs. E. Tennessee St. (March 16, 3:10 p.m., truTV)
Minnesota vs. Middle Tenn St. (March 16, 4:00 p.m., TNT)
Northwestern vs. Vanderbilt (March 16, 4:30 p.m., TBS)
Maryland vs. Xavier (March 16, 6:50 p.m., TNT)
Villanova vs. Mt. St Mary's/New Orleans (March 16, 7:10 p.m., CBS)
St. Mary's (CA) vs. VCU (March 16, 7:20 p.m., TBS)
Purdue vs. Vermont (March 16, 7:27 p.m., truTV)
Florida State vs. Florida Gulf Coast (March 16, 9:20 p.m., TNT)
Wisconsin vs. Virginia Tech (March 16, 9:40 p.m., CBS)
Arizona vs. North Dakota (March 16, 9:50 p.m., TBS)
Iowa State vs. Nevada (March 16, 9:57 p.m., truTV)
First Round (Round of 64), Friday, March 17
Michigan vs. Oklahoma State (March 17, 12:15 p.m., CBS)
Baylor vs. New Mexico State (March 17, 12:40 p.m., truTV)
Arkansas vs. Seton Hall (March 17, 1:30 p.m., TNT)
Oregon vs. Iona (March 17, 2:00 p.m., TBS)
Louisville vs. Jacksonville St. (March 17, 2:45 p.m., CBS)
SMU vs. Providence/USC (March 17, 3:10 p.m., truTV)
North Carolina vs. Texas Southern (March 17, 4:00 p.m., TNT)
Creighton vs. Rhode Island (March 17, 4:30 p.m., TBS)
Kansas vs. NC-Central/UC Davis (March 17, 6:50 p.m., TNT)
Dayton vs. Wichita State (March 17, 7:10 p.m., CBS)
Duke vs. Troy (March 17, 7:20 p.m., TBS)
Cincinnati vs. Kansas St./Wake Forest (March 17, 7:27 p.m., truTV)
Miami (FL) vs. Michigan State (March 17, 9:20 p.m., TNT)
Kentucky vs. N. Kentucky (March 17, 9:40 p.m., CBS)
South Carolina vs. Marquette (March 17, 9:50 p.m., TBS)
UCLA vs. Kent State (March 17, 9:57 p.m., truTV)
Second Round (Round of 32) Saturday, March 18
TBA vs. TBA (March 18, 12:00 p.m., CBS)
TBA vs. TBA (March 18, 2:30 p.m., CBS)
TBA vs. TBA (March 18, 5:00 p.m., CBS)
TBA vs. TBA (March 18, 6:00 p.m., TNT)
TBA vs. TBA (March 18, 7:00 p.m., TBS)
TBA vs. TBA (March 18, 7:30 p.m., CBS)
TBA vs. TBA (March 18, 8:30 p.m., TNT)
TBA vs. TBA (March 18, 9:30 p.m., TBS)
Second Round (Round of 32) Sunday, March 19
TBA vs. TBA (March 19, 12:00 p.m., CBS)
TBA vs. TBA (March 19, 2:30 p.m., CBS)
TBA vs. TBA (March 19, 5:00 p.m., CBS)
TBA vs. TBA (March 19, 6:00 p.m., TNT)
TBA vs. TBA (March 19, 7:00 p.m., TBS)
TBA vs. TBA (March 19, 7:30 p.m., truTV)
TBA vs. TBA (March 19, 8:30 p.m., TNT)
TBA vs. TBA (March 19, 9:30 p.m., TBS)
Regional Semifinals (Sweet 16) Thursday, March 23
TBA vs. TBA (March 23, 7:00 p.m., CBS)
TBA vs. TBA (March 23, 7:15 p.m., TBS)
TBA vs. TBA (March 23, 9:30 p.m., CBS)
TBA vs. TBA (March 23, 9:45 p.m., TBS)
Regional Semifinals (Sweet 16) Friday, March 24
TBA vs. TBA (March 24, 7:00 p.m., CBS)
TBA vs. TBA (March 24, 7:15 p.m., TBS)
TBA vs. TBA (March 24, 9:30 p.m., CBS)
TBA vs. TBA (March 24, 9:45 p.m., TBS)
Regional Finals (Elite 8) Saturday, March 25
TBA vs. TBA (March 25, 6:00 p.m., TBS)
TBA vs. TBA (March 25, 8:30 p.m., TBS)
Regional Finals (Elite 8) Sunday, March 26
TBA vs. TBA (March 26, 2:00 p.m., CBS)
TBA vs. TBA (March 26, 4:55 p.m., CBS)
National Semifinals (Final Four) Saturday, April 1
TBA vs. TBA (April 1, 6:00 p.m., CBS)
TBA vs. TBA (April 1, 8:30 p.m., CBS)
NCAA National Championship Game
TBA vs. TBA (April 3, 9:00 p.m., CBS)