Televisions
Panasonic TVs: TBD
Panasonic TVs were curiously absent from CES this year.

Credit:
Last year, Panasonic confirmed some heartbreaking news: By early 2014, the company would shut down plasma TV production entirely.
Within the industry, Panasonic's plasma TVs have long been an especially beloved benchmark of picture quality. The company's departure from plasma left interested parties very curious how Panasonic would fill the gap—after all, we all know LCDs just can't compare.
While we glimpsed a couple of hints to the company's aspirations during a booth tour, it was very clear that Panasonic is not yet ready to jump into the fray of curved UHDs, prototype OLEDs, and the LCD rat race.
Here's the scoop:
Panasonic's new TV is still a prototype
While we couldn't take any photos, we did get the chance to scope out the fruit of Panasonic's new focus on LED TVs: A local dimming-equipped beauty that was poised side-by-side with the 65-inch ZT60 plasma from last year. It would appear that Panasonic has thrown all of the plasma funding at 4K and HD LCD TVs, with the intent of creating one better than—or at least on par with—the best plasma tech.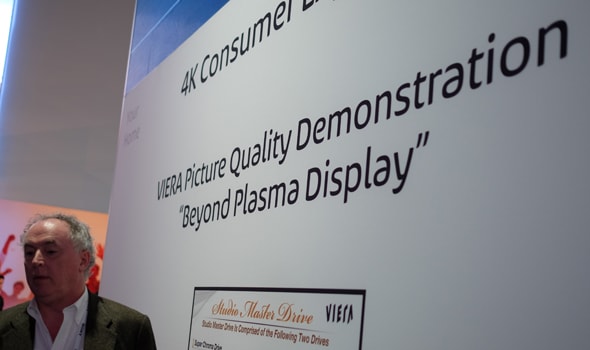 Normally, it would be very easy to tell whether the prototype LCD was employing any kind of local dimming. Unfortunately, the animated source content left me with doubts as to what was really going on. I can only confirm that Panasonic's prototype looked pixel-for-pixel almost exactly the same as the ZT60. The rep I spoke with wouldn't reveal the number of local dimming zones, or any real information about the new TV.
Translation: It could very well be vaporware.
Super Chroma Drive & Black Gradation Drive
Two more advertised improvements to the coming TV lineup were Panasonic's own Super Chroma Drive and Black Gradation Drive. Super Chroma Drive is apparently an adaptation of plasma's color production within the scope of LCD.
Their infographic reads: LCD displays have long had difficulty reproducing faithful colors especially in low-brightness areas of the picture image. We have now developed an LCD panel with an extremely wide color gamut, and this new panel drastically expanded a potential of LCD's picture quality performance. Based on this panel, we have maximized the picture quality know-how that we accumulated with the plasma display, and applied the 3D Color Management System (3D look up table) to the LCD.
Yes, this is just conjecture, but hopefully Panasonic's years of plasma research will crop up somewhere in future TVs.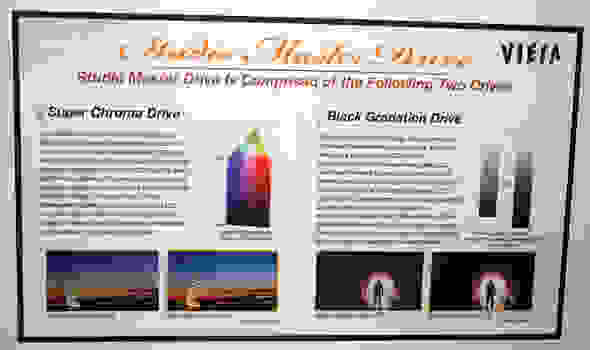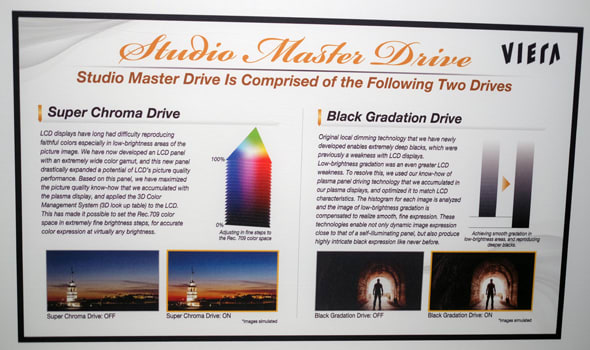 Panasonic also claims great things about Black Gradation Drive, the company's new local-dimming technology:
The infographic reads: Original local dimming technology that we have newly developed enables extremely deep blacks, which were previously a weakness with LCD displays. Low-brightness gradation was an even greater LCD weakness. To resolve this, we used our know-how of plasma panel driving technology that we accumulated in our plasma displays, and optimized it to match LCD characteristics. The histogram for each image is analyzed and the image of low-brightness gradation is compensated to realize smooth, fine expression.
Translation: Panasonic will use its plasma expertise—and reputation as such—to engineer and sell LCD TVs.
4K Pure Direct & Studio Master Color
This live demo of two TVs showed off Panasonic's "4K Pure Direct" upscaler and "Studio Master Color" color engine.
The former saw a much finer representation of a 4K multiburst pattern in variable colors, while the latter seemed to simply increase the saturation of colors on-screen.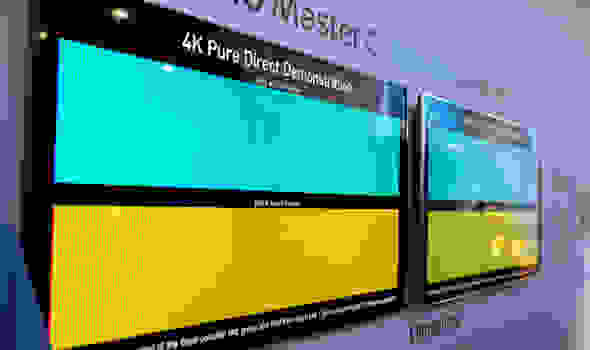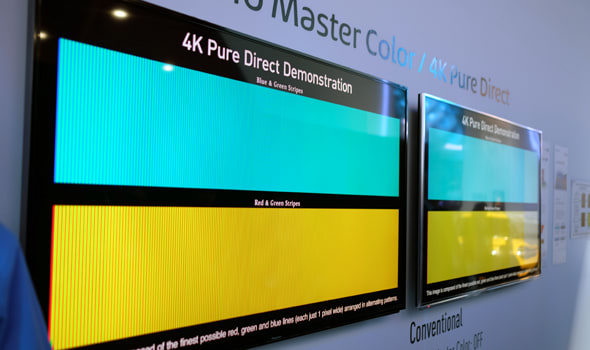 Translation: Like every other manufacturer, Panasonic is working on upscaling content and increasing the display's native color space.