Televisions
Roku Streaming Stick Review
A $50 smart TV platform that's worth every penny

Credit:
Got a "dumb" TV? Want to teach it a thing or two? It's 2014, folks—streaming content is the name of the game and there are plenty of ways to do it. You could buy a video game console, or this popular stick from Google, or this little box from Apple. It's that simple.
But what if it could be simpler?
The Roku Streaming Stick (MSRP $49.99) is the latest option in the company's long lineage of streaming platforms—and the track record is good. We tested last year's Roku 3 box and mostly loved it. It includes every content streaming service you'd ever want: Amazon, HBO GO, Hulu, Netflix, and literally hundreds more.
Roku's $50 streaming stick offers all the same content as the Roku 3... albeit with a few drawbacks. To start, the Streaming Stick isn't as snappy—it takes a second to load an app or browse a menu. You don't get the Roku 3's nifty motion-based remote and headphone jack, either. If you can live with these shortcomings, though, Roku's new streaming stick might be the perfect solution for you.
Design & Setup
Purple reign
What's tiny, purple, and has a wealth of content? Prince. And also the Roku Streaming Stick. Measuring less than 3 inches, this thumb-drive sized device is easily the most discrete way to get streaming content since Google's Chromecast.
You've probably seen promotional pictures of the Roku Streaming Stick plugged into just an HDMI port, looking all sleek. I hate to burst your bubble, but like any device (including the Chromecast), this stick needs power. Users need to energize the Roku Stick via an outlet or a USB port, but don't worry—getting it hooked up is still a breeze. So while it'll never look as sleek as it does in promo shots, this little guy will always be more innocuous than a box like the Roku 3 or Apple TV.
There's no power button to be found—the stick just turns on when your TV does.
The Roku stick may need a power cable to function, but there's no power button to be found—the stick just turns on when your TV does. Roku does include a reset button as a safeguard against freeze ups, but fortunately I've never had to use it.
Once it's on, you can navigate the interface using either the included remote, or the dedicated app for Android/iPhone. The remote is a joy to use: It's small, yet fits comfortably in your hand. The top half of the remote puts a Home button, a Back button, and a directional pad within easy reach of the thumb. The pad, which looks like it was stolen from a retro video game controller, makes text input a walk in the park. While it's not nearly as good as a traditional keyboard, it's light years beyond the typically awful experience of using a standard TV remote.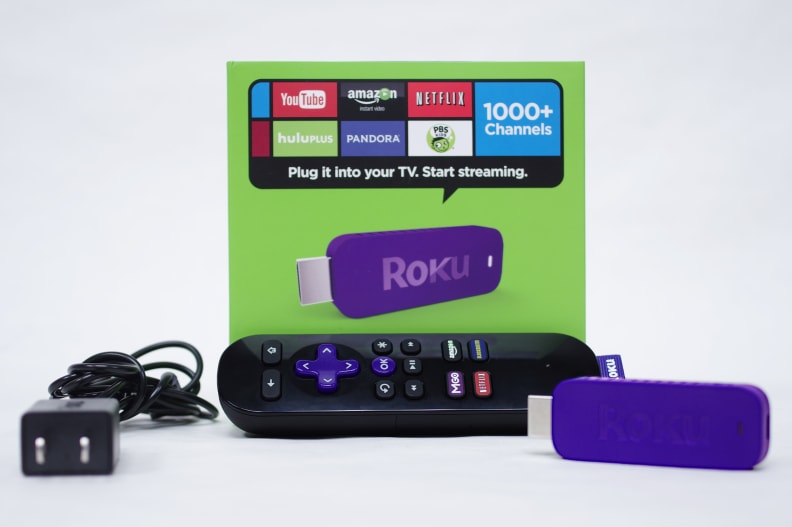 ×
design2
The bottom half of the remote houses buttons for Netflix, Blockbuster, M-GO, and Amazon. Pushing a button launches that app instantly—bad news (or is that good news?) for weekend binge watchers.
If you choose to control the Streaming Stick with Roku's app, you'll have access to a virtual remote, and any content provider is a tap away. The app can transform into different interfaces, standing in as the virtual remote, a channel selector, the Channel Store, or a content hub for streaming music and photos straight to your TV. This last feature is a neat trick, but many of Roku's apps and channels can do the same thing.
You have to enter your credit card info in order to enjoy content—off-putting, to say the least.
When you're finished hooking up your Roku Stick, you need to make an account in order to view any content. It's a pretty straight-forward affair: Enter your email, create a password, and give your credit card number.
Wait, what?
Yes, Roku requires that you enter your credit card number before you can create an account. This is off-putting, to say the least, since so much of the Streaming Stick's content is completely free.
Content & Performance
More content than you can shake a stick at
How do you consolidate the Roku 3 into a tiny stick the size of a thumb drive? You don't—Roku's Streaming Stick isn't that good. For 50 bucks, however, it's quite possibly the best smart platform on the market for the money.
Roku offers a near endless supply of apps, which the company refers to as channels. Upon initial setup, you're asked to select a bunch of different channels that interest you. When you're done, you can easily go to Roku's app store, called the Channel Store, to download hundreds more.
Roku offers so much content that ditching cable altogether doesn't seem like such a bad idea.
If you're easily overwhelmed, you can always just stick to the staples: Netflix, Hulu, Amazon, HBO GO, Crackle, Plex, YouTube, WWE Network, and much, much more. Seriously, Roku offers so much content that ditching cable altogether doesn't seem like such a bad idea.
We all know the story of Netflix and Hulu Plus, but I should highlight out how useful the Plex app is, too. It's not exclusive to Roku—you can get it on LG's smart TV platform, your smartphone, the Chromecast, etc—but its a boon to Roku, making your entire digital media library available on your TV. You can even pop the Roku stick in your pocket and head to a friend's house; use it on your pal's TV and remotely access media from your personal library without a hitch.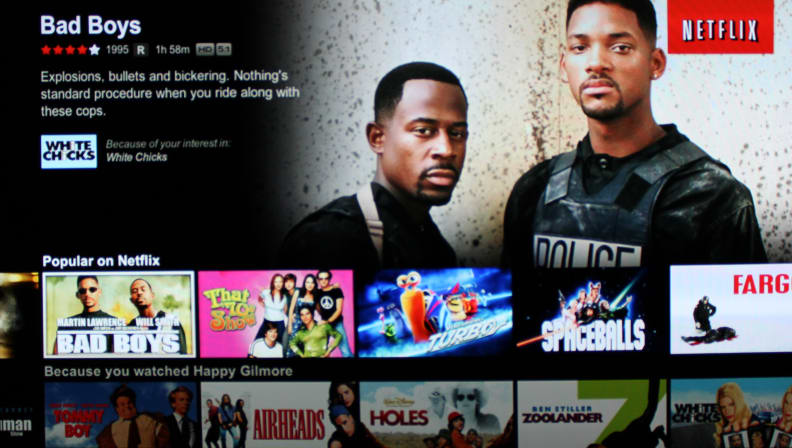 ×
content gallery
For those who shun any and all subscriptions, the Crackle channel offers a small, yet high-quality selection of free movies. There are ads that you have to watch, but it's a small "price" to pay for watching movies like Drive and American Psycho, plus select episodes of Seinfeld and The Shield.
Where the Roku 3 feels like you're driving a sports car, the Streaming Stick is more like a minivan.
Outside of movies and TV shows, Roku also has some popular music apps. It makes sense, think about it: Many consumers have their best sound systems connected to a TV. While playing music on Spotify is convenient on your laptop or phone, it's extra satisfying coming from your surround system or sound bar.
The Tradeoffs
How is this different from the Roku 3?
Lots of content is priority #1 on any streaming platform, and Roku nails this, but there are still some drawbacks. Consider speed. Where the Roku 3 box feels like you're driving a sports car, the Streaming Stick is more like a minivan. The decreased processing power makes for a slight yet obvious lag every time you scroll through channels and browse content.
Netflix in particular runs very slowly. Just booting the channel up is a chore: It took 35 seconds for Netflix to actually load. I counted. This is a huge letdown considering that Netflix is one of the most widely-used apps for streaming content.
My final gripe concerns Netflix yet again. Roku's interface simply pales in comparison to the actual website, or an Apple TV interface. For those unaware, every platform has a different Netflix interface. On Roku, there's no easy way to browse movies or TV shows by genre, which is one of my favorite features on the Apple TV's Netflix interface. At least Roku offers plenty of other content providers to make up for its lackluster Netflix app.
The Competition
Is $49.99 the best price-to-performance ratio?
I wouldn't call the content-streaming market crowded, but there are a number of good choices for consumers. Outside of smart TVs from brands like Samsung and LG, the top players in this market are Apple TV, Google Chromecast, and the Roku 3 box.
The Roku Streaming Stick delivers almost all of the same content as the Roku 3 box (MSRP $99.99)—and for 50 bucks less. It's missing the headphone input on the remote, as well as motion controls. Those are easy to live without. What the Roku 3 has over the Streaming Stick is a faster processor and a USB input, which can play your media files. Many would argue that those two features alone warrant the extra $50 for the Roku 3 box.
For $15 more, the Roku Streaming Stick gives you everything Chromecast offers, plus a remote and way more content.
Apple TV (MSRP $99) is very similar to the Roku 3, but is geared more towards Mac/iOS users. While Roku's platform offers much more content and flexibility than Apple's, it doesn't include AirPlay support, which lets you stream content from your iPhone directly to the Apple TV. In fact, any computer with iTunes can stream movies and music to Apple TV. Roku doesn't have iTunes support, so if that's where all your content is, you're out of luck.
But the most direct competitor to the Roku Streaming Stick is Google's Chromecast (MSRP $35). The Chromecast has added way more content since I reviewed it last year, but it still falls way short of this Roku Streaming Stick.
On Chromecast, everything needs to be done through your phone or laptop. The Roku Streaming Stick is a standalone platform: You aren't "casting" Netflix or YouTube from your phone to the device, like with Chromecast. For $35, Google's stick gives you a handful of apps. For $15 more, the Roku Streaming Stick gives you everything Chromecast offers, plus a remote, plus way more content.
The Verdict
Streaming for the masses
For $50, the Roku Streaming Stick offers one heck of a package. You get every single content provider that the pricier Roku 3 offers, at the expense of speedy performance and a few handy features. At the very least, this little device is worth the extra $15 over Google's Chromecast.
So, is the Roku Streaming Stick for you? Maybe. There's no doubt that this device offers plenty of bang for your buck, but the faster Roku 3 delivers a more satisfying experience. I mentioned before that Netflix took 35 seconds to load—that's way too long. Other channels have wait times that are similar, which distracts from the overall experience. You just need to decide: Do you want to compromise a bit of performance for price, or do you want to pay up and take the cake?
If you're okay with functionality that isn't lightning quick, the Roku Streaming Stick is your budget ticket to the most content-loaded smart TV experience—even on your dumb TV! Otherwise, try to find a deal on the Roku 3. It's one of the most satisfying TV experiences outside of Dish's Hopper.