Televisions
This 4K TV is meant to be used outside—but does anyone really need it?
Don't risk your indoor TV's life by bringing it outside. Get the right tool for the job.
It's too bad you have to choose between watching TV and being outdoors. But wait! Enter SunBrite, a company that specializes specifically in TVs meant for permanent outdoor installation. The latest (2017) SunBrites offer up newer TV tech advancements like 4K resolution, while maintaining the same standards for weather- and water-proofing we've seen on past models we've reviewed.
We got one of the Veranda series—the more entry-level line meant for "full-shade" installation in places like porches and patios—and put it through its paces. Specifically, we brought it out in the bright Boston snow—and into our dark, dark test labs—to see how it held up.
If you've got a very nice outside area that's been begging for a TV installation—or maybe you own a business with outdoor seating—SunBrite's Veranda line is an excellent investment for both durability and picture quality. Here's what we found out.
About the Veranda series
The Veranda series is available in four screen sizes:
• 43-inch (SunBrite SB-4374UHD-BL), $1,499
• 55-inch (SunBrite SB-5574UHD-BL), $1,999
• 65-inch (SunBrite SB-6574UHD-BL), $3,499
• 75-inch (SunBrite SB-7574UHD-BL), $4,999
Despite differing in size, each TV in the Veranda series shares the same basic specifications:
• "Full Shade" line (suitable for patios, porches, sunrooms, etc.)
• 4K/UHD (3,840 x 2,160) resolution
• 20-watt, downward firing speakers
• 60 Hz native panel refresh rates
• 4 x HDMI inputs (HDMI 2.0/HDCP 2.2)
We received a 55-inch Veranda series SunBrite TV on loan from SunBrite, and gave it 24 hours of break-in/warm up time prior to review and evaluation. While picture quality details were (and always are) a major focus of the evaluation process, we also paid extra attention to durability, weather-proofing, and ease of installation.
First impressions
The first thing we did after unboxing this TV was bring it outside into the snow. While the Veranda series isn't really meant for this level of exposure (SunBrite also has Signature and Pro series meant for partial and full sunlight, respectively), we wanted to really expose the TV to the elements and see if we could watch it even in such a bright environment.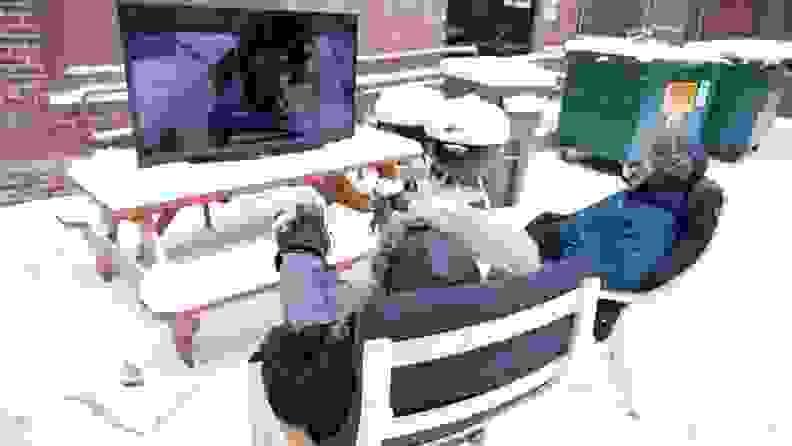 Fortunately, our 55-inch Veranda model took it all like a champ. After assembling the TV panel onto the SunBrite tabletop stand (which is a separate purchase, unfortunately), we plopped it right down in about four inches of snow on a picnic table.
The TV is housed in a very durable and weather-sealed aluminum case, with its rear audio-video ports protected and concealed behind an aluminum door that screws closed via hand screws. The TV includes ample connectivity options—four HDMI inputs (HDMI 2.0/HDCP 2.2), two USB inputs, component/composite, coaxial, and both analog and digital audio out options. Despite being covered in snow and snowed upon, we had no trouble running a long HDMI and watching Netflix content on a Roku 4 (which was safely hidden away indoors).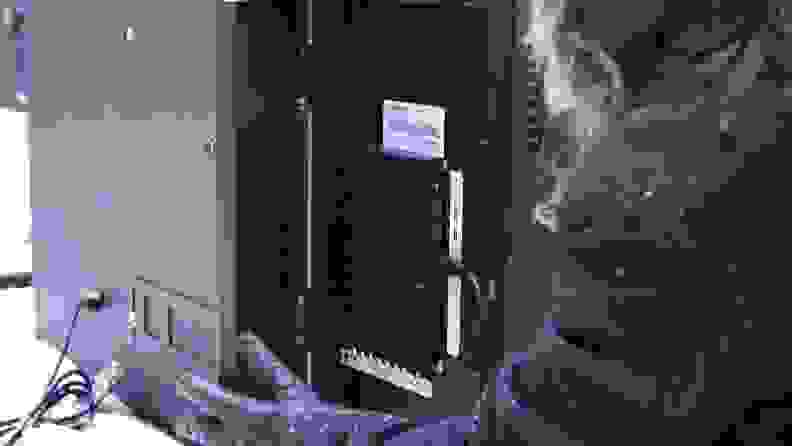 Because it's a "full-shade" TV, our 55-inch Veranda series model wasn't terribly bright in the full sun out in the snow, but it was still very watchable. The 4K resolution is a great addition, though it's not exactly a selling point. My colleagues and I noticed a big problem with reflectivity in the screen, but we also kept in mind we weren't watching the TV in its intended environment. However, it was clear just from the viewing environment how bright and accurately colored the TV was, and it played back content flawlessly.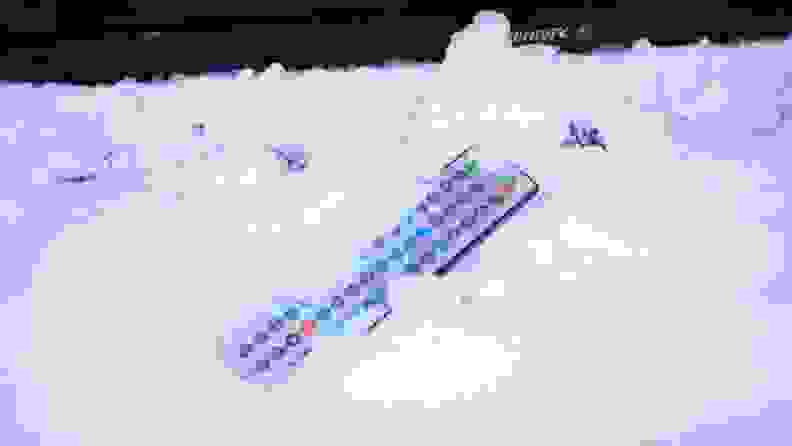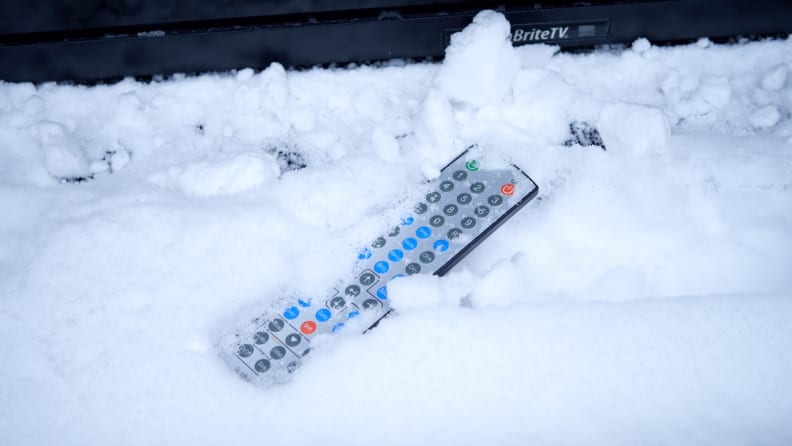 We also made sure to cover the thing in snow, hurl hard-packed snowballs at the screen, and lose the remote in a mountain of snowflakes. The TV (and the remote) didn't bat an eye—though Reviewed's primary photographer Jax may have suffered just a touch of frostbite.
Lab results
Of course, it isn't enough to say our SunBrite Veranda merely seemed brighter than the average TV, so we also brought it into the lab to run it through a fairly comprehensive suite of tests, including precisely measuring exactly how bright it is.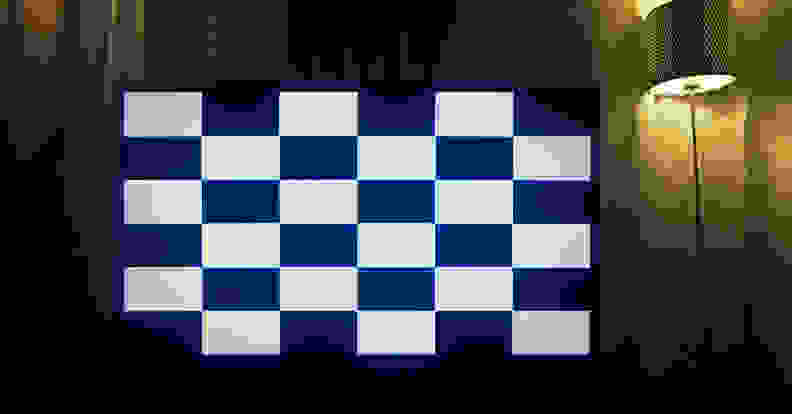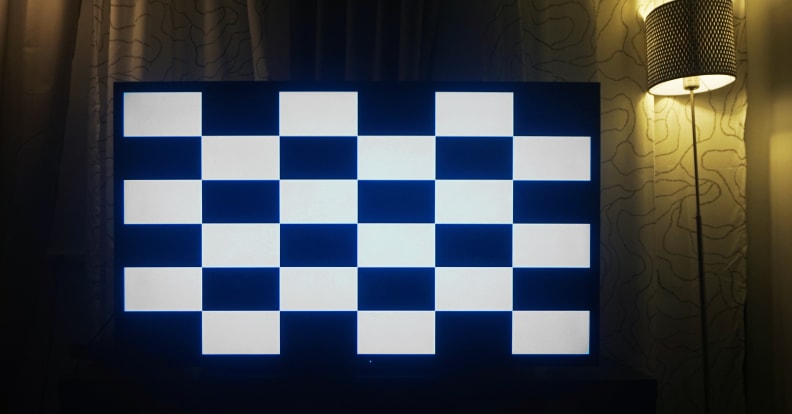 In Vivid mode (the TV's brightest mode), I measured a reference brightness of 336.20 nits and a corresponding black level of 0.063 nits. In plainer terms, this SunBrite is almost as bright as an entry-level HDR TV, despite not being an HDR set. Its black levels aren't super-impressive in a dark space like our test lab, but outside by your pool (or in our case, in the snow), the shadow levels were satisfyingly inky and dark. In short, it's got more than enough contrast for a shaded outdoor space, but you probably shouldn't install it where it has to compete with glare from the sun.
Because a large number of buyers are more likely to wall-mount this TV on an articulating stand than set it up on a tabletop, its off-angle viewing viability is another very important metric. Fortunately, the TV offers better-than-average viewing angles for an LED/LCD set, due primarily to its brighter-than-average LEDs, but also because it uses a direct-LED array behind the screen. You still may need to rotate or articulate it upon a wall-mount when the sun or clouds shift unexpectedly, but that all depends on where you mount it.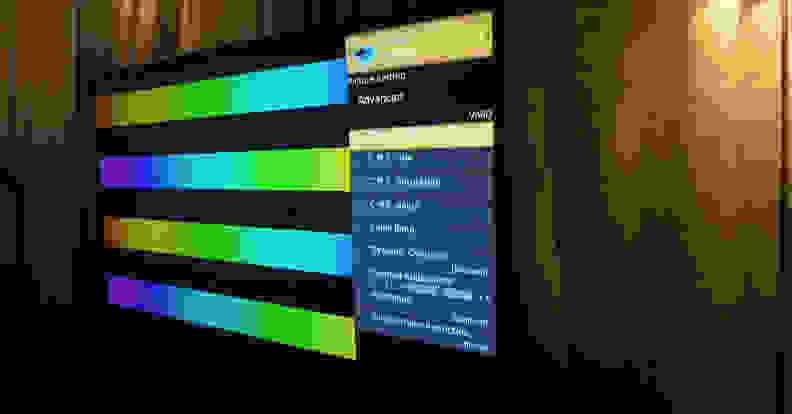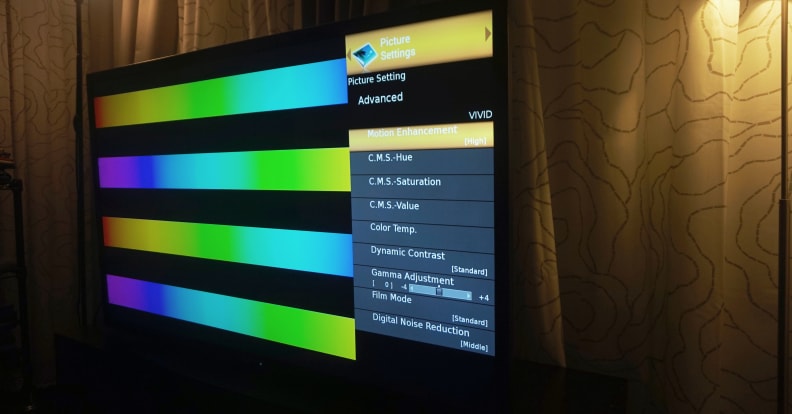 This SunBrite set may not have the extreme brightness and color saturation of one of the higher-end 4K/HDR TVs, but as a 4K TV with "standard" brightness and color, it looks (and performs) very well. The only drawback it really has is that it uses a 60 Hz native refresh rate instead of a 120 Hz native refresh rate—but this is only a drawback if you're looking to watch 24fps content like Blu-ray discs, which will have a bit of judder to them on a 60 Hz TV. Otherwise's, all's well.
Can't I just bring my indoor TV outside?
NOOOOOOO.
Well, you can, but the saying in the industry I've always heard is, "Don't bring a TV outside that you can't afford to replace." While you could sneak a TV out onto a porch or patio for a couple hours on a clear day and it would probably be fine, the amount of hazards outside should not be taken lightly.
Don't bring a TV outside that you can't afford to replace.
When the sun's shining on a TV—no matter how big or expensive it is—it's heating up the internal components, which themselves are already hot and heating up all the time because a TV is really just a big, fancy lamp. And while the Veranda series model is meant for shade operation (due to its screen brightness), it's still got the durability to chops to withstand situations like 100+° or -24° F internal temperatures, which your wimpy indoor TV simply does not.
There's also the matter of hazards like rain, powerful winds, bugs crawling up inside the chassis and ports, stray kickballs, hail—you get the idea. Indoor TVs are not built to withstand these things and even if you can get away with bringing one out and back in when you're done with it, you're never going to be able to permanently install it.
So, do I need an outdoor TV?
Look, no one needs an outdoor TV. But nobody needs a TV period—that's not really the relevant question. The real question is: How much am I paying for durability, and what kind of picture quality can I expect?
I can tell you from hands-on and lab time with the 55-inch Veranda series that while the $2,000 price tag might feel a little steep—you can get one of the best OLED TVs ever in the same size for less—it's an investment and a luxury simultaneously. If you've got an outdoor patio or porch space and find yourself regularly hoping to watch TV outside, we're confident you'll be pleased with this TV's durability and picture quality.
At the end of the day, every TV is a luxury—this is just one you get to enjoy outside.
Think of it like you're taking some of fancy/techy extras on many TVs in this price range—namely High Dynamic Range support/performance specs, some kind of smart platform, fancy or minimalist designs—and trading them in for weather- and water-proofing, while still wrangling yourself a high-quality 4K picture. If that's what you want, SunBrite is one of the most well-established outdoor TV providers around. At the end of the day, every TV is a luxury—this is just one you get to enjoy outside.