Televisions
The best gifts for cord-cutters this holiday season
Cut the cord, stuff a stocking, and enjoy.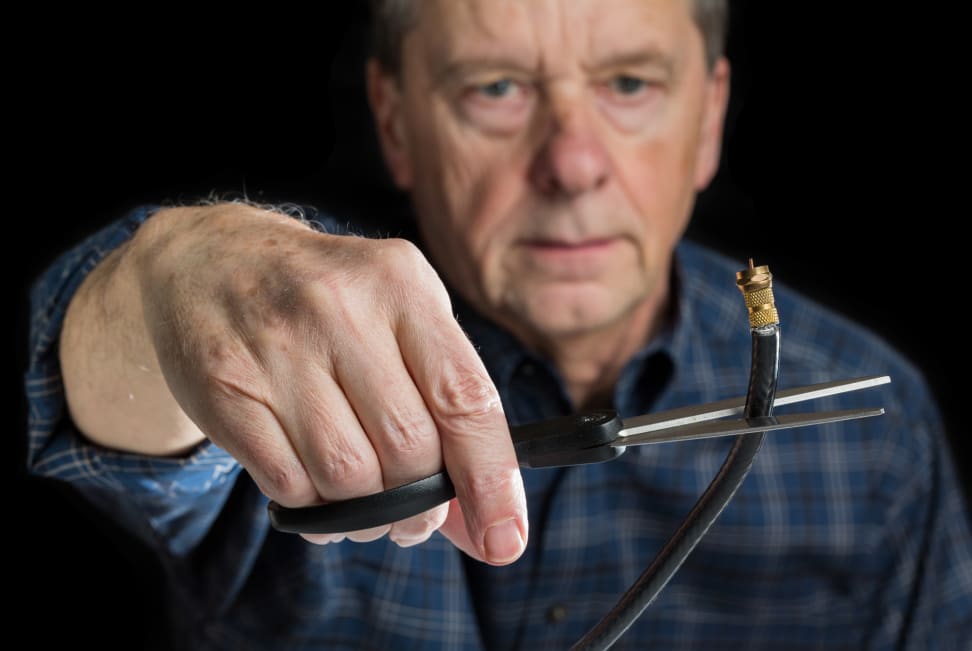 Credit: Getty Images / Backyard Production
We've scoured the web to find you the best deals on good products. While Reviewed.com may receive a small share of the revenue from your purchase, editorial opinions are independent from any business sales.
---
The holidays are hurdling towards us once again, and with them, endless lists of deals, discounts, and bargains.
Whether you're a cord-cutter yourself or are shopping for one, you're not alone: millions of Americans have abandoned pricy cable packages for more affordable content consumption methods.
Managing the "international waters" of cord-cutting solutions can be tricky, but fear not, brave sailor! We're avid fans of giving cable the old heave-ho here at Reviewed.com, and have tracked down some of the best deals on cord-cutting solutions this holiday season.
Televisions
This is where the magic happens. After all, if you didn't own a TV, there wouldn't be any cords to cut in the first place!
While you probably already have a TV at home, if you're looking to upgrade—or have been tempted by fancy new 4K sets—there are quite a few affordable TVs on the market this holiday season that can will also the whole cord-cutting process easier.
---
If you're looking to upgrade your TV on a budget, TCL's lineup of Roku TVs are a great option this year. Each TV in the FS3800 series features the universally adored "Roku" streaming platform built right in.
This means you can plug the TV in, connect it to your WiFi, and use the Roku platform to immediately access apps like Netflix, Hulu Plus, HBO Now, Amazon Instant Video, and thousands more content providers.
While I didn't review this exact series, I did spend time with TCL's basically identical FS3850, which proved to be a reliable performer. The FS3800 series serves up Roku starting in a modest 28-inch version (about $160 online) up through a more impressive 55-inch version (about $550 online).
If you want to get a big screen without spending a bunch of money, this 55-inch Hisense is a great option. While it doesn't feature the built-in Roku platform, the smart features do make accessing apps like Netflix a pretty easy process.
The best reason for cord-cutters to go with this Hisense is its 4K resolution, however. With the money you're saving by dropping cable, you can easily afford Netflix's premium 4K subscription ($12/month), allowing you to watch native 4K content with just a couple button presses.
I reviewed the H8C series and found that, while it's far from perfect, it offers good enough picture quality and a simple enough feature set that it's a solid choice for cord-abandoners looking to watch 4K content for cheap.
Last but not least, if you're looking to really "go big," Samsung's 65-inch KS8000 is a great choice for a number of reasons. This 4K/HDR set features simple-enough built-in smart features for any user, but it's really the picture quality that's the story here.
For this price range, the KS8000 offers almost unprecedented HDR picture quality, meaning it's extremely bright and colorful. While I tested the 55-inch KS8000 specifically, we expect all of the KS8000 TVs to perform to high standards.
I'll be honest—this one isn't just a good choice for cord-cutters, it's a great choice for anyone looking to get impressive HDR performance in a large size this holiday season.
Streaming Devices
If you're looking to ditch cable for good, a streaming device—a dedicated, internet-connected box or stick that feeds apps like Netflix directly to your TV—is the best and easiest place to start.
This year, big-name streaming box providers like Roku and Amazon have released some really svelte, easy-to-use products that boast tons of content. You still have to pay for services like Netflix and Hulu, but it's a heck of a lot cheaper than cable.
---
While Amazon's "Fire" line of streaming boxes and sticks has traditionally primarily appealed to Amazon Prime members, the new Fire TV Stick with the Alexa Voice Remote is simply too good a value to pass up, especially where cord-cutters are concerned.
With the built-in Alexa functionality, it's extremely easy to search for content—be it rentable movies provided by Amazon or content within apps like Netflix or Hulu—simply by pressing the 'voice' button and letting Amazon's Alexa do all the heavy lifting.
This one's a must-have if you're a cord-cutter who's also subscribed to Amazon Prime, but it's a great option even for non-Prime members thanks to the newly added Alexa remote.
The Roku Streaming Stick is one of the most portable and simple ways to get streaming content on your TV. It's also one of the most affordable. For $50, you get the Roku stick itself—which simply plugs into any of your TV's HDMI inputs, and can be powered by a USB slot—and a very simple remote control.
Roku tends to rank highly where streaming devices are concerned due to how easy the platform is to use, and how much content the service provides. Roku currently offers over 3,000 "channels" (read: apps), everything from Netflix to Yahoo! Weather to 24-hour festive fireplace screensavers.
You won't get advanced features like 4K streaming, and the Stick can be a little sluggish at times, but nothing beats it where simplicity and ease-of-use are concerned.
If you want something a little more premium than can be bundled into a stick, the newly released Roku Premiere streaming box is an awesome choice.
Not only is it faster and snappier than the Roku Streaming Stick while still providing the same wealth of content, it's also one of the most affordable 4K-capable streaming devices on the market this year.
Don't get this one if you don't have a 4K TV. However, if your TV is extra fancy, you might also want to consider the Roku Premiere+, the $99 version that also plays HDR (High Dynamic Range) content.
We've already made our position on Microsoft's latest gaming console pretty clear: on top of being a great way to get in on some of the latest and greatest video games, it's also one of the most affordable 4K Blu-ray players on the market.
Obviously, this is not a snap-pick if you're on a budget, and especially if you don't have a 4K TV. If you do, however, the Xbox One S not only outputs natively in 4K resolution and plays HDR content, its optical drive plays both 4K/UHD and HDR Blu-ray discs, and it'll play 4K content from apps like Netflix and Amazon.
This one's not the most valuable purchase if you don't play video games at all, but—well, get started! Video games are awesome! I own one of these myself, and can't recommend it enough. Don't you want to fight an Adamantoise for 72 hours?
Digital Antennas/DVRs
Streaming services like Netflix are great for all your binge-watching and movie night needs, but just because you're cutting the cord doesn't mean you have to give up any semblance of sports, news, or weather.
Modern indoor, digital antennas are not only vastly easier to install and set up than the big honking roof antennas of yesteryear, they're also pretty dang effective most of the time. These antennas are sleek, affordable, and (as usual) still way cheaper than cable.
---
The Mohu Leaf is one of the best options for getting HD-quality news, sports, and weather—amongst other things—for free over the air. The 50-mile option comes in an attractive, easy-to-hide white aesthetic with a generous 16-foot cable.
You mount the thin antenna on a wall, plug the cord into your TV's coaxial jack, and you're good to go. You'll need to run a channel scan on the TV and may want to try different mounting locations if you aren't getting channels.
Mohu also has this handy service for checking what channels you can expect to receive. Just keep in mind that you can't get premium news/sports services for free over the air, so ESPN, CNN, and the like are not options here.
This 65-mile option from ViewTV lacks the hyper-simple, minimalist aesthetic of the Mohu, but it makes up for it with a sheer dollars-to-range cost ratio.
It's worth noting that while I've tried the Mohu Leaf before during press events, the ViewTV—while certainly affordable—also has a lot of mixed reviews on Amazon, ranging from high praise to outright disgust.
While this is likely to be a simple enough way to get free OTA content for a rather appealing price, we have to point out the long list of negative reviews, too.
Tablo is one of the biggest names in free, over-the-air DVR services right now. While a bit pricy, this device will definitely pay for itself over time, especially if you've invested in a decent digital antenna to grab free OTA content.
With the Tablo, you can watch, record, and stream free OTA content like CBS, ABC, and NBC. The dual-tuner setup also allows viewing of two different incoming signals (or programs) on up to six devices. You can even broadcast via WiFi to devices like tablets and smartphones.
Just keep in mind that on top of the DVR itself, you'll also need an HDTV antenna, USB drive (for recordings), and a WiFi router for casting purposes. The initial investment is a bit high, but month-over-month it's still cheaper than most cable packages.
Streaming Services
Last but definitely, definitely not least, if you want to cut the cord without feeling the sting of missing content, you'll want to set up a subscription to some of the best streaming services.
Assuming you've got a streaming device, game console, smart TV, or at the very least a laptop with an HDMI output, you'll be able to get all this content right on your TV with little-to-no fuss.
---
To get started with Netflix, just head to Netflix.com, make an account, select one of the three subscription plans, and get to binge-watching highly acclaimed shows like Stranger Things or Luke Cage. That's not to mention the tons of different movies and documentaries Netflix has on offer.
While Netflix is cutting down on its overall content to make room for a larger focus on original series, it's still the clear leader where streaming services are concerned, and offers a robust catalogue you'd have to be a real couch potato to ever get through.
Note that 4K/HDR TV owners may want to pony up for the full $12/month to get the most out of their fancy new TVs, there's also not a ton of 4K content on Netflix (or anywhere) yet, so you may want to consider taking advantage of a free trial before you spring for the full amount.
Sling TV might look a bit expensive from the get-go, but it's the far-and-away clear best choice for cord-cutters who still want premium TV services like ESPN, CNN, HGTV, Comedy Central, and Disney.
Once you have a Sling TV subscription, you'll be able to load up the Sling TV app on your Xbox One, PS4, Roku device, or laptop/tablet/smartphone and watch live, actual broadcast TV whenever you want (as long as you have an internet connection). On top of scheduled TV content, Sling also provides rentable movies.
The base package includes about 25 channels, but the $25 Sling Blue bundle adds premium content like Fox, NBC, TNT, and TBS, but removes ESPN and Disney offerings. If you opt for the full $40 Orange & Blue package, you'll get everything Sling has to offer.
Hulu Plus often plays second fiddle to Netflix, but in my experience it's one of the better streaming services out there. While it famously still plays ads and commercials (unless you pay for the $12 plan), it's also one of the best and cheapest options if you want to watch premium TV content as it airs.
Hit shows from Comedy Central, FOX, Adult Swim, NBC, and Disney Junior are available in well-organized, full-season formats, usually the day after they air on cable or satellite for those foolish cord-havers.
The Hulu app is widely available on platforms like Roku, Amazon Fire, AppleTV, Xbox, PlayStation—the list goes on.
FilmStruck is a brand-new streaming service created by TCM and the Criterion Collection with a focus on rare, hard-to-find films and footage sure to titillate the snobs—er—discerning cord-cutters in your life.
Once you select a plan and create an account on FilmStruck's website, you'll gain access to FilmStruck's library of critically acclaimed films (the $7/month plan), or (for $11/month), the "largest collection of Criterion Collection films available at any time." Sweet.
The only drawback is that FilmStruck is so new, it isn't very widely available. Currently, you can only access it via PC/laptop, Android 4.4 or better devices, iOS 9.0 or better devices, or Amazon Fire devices. However, Roku and Chromecast support are expected in early 2017.
If you thought giving up cable meant giving up Game of Thrones, you were dead wrong. With the $15/month HBO Now service, you'll get access to almost all of HBO's premium original content and a decent selection of movies.
Simply sign up on the HBO Now website and you're good to go—unlike the long-running HBO Go service, there's absolutely no cable package or provider affiliation required.
HBO Now is not as widely available as something like Netflix, but you can still find it on common streaming hardware like Roku or the Xbox One.
Did you know you don't have sign up for Amazon Prime ($10.99/month or $99/year) to get access to Prime Video services? While we're big fans of all the benefits of a full Prime membership, you can access the Prime Video content for just $8.99 month (though why you wouldn't pay $2 more for free 2-day shipping is beyond me).
Like Netflix, a base subscription to Prime Video grants you access to tons of TV and movie content. Unlike Netflix, the base $9/month will also give you access to 4K/UHD content and HDR content, assuming your TV can play those formats.
Amazon's original series may not enjoy quite the same levels of success as what Netflix is up to right now, but much of it is available in 4K and HDR formats, making Prime Video a great choice if you just got a fancy new 4K TV for the holidays.
Related Video