Televisions
These are the best TVs for watching Netflix in 2017
...at least, the best according to Netflix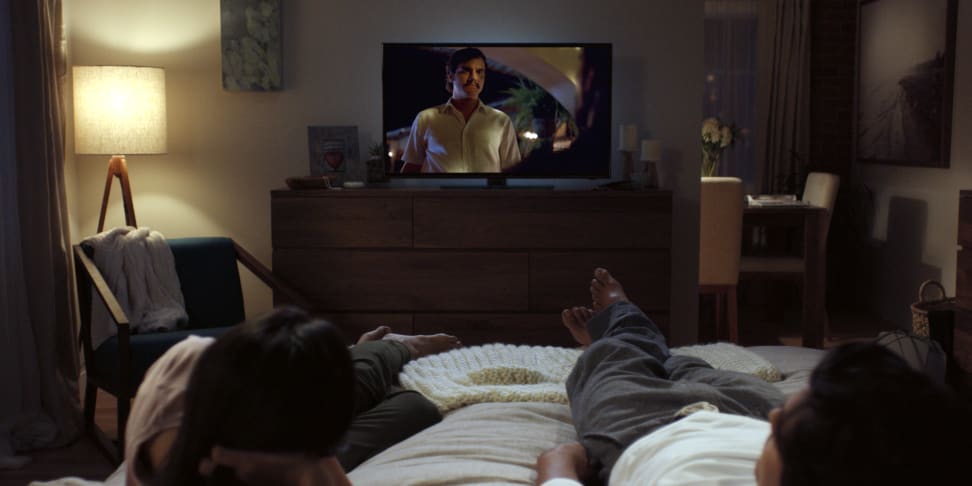 Credit: Netflix
Even though I have a cable subscription, most of the time if I'm watching TV, I'm watching something on Netflix. But even though you can watch Netflix on pretty much any TV, the experience can change dramatically if you're watching it on a Roku, Apple TV, or your smart TV's built-in platform.
To combat this, Netflix started its "Netflix Recommended" badging program a few years ago. Netflix judges TVs on seven criteria, with the TVs having to pass five of them to be considered for the badge.
The seven criteria include things like having a speedy, 1080p interface, having a TV and an app that start up quickly, making sure the TV ships with the latest version of Netflix, and making sure the app's icon is easy to find or there's a Netflix button right on the TV's remote. Netflix does not make any judgements about picture quality, though, so you'll still want to come to us to make sure you're buying a high-quality TV.
To see which TVs Netflix recommends, here are the 2016 and 2017 models, including links to our review and places you can buy them if you just want to check them out for yourself:
Samsung 2017 "Netflix Recommended" TVs
Samsung QLED Series, Samsung 9 Series, Samsung 8 Series, and Samsung 7 Series LEDs
We checked out Samsung's latest QLED TVs back at CES, and in particular were impressed by the Q9. you can read our first impressions review of the Samsung Q9 Series here. You can also already buy the Q7 Series on Amazon as well as the Q8 Series (also on Amazon).
Samsung's 9 Series, 8 Series, and 7 Series also have earned Netflix Recommended badges, and many of those are already on Amazon and ready for purchase. We've already ordered some in for testing, so we'll have full reviews on them soon but if you want to pull the trigger here are the models online:
Samsung 9 Series:
Pre-order the Samsung MU9000 Series at B&H
Samsung 8 Series:
Buy the Samsung MU8500 Series on Amazon
Buy the Samsung MU8000 Series on Amazon
Samsung 7 Series:
Buy the Samsung MU7000 Series on Amazon
Buy the Samsung MU7500 Series on Amazon
LG's 2017 "Netflix Recommended" TVs
LG W7, G7, E7, C7 and B7 OLEDs; SJ9500, SJ8500, SJ8000, UJ7700, UJ6500, and UJ6300 LEDs
We've already reviewed LG's top OLED for 2017, the amazingly thin W7 Wallpaper OLED. You can read our full review right here, though it's not currently in stock online anywhere.
The rest of LG's OLED lineup is not yet available so we haven't checked them out but we are expecting similar overall performance, as we have seen in past years. The LEDs are not nearly as good typically, though we're excited for LG's higher-end LED TVs. The lower-end UJ6500 and UJ6300 are a bit of a mystery, though, as they're not yet even listed at retail.
If you want to check out LG's lineup for yourself, here are the best places to snag the models that are available right now:
LG's G7, E7, C7, and B7 OLEDs:
Buy the LG 65-inch G7 Signature OLED at PC Richard & Son
Buy the LG 65-inch E7 OLED at B&H
Buy the LG C7 OLED at B&H
Read more about the LG B7 OLED at LG.com
LG's UJ7700, SJ9500, and SJ8500:
Buy the LG UJ7700 LED at B&H
Pre-order the LG 65-inch SJ9500 LED at B&H
Buy the LG 55-inch SJ8500 LED at B&H
Sony's 2017 "Netflix Recommended" TVs
Sony X940E, X930E, X900E, and X850E LEDs
Sony has four Netflix Recommended series on tap for 2017, including the X850E, X900E, X930E, and X940E Android TV models. Surprisingly omitted so far is the A1E OLED, which we checked out at CES.
Quite a few TVs on this list were apparently tested by Netflix but haven't hit retail yet, so that may indicate that the A1E is still a ways off, assuming it would easily clear Netflix's relatively low bar.
All of Sony's 2017 models should be available now, at least for pre-order. Here's where you can snag them for yourself:
Sony X850E, X900E, X930E, and X940E:
Buy the 65-inch Sony X850E at Amazon
Buy the 65-inch Sony X900E at Amazon
Buy the 65-inch Sony X930E at Amazon
Pre-Order the 75-inch Sony X940E at B&H
Related Video