Televisions
This absurd 262-inch TV costs more than your house
It's so big, you may need a new house to go with it.
Credit: C Seed
When I was a kid, I still remember the time my dad splurged on a 60-inch projection screen TV. It was comically oversized for our Cape home, with a footprint nearly on par with our couch. Two closets had to be ripped out just to accommodate it, and to this day I have no idea how my parents' marriage survived.
It's safe to say things might've ended up even worse if my dad had designs on the C Seed 262, a patently ridiculous 262-inch 4K TV that costs over $38,000—to install. The actual TV? That'll cost you just over $500,000.
Two hundred and sixty-two inches of screen. That's a little over 20 feet long and 8.5 feet high, which is almost the same size as a professional soccer goal. If you laid it on the ground on a basketball court it would stretch past the free throw line. It's gigantic.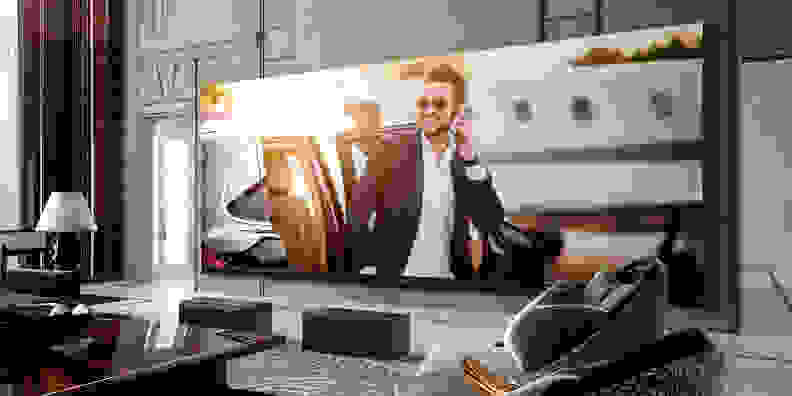 The TV comes with its own 4K media server, a surround sound audio system, and a motorized fabric cover that you can use to "conceal" the TV when it's not in use.
For such an impressive centerpiece, the cost actually doesn't seem that outrageous. If you've got a couple billion in the bank, this will put all your friends' mediocre 120-inch TVs to shame. It's certainly more notable than buying your 10th Range Rover or another Ferrari.
Of course, even if you do have that kind of money laying around, you could also buy over 800 of something like the $649 55-inch TCL P Series. Then again, 800 of those side-by-side would stretch for over half a mile.
No matter which direction you go in, you'll still run into the same problem as my dad: getting the dang thing through the door. Also, you need to find a wall that is over 20 feet long, 9 feet high, and can support a TV that weights over 1,700 lbs.
Maybe it's better to just build a new house around it? If you can afford the TV, you can probably afford the construction costs. For more information or to inquire about getting one, check out CSeed.TV.
Related Video