Televisions
Top TVs for Football Season
You don't want to waste the whole NFL season watching games on an old, ugly TV.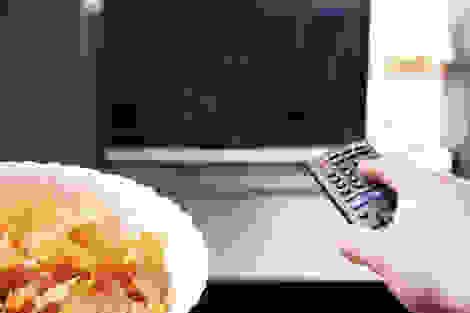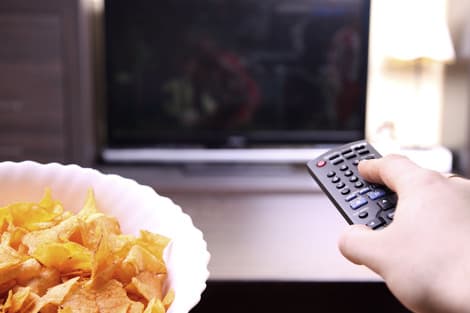 You don't want to waste the whole NFL season watching games on an old, ugly TV. In general, the best TVs for watching football (and sports in general) are the best TVs, period. However, there are a few features that make some models particularly well-suited for big hits and deep passes. Read on for some schooling on what makes a great sports TV, skip to the bottom for our top picks, or jump right to the individual TV reviews.
| Samsung PN51E8000 | Panasonic Viera TC-P65VT50 | Insignia NS-42P650A11 |

| LG 47LM6700 | Samsung PN51E550 |
Plasma or LCD?
Plasma TVs tend to handle motion-based images (like those spiraling Hail Mary passes) more reliably than LCD TVs, and they'll give you a wider viewing angle, too—both important traits for a great sports TV. Plasmas also tend to be less expensive at larger sizes, and will generally cost less than LCD TVs at a 55-inch screen size or larger.
But LCDs (including LEDs) do offer some tangible benefits. They're lighter, thinner, and more energy efficient than plasmas, and if you watch TV in a room with a lot of light (either lamps or natural sunshine), it's easier to see an LCD's brighter picture—think of all those afternoon games.
Motion Performance
Motion performance refers to how a TV handles objects in motion, especially quick motion, so it's probably the most important feature to consider when you pick a TV for sports. Poor motion performance results in a loss of detail and a blurry picture—basically, it can't keep up with the action, so it'll be hard to spot who exactly recovers a fumble.
Generally speaking, a higher refresh rate means better motion, but it's much more complicated than just looking at how many hertz are on the spec sheet.
Viewing Angle
A wide viewing angle is a must-have feature if you host parties for the big games. Some of the best TVs provide a clear picture to people sitting nearly 90 degrees to the side of the screen. This chart is an example of how much viewing angles can vary from TV to TV.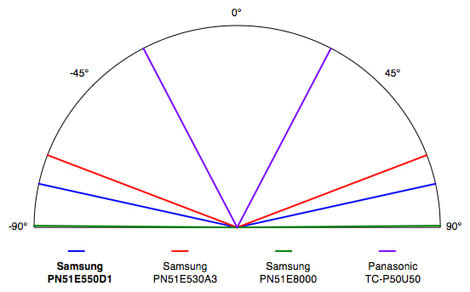 Size
So bigger isn't always better. A TV can indeed be too big for a room, and you'll be able to spot individual pixels rather than a smooth, immersive image.
If you've already set up your TV room and know how far you'll be sitting from the TV, use this formula to figure out your ideal screen size:


So, measure the distance between your couch and TV stand in inches, divide that by 2.5, and you're left with your ideal screen size.
Smart Platform
A lot of TVs are advertising smart platforms, but is it useful for your sports habits? Well, maybe. The NFL doesn't yet have an official app for TVs, but Hulu Plus ($9.99/month) carries football games 24 hours after they air. Apps like Facebook and Twitter are available on many TVs, if you're into the whole live-commenting thing. But typing on TVs is slow, so you're probably better off sticking with your tablet or smartphone.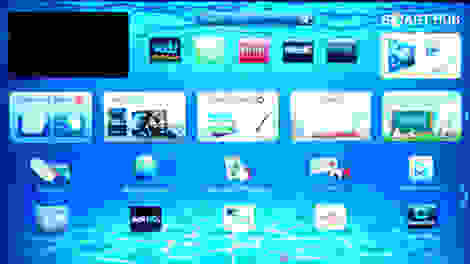 Top Sports TVs
[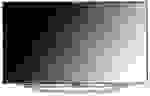 The Samsung PN51E8000 (MSRP $2,199) is Samsung's top-of-the-line plasma. For a sports TV it more than gets the job done, with an extremely wide viewing angle, good (though not perfect) motion performance, and Samsung's Smart Hub. The screen is 51-inches, but there are similar models available in 60- and 64-inches.
The Panasonic Viera TC-P65VT50 (MSRP $3,699) is the top-of-the-line plasma from Panasonic. It has a very wide viewing angle (though not as wide as the above Samsung), and exceptional motion performance. This 65-inch TV can access Panasonic's Viera Connect smart platform.
The Insignia NS-42P650A11 (MSRP $499) is a mid-sized budget plasma. This 42-inch TV doesn't have any smart features, but has a wide viewing angle and good motion performance. With the money you save you can load up on cheesy poofs and chips.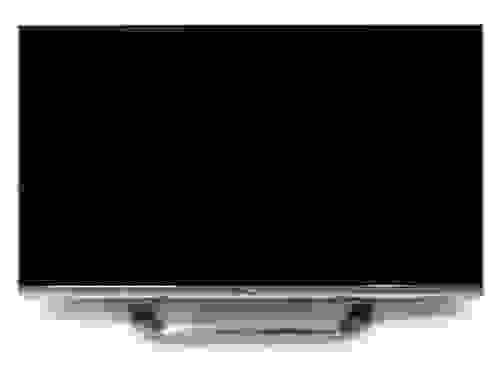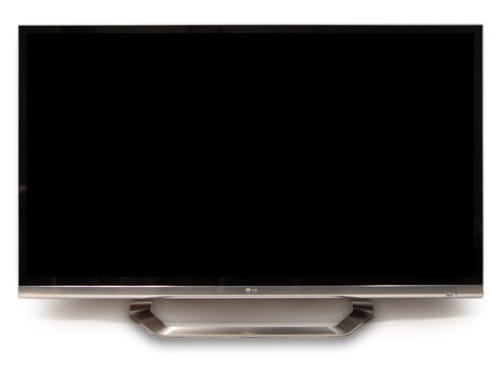 The LG 47LM6700 (MSRP $1,749.99) is an LED TV, not Plasma, so it's going to have a narrower viewing angle. However, the viewing angle on this 47-inch is pretty good for an LED. It sports decent motion performance and a smart platform with the LG Smart World App Store.
The Samsung PN51E550 (MSRP $1,199) is a 51-inch plasma which is less expensive than the E8000, but still gets the job done. It has an exceptionally wide viewing angle, like the E8000, and had impressive motion performance. Like the E8000, it gives you access to Samsung's Smart Hub.]()
Up next
Get Reviewed email alerts.
Sign up for our newsletter to get real advice from real experts.