Televisions
5 things to check before buying a TV as a gift
You should go over this simple checklist before you buy a TV.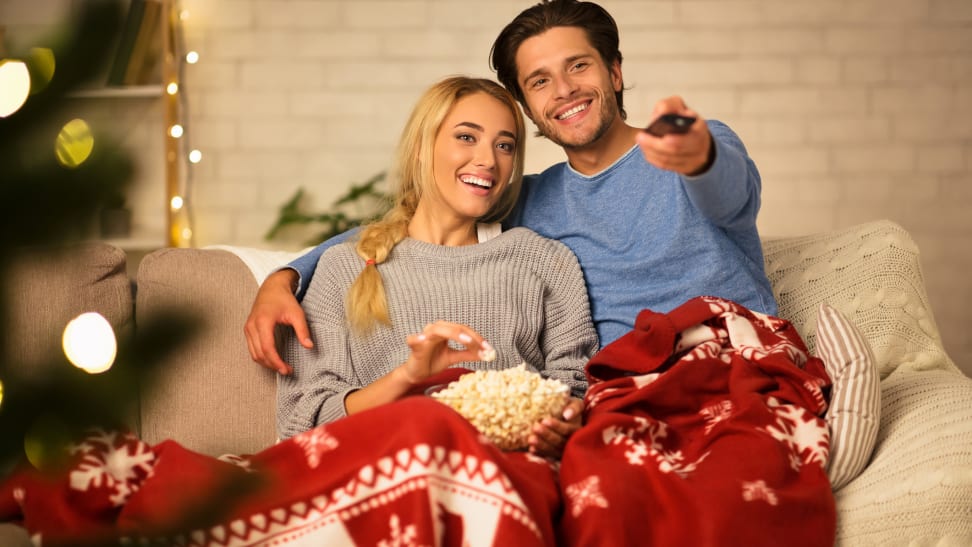 Credit: Getty Images
So, you're thinking of buying someone a TV as a gift. There's barely two weeks before Christmas, so you're cutting it kinda close there aren't you? And yet, you know this will be an amazing gift. A brand new TV! This might be the best gift they've ever gotten.
However, if you want to make sure it's the best gift they've ever gotten, you're going to want to do a little homework. Even if you've already got a budget in mind, modern TVs come with a variety of different specs and feature options, so there's a few things you'll want to check before you go buying just anything. Here's the scoop.
1. What size is the TV?
We're going to be going over TV specs and features with the other checklist items, but the first thing to straighten out (after you know your budget, anyway), is what size TV you're going to buy your giftee.
This can be tricky because you'll want to have an idea of what size TV they have, and also whether they even have the space for a larger TV. A safe bet is to buy them a TV of the same size, or only a few inches bigger.
While you could potentially buy them a nicer TV that's smaller than the one they have, for most people, screen size is the ultimate factor in their viewing experience, so going smaller may not feel like an upgrade to them.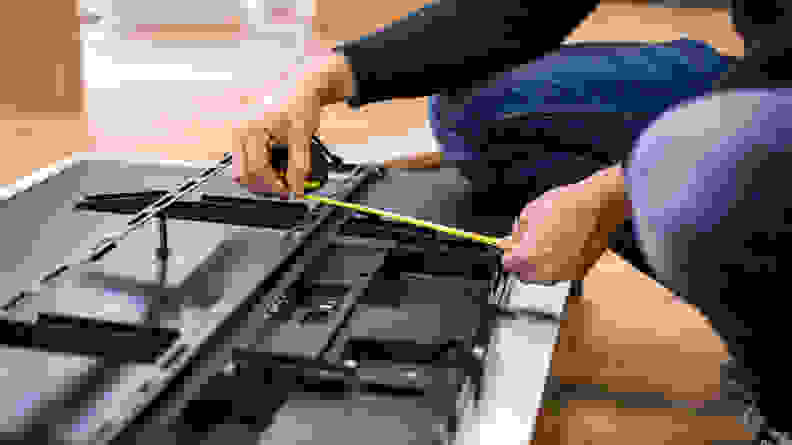 TVs come in an array of standard sizes, with occasional variation. Standard sizes include 32 inches, 40 inches, 50 inches, 55 inches, and 65 inches.
While it's a moot point if your giftee either doesn't have a TV or has one that you know is quite small, it's important to know the size of the TV you're replacing so your giftee doesn't find themselves having to move too much furniture around to accommodate it.
The takeaway? Buy your giftee either a TV of the same size, or not much bigger than 5-10 inches over the size of the TV they have.
2. What is the TV's resolution?
For TVs (and displays in general), "resolution" refers to the amount of pixels on the screen. Generally, the more pixels, the better. If you're looking to buy a TV as a gift, there's a good chance you're hoping to "upgrade" your giftee's TV in some capacity, and a jump in resolution is one way to do this.
The tricky thing here is whether you know what kind of TV you have. If your giftee already has a 50-inch 4K TV, buying them another 50-inch 4K TV might not feel like a very relevant gift. However, chances are if you're buying a TV for a friend, it's because they haven't updated it for a while.
While there are a couple of 8K resolution TVs on the market, they're wildly expensive, so most of the TVs you're shopping amongst will be either 720p (1,280 x 720 pixels, also called "HD"), 1080p (1,920 x 1,080 pixels, also called "Full HD"), or 4K (3,840 x 2,160 pixels, also called "UHD" or "4K").
This one is simple because, if your giftee doesn't have a 4K TV already, upgrading their living room experience with a 4K set is a no-brainer. If they do already have a 4K TV, you at least won't be downgrading their resolution by buying them a sub-4K set. So plan on whichever TV you buy being a 4K one.
As 4K TVs are so mainstream these days, you might even have trouble finding one that's not a 4K model.
The takeaway? Plan on buying your giftee a 4K TV.
3. What kind of content does your giftee watch?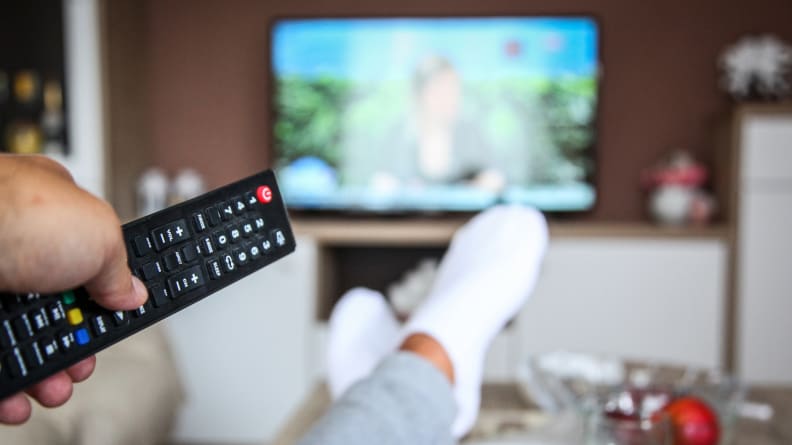 Once you've settled on a size—and come to terms with the fact that almost all the best choices for TVs these days are 4K TVs—the next thing to figure out is what kinds of specs your giftee might need.
A great way to figure that out is to ask them about the kind of content they like to watch. This may be the most instructive information where choosing the right TV goes.
For example, a lot of 4K TVs are also HDR (High Dynamic Range) compatible. Obviously if your giftee has an interest in watching HDR content, getting them an HDR TV makes sense. But if they don't even know what HDR is, chances are they specifically want or appreciate an HDR TV.
The tricky part here is that most if not all TVs are capable of playing HDR content these days. What sets them apart in price (among other things, like size) is how effectively they play HDR content, which essentially boils down to the level of brightness and color saturation they achieve. While you might end up buying a TV that's HDR compatible anyway (many of them are these days), you won't need to focus on paying more for things like massive brightness or color if your giftee isn't really interested in HDR.
An easier consideration is whether your giftee is a big fan of sports or films. How good TVs are at handling motion and the 24 frames-per-second playback speed of most on-disc film content has to do with something called refresh rate. Despite very confusing advertised specs to the contrary, all TVs come in either a 60 Hz or 120 Hz refresh rate variant.
On places like Amazon, native refresh rate is usually displayed correctly, but it helps to check professional and user reviews to be sure about refresh rate.
The takeaway? Buy your giftee a 120 Hz TV if they're a big sports fan, enjoy on-disc movies, or are very serious about gaming.
4. Does your giftee need a smart TV?
This one is very simple to answer. Smart TVs are TVs that connect to the internet, allowing you to do things like stream Netflix directly from the TV—some of them even have built-in calendars and web browsers.
While most people already have a method of streaming content (a Roku or Apple TV, or a home video game console or Blu-ray player), if they don't, buying them a smart TV is a good way to make streaming easier.
The reason this one is simple is that, unless you're hunting for the cheapest off-brand, sub-4K-resolution TV you can find, any decent upgrade to your giftee's living room is going to already be a smart TV.
The takeaway? You're probably going to be buying a TV with smart features, whether your giftee needs it or not.
5. Should I buy a curved TV?
No.
Here are some TVs you should check out
When all is said and done, if you're going to buy someone a new TV for the holidays, your best bet is to plan on buying a 4K smart TV, with or without HDR (depending on the giftee). Here are my picks for the different tiers.
---
If your giftee just wants a simple TV...
We recommend the TCL 4-Series. This is a very affordable, no nonsense TV series that gives you 4K resolution and built-in Roku. It's also available in a ton of sizes, making it easy to hone in on the size your giftee might need.
You can get the 43-inch for $229.99, the 50-inch for $259.99, the 55-inch for $299.99, and even a massive 75-inch for $799.99.
---
If your giftee loves sports/films/gaming...
You're going to want a TV with a native 120 Hz refresh rate. It's hard to find affordable versions of these, but there is one that's been getting discounted for the holidays: the Samsung Q60R series. These 4K/HDR smart TVs are part of Samsung's venerable "QLED" lineup, meaning they use quantum dots to deliver more vivid color.
You can get the 49-inch Samsung Q60R for $597.99 or the 65-inch Samsung Q60R for $997.99.
---
If your giftee wants a majorly futuristic HDR TV...
If you're shopping for a real AV nerd, our one and only top choice is the Vizio P-Series Quantum from 2019. This fancy-sounding TV delivers svelte 4K/HDR and Dolby Vision performance, and (as the name implies) also has stellar quantum dot performance. The only drawback is this TV isn't available in smaller sizes—but if you're buying for someone who wants a serious TV, I'd bet they want the biggest TV possible.
You can get the 65-inch Vizio P-Series Quantum for $899.99, or the 75-inch Vizio P-Series Quantum for $1,498.99.