Televisions
Why Are Some TVs Better for Sports?
What makes one TV better than another for watching sports?

Credit:
If the last few NFL championships are any indication, more than 100 million people will tune into Superbowl XLVII this Sunday, setting it up to be one of the most-watched events of 2013. It's your last chance until the fall to watch NFL football, and best chance of the year to watch million-dollar commercials for potato chips, light beer, and retirement funds.
TVs around the country will be very busy this Sunday, pushing pixels to bring you the big hits, deep passes, and overwrought ads. Ever wonder what makes some of those TVs better than others for watching the sports? We've updated our original primer in honor of the Superbowl, complete with new top picks in case you need to run out for a new set before Sunday's kickoff.
Motion Performance
Motion performance refers to how a TV handles moving pictures, especially fast action sequences—it's probably the most important feature to consider when you pick a TV for sports. Poor motion performance results in a loss of detail and a blurry picture—basically, it can't keep up with the action, so it'll be hard to spot who exactly recovers a fumble.
Generally speaking, a higher refresh rate means better motion, but it's too complicated to sum up in the number of hertz on the spec sheet.
Viewing Angle
A wide viewing angle is a must-have feature if you regularly host parties for the big games. The best TVs look clear to viewers that are sitting nearly 90 degrees to the side of the screen, while others start to look blurry if you're anywhere but the sofa. Take a look at our viewing angle results, summed up in comparison charts.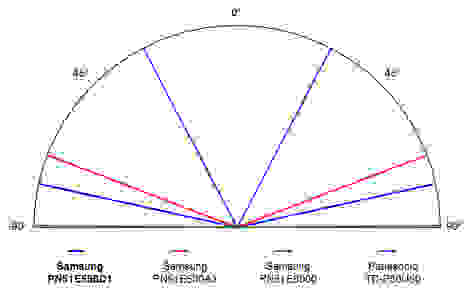 Size
Bigger isn't always better. A TV can indeed be too big for a room, and you'll be able to spot individual pixels rather than a smooth, immersive image.
If you've already set up your TV room and know how far you'll be sitting from the TV, there's a simple formula to figure out your ideal TV size. Measure the distance between your couch and TV stand in inches, divide that by 2.5, and you're left with your ideal screen size.

Plasma Vs. LCD
Plasma TVs are great for watching sports for two key reasons. First, they manage fast-moving action plays as well as Tom Brady manages the clock, so those spiraling Hail Mary plays and crushing helmet-to-helmet hits will look fantastic. Second, plasma sets tend to have wide viewing angles, so everyone at your Superbowl party will be able to see the screen from wherever they're sitting. Plasmas also tend to cost less than LCD TVs at a 55-inch screen size or larger.
LCD (including LED) TVs do offer a few advantages, though. For starters, they're thinner, lighter, and more energy-efficient than plasma sets—benefits that grow along with the screen size. LCDs are also brighter than plasmas, so if you're watching the game in a well-lit room (your Superbowl party guests might like to see each other), an LCD will be better at cutting through the ambient lighting. Top-tier LCD sets can handle motion nearly as well as plasmas these days, too, so the distinction matters less than it used to.
Top Sports TVs
The Samsung E8000 (MSRP $2,199, 51-inch) is Samsung's top-of-the-line plasma series, and our favorite TV of 2012. It's excellent for watching sports, with an extremely wide viewing angle and smooth motion performance, not to mention great contrast and color. It's available in 51, 60- and 64-inch sizes.
The Panasonic Viera VT50 series (MSRP $3,699, 65-inch) is the top-of-the-line plasma from Panasonic. It has a very wide viewing angle (though not as wide as the above Samsung), and exceptional motion performance. It's also available in a 55-inch version.
The LG LM7600 series (MSRP $1,949, 47-inch) isn't even the flagship in LG's lineup, but this LED edge-lit model displayed some the best black levels, color accuracy, and viewing angles of any LCD we saw in 2012. It's also available in a 55-inch version.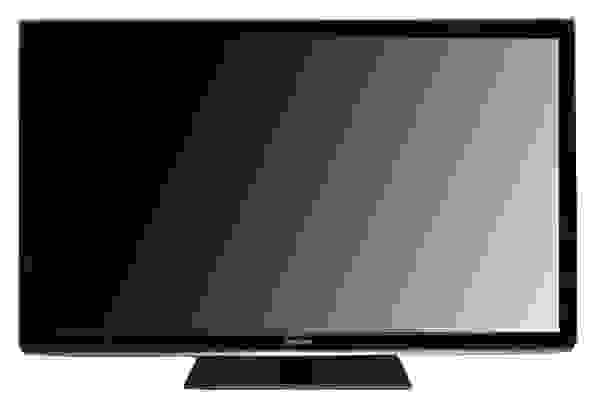 Panasonic's P50XT50 (MSRP $799) was our top pick of 2012 for an affordable plasma set. Ringing up at an MSRP of $799, it has incredible color accuracy and respectable contrast performance. The XT50's only major drawback is that its maximum resolution is just 720p. But considering most streaming and cable content is broadcast at 720p anyway, it's an acceptable tradeoff for most viewers. This model is only available in a 50-inch version.
The Vizio 2VLE series (MSRP $1,099, 55-inch) is one of the best budget LCD deals on the market. The clunky design doesn't look like much, but it houses a display with great color accuracy and solid performance in most other regards, too. It's also available in 42- and 47-inch models.
And while we're on the topic of huge, cutting edge TVs, it's worth checking out the LG 84LM9600 (MSRP $16,999, 84-inch). It holds the distinction of being the first ultra high definition TV commercially available in the US. We have yet to get it into our labs (we might need to take a door off its hinges), but the picture has been beautiful every time we've seen it at a trade show or press event. It's hard enough to find the Superbowl broadcast in 1080p as it is, so a 2160p screen like this is overkill—for now. Enormous, huge-screen TVs like this might be the way you watch sports in the next few years.
Up next
Get Reviewed email alerts.
Sign up for our newsletter to get real advice from real experts.