Televisions
WWII Aces Fly Again With Oculus Rift
A Reddit user has gone above and beyond the call of duty to help elderly veterans relive their glory days.

Credit:
In a series of Reddit posts, user jwsimmons has revealed how he used a retooled version of the multiplayer combat and flight simulator War Thunder to give elderly veterans at a local retirement home a chance to fly again. And some of the WWII-era aces even tested the simulation using an Oculus Rift virtual reality headset.
In order to make War Thunder a more palatable experience for users unaccustomed to computer games, jsimmons simplified the controls and stripped the virtual planes of their weapons.
After easing the players into their new world, he quickly realized that some of these vets still had it after all these years.
"None of them have played video games," jwsimmons posted in a Reddit thread, "[but] all the pilots that flew regularly had no problems getting off the ground, maneuvering around, or landing." Though several tried their hand at the simulator, one pilot took to it with particular ease.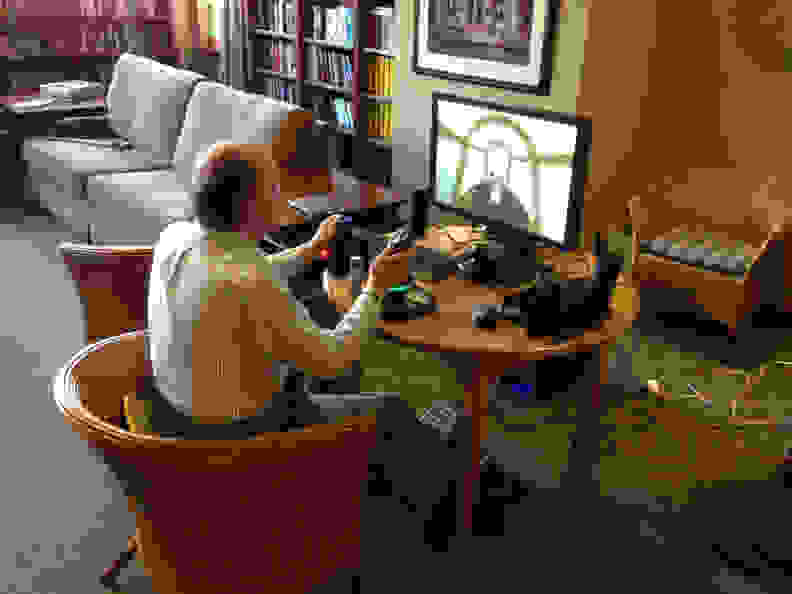 "Jack" is a pilot who flew the Grumman F4F Wildcat and F6F Hellcat, Vought F4U Corsair, and various helicopters during and after WWII. And now he can add the Oculus Rift to his résumé.
Despite a few early mishaps, the elderly aces quickly fell in love with the feeling of flying again.
When jwsimmons brought out his Rift headset (obtained through the initial round of Kickstarter funding), at first he had a hard time explaining the concept to the old-school audience. Finally, he says, he described it to them as "binoculars that show you another world." That did the trick. And despite a few early mishaps, the elderly aces quickly fell in love with the feeling of flying again.
But this Redditor feels his work is far from done: Jwsimmons says he's currently working on a new "PC battle station" gaming setup made out of the ejection seat from a Convair F-106 Delta Dart. It is apparently "very comfortable" and also the single coolest thing ever created.