Televisions
2013 Samsung TV Lineup Announced
Samsung unveiled its flagship LED, its UHDTV, and details about a yet-to-be-seen OLED TV.

Credit:
During Press Day for CES 2013, Samsung introduced its new lineup of smart TVs, which included the company's flagship LED (F8000) and its Ultra high definition TV (UN85S9). An OLED TV was announced as well, but not shown.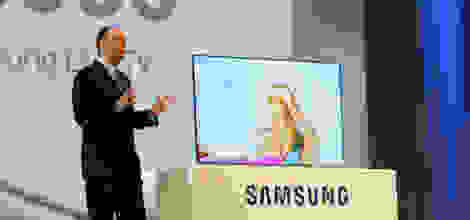 Samsung's flagship LED, the F8000 (specs), will have an ultra-thin bezel—less than a quarter of an inch around the screen, according to Samsung. From the looks of it, this TV also has a razor-thin profile. Unfortunately, it will not have full LED backlighting, but will instead be edge-lit. It makes sense: a TV this thin couldn't have a full array of LED lights. We were told that it will come in five different sizes: 46, 55, 60, 65, and 75-inch models. The stand has been redesigned to make the TV look as if it's floating.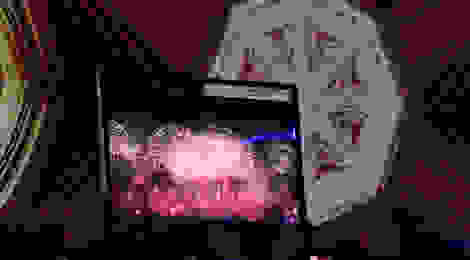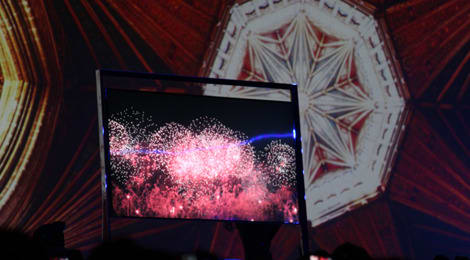 Samsung's UHDTV, the UN85S9 (specs), was exhibited as well. This ultra high-def monster sports a frame resembling an easel, although we were told that this beastly display will have 120-watts of sound built into said frame. A rep from Samsung told us that this is the production model, but the modern-looking frame will not change, evidently. The 85-inch model was shown, but Samsung told the crowd that it will come in a 110-inch flavor too.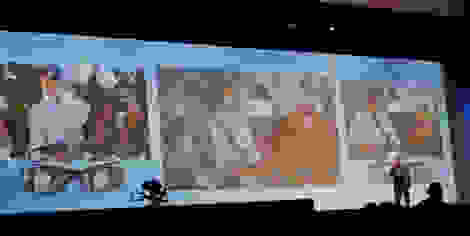 As for Samsung's OLED television, it remained mysteriously out of sight, but Joe Stinziano, the Executive Vice President for Samsung Electronics America, talked about an amazing new feature called Multiview. This feature makes use of two different pairs of glasses that transmit separate content streams. In other words, two people in a living room can sit next to each other and watch a different television channel. Fortunately, the Mutliview glasses will come with earbuds, so you won't be hearing two sound streams at once.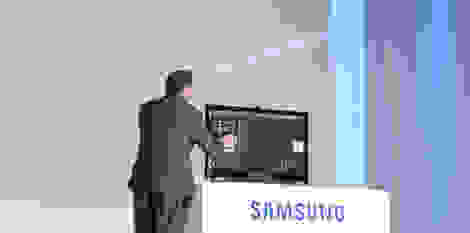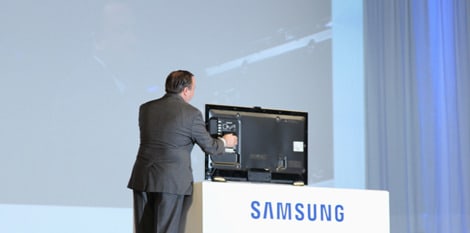 Lastly, we heard about Samsung's Evolution Kit last night, and Stinziano even gave a demonstration on how to install it: He pulled the kit out of his blazer and snapped it into the backside of a Samsung TV. It was that simple.
There is no firm release date yet for the F8000 LED TV or the UN85S9 UHDTV, but we'll update this article when we find out.