Televisions
4K TVs Could Add Billions to Our Energy Bills
That extra resolution may be more expensive than you think.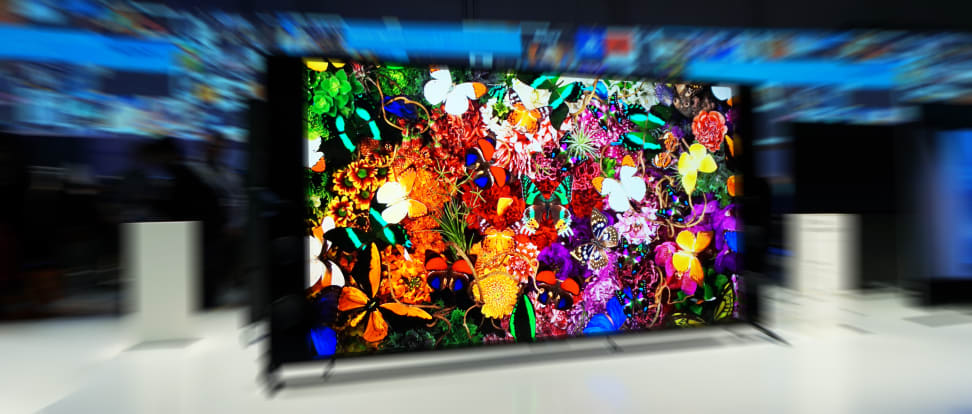 Credit: Reviewed.com / Lee Neikirk
Editor's Note
This article has been updated to add a quote from the Consumer Technology Association, responding to the NRDC study. December 31, 2015
While ultra-high definintion TVs continue to grow in popularity, a new study supported by environmental action group NRDC suggests that the latest wave of "smart" 4K/UHD TVs could add as much as $1 billion per yer to the electric bills of U.S. consumers.
The study, conducted in conjunction with Ecos Research, looked at the energy consumption patterns of 21 UHD TVs released in 2014 and 2015. It found that these models used about 30% more energy than similar full HD (1080p) TVs. The upshot? Replacing all existing HDTVs 36 inches and larger with newer UHD models would result in $1 billion of additional power usage.
Why are 4K/UHD TVs more power-hungry than their predecessors? According to the study, there's one really good reason: People who buy 4K TVs are buying larger screens, with 50-inch TVs becoming the new norm for American households. Larger screens simply require more power.
This is especially true of TVs without automatic brightness control, which dims the screen in darker environments, or when showing content that doesn't need as much emphasis. TVs that don't have this feature (or have it turned off) use about 50% more energy, according to the study.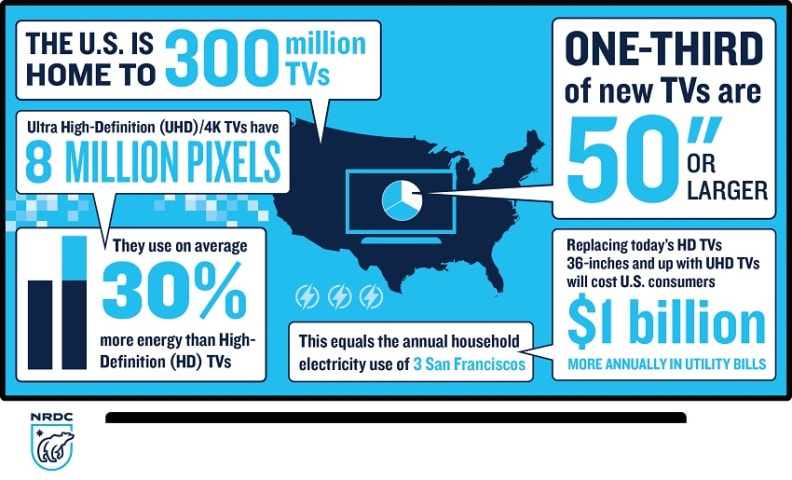 The group also points to the increased "idle load" of many smart TVs—especially those that rely on quick-start functions to immediately wake the screen from its sleep state at the touch of a button. These TVs never truly turn off, and can use up to 30 watts of standby power while "asleep."
For its part, the NRDC recommends that the government, TV manufacturers, and utility companies take action to solve the problem at both ends by adopting the following changes:
The Department of Energy (DOE) should update the federal television test method to better reflect conditions likely to exist in actual consumer use.
The Federal Trade Commission (FTC) should establish a centralized, online version of the EnergyGuide label with more up-to-date comparative information than is now on the mandatory TV labels, and should also provide 10-year lifetime operating cost information to help motivate buyers to choose more-efficient models.
Utilities should design incentive programs to reward products at the most efficient level or, at the very least, at some percentage better than ENERGY STAR to ensure that rebates draw the market toward best practices.
Manufacturers and retailers should provide more detailed guidance to consumers about how to operate televisions efficiently.
Douglas Johnson, vice president of technology policy for the Consumer Technology Association, says the industry is already pursuing many of these goals, and argues that consumer electronics actually contribute relatively little to overall energy usage:
"Viewed holistically, our most recent study on consumer technology energy usage shows these devices accounted for just 12 percent of residential electricity consumption in the U.S. in 2013, a nine percent drop from their energy consumption share in 2010. And the same research shows total annual electricity consumption of televisions in the U.S. dropped 23 percent in just three years' time."
Related Video