Televisions
5 products that help turn any room into a home theater
Go ahead and crank that ringtone all the way up, baby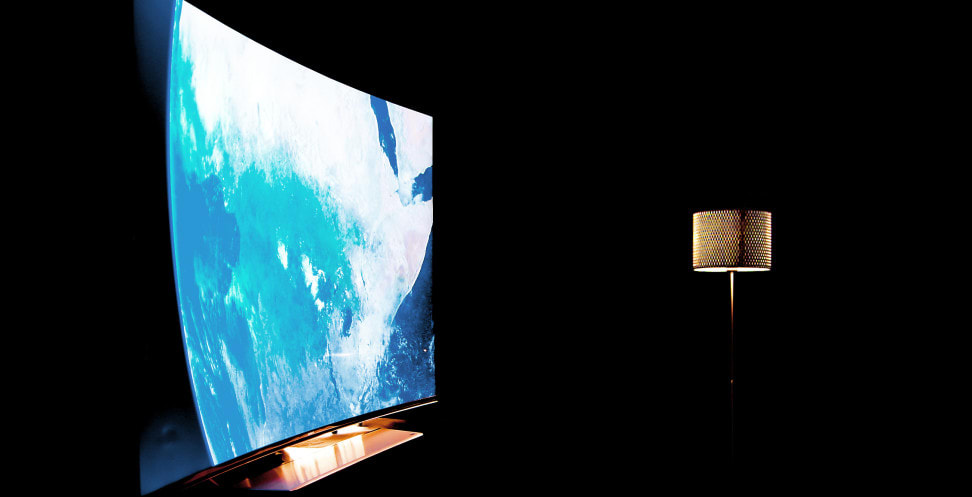 Credit: Reviewed.com / Lee Neikirk
We've scoured the web to find you the best deals on good products. While Reviewed.com may receive a small share of the revenue from your purchase, editorial opinions are independent from any business sales.
---
If you want a real movie theater at home, be prepared to shell out serious dough. Building an "entry-level" home theater runs around $10k, with financially well-endowed videophiles often boasting of spending two or three times as much on their prized movie caves.
Fortunately, you don't need to spend the equivalent of a semester at Berklee to get an appreciable theater experience, even if it's your living room or bedroom. Here are five affordable, simple-to-install products that help give you that home theater experience without the home theater price.
---
Bias lights are one of the easiest ways to up your viewing experience. They're an array of LEDs that you attach to the rear of the TV that shine onto the wall behind and around it.
Wait a tick—LIGHTS in a home theater room? But actually, yes. Bias lighting creates a natural, gentle extension of your TV's brightness, which greatly reduces eye fatigue when your eyes unconsciously stray off-screen. Total darkness messes with your pupil dilation, and bias lights keep the pupil from hurdling back and forth between day and night vision.
They also make shadows in the room and shadows on the screen look darker by contrast. It's a super cheap way to up your atmosphere—and considering these ones plug right into one the TV's USB ports, there's no excuse not to bias soon as possible.
---
A little light behind the TV is great! But you want the rest of the room darker than an emo mole in a coal hole. This is where light-blocking drapes or curtains come into play.
Shades and blinds are all well and good, but if you really want to feel like you're getting the cinema experience at home, total darkness is a must. These particular drapes from Turquoize come in a variety of colors and sizes, but the standard 52- by 84-inch two-pack should do the trick for most windows.
They're also just a great way to cut down on your overall sunlight-coming-into-windows problem, assuming you're trying to keep the house cool or that you sleep during the day. No more glare on the TV! And no more restless days tossing and turning in your stone coffin! Count on it.
---
What's the worst thing about your TV? Without a doubt, the stock speakers. Modern TVs are so thin and stylish and sleek and modern and whatever, man, they sound awful. You can't fit good speakers in a teeny tiny flat-panel chassis.
That's where soundbars come in, and you don't need to spend a bundle: the difference between your TV speakers and almost any soundbar is a night and day quality improvement. This 2.1-channel Samsung option—while not the best in this price range—is super easy to set up and includes a wireless subwoofer.
A soundbar like this one works for TVs of almost any size, and at 120 watts—60 for the bar, 60 for the sub—it's rocking about six times as much pure audio power as your TV.
---
In a perfect world, we'd all have great Blu-ray players (4K or otherwise) and an endless library of physical media to avoid buffering and compression and artifacts and that HORRIBLE dial-up sound, right? Jeez.
Fact is, though, everybody is streaming content these days. Netflix, Hulu, Amazon, HBO Now—the stuff people are watching is syphoning into TVs via mystery waves in the air. And yes, you could just hardline an ethernet cable, just like you could strap a buggy to a horse and make way to the haberdashery—but it's 2016, and running cat cables is for the birds.
With a WiFi range extender like the Netgear AC750, you can ensure High Definition streaming, whether your viewing room is down in the basement or out in the tool shed. A good range extender simply imbues the already magical WiFi waves with excessive arcane power, granting you better streaming... magically.
---
Of course, you can't stream everything. If you want live sports, local news, weather, you're going to have to pay the blood price to Comcast or Time Warner, right? But actually, no. You'd be surprised how many channels you can get with a good indoor antenna.
A product like the Mohu Leaf is the perfect option for cord-cutters (or "cord-nevers") who don't want to lose out on the rich tradition of terrestrial/satellite broadcast. This particular Mohu flavor gives you access to a 50-mile radius of totally free channels, up to full HD (1080p) quality. Note that this doesn't include paid options like ESPN, sadly.
You can plug this thing into your TV's USB port and mount it right on the wall. It's minimalist and subtle, maintaining the prestige of your now bias-lit, wine-dark, bass-thumpin', WiFi supercharged little theater.
Related Video