Televisions
Head to Head: LG 9600 Vs. Sony Bravia HX850
LG and Sony both make fine flagship models, which of these 3D smart TVs is the better buy?
Most TV makers offer a wide selection of LED TVs because they tend to have slim profiles and very bright white levels—two of the most desirable traits in a TV. LG's 9600 series and the Sony Bravia HX850 series are the respective LED heavy-hitters for these two giants of consumer electronics.
While they share great design aesthetics, these two flagship models differ mainly in their 3D performance and smart TV interfaces, and to a lesser extent, picture quality and price. Which one is the top dog?

3D Performance
3D is an expected feature on a flagship TV and both the LG 9600 and Sony HX850 have excellent 3D visuals. If 3D is a "must have" feature for you, the LG 9600 offers the better package. Its passive 3D technology allows the glasses to be lightweight, comfortable, inexpensive (LG includes six pairs with this TV), and battery-free (they don't need to be charged, basically). Distracting crosstalk is almost entirely absent from this model, and it offers some of the best 3D performance that we've seen.
Sony, on the other hand, uses active 3D technology. It isn't necessarily better or worse than passive, but it's definitely less convenient. If you want to use 3D on Sony TVs, you will have to spend about $50 for each pair, comfort not included. Sony's glasses may show a great 3D picture, but they are big and awkward–two things you don't want when watching a two-hour 3D movie.

Smart Features
Another feature that most flagship sets have is a smart TV interface. Smart TVs are any TVs that have an interface for accessing the internet and downloading apps. Sony appears to be playing catch-up with other brands. The HX850 has two separate interfaces one awful and one decent. The bad interface is integrated into the home menu system and makes finding internet content a drag. The other interface, called the Sony Entertainment Network, is actually pretty solid. It's aesthetically pleasing and easy-to-use. Unfortunately, Sony suffers from a lack of apps, although all the important video-streaming services, like Netflix and Hulu Plus, are here.
LG does an excellent job of integrating their smart TV platform into the 9600. It can be accessed by pressing the Home button on their motion-controlled Magic Remote. While the thought of using a TV with a motion-controlled remote may raise a few eyebrows, LG did a fantastic job with the Magic Remote. It is easy to point and click on an app or scroll through a webpage with this remote. We wish Sony had included something besides their normal remote for accessing internet content.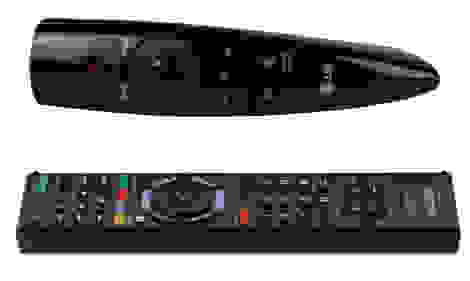 Picture Quality
When it comes to these two TVs, the LG seems to outperform the Sony Bravia in most categories. One area where the Sony Bravia HX850 excelled was its superb color accuracy, which outperformed the LG 9600.
Price
One of the deciding factors in any new television purchase is price. The MSRP for the 55-inch LG 9600 is $3,600, although it can be found online for around $2,700. The 55-inch version of the Sony Bravia HX850 has an MSRP of $2,600, but it can be purchased at various retailers for about $2,300.
Winner: LG 9600
With LG's superior performance in 3D and internet functionality, plus the inclusion of six pairs of 3D glasses and the awesome Magic Remote, we think it's worth the extra loot.
You can check out our full review of the LG 55LM9600 here and our full review of the Sony Bravia KDL-55HX850 here.