Televisions
IKEA's New Take on TVs: They Should Look Good in Your House
IKEA's TV, called Uppleva, is more than a TV: it is its own entertainment center, Blu-ray player, and audio system.

Credit:
IKEA announced in early April of this year that they're soon releasing a new kind of television. It's not engineered with any new technology—at least, not in the way most people would think. IKEA's TV, called Uppleva, is more than a TV: it's also its own entertainment center, Blu-ray player, and audio system.
Francis Cayouette, one of the designers behind Uppleva, said during the Milan showing of the TV: "People actually consider the TV as a piece of furniture, but it is always something that looked very technical, has a lot of cables, is complicated, and just doesn't fit in the home environment." Whether you agree with this implied credo of a home environment or not, the man does have a point. He goes on to explain that the idea behind Uppleva was to merge the worlds of home furnishing and electronics.
The Uppleva center combines the modern LED LCD television with a cabinet-style table and a built-in Blu-ray player. In a way, it's only one-third television, but the display panel that perches above the table is definitely the main attraction. Almost everything about Uppleva, and its accessories, serve at least two purposes—right in line with Ikea's design philosophy.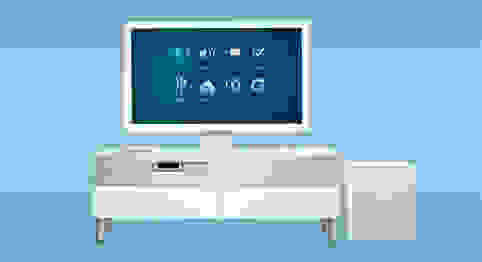 The TV is attached and poised at the rear of the cabinet. This not only causes the TV to appear to be wall-mounted, it also allows the cabinet to serve as a table. The stand that holds the display in place is hollow, meaning it houses, and more importantly, hides any cables running to the back of the TV. This leaves your whole entertainment center free of cables—be they power cables, HDMI cables, or anything in between. The TV's built-in Blu-ray player means that your cabinet is free to hold video game consoles, remotes, or any other TV accessories; the Blu-ray player also plays DVDs and CDs. And speakers? They're built right into the cabinet, which allows infrared signals from the remote to pass freely through it to the TV. Included is a wireless sub-woofer that can be positioned at your disposal (within reason), allowing for almost completely hidden audio systems that continue the wireless trend.
Where specs are concerned, IKEA is not boasting anything space age. In fact, many news sites, such as Digital Trends, are arguing that consumers who feel attracted to the clean, minimalist stylings of the Uppleva TV will also be the kind who are turned off by spec speculation. Molly McHugh states, "Plenty of consumers are bored to tears by these lists of what is and isn't packaged into their electronics, and spec lists are losing their luster with them. So while the Uppleva doesn't boast any award-winning, ground-breaking, or exceptionally competitive technology, it does offer plenty of tangible features that will translate more easily for users."
IKEA has partnered with China's TCL-Multimedia and Germany's Connept to make Uppleva an interactive, smart (internet) TV that both televises and advertises. The included remote will allegedly allow consumers to simply click and buy when they see an advertized product that they want—sounds a little dangerous to us.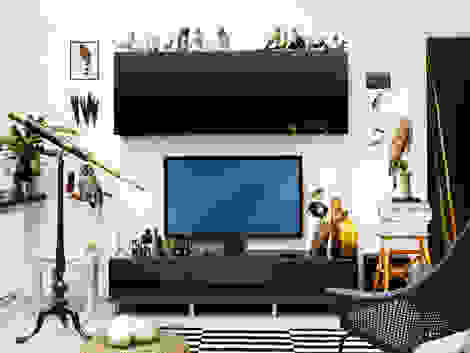 Like many modern smart TVs, the Uppleva TV comes with pre-installed apps—around 20, Gigaom.com says—including YouTube, Vimeo, and Dailymotion. We'd bet heavily that there will be plenty of social networking outlets, as well.
There was a lot of good and bad hype when Nintendo announced their family-friendly, motion-based Wii console meant to consolidate the difference between hardcore and casual gamers—and that system has, over time, proved rather unprofitable. We at TelevisionInfo.com are curious to see the result of this "casual" focused TV that does so much of the work—panel placement, audio systems, cable integration, input device management—for you, and instead gives you choice only within the realms of screen size, bezel color, and cabinet shape.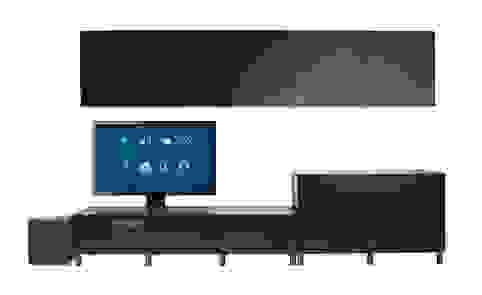 Speaking of bezel color, did we mention that the TV's bezel is a clear plastic rim that changes colors to suit the preference of the user watching? Some might yell "gimmick," but we think that's really neat.
Expect the IKEA TV to be available in Europe this month, but only in select stores in Italy, France, Germany, Poland, and Sweden. Uppleva will come in screen sizes between 24 and 46 inches, and has sparked a touch of controversy over the rumor that its 24-inch iteration will cost almost $1000 (but really, it's got nothing on the as-yet-unannounced Apple iTV).
Though it won't be available in the states until April 2013, you can bet TelevisionInfo.com will be reviewing and testing IKEA's first foray into the consumer electronics market faster than you can say Upplevision.