Televisions
In the Jet of the Future, They're All Window Seats
Micro-cameras and walls of screens create a supersonic home theater.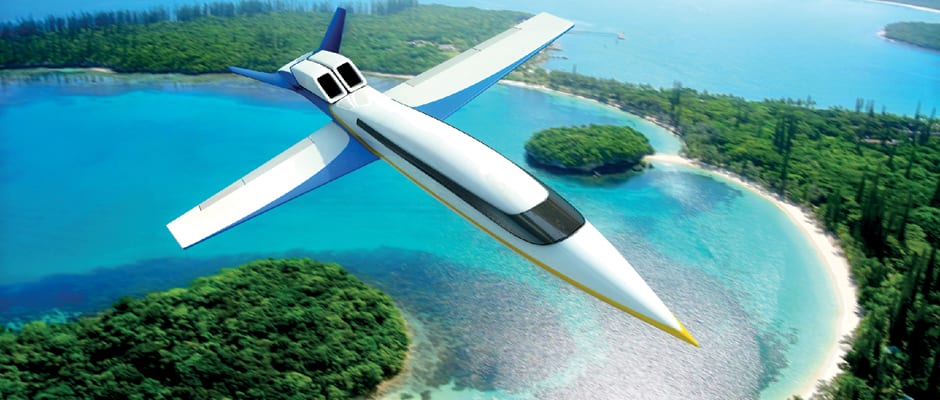 Credit:
Spike Aerospace, a fledgling aviation engineering firm based in Boston, MA, has just announced intentions to ditch conventional windows in its upcoming supersonic business-class jet. Instead, the Spike S-512 will use curved, super-thin digital displays. Still in development, the S-512 will reportedly cost $80 million when it becomes available in 2018.
The screens will benefit passengers by eliminating glare, and the aesthetic potential is manifold: Picture panoramic views created from micro-cameras that surround the jet, streaming the sky, clouds, horizon, and landscape in real time. The company says it will also be possible to dim the screens or even program them to display various pre-loaded images.
The design also has important structural implications, according to Spike Aerospace. The company says removing windows simplifies the construction and integrity of the aircraft, reducing the overall weight, part count, and air drag created by the window ports in a traditional jet. At supersonic speeds, the S-512 will allegedly make the trip from New York to London in half the time it takes competitors.
This implementation—and similar innovations in cruise ships—is really only possible because of recent developments in display technology. While the screen specs haven't been confirmed, it seems likely that the Spike S-512 will use OLED (Organic Light Emitting Diode) panels, a curvable display type that's much thinner than traditional panels.
Via: Spike Aerospace