Televisions
Jacksonville Jaguars to Get World's Largest LED Screens
Massive 362-foot-wide displays will absolutely dominate the competition, even if the Jags can't.
Credit:
Back in June of last year, the Jacksonville Jaguars—one of the least-watched teams in the NFL—announced plans to build a pair of huge TV screens that will rise above the end zones of EverBank Field. Today, the team revealed the full specs, and they're something to behold.
Built by Daktronics, each screen will measure a remarkable 362 feet wide and 60 feet tall, and offer enough real estate for three side-by-side 16:9 video feeds, plus a 44-foot space for a digital scoreboard. Each screen offers a more than 21,700 square feet of active display area—nearly as much space as the entire field.
Jacksonville's new screens will easily eclipse the largest screen currently used at a sporting facility—the 197 by 77-foot display on the backstretch at Charlotte Motor Speedway. And they'll absolutely dwarf the biggest LCDs in the NFL, which are found at Houston's Reliant Stadium and Dallas's AT&T Stadium.
Did we mention there will be two of them?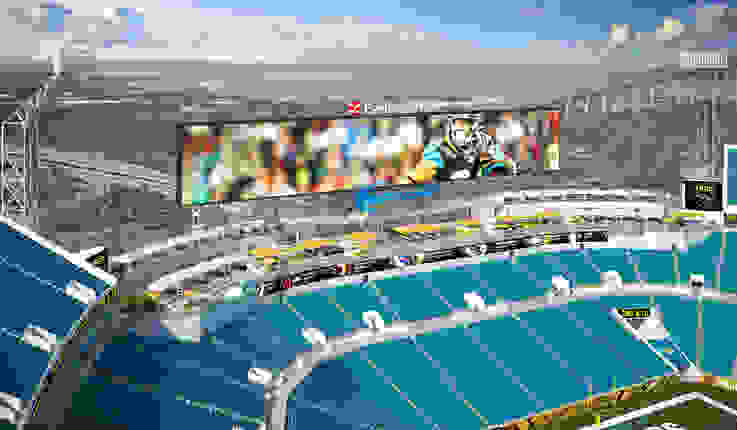 Jaguars president Mark Lamping says that the team owes its fans and community "nothing less than the best, and these enhancements will be the best."
The two giant screens are just a few of the visual improvements coming to EverBank Field. Other upgrades include new ribbon displays along the side seating fascias, four new displays in the corners of the stadium, and two more screens above the tunnels where players run onto the field.
But the upgrades to the Jags' stadium aren't all LED-related. A new interactive fan area in the north end zone will include cabana style seating areas on two decks, plus water features including two large wading pools. Team owner Shahid Khan says the additions are part of an effort to make EverBank "a world-class destination, and […] to bring energy and attention to Downtown Jacksonville."
Via: Jacksonville Jaguars