Televisions
LG Shows Off Its 2015 UHD TV Lineup Ahead of CES 2015
Prepare for UHD TVs, improved sound, and the return of webOS.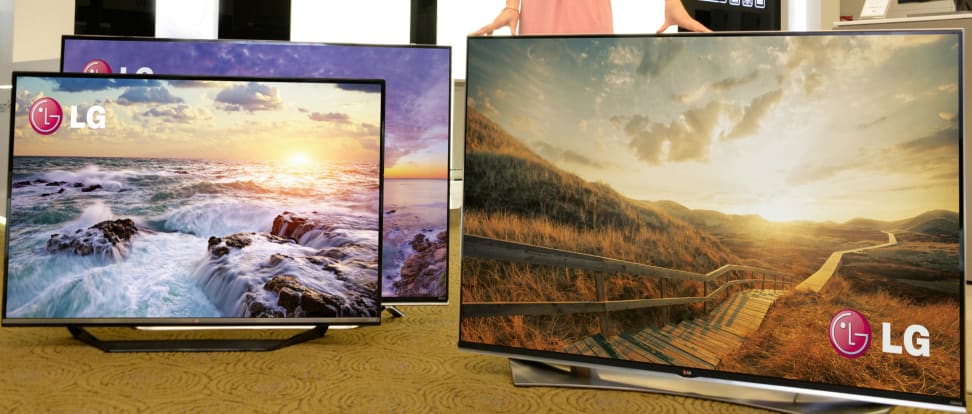 Credit:
LG today revealed details about next year's lineup of 4K (UHD) televisions, including improvements to color production and panel depth, ahead of CES 2015 in Las Vegas next month.
Update: On top of the new 4K TVs, LG's Tim Alessi also confirmed that LG would demonstrate an 8K option during CES.
The new models fall all over the map, from the 105-inch UC9—LG's Ultra-Wide "5K" 21:9 HDTV—to the company's UB9800 4K flagship. The UF9500, UF9400, and UF8500 series will round out the lineup with a variety of prices and screen sizes.
These new UHD TVs will all feature LG's recently announced webOS 2.0 smart platform. LG is also touting the slim profile of the new TVs, adding that they'll "add a modern touch to virtually any room."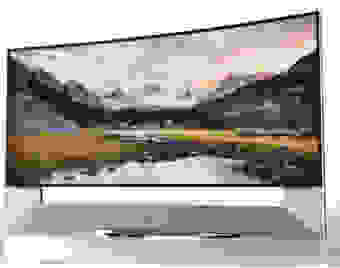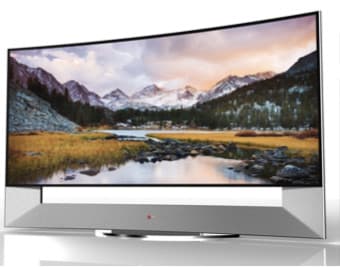 Perhaps most exciting is that the new UHD TVs offer improved color capabilities, with Wide Color LED and Quantum Dot-equipped TVs boasting a 25% and 30% improvement to color vivacity, respectively.
LG promises other enhancements to picture and sound quality, as well, via improvements like "Contrast Optimizer," which attempts to boost brightness while maintaining dark black levels.
The announced models will also be equipped with forward-firing speakers engineered by audio experts harmon/kardon. This should help improve sound quality compared to the rear-firing or downward-firing speakers on most TVs.
LG promises other enhancements to picture and sound quality, as well, via improvements like "Contrast Optimizer."
Naturally, all of LG's 2015 UHD models will be 4K content-ready via a built-in HEVC decoder, helping ensure that "LG TVs are future-proof and ... compatible with the future Ultra HD transmission standards," according to the release. HEVC is the codec of choice for major 4K streaming providers such as Netflix.
These new models, as well as the UF7700, UF6800, and UF6700 series, will be on parade at LG's exhibition booth during CES next week. Reviewed.com will be there in force to bring you all the latest news and announcements straight from Las Vegas.
Source: ENGLEWOOD CLIFFS, N.J., Dec. 29, 2014 — LG Electronics (LG) announced today plans to unveil its expanded lineup of LED 4K ULTRA HD TVs, with new designs, more features and picture quality enhancements, at the 2015 International CES® in Las Vegas from Jan. 6-9. This will be the first opportunity for audiences to get a first-hand look at LG's full collection of 4K ULTRA HD TVs for the 2015 model year.
Named by the Consumer Electronics Association as the "4K Ultra HD Partner for the 2015 International CES," LG's LED 4K ULTRA HD TV lineup will highlight the superb color reproduction of its ColorPrime series which produces greater realism and depth either with Wide Color LED or Quantum Dot technology.
LG's 4K ULTRA HD TV with Wide Color LED technology utilizes different phosphor-based LEDs to display greater color depth and more lifelike images and a 25 percent increase in color gamut. Additionally, LG's 4K ULTRA HD TV with Quantum Dot technology will be demonstrated for the first time at CES. Quantum Dot displays offer high color accuracy along with a 30 percent increase in the color gamut. Further, these technologies allow for an even thinner cabinet depth that reduces the size to just millimeters, approaching OLED's depth.
LG's 4K ULTRA HD TVs deliver exceptional 4K (3840 x 2160) resolution with In-Plane Switching (IPS) 4K panels. These displays render color vibrancy of images in near original quality, also allowing for remarkable wide viewing angles. LG's True Black Control local dimming technology refines the contrast and creates darker, deeper blacks, and LG's new Natural Color feature minimizes color reproduction errors while Contrast Optimizer maximizes color contrast and brightness.
LG's new ULTRA Slim concept, which has been integrated into the highly praised CINEMA SCREEN design, is an important factor in the newest TVs' immersive capabilities. The sleek, slim bezel and seamless appearance creates a clean aesthetic where even the back of the TV has been designed to add a modern touch to virtually any room.
Five of LG's ULTRA HD TV series (UC9, UB9800, UF9500, UF9400, and UF8500) come equipped with an impressive multi-channel ULTRA Surround System, developed in partnership with audio expert harman/kardon. The speakers are forward-firing to make them more compact but effective. Additionally, the premium UF9500 series features an integrated Auditorium Stand designed to reflect and centralize sound for maximum performance.
LG's newly upgraded proprietary smart TV platform, webOS 2.0*, is even more user-friendly than its predecessor, letting users explore the system's full potential in intuitive ways. Booting time has been reduced by up to 60 percent and connectivity to external devices is even more effortless than before. What's more, users can customize their own menus on the Launcher Bar for a more personalized experience.
LG has also integrated its sophisticated 4K Upscaler algorithm into its Ultra HD TV lineup for smooth rendering of SD, HD and Full HD content into near Ultra HD quality images. The built-in 4K High Efficiency Video Codec (HEVC) Decoder supports both 30p and 60p 4K content from external devices, helping to insure that LG TVs are future-proof and will be compatible with the future Ultra HD transmission standards.
"LG 4K ULTRA HD TVs are designed to offer a viewing experience unmatched in the TV industry," said In-kyu Lee, senior vice president and head of the TV and monitor division at the LG Electronics Home Entertainment Company. "The breathtaking picture quality is underpinned by our latest ColorPrime technology for a truly superb home entertainment experience."
Visitors to LG's booth at CES 2015 (Las Vegas Convention Center, Central Hall #8204) from will have the opportunity to see LG's stunning 4K ULTRA HD TVs in person. The lineup includes multiple screen sizes across series UC9, UB9800, UF9500, UF9400, UF8500, UF7700, UF6800 and UF6700.