Televisions
LG Unveils World's First HDR-Capable OLED Televisions
LG unveils new OLEDs with HDR support just in time for IFA 2015.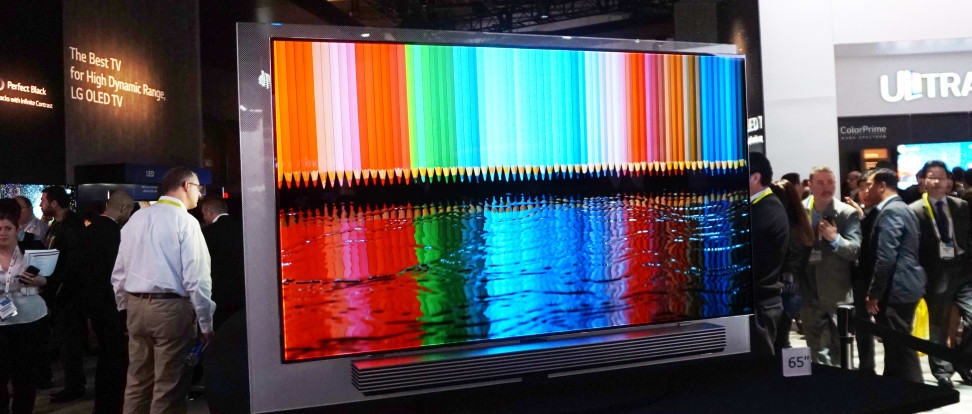 Credit:
Today, LG Electronics announced the availability of the EF9500 OLED series, available in 55- and 65-inch sizes for $5,499 and $6,999 respectively.
The flat EF9500 series was first teased at CES 2015 during a rundown of LG's OLED lineup. With these new additions, LG's OLED line will offer both flat and curved models ranging from 55-inch Full HD sets to 77-inch 4K options.
In fact, LG announced two entirely new OLEDs, the 55EG9100 and 55EG9200, which are curved and flat, respectively. These models may prove to be more affordable than the larger 65- and 77-inch options, and both boast a panel slimness that outpaces even modern smartphones.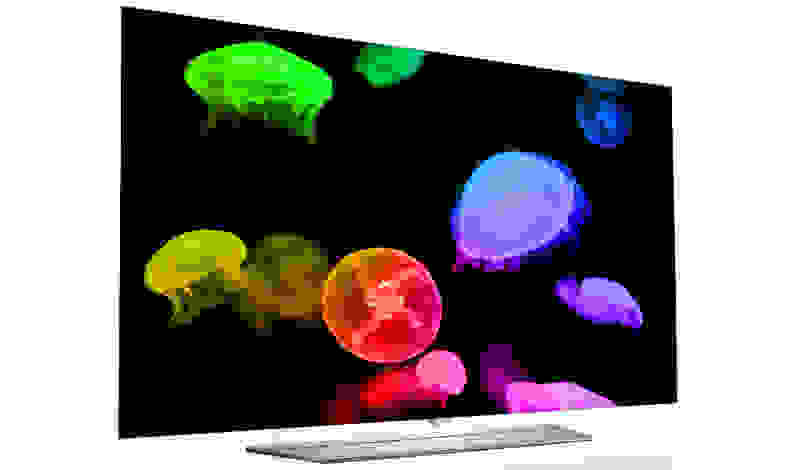 The EF9500 marks LG's first OLED to support High Dynamic Range content. High Dynamic Range (or HDR) is an upcoming content format that will allow for greater dynamic range in TVs, making for dazzlingly bright highlights and deep, inky shadows with an aim to encompass a more immersive, lifelike picture. It might sound like another buzzword, but just wait until you see it.
Something of a fledgling tech, OLED TVs have earned mostly critical acclaim for their raw contrast abilities. Today's announcement of HDR support is the first indication that LG intends for its OLED lineup to compete toe-to-toe with flagship LCDs from other manufacturers, and many that claim HDR capability (or Dolby Vision) as a major selling point.
But while OLEDs are capable of near-perfect black levels, the announcement makes no mention of an increase in overall panel brightness, the path that most HDR-capable LCDs are taking. It's unclear how LG's implementation of HDR will work, especially considering that there's little HDR content on the market, and a few of the format's performance standards are still up in the air.
The curved EG9600 will soon get a firmware update that allows it to play HDR content.
Lastly, the company also confirmed that the curved EG9600 series will receive a firmware update to enable HDR support. The EF9500 and EG9600 series share price points, too, so if you've got the urge for the curve, you won't be paying extra for it.
Stay tuned for our full coverage of LG's OLEDS—and all the hottest new display technology—during the upcoming IFA showcase in Berlin.
---
Source: ENGLEWOOD CLIFFS, N.J., Aug. 25, 2015 – LG Electronics USA today announced pricing and availability for the latest addition to its OLED family of televisions – the EF9500 flat OLED 4K TV series – scheduled to begin arriving at retailers nationwide in September. The EF9500 series represents the world's first flat 4K resolution OLED TV displays.
The introduction of the EF9500 OLED 4K TV series marks a significant milestone in the expansion of the LG OLED TV portfolio, tripling the number of models in less than a year. The new series introduces flat-screen models to LG's OLED line up, which also includes the EG9600 and EG9700 series of Curved OLED 4K TVs and its EC9300 Full HD Curved OLED TV model. LG now offers OLED TVs in 55-, 65-, and 77-inch class sizes, both curved and flat configurations, and 1080p and 4K resolutions.
"OLED TV is not just a new TV – it's an entirely new category of television that delivers what experts and consumers alike are hailing as the best picture ever," said William Cho, President and CEO, LG Electronics USA. "The introduction of LG's new flat OLED 4K TVs offers consumers more choices of OLED TVs at more competitive pricing and makes the definitive statement that OLED is here to stay."
With OLED's revolutionary technology, consumers can enjoy awe-inspiring picture with perfect blacks and incredible color, even from wide viewing angles unlike any LCD/LED TV can deliver. Black colors rendered by LG's OLED TV are up to 200 times deeper than those of an LCD panel, creating an infinite contrast ratio and bringing colors to life like never before possible.
Advanced Content Delivery – Including High Dynamic Range (HDR)
In addition to its flat configuration, another notable distinction of the EF9500 series is that it is the world's first HDR-capable OLED TV, allowing consumers to display HDR content from both streaming content partners and external source devices. LG's EG9600 Curved OLED 4K TV series soon will receive a firmware update that enables consumers to stream HDR content from current and future streaming content providers. LG OLED technology is perfectly suited for HDR content because it delivers the perfect black that only OLED TVs can achieve. By starting from perfect black, OLED is able to produce the required light ranges at lower peak brightness, resulting in an exceptional – and more comfortable – HDR viewing experience.
LG's entire OLED TV lineup features its updated webOS Smart TV platform designed to make finding and switching between content options – including broadcast TV, streaming services and external devices – simple and fast. With its enhanced user interface and a variety of other features, webOS 2.0 also reduces boot time and allows users to personalize Launch Bar menus, making it easier than ever for users to access their favorite content.
LG's webOS Smart TV platform launches apps quickly and seamlessly so users can view their desired content faster. It features simple switching to let users quickly shift to any content they'd like, as well as simple discovery to help find new sources of entertainment from 4K partners such as Amazon Instant Video, Netflix, and YouTube, and many more Full HD options.
More Mainstream Price Points
LG is making OLED TV accessible to more consumers than ever before, offering models at prices comparable to many of today's premium LCD/LED TVs. Even with new features and design enhancements, the 55EC9300 Full HD Curved OLED TV is now priced at $2,499 – more than 75 percent lower than the price of LG's first-generation 55-inch class model, which first sold for $14,999 two years ago. Since then LG's OLED TV lineup has evolved into a new category of television to include multiple variations at lower price points available nationwide through big-box retailers, regional dealers and specialty and custom-installation retailers. Furthermore, the new flat EF9500 series and the curved EG9600 series will be available at the same price - $6,999 for the 65-inch model and $5,499 for the 55-inch model - freeing consumers to enjoy OLED in either configuration, flat or curved, regardless of price.
"There are so many great options available already – flat or curved, full HD or Ultra HD – and we're excited to see customers experience these new OLED TVs," said Luke Motschenbacher, Best Buy's Director of TVs.
LG's 2015 OLED 4K TVs combine the intense detail of 4K ULTRA HD and the superior contrast and rich, accurate color that OLED provides, displaying the ultimate in picture quality. For impressive sound, LG's 2015 OLED 4K TVs feature premium built-in speaker systems designed by harman/kardon® to deliver a completely captivating audio and video experience. LG has also taken its state-of the art screen technology and transformed it into a work of art with its Art Slim design philosophy, making OLED a complement to any interior décor as the TVs boast an amazingly slim depth at only a few millimeters and a stylish, frameless design.
For more information regarding LG's 2015 OLED TV lineup, including the EF9500, please visit www.lg.com/us/experience-tvs/oled-tv, and to follow the conversation online check out #OLEDisHere.
Related Video