Televisions
LG's Swarovski-Studded OLED TV Is Shiny, Probably Expensive
But we think the OLED tech shines well enough on its own.
Credit:
We've spilled plenty of e-ink singing the praises of OLED display technology, and we're hoping that actual humans can afford it at some point. But the Swarovski-bedazzled OLED TVs we found in LG's booth at IFA this week didn't exactly reign in the price points: These TVs are quite literally one of a kind.
As you'd expect, pricing is an "on request" sort of matter. If you need to ask, you can't afford it.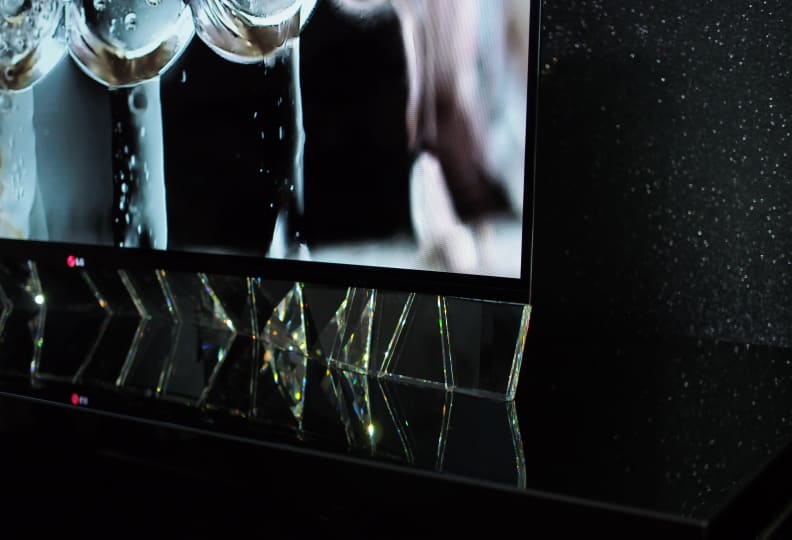 ×
LG's OLED Gallery
Though LG is surprisingly tight-lipped on the TV's actual specs—little details like the screen size, resolution, and audio capabilities—its press release spends plenty of time describing the precise ways in which it "exudes elegance beyond compare."
Case in point? The set's 4mm-thin design, featherlight 35.2-pound weight, and fashionably curved design. Oh yeah, and we suppose those 460 "Aurora Borealis" crystals do add some bling, if you're into that kind of thing.
LG home entertainment CEO Hyun-hwoi Ha, meanwhile, spelled out the motivation between the co-branding exercise:
"The epitome of luxury and refinement, Swarovski crystals and LG's premium OLED TV complement each other perfectly. The crystals help to create an aesthetic that is, quite simply, gorgeous, while our OLED technology ensures a level of picture quality that is every bit as stunning as one could imagine."
We have to agree with him on that last point, but here's hoping this isn't just a pretty distraction from another disappointing year without affordable OLED.
Stay with us for all the breaking TV (and Swarovski) news at this year's IFA Berlin trade show.
Source: LG Newsroom
Editor's note: Updated since 09/07/2014 with hands-on photos.