Televisions
Like A Moth To A Superbright Flame: Sharp's Subtle Innovations
Like everyone else, Sharp is pushing for bigger-and-better TVs, while tying up loose ends.
Credit:
When we toured Sharp's CES booth on Wednesday, we saw some very large TVs and an innovative new engine with Ultra HD upscaling abilities. However, some of the subtler innovations lost the spotlight during all the 4K rigmarole.
Sharp has borrowed a new screen design from mother nature
One of Sharp's new innovations, called Moth Eye, is a screen designed to eliminate glare and reflections. Unlike the screen you would find on a traditional TV screen, the moth eye variety is built with nanoscopic peaks and valleys, much like the noble English muffin (or a moth's eye).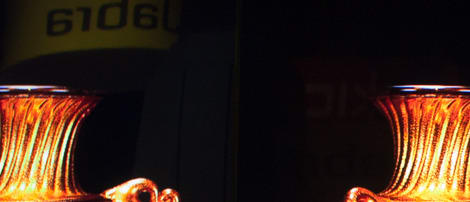 On Sharp's show floor, a display showed a picture of three vases, with one using the moth eye screen. Notably, even amid the glaring CES show lights, the moth eye vase was unaffected, with no loss of color or detail.
The design itself isn't visible—it's implemented in an almost microscopic manner, acting within the same quantum sphere that light particles live in. With a flat screen, light strikes the surface, parties a little, and then bounces back off. The moth eye, on the other hand, absorbs light by providing an angular surface for light particles to navigate. The light becomes so spread out and misdirected that it's rendered invisible to the human eye, making content that much easier to watch on a sunny afternoon. It's pretty cool—and it works.
You'll start to see Sharp TVs with moth eye by the second half of this year. Hopefully, manufacturers of tablets, cell phones, and handheld gaming consoles will jump on board, too.
Quattron is showing its true colors—all four of them
The other thing floating around the Sharp booth was the word "Superbright." We looked skeptically at the word; back in 2010, Sharp introduced its Quattron-brand "fourth pixel" technology, and we've been poking fun at it ever since. In our opinion, it was always a useless marketing gimmick. We soon realized, though, that with Superbright, that fourth pixel suddenly isn't looking so silly.
In simple terms, Superbright boosts a TV's white levels without affecting black levels. One result of this is a slightly expanded contrast ratio. I heard talk of a "12,000,000:1" contrast ratio with Superbright, versus a "10,000,000:1" contrast ratio without it. That's hogwash, of course, and those numbers are inflated.
What I saw with my eyes, however, was that the Superbright feature really does appear to increase light intensity without compromising the shadowy depths of black levels.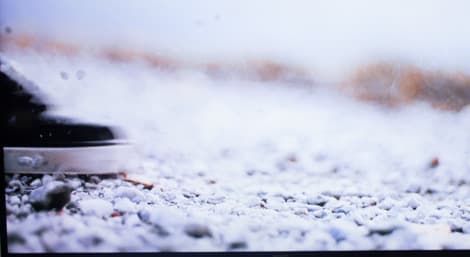 Light-output gimmicks have existed in the TV world for a few years now. So-called auto dimming, automatic contrast enhancement, or ambient light sensing are all bunk. Most of them attempt to do what Superbright does, but nine times out of ten, they don't.
Superbright is different—allegedly—because it is constant. The presence of yellow pixels naturally enhance light intensity, while the TV itself does no extra work. This has to do with the similarities between yellow and white, and the way the human eye perceives light waves. It's a mild advancement, but we're excited to see where it goes.
These subtle upgrades weren't the most thrilling things at CES 2013, but if you love TV minutia as much as we do, you'll agree that these small steps for Sharp could eventually turn into giant leaps for the display industry as a whole. Sharp's claims of innovation aren't going to slip under the radar, either: we're going to take them to the lab as soon as they're available.