Televisions
Madden Video Game Pre-Order Includes NFL Sunday Ticket
Special bundle provides steep discount on games package
Football fans have a new way to watch all the action this NFL season—without paying full price for the privilege. Gamers who drop $100 for a pre-order of Madden NFL 25 Anniversary Edition for Xbox 360 or PlayStation 3 from Amazon.com will get access to DirecTV's mobile NFL Sunday Ticket. That's $40 more than the standard version of the game—but the price difference is much cheaper than the typical cost for Sunday Ticket, at $225 per season.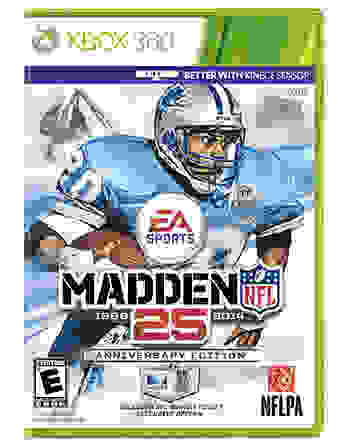 The package gives viewers access to any Sunday game throughout the regular season from mobile devices like phones, tablets, or computers. It's a big draw for fans who live outside of their team's home market. DirecTV subscribers get a $10 monthly discount on the TV package if they want it, too.
Joystiq reports that 50,000 copies will be available for each platform. Pre-orders are available now.
Taking a holistic view, live sports is one of the best reasons to have a cable subscription. This particular NFL Sunday Ticket deal isn't a game-changer. If the Madden deal let you watch every game on TV, that'd be something really special. But even small opportunities like this one make expensive cable subscriptions less enticing.